Company Updates
New sign-in option for making purchases is live
Last updated: February 12, 2021 4 min read
Crypto shoppers can now sign in via CoinGate before and during payment to access new, otherwise inaccessible features and benefits.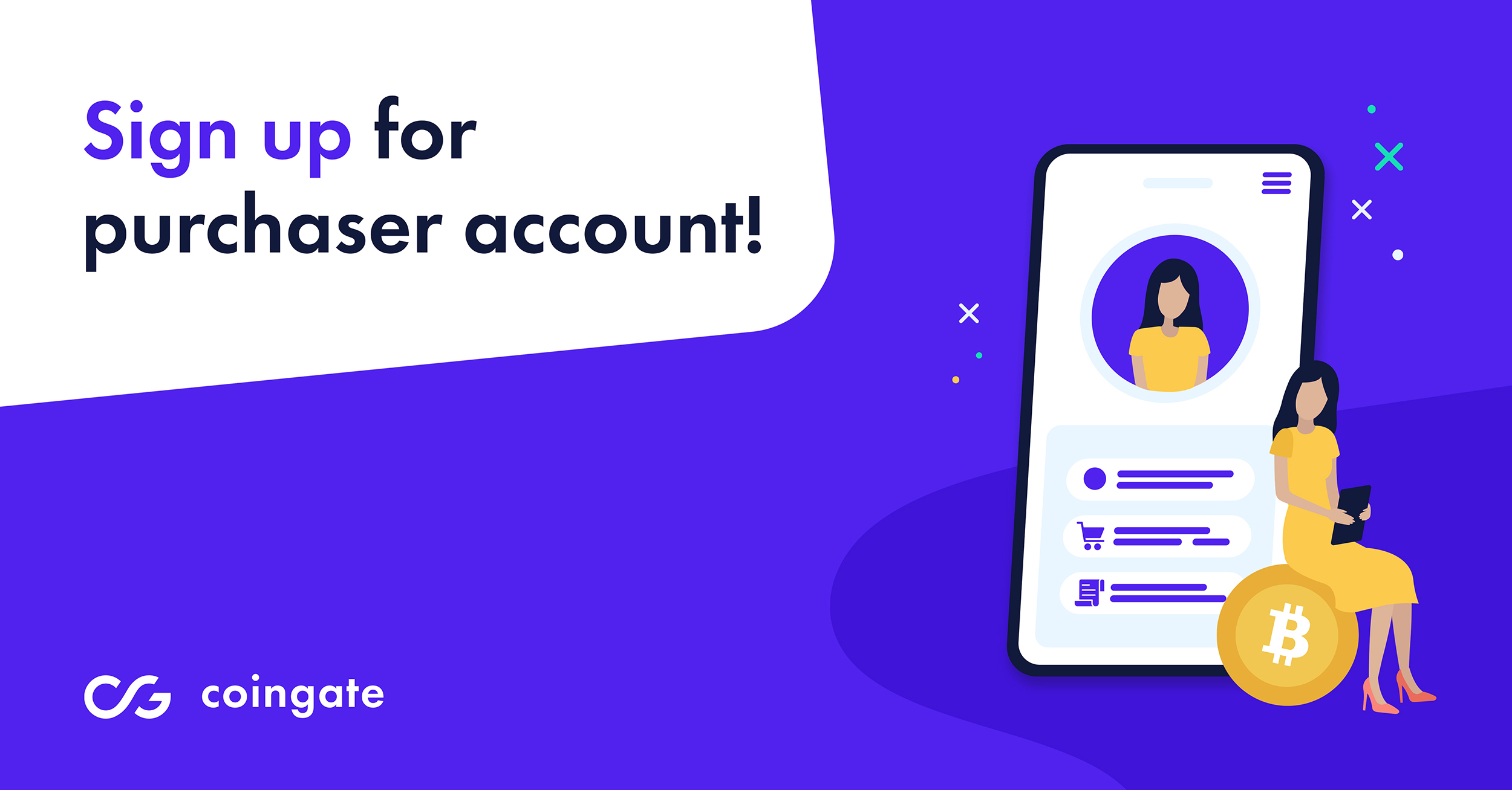 Until today, spending cryptocurrencies for goods and services via CoinGate payment option was rather simplistic – users' journey ended with paying the invoice after the checkout window.
But now, users can sign up for a CoinGate account or quickly log in with Google or Facebook credentials when making payments, which unlocks several new features.
This is our first step towards uniting all of our products and services under one roof to establish a one-in-all account approach.
A new sign-in option is not mandatory but will greatly benefit anyone who decides to use it. No KYC is required to reap the benefits.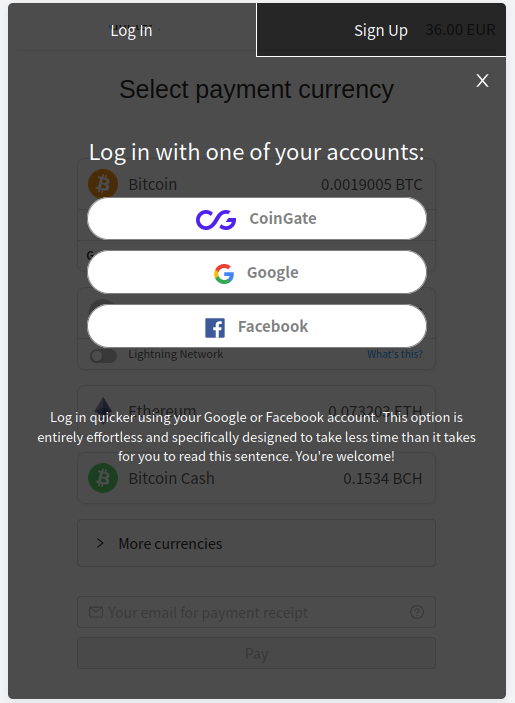 Signing in will allow to:
Save the purchase history;

Monitor invoice status;

Request & track refunds;

Get special cashback offers;

Lift the service fee. (COMING SOON!)
Read on for a detailed explanation. Mind that these are just the initial functionalities which will be expanded further during later development stages.
Interacting with the purchase dashboard

Signed-in users can now navigate to Purchases->Purchase History menu section after accessing the invoice for the first time and see their entire history of purchases made via CoinGate.
The menu section also includes basic data about a merchant, date of purchase, time and status of payment, price, amount and additional information such as refund or cashback status and eligibility.
You also have an option to filter and export this data to .csv file by clicking the button "Export to .csv".
Further on, selecting any purchase order will redirect you to another page, where you can leave a rating for your merchant, access payment invoice link to view the receipt and, if eligible, request a refund in crypto or claim cashback reward for your purchase.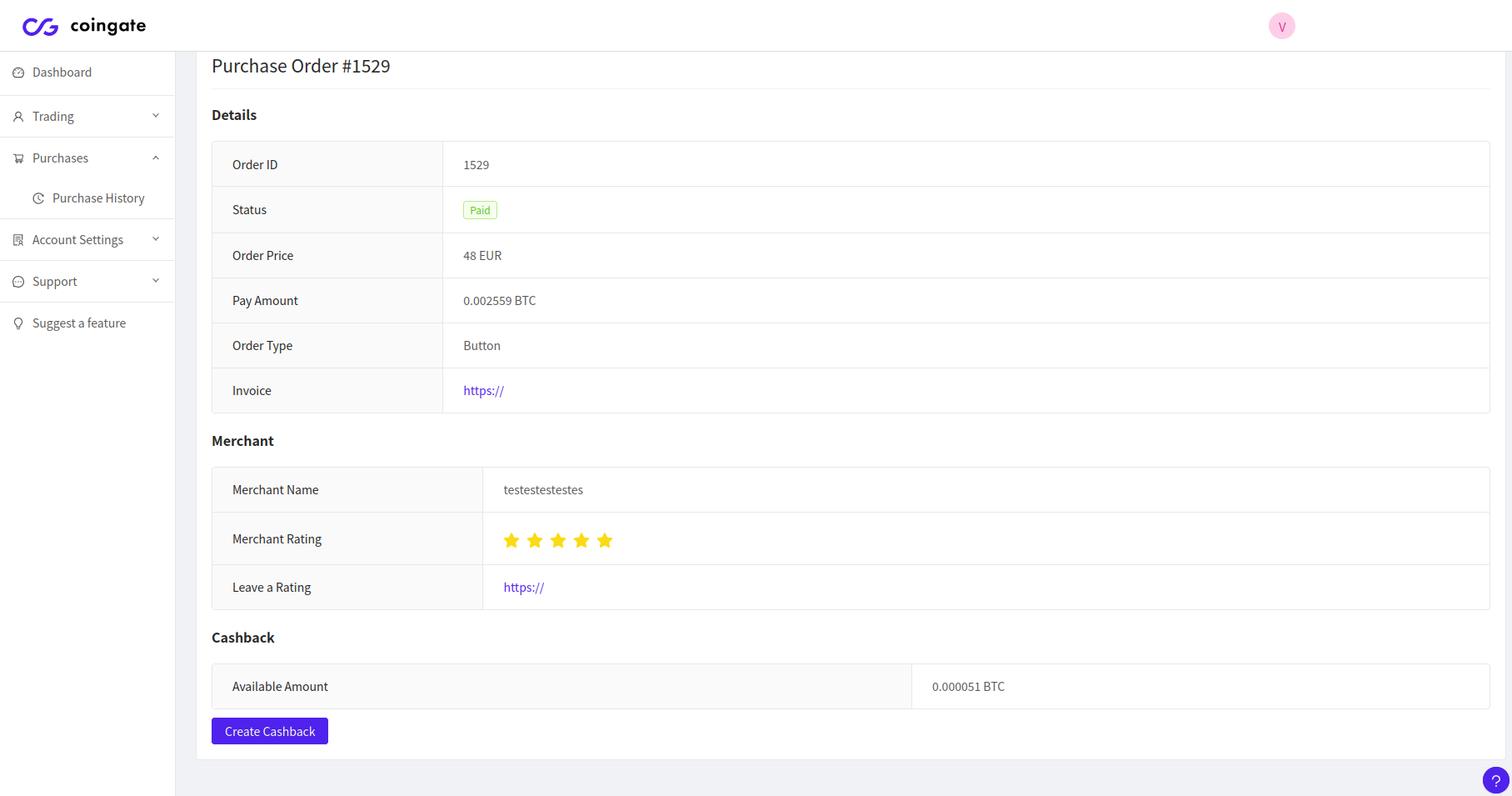 Special cashback offers
When signed in, you will notice that some cryptocurrencies on the payment invoice will start offering a percentage of cashback rewards.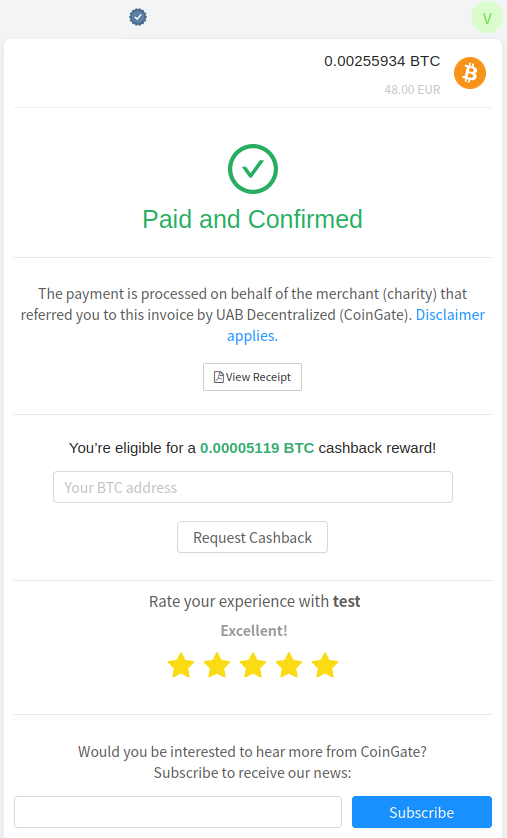 These rewards will be offered exclusively to those users that log in before making a payment.
Note that cashback % and currencies for which it applies are not set in stone and will be adjusted regularly.
To receive a cashback reward, head to the "Purchase History" tab on the menu and select the already paid order eligible for a reward. Next, click the "Request Cashback" button.
A new window will open where you will see a reward amount and a field for your cryptocurrency address to which the reward will be paid out.
Enter your wallet address and click the "Request Cashback" button again. If you feel like it, take a second to leave feedback for your merchant as well or subscribe to CoinGate newsletter.
All rewards are paid out within 48 hours of the request but usually faster.
Requesting refunds: when and how?
If a particular order is selected, an option to request a refund will appear in those cases when it is eligible.
Refunds can be initiated in a few cases. For example: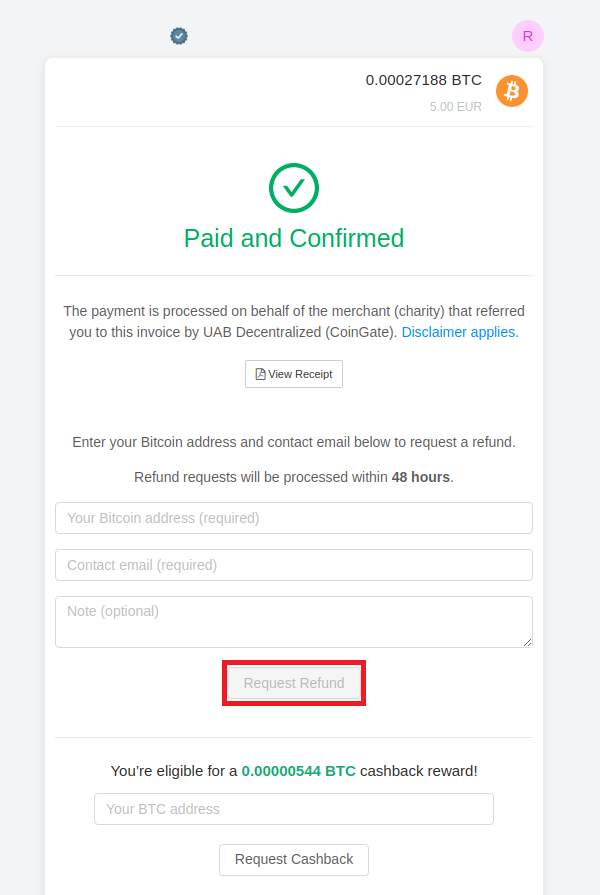 A user pays more than the invoice requested. If the threshold for a minimum refund amount is met and the order is already paid, the overpaid amount will be sent back to the user.

A user pays the requested amount or more, but the invoice gets cancelled by the user or expired. If the threshold for a minimum refund amount is met, the whole amount received by CoinGate will be sent back to the user.

A user pays less than the invoice requested and the user didn't manage to transfer the missing amount until the invoice got expired/cancelled. In this case, the user can request a refund.

A user pays but an unexpected error occurs and the invoice expires or is cancelled. The user becomes eligible for a refund.

A user made a payment after the invoice expired or was cancelled. The user becomes eligible for a refund.
To request a refund, click on the selected purchase order and click the "Request Refund" button. Then, fill in your crypto address, contact email, add additional information if necessary and click the "Request Refund" button again.
It usually takes no more than 48 hours or less to fulfil refund requests. Note that, in case of network congestion, CoinGate may apply a refund fee to cover miner fees.
More updates are coming very soon
We are not stopping here as we have plenty of things planned to introduce in the immediate future.
Wish to be informed about new updates first? Subscribe to our blog down below or follow us on Twitter!