Brands & Shopping, Gift Cards
Travel with Bitcoin: 10 best travel gift cards
Last updated: August 11, 2022 8 min read
Giving a mug, pair of socks, or a book is sure nice, but if you know someone who is always wandering through the world and planning the next big trip, give them the gift of travel! Travel gift cards can cover the cost of a stay, travel expenses, or even a flight. We guarantee – every traveler will love it!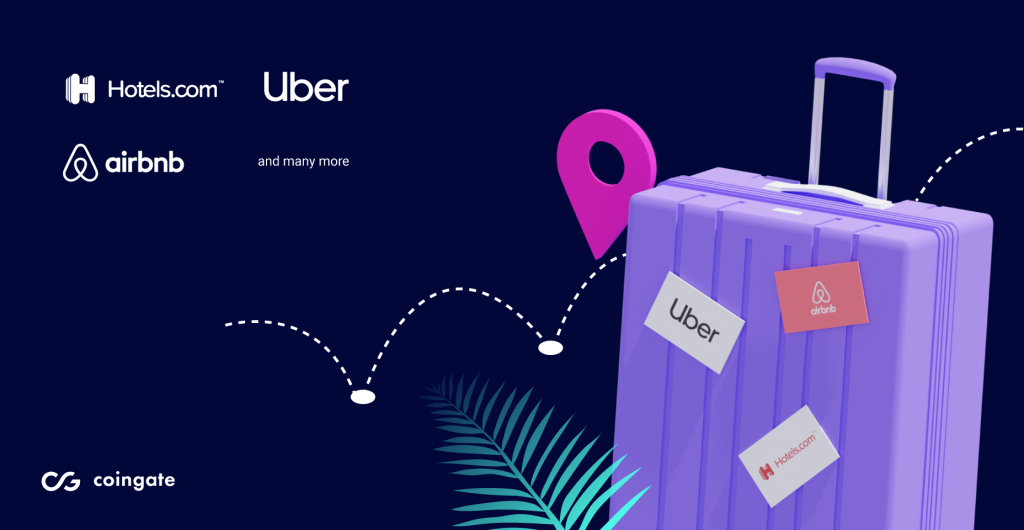 Are you searching for an inspiring gift for someone leaving to explore new lands? Or maybe you have a friend who loves to travel around, and his birthday is sooner than you thought? Don't rush to buy some kind of last-minute nonsense. Give travel gift cards instead! Or even get one yourself.
From cab rides and bus tickets to hotels and airlines, in travel gift cards, you can find it all. And the best part is you can get it with Bitcoin, Ethereum, Doge, or other cryptocurrencies of your choice.
Top up the gift card with the sum you planned to spend for a gift and give your friends an adventure and the memory they will carry for the rest of their lives.
Why should you buy gift cards with cryptocurrency?
Since crypto adoption is still in the early stage, buying things you need only with cryptocurrency might be somewhat tricky. Therefore, you must limit yourself to businesses that already accept crypto payments or use your crypto to buy a gift card of your choice!
Depending on how you manage to time the market, you can save some money and get a better value for less crypto. Also, you can utilize your crypto gains without converting them into fiat to get real-world value, and save money as you won't pay for exchange commission fees.
Buying a gift card is super easy. At CoinGate, you don't even have to have an account; after your payment goes through, a required gift card instantly arrives in your email!
Do you like your privacy? Shopping with crypto keeps you private and anonymous, because only your email address is exposed. You don't need anything else than an email address. Crypto transactions yet in most cases are non-taxable events and leave your crypto gains on its full value.
How to Use Bitcoin for Travel
If you are searching for ways to use bitcoin or any other cryptocurrency to cover your travel needs, there are few available options.
You can search for stores that accept crypto payments for their services by using an old good Google search or checking out this merchant directory, or you can use crypto to buy travel gift cards and redeem them on your desired sites.
To save you some time, we gathered a list of the 10 best travel gift cards you can get with bitcoin or other cryptos:
Airbnb gift card
Know someone who likes to go all-local while they travel? Then an Airbnb gift card will make a perfect gift. Airbnb offers to choose from 7 million properties from around the world, so if someone needs a place for a romantic getaway, an apartment for the next family vacation, or a studio in the middle of any city, they will surely find one at Airbnb.
While Airbnb does not yet directly accept crypto payments, you can spend your gains and cover your travel needs with bitcoin, ether, dogecoin, or any other popular cryptocurrency by purchasing a gift card!
Southwest Airlines gift card
With a Southwest gift card, you can buy flight tickets, book a hotel, rent a car or even book a vacation package. Southwest Airlines are known for its low-cost pricing, innovative logistic solutions, and efficient operations. There is no better gift than a gift of travel whenever a person is up to it. The best part is that Southwest gift cards will never expire!
Do you want to leave your euros, dollars, or pounds alone and buy a Southwest Airlines flight ticket using your favorite cryptocurrency? Buy a Southwest Airlines gift card at the CoinGate gift card store!
Buy Southwest Airlines gift card
MakeMyTrip gift card
Encourage someone to travel with a MakeMyTrip gift card! MakeMyTrip is one of India's most loved flight booking retailers. They offer internal and international flights, flight and hotel deals, route planners, and more. All are available on their website or mobile app.
Get your MakeMyTrip voucher now with Bitcoin, Ethereum, Shib, or another cryptocurrency of your choice!
Flixbus gift card
Flixbus might be the cheapest and most reliable transportation option in Europe. Also, they have the largest bus network and can easily take you anywhere from France, Italy, Croatia, and many more countries. Flixbus offers 400,000 daily connections to over 2,500 destinations in 37 European countries.
If you know someone who is not a fan of air traveling and is a bit tired of driving around – give them a Flixbus gift card!
Delta Air Lines gift card
According to the Decade of Airline Excellence Awards, for the past 10 years, Delta Air Lines has been known as the best-performing airline. They offer a good WiFi connection and excellent inflight entertainment. Many holiday destinations and great onboarding services are waiting for those who choose to fly with Delta Air Lines.
Give Delta Air Lines gift card to someone and brighten their day!
Tripgift gift card
Book flights, hotels, tours, and more with a Tripgift gift card. Tripgift is a digital self-serve online travel gifting site with over 1.5 million travel products worldwide. These include group or private tours, eLearning courses, transfers, and flight + hotel deals.
Tripgift is an exciting experience you can gift to someone special. Whether it's a birthday, Christmas, anniversary, or another special occasion – a Tripgift gift card will be a perfect surprise!
Hotels.com gift card
Hotels.com offers thousands of accommodation options across the globe. And don't be fooled. It's not only hotels they have on their list. There are cottages, apartments, B&Bs, and guest houses to choose from, depending on your traveling needs. Also, they offer a nice reward system where customers earn a free night for every 10 nights stayed.
Give someone a Hotels.com gift card and let them find the accommodation of their dreams.
Uber Rides gift card
Add value to someone's Uber account by giving them an Uber Rides gift card! Go from point A to point B without any worry. If you know someone who's always late and rushing – Uber Rides top-up might be just what they need.
Uber is now operating in 80 countries across the globe, so it might be the perfect choice of travel inside the new city.
Lastminute.com gift cards
Lastminute.com will find you everything you need for unexpected holidays. It's an online travel and leisure retailer that can help you find flights, stays, and holiday ideas in a nice bunch of countries.
Lasminute.com gift card will make a great gift for every travel enthusiast and offer something special for every taste.
Careem gift cards
Careem is a top SuperApp in UAE and the Middle East region. It offers mass transportation, delivery, and payments with a mission to simplify and improve people's lives. Like Uber, Careem lets you choose from a wide range of options and get a ride in minutes.
Ride, order food and pay for all of it with a Careem gift card!
Can you use bitcoin to pay for a flight?
You can buy an airline ticket by redeeming a gift card on the airline's website. You can cover the exact price of the ticket, or just a part of it, depending on the gift card's value.
How do you travel with crypto?
You can use your crypto gains to buy flight tickets, accommodation, rent a car, and more. You can do it by searching for companies that accept direct crypto payments, such as Alternative Airlines, Travala, etc., or buy gift cards for crypto.
Companies like Airbnb, Flixbus, or Hotels.com don't have plans to accept crypto payments soon, but we have a gift card for it!
Can I book hotels with crypto?
If you want to use crypto to pay for accommodation, you can buy hotels.com, Hotelsgift, or Airbnb gift cards and redeem them by choosing your desired place. Otherwise, you should search for hotels that already accept direct crypto payments.
Do any airlines accept Bitcoin?
Even though the travel industry doesn't seem to rush with cryptocurrency adoption, some airlines already accept bitcoin. AirBaltic, CheapAir, Alternative Airlines, and Travala might be just what you are looking for.
Can you spend bitcoin anywhere?
There are a few ways to spend Bitcoin anywhere you like. You can have a debit card connected to your cryptocurrency and use it in a very traditional way, online or offline. Another option is to search for businesses that accept bitcoin payments or buy crypto gift cards.
Can you buy a gift card for travel?
You can buy a gift card for any form of travel: either it's an airline gift card, a gift card for accommodation, or a gift card for train or bus tickets. Just know what you want or browse our travel gift card category options.