Crypto Payments, Crypto-Friendly Merchants
Airlines that accept Bitcoin and Altcoins
Last updated: February 22, 2019 7 min read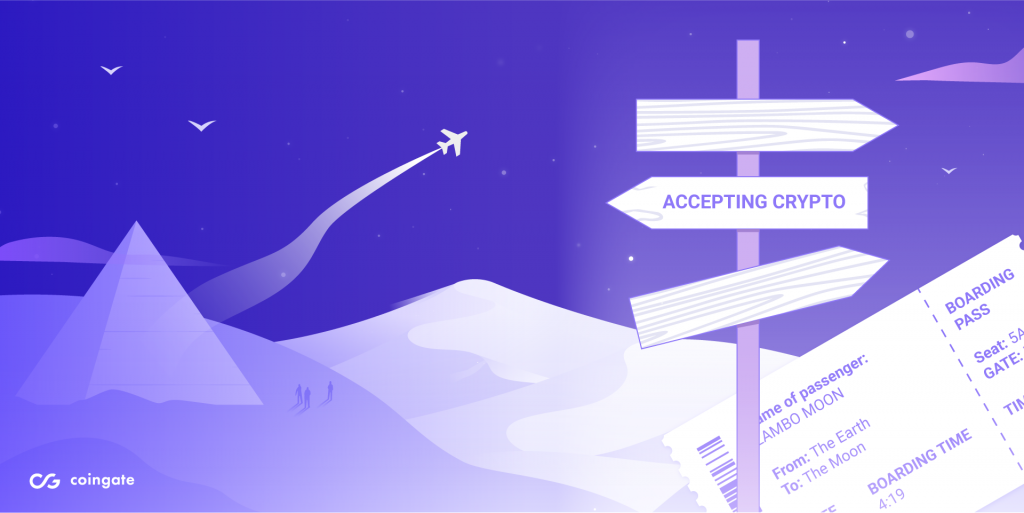 There is no better feeling than paying for airline tickets or a hotel room with any cryptocurrency you prefer. It makes you feel like you truly live in the age of technology.
Nowadays, it is quite easy to make a purchase with digital currencies, whether you use Bitcoin, Litecoin, XRP, Ether or any other virtual asset.
As more and more merchants adopt these additional payment options, the use-cases of cryptocurrencies are bound to rise.
Even now, nothing can really stop you from using any of these 50 cryptocurrencies to purchase video games, web hosting services, and numerous other things. Luckily, the same applies to the tourism industry – travel agencies and travel sites. Meaning you can actually plan your whole holidays using only digital currency. Pretty cool, we would say!
Which travel sites accept Bitcoin and altcoins?
Today, we feature travel sites and airlines that accept bitcoin payments for hotel and flight bookings, including some additional services.
A variety of options these companies offer are available for digital currency users and will surely provide the ultimate crypto-holiday experience.
With that said, let's not delay any further and start exploring these websites:
Alternative Airlines
To actually have a vacation, first, you will need to book a flight somewhere. That is where the flight search platform Alternative Airlines steps in with hundreds of thousands of attractive offers. It scans offers from 600 airlines and suggests a wide choice of destinations, arrival-departure times and prices.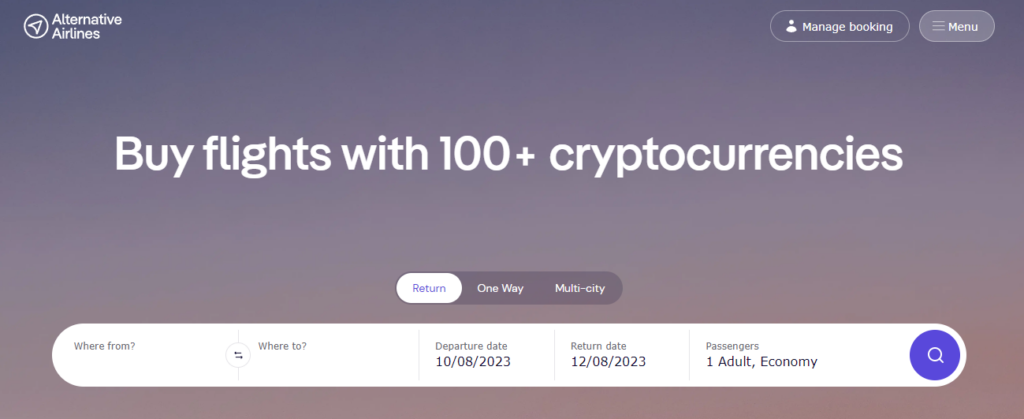 So if you're in a search for the cheapest flights for your next destination or you want to plan multiple-stop holidays to feed your adventurous soul – they will have you covered. And will require only one purchase.
Additionally, Alternative Airlines accepts 160 different currencies and 40+ international payment methods. It means that you can travel with bitcoin, as well as buy tickets with any other payment method you could think of.
Airlines like American Airlines, Delta, Lufthansa or Ryanair might not accept direct bitcoin payments. Therefore, travel sites like Alternative Airlines work like a bridge between those who want to surf air with crypto and flight tickets from an exact airline.
Also, it is worth noting that Alternative Airlines offer a buy now, pay later option. So if you have unexpected and unplanned travel expenses, you can spread the cost of the booking and pay a weekly or monthly fee to flexibly cover your needs.
Accepted cryptocurrencies: Bitcoin, Dash, Ethereum, Litecoin, Ripple, Tether, Dogecoin, Shiba Inu, Polygon, Dai and +70 cryptocurrencies.
Travala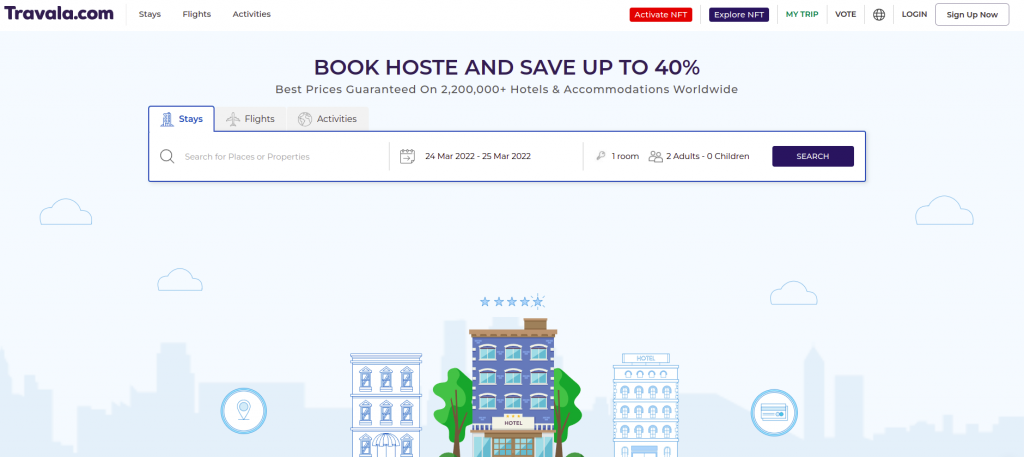 Visiting abroad countries is way more pleasant when you don't have to worry about your accommodation. A good thing is, Travala makes it easy to find a place to stay in 230 countries and territories. Currently offering over 2,200,000+ properties worldwide in 90,124 destinations, the website pinpoints you to the best offers according to your own preferences.
Travala's filter system allows you to sort the search results by type, rating, price, facilities and even a meal type – all to find the best vacation deals possible.
Provided accommodations come with a short description, distance from the city center, pictures, map and, of course, the price.
You can get even more detailed information that includes all the facilities and additional services of the hotel. With such detailed suggestions, Travala might be the most liked online travel agency by the crypto community.

Actually, Travala is a travel booking platform based on blockchain technology and has its own native cryptocurrency – AVA token. Meaning, that from the very beginning of this start-up in 2017, it was open for virtual currencies. Travala accepts bitcoin payments together with multiple cryptocurrencies.
Accepted cryptocurrencies: AVA, Bitcoin, XRP, Ether, Litecoin, TRON, Nano, XRP, and +70 other digital currencies.
CheapAir
This particular company began accepting Bitcoin payments in 2013, making them the real pioneers of cryptocurrency payments adoption. And just recently, they expanded their payment options even more.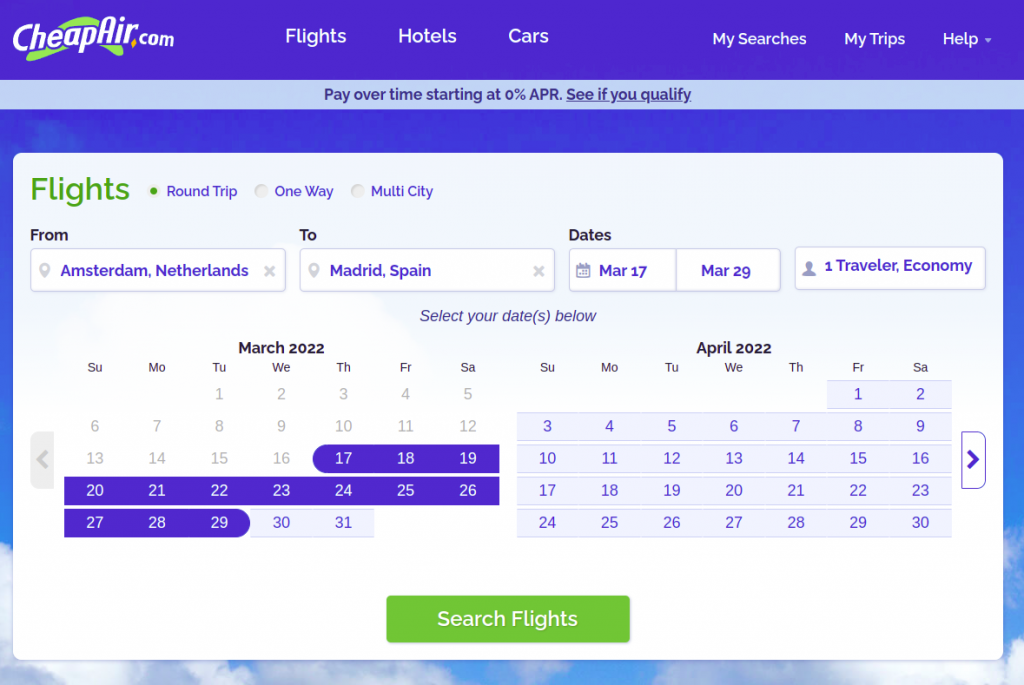 CheapAir lets you pay for flights from the biggest aviation companies in the world, scouring the web for the cheapest and most convenient air travel options.
On top of it, you are always sure that you pay the best price because CheapAir users receive compensation for the price difference if the flight price is lower after buying.
Besides booking flights, you are also able to book accommodation – just pick a destination, fill the information fields, and you will quickly be presented with cheap quality hotels, well-appointed resorts, and budget motels.
Feel free to choose from 200,000 hotel options by city, airport, address, landmark or specific hotel property in numerous destinations across the world.
It's worth noticing that besides the services mentioned above, on the same website you are just a few clicks away from renting a car in your desired destination. On CheapAir website you will also get travel tips from the experts and unbiased information that might help you learn about the best time to book flights.
Accepted cryptocurrencies: Bitcoin, Dogecoin, Ethereum, Gemini, Bitcoin Cash, Wrapped BTC, DAI, Paxos Standard, Litecoin, Shiba Inu and USD coin.
AirBaltic
AirBaltic airline offers a search platform for flight tickets to over 70 destinations in Europe, the Middle East, Russia, and the CIS.
The well-trusted company serves its customers since 1995. Following the example of CheapAir, in 2014 AirBaltic became one of the first airlines, which together with other payment methods, begin accepting Bitcoin.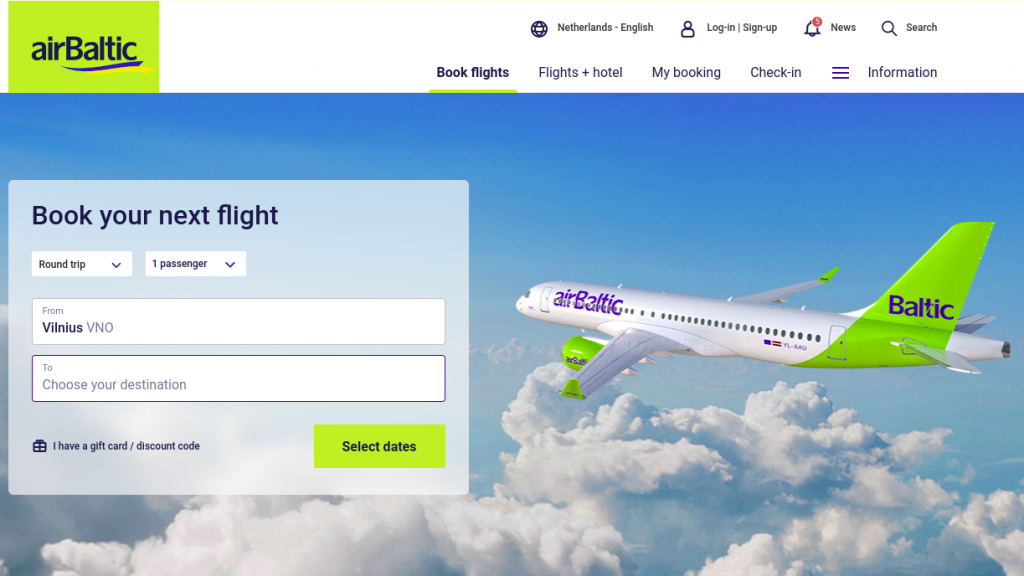 However, according to their travel site, the Bitcoin payment option is only available for AirBaltic GREEN tickets. Also, keep in mind that with this airline, you have to book a flight at least five days ahead of the departure if you want to pay with Bitcoin.
Serving 1.6 million passengers in 2021 alone, AirBaltic stands out as a reliable platform where you can scout for some great deals for cheap flights. Since 2014, more than 1 000 airline users have made cryptocurrency payments for their flights.
AirBaltic accepts bitcoin from the very beginning of cryptocurrency rise and for a long time, it was the only available currency. But since the beginning of 2021, they added more digital assets to their list.
Accepted cryptocurrencies: Bitcoin (BTC), Bitcoin Cash (BCH), Ethereum (ETH), Dogecoin (DOGE) and 4 USD-pegged stablecoins (GUSD, USDC, PAX, and more).
How do I travel with Bitcoin?
It might take some time for every major player in the tourism industry to become a crypto-friendly business. But for those, who can't wait to shift from credit or debit card to digital currencies, gift cards might come in handy.
Gift cards as a form of payment
For example, at CoinGate you can buy gift cards to cover various travel expenses – bus tickets, hotel rooms, flights or even cruises. And cryptocurrencies are widely accepted.
As for flights – only a few airlines accept bitcoins or other altcoins directly. By buying an AirAsia gift card, Jetstar gift card, Air Canada or Virgin gift card you can make a crypto payment of your preferred currency and book flights when redeeming your gift card.
The same goes with hotels or staying options. Airbnb offers a wide list of stays in almost every city of every country, but it might take a while for Airbnb to start accepting bitcoin as a payment option. With Airbnb gift card you can scratch this problem off your list.
Besides, when you purchase gift cards, make sure to check the final payment screen and choose your preferred cryptocurrency. Options might vary depending on the chosen gift card.
Thinking of accepting cryptocurrencies?
Merchants like Alternative Airlines, which employ our services, in particular, accept over 70 cryptocurrencies for their goods and services.
Moreover, they can choose the payout option that suits their needs the most or to keep those coins that we support natively.
If you are someone who is interested in accepting cryptocurrency payments, check out our article about why you should definitely consider doing it!
Also, don't forget to subscribe to our blog or follow us on Twitter and LinkedIn! We write about our developments, showcase merchants and occasionally share some insights. If you're up for these kinds of things, enter your email address down below!