Businesses have the ability to invite their team members to join CoinGate and then set permissions for them to manage different aspects of the workflow!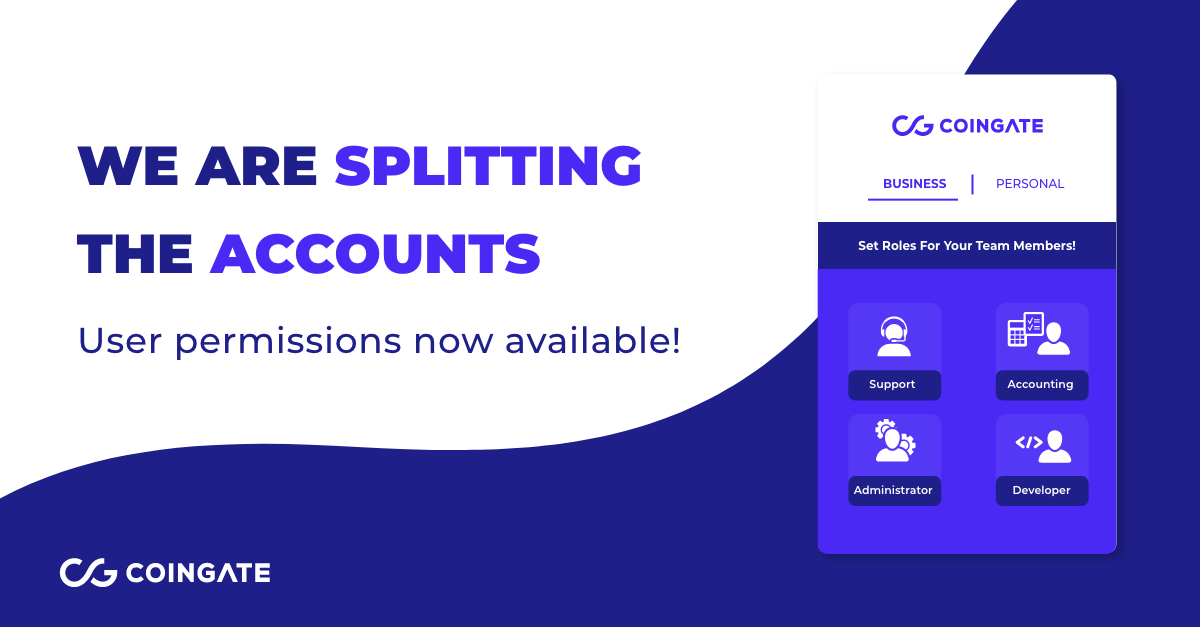 Before, our customers, no matter if trader or merchant, were able to have one account with single access. In other words, the same account could have served for both business and personal use, allowing you to manage your business affairs and use trader services in the same environment. 
Now, we are separating personal accounts from those that are fully dedicated for the purpose of managing the business. All newly created accounts count as personal until you create your company's profile, which allows you to switch to a business environment and manage your activities separately from your personal affairs. 
From here on, the owner of a verified business account can invite multiple CoinGate users to join the platform under the company's umbrella and give them permissions that allow executing specific functions, while limiting others. 
This creates an opportunity for both medium and big enterprises to build their own infrastructure inside CoinGate's platform and create permission-based payment management system.
On top of that, you will also notice some slight changes on your account dashboard, as well as a few additional minor features we're going to present in a second. 
How do user permissions work? 
Currently, the owner of CoinGate business account can set four different permissions for his/her personnel – Administrator, Accounting, Developer and Support. 

These roles are entitled to these functions:
Administrator role embodies all other roles and can perform all the same functions as the owner (meaning everything), except for making changes to the user with owner permissions. 
Accounting role allows accessing monthly invoices and view orders.
Developer role allows to create, edit and make all the other changes to merchant tools.
Support role allows to create and view support tickets, as well as view orders.
You can connect as many users and give them as many roles as you like. If these users have no intention to buy or sell cryptocurrencies as individual persons, they don't need to pass our verification process! 
Keep in mind that it's possible to give several permissions to the same user, although only one owner per business can exist at the same time. However, you can have several businesses registered under the same owner, but all businesses must pass the verification process individually. 
To add a user to your business account, go to "Account"->"Manage business" and click the "+Invite People" button. All you need to have is the user's email address. 
As a business owner or administrator, you can see a list of all the users and their permissions in the "Account"->"Manage business" section under the "Users" tab.
To see all the activity of your business account, switch from "Users" tab to the "Activities" tab.
Once you start inviting your team members, you will also have the option to force all invited users to enable two-factor authentication (2FA) on their account. Otherwise, they will not be able to perform any assigned tasks until 2FA is enabled on their account.

Simple, intuitive and elegant dashboard
Besides all the exciting new features, we're also improving our users' experience. 
Once you log into your CoinGate business account, you will immediately notice new widgets, as well as conveniently placed directions to most essential pages that you'll likely want to find quickly and easily. 
Let's take a closer look at the changes that we've made: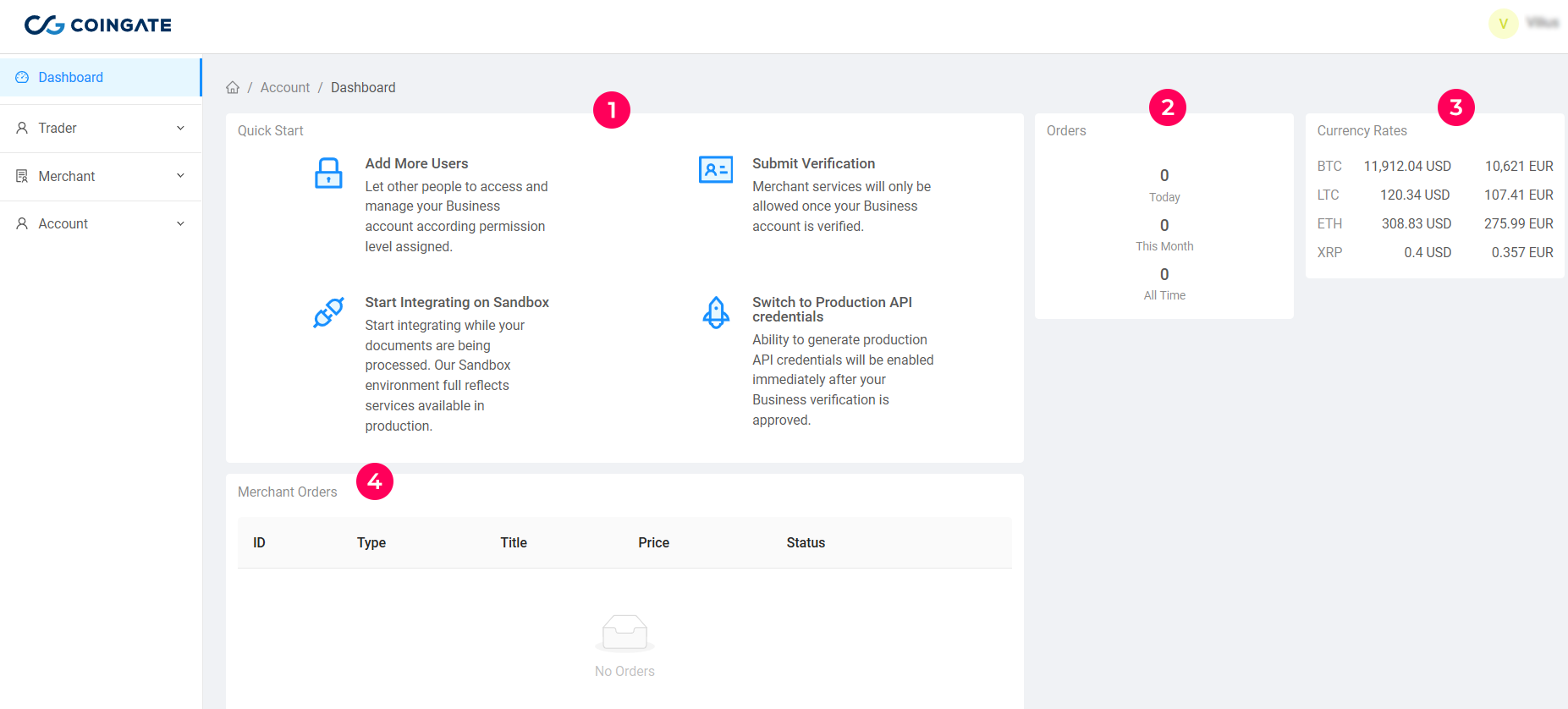 The first section is dedicated to better navigation throughout our website. Now, you are one click away from testing our product in the sandbox, switching to production API credentials, submitting verification documents or adding new users to our business.

Here, you can see the count of your daily/monthly/all-time orders.

"Currency rates" widget shows you the current prices of most prevalent digital assets in real-time.

This section allows you to quickly review your most recent merchant orders, including information like order's type, title, price, status and ID.
…and it's just the tip of the iceberg!
All these new features mark the first step towards more significant changes. We have plenty of surprises up our sleeves, and soon enough, we will present you even more updates that will vastly expand the functionality of our product, as well as provide more flexibility, convenience and opportunities to our customers.
If you're interested in our roadmap, check out the article where we talk about our plans for 2019.
If you want to be the first one to hear all the latest news, simply subscribe to our blog! You can do that by entering your email in a column below. That way, we will be able to inform you whenever we have something important to say! 
Subscribe now
Enter your email adress below to stay in the loop far all blogs