Case Studies, Crypto Payments
Crypto: Universal Payment Method For Service Simplification
Last updated: February 8, 2023 7 min read
In this day and age, being fast and efficient can make a meaningful difference between the success and failure of a business.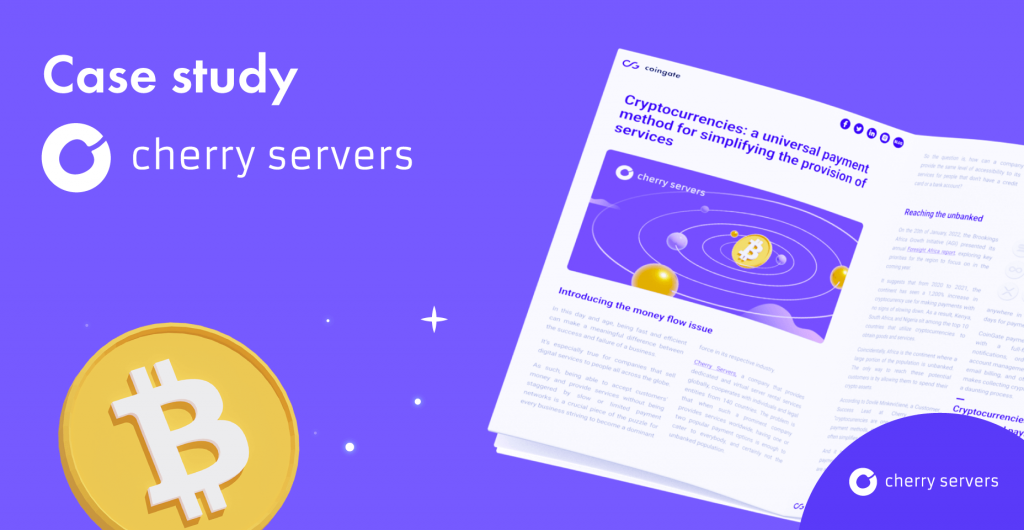 It's especially true for companies that sell digital services to people all across the globe.
As such, being able to accept customers' money and provide services without being staggered by slow or limited payment networks is a crucial piece of the puzzle for every business striving to become a dominant force in its respective industry.
Cherry Servers, a company that provides dedicated and virtual server rental services globally, cooperates with individuals and legal entities from 140 countries. The problem is that when such a prominent company provides services worldwide, having one or two popular payment options is enough to cater to everybody, and certainly not the unbanked population. 
So the question is, how can a company provide the same level of accessibility to its services for people that don't have a credit card or a bank account?
Cherry Servers' solution has been simple yet proven to be quite effective – the addition of cryptocurrency payment methods to their store's checkout.
Reaching the unbanked
On the 20th of January, 2022, the Brookings Africa Growth Initiative (AGI) presented its annual Foresight Africa report, exploring key priorities for the region to focus on in the coming year. 
It suggests that from 2020 to 2021, the continent has seen a 1,200% increase in cryptocurrency use for making payments with no signs of slowing down. As a result, Kenya, South Africa, and Nigeria sit among the top 10 countries that utilize cryptocurrencies to obtain goods and services.
Coincidentally, Africa is the continent where a large portion of the population is unbanked. The only way to reach these potential customers is by allowing them to spend their crypto assets.
According to Dovilė Minkevičienė, a Customer Success Lead at Cherry Servers, "cryptocurrencies are one of the universal payment methods, the availability of which often simplifies the provision of services".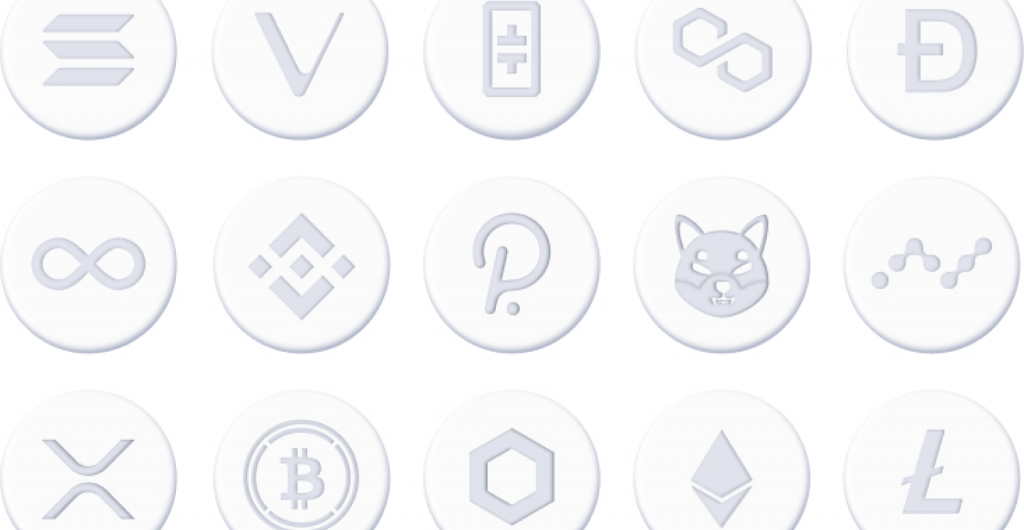 And it truly is – by employing CoinGate payment processing services, Cherry Servers are able to accept +70 cryptocurrencies from anywhere in the world without waiting for days for payments to clear.
CoinGate payment gateway is also equipped with a full-fledged refund system, notifications, order tracking, accounting, account management, subscriber list building, email billing, and other helpful tools, which makes collecting crypto payments way less of a daunting process.
Anonymity as a unique selling point
Additionally, some customers are not willing to spend money online unless certain conditions are met. While the most prominent conditions are fast and borderless payments, buyer anonymity sometimes plays a significant role in customers' decision-making.
However, most online shops ask for things like your name, address, email address, and credit card number before allowing you to make a payment, which certainly does not satisfy those who have compelling reasons to stay unidentified.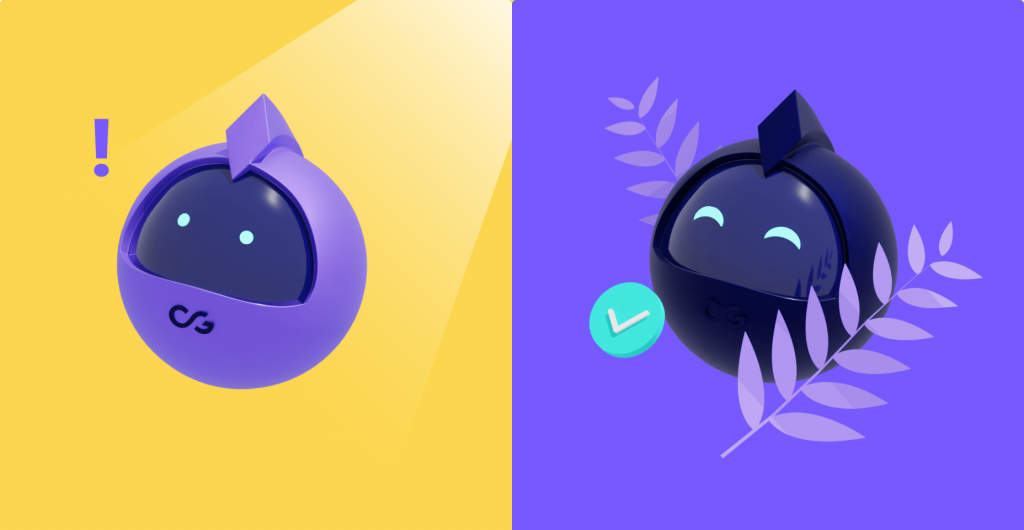 It could be a website owner, a system engineer, a public-sensitive business entity, or anyone else that is heavily incentivized to share as little personal information as possible to avoid consequences of any potential 3rd party data leaks.
Whatever the reasons for staying anonymous might be, remaining completely invisible online is both a right and an option that every person should have.
Since not all merchants offer anonymity, their competitors have an opportunity to leverage it by presenting anonymous payment methods as a unique selling point.
Anonymous payments achieved through cryptocurrency transactions
One way to create anonymous payment rails is by accepting Bitcoin or other cryptocurrencies for payments, as the customer's name, email, or IP address is not recorded on the blockchain. Still, one might argue that cryptocurrency transactions are not entirely anonymous but rather pseudonymous, and that would be true.
Theoretically, you can create a new Bitcoin wallet and use it to send or receive payments anonymously without any risk of exposing your identity. However, if bitcoin is converted to fiat currency at any time, there aren't many ways to bypass identity verification at the exchange points.
In other words, selling Bitcoin or other coins for fiat currency won't be easy without exposing yourself. But that's rarely a concern for crypto users who exclusively use crypto for online purchases. 
Concerns might arise if a wallet address is made possible to be linked to a real person's identity through social media, forums, personal websites, or other forms of an online presence.
But, as long as a person doesn't share his wallet address publicly and does not exchange cryptocurrencies for fiat currencies, retaining anonymity is entirely possible, and cryptocurrency users surely know how to take advantage of it.
Who seeks anonymity?
According to CoinGate's data, which closely matches several research efforts conducted over the past several years by other entities, VPN, web hosting, and virtual server rentals are industries that have the most consumers who are willing to pay with cryptocurrencies and, in general, seek anonymity more often.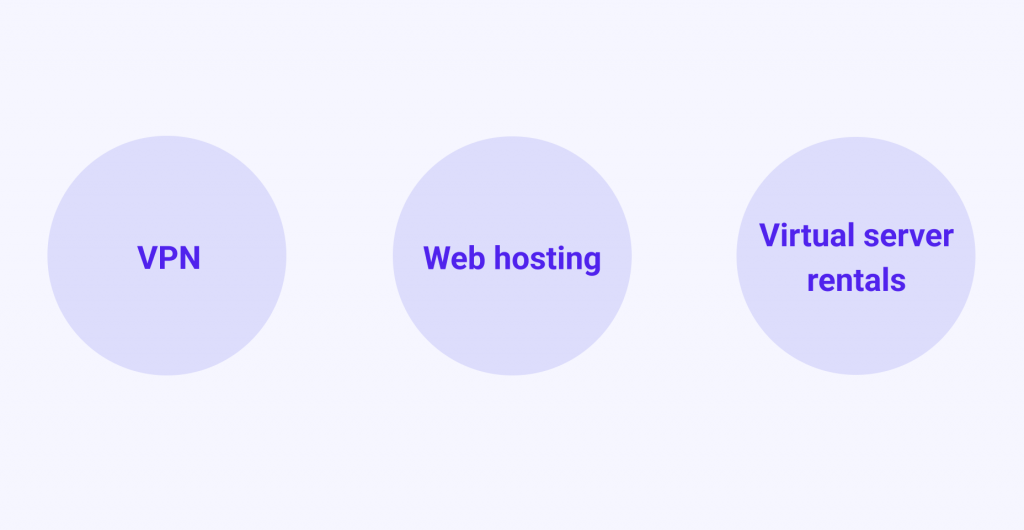 Coincidentally but not surprisingly, these industries are way ahead of others in adopting cryptocurrency payment methods for this exact reason.
By allowing customers to pay with cryptocurrencies, two things happen:
Customers don't have to disclose their personal info, and, in turn, companies do not have to collect (and thus protect) as much information on them;
More customers worldwide are keen to order the product or service when presented with more preferable payment methods, bringing in more sales as a result.
With cryptocurrency payments, Cherry Servers can provide services to the remote corners of the world while, at the same time, attracting and even retaining the most selective customers.
Cherry Servers crypto experiment results
Cherry Servers started accepting crypto payments via the CoinGate payment gateway in May of 2019 and continues to do so to this day. According to the CEO of Cherry Servers, Vaidas Rutkauskas, "accepting crypto payments is one of the most successful business decisions".
Even though the CEO emphasizes the possibility of converting coins into Euros and the effortless transfer of collected funds to a bank account as the most pleasing thing about using a payment gateway, the customer's ability to perform anonymous transactions is what actually encouraged many new people to try Cherry Servers services.
"We have integrated crypto payments based on our customer needs – most of them prefer paying with crypto," explains Vaidas, adding that "customers were happy with the innovation, and we were excited about the opportunity to offer our services to an even wider range of customers. Currently, crypto payments take up a large part of our basket, and consistent growth is observed."
A year after implementing crypto payments, Cherry Servers witnessed around 10% growth in crypto payments volume. A slower but steady growth continues until this day.
Even more ways to utilize cryptocurrency payments
The success of Cherry Servers business heavily depends on the advancement of technological solutions and the diversity of the service basket to meet the requirements of different projects.
However, besides anonymity, speed is no less important – swift service provisioning and fast payments also make a huge difference, and that's where payment gateways like CoinGate make themselves notably helpful.
There are many other ways a company can utilize cryptocurrency payment processing services and take advantage of many tools that help navigate the growing crypto markets. Learn more.