Company Updates, Crypto Payments, Gift Cards, Product Updates, Trading
CoinGate integrates the Shiba Inu token into its services
Last updated: November 17, 2021 3 min read
It is our greatest joy to announce that Shiba Inu (SHIB) has been integrated as our newest cryptocurrency! Every CoinGate user, from merchants to traders or Gift Card shoppers, can now accept, buy, trade, or spend this sky-rocking meme coin on the things they want.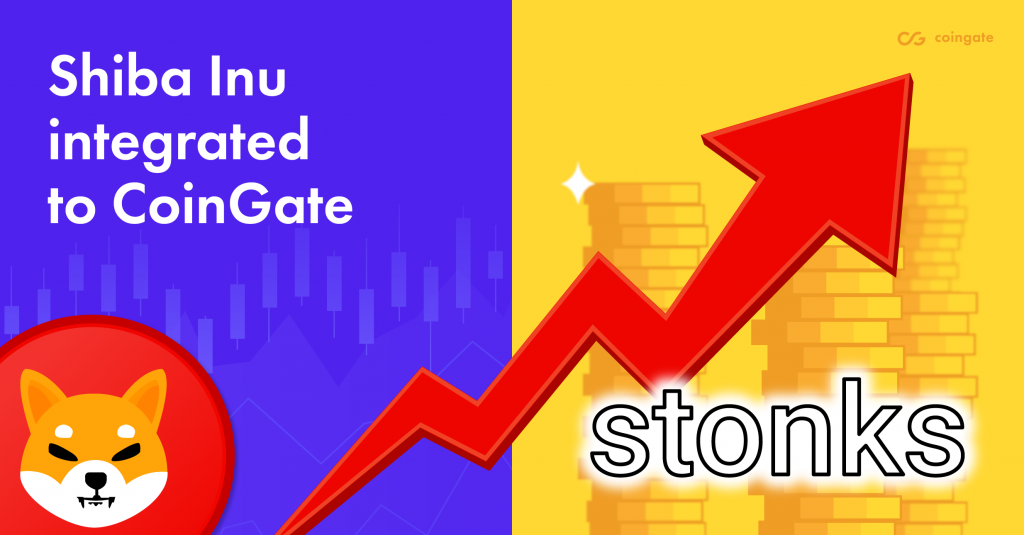 Without a doubt, this news is huge for CoinGate and the ShibArmy. Because anyone who owns SHIB, will have wider possibilities to spend it and those who want to own this cute meme-coin, will be able to buy it with a 1% rate.
What does it mean for Shiba Inu community?
First, SHIBs integration to the CoinGate services might cheer up the already-hyped Shiba Inu community, because now more than 500 CoinGate merchants can accept Shiba Inu payments from their shoppers.
Secondly, Shiba's integration into our trading system allows you to buy SHIB with 1% rate.
Lastly, with the Shiba Inu token integrated into our gift card store, CoinGate becomes one of the few crypto gift card providers, who allows purchasing everyday-life necessities with this altcoin.
What is Shiba Inu?
Shiba Inu (SHIB) is an Ethereum-based altcoin . Fungible tokens like Shiba Inu are ERC-20 tokens, powered by Ethereum, therefore this tokens' ecosystem supports projects, such as the NFT art incubator and the development of a decentralized exchange called Shibaswap.
Shibas' Inu WoofPaper (a.k.a. White paper) starts with a simple question: What would happen if a cryptocurrency project was 100% run by its community? And we can all witness the answer to this question by following SHIB's existence.
Shiba Inu is the second most known meme coin and is usually considered as an alternative to Dogecoin. In fact, it is also known as the "Dogecoin killer".
What differs between Shiba Inu and Dogecoin?
Shiba Inu and Dogecoin have been the most popular meme coins of 2021. They both have huge support from the community, which is built around the tokens, and they both gained their popularity from the hyped-up social media posts. Oh, also, they're the same breed of dog.
The difference lies in the supply amount. Dogecoin boosts its supply by incentivizing its miners with 10,000 Dogecoins every minute. Shiba has a maximum supply of quadrillion tokens. About 41% of Shiba Inu's total supply was burned by Vitalik Buterin, the co-founder of Ethereum.
To the moon
We believe that every currency can be a paying currency, therefore integrating Shiba Inu is a fascinating step for our community. Still, we're growing our currency list day-by-day so subscribe to our blog by entering your email down below, or follow us on Twitter to hear about them first!
Act now
Press here to buy SHIBA
Press here to buy gift cards with SHIBA
Press here and find the list of stores who accept SHIBA as a paying currency