Crypto Payments, Educational
CoinGate In 2022: Did Crypto Payments Perform Well?
Last updated: January 4, 2023 5 min read
The continuing bear market makes many people assume that cryptocurrencies and their usefulness as means of payment are on their way to perish. But what do the cold-hearted numbers tell us about the actual crypto payments in e-commerce?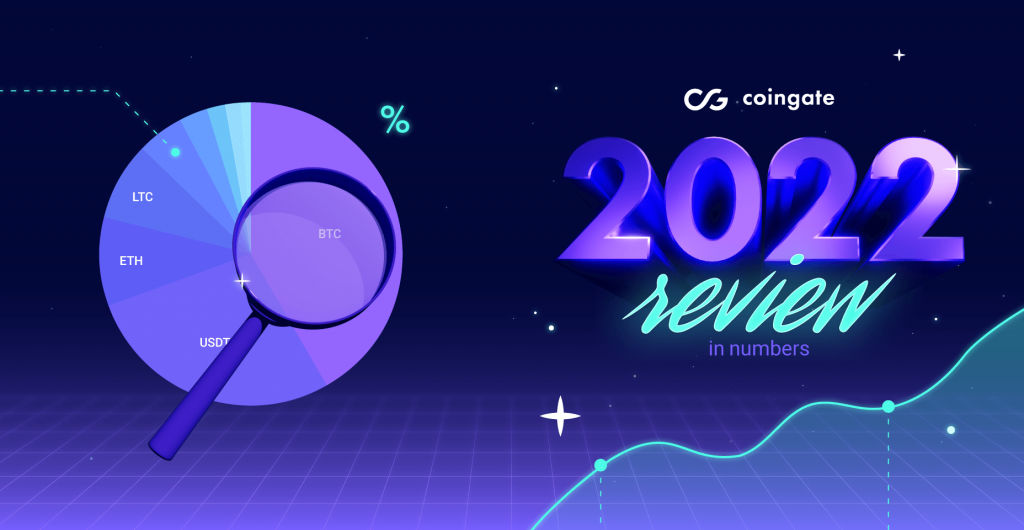 As a prominent cryptocurrency payment processor, we're in a decent position to paint a bigger picture of the crypto payments landscape and tell a story that, for some, might be surprising. 
Without further ado, let's see how crypto shoppers behaved in 2022, what cryptocurrencies were dominating the retail payments sector, and what conclusions we can draw based on data brought to your attention by CoinGate.
Bear market or not, people are spending crypto like there's no tomorrow
Since 2014 when CoinGate first started processing cryptocurrency payments for businesses, merchants have received over 2.5 million customer payments for their goods and services–that's 312,500 orders per year on average.
Over the span of 2022, however, CoinGate-powered merchants have collected 927,294 payments in total, or approximately 2.7 times more than the yearly average, marking a 63% increase from the previous year of 2021.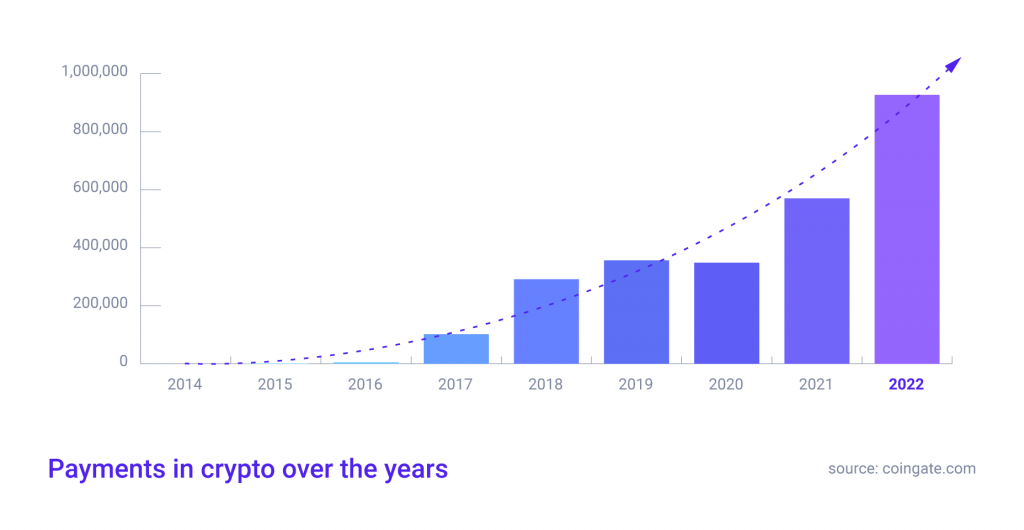 To put this number into perspective, that's one paid order processed by CoinGate every 34 seconds. That's impressive, considering the depth of an ongoing bear market, which suggests that hemorrhaging markets do not necessarily discourage people from going on a shopping spree.
In fact, it's quite the opposite, as the merchants' turnover in 2022 had increased by a staggering 60% compared to a year before when crypto markets peaked, with VPN, VPS and hosting service providers reaping the most rewards.
This begs the question – do crypto users just not care about coins losing their value, or is spending crypto just another clever way to exit the market without paying taxes?
What cryptocurrencies are people actually spending?
While CoinGate merchants accept more than 70 cryptocurrencies for payments, some are being used more frequently than others.
No big surprises at the top of the food chain – in 2022, Bitcoin accounted for nearly half or 48% of all transactions. Notably, it's 7.6% less than in 2021, suggesting that Bitcoin's dominance in payments, despite the growing number of transactions, has been slightly diminished by altcoin payments. 
So what coins are taking the shine from Bitcoin? The second most popular cryptocurrency used for shopping in 2022 was USDT, with 14.8% dominance, followed by Ethereum (10.9%), Litecoin (9.6%) and TRON (5.8%).
The most eye-catching change over the past few years is the sudden rise in popularity of USDT as, in 2021, USDT accounted only for 2.3% of all payments made to merchants – 12.5% less than in 2022, suggesting that stablecoins are becoming a much more prevalent payment option.
Also, in 2022 some coins reached the TOP 10 most used cryptos list for the first time – that's BNB (3.5%) and ADA (1.1%). Will they keep their momentum moving forward?
The growth of Lightning Network is remarkable to witness
BTC Lightning Network continues disrupting the payments industry by showing consistent growth and increasing user confidence each year. 
In 2022 alone, payments made through the Lightning Network grew by 97% and accounted for 6.29% of all orders paid in Bitcoin, compared to 4.53% in 2021. That means, on average, last year, every 16th order at CoinGate was paid using the Lightning Network layer. 
In general, 2022 was great for the Lightning Network as the capacity in BTC has doubled over the year while the node count has increased as well, signaling a speeding-up adoption of its use.
Knowing how much effort in development is put into this technology, it's unlikely to see the adoption rate slowing down anytime soon.
Businesses remain curious and optimistic about crypto payments
Despite the overall market downturn, CoinGate has witnessed a 48% increase of newly registered merchants in 2022 compared to 2021, with such industry juggernauts like NordVPN joining the list of crypto-friendly establishments.
The most common reason for accepting crypto payments cited by merchants remains the same every year – better accessibility to services for the unbanked and privacy-conscious customers, ultimately resulting in more sales. 
According to the CEO of IT infrastructure service provider Cherry Servers, Vaidas Rutkauskas, accepting crypto payments was one of the most successful business decisions in a long time.
"We have integrated crypto payments based on our customer needs – most of them prefer paying with crypto," explains Vaidas, adding that "customers were happy with the innovation, and we were excited about the opportunity to offer our services to an even wider range of customers. Currently, crypto payments take up a large part of our basket, and consistent growth is observed."
Donatas Strazdas, a Financial Analyst representing a VPN provider Surfshark, also shared his point of view regarding the need for crypto payments: "Some of our customers take care of their privacy on the Internet almost religiously, so paying with a decentralized and completely anonymous currency is one of the few acceptable ways to pay for services. To enable such users to use our product, we have decided to introduce cryptocurrency payments."
Since today's payment processors eliminate the headache of crypto price volatility by allowing instant settlements to fiat currencies, there aren't many reasons why setting up crypto payments shouldn't be considered by merchants seeking innovative ways to reinvigorate their businesses.
That's also the train of thought of another company that employs CoinGate services – Hostinger. "Not only we have the option to offer different types of cryptocurrencies for payments, but we are also able to control the volatility risk by converting crypto to fiat instantly, which is one of CoinGate's features we enjoy the most," says Gediminas Griška, Hostinger's Head of Payments.
Conclusion
One thing we can say for sure is that the growth of cryptocurrency payments adoption is not slowing down but speeding up.
Will more businesses take advantage of cryptocurrencies in 2023, seeing how rewarding and low-risk this step is? Only time will tell, but we remain optimistic.