If your website starts growing fast, you might have to consider upgrading your hosting plan to something that would better suit your needs. VPS can be the best option when switching from shared hosting services in such a case.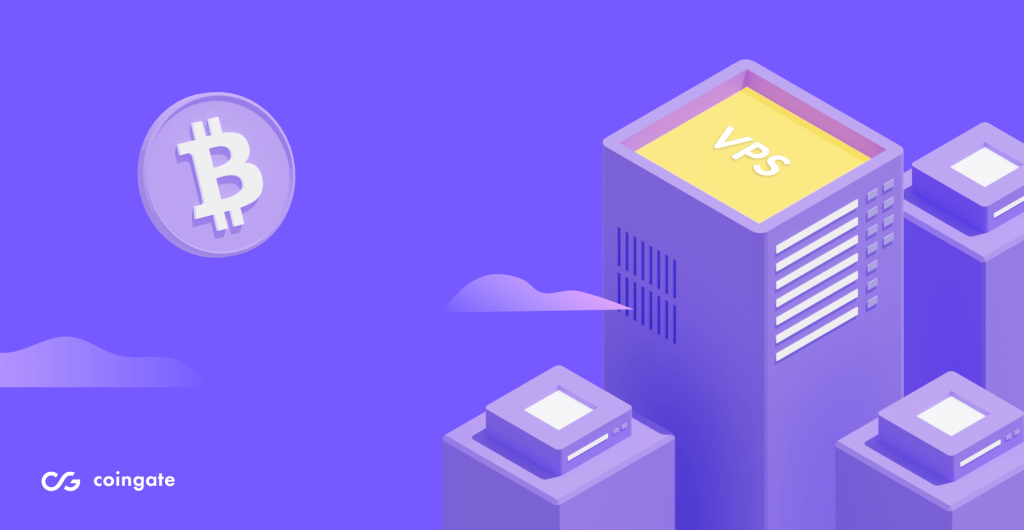 Want to buy VPS with Bitcoin or other crypto? In this article, we will showcase 7 VPS providers that offer their services for cryptocurrencies like BTC, DOGE, ETH, and 70+ others.
What is VPS hosting?
VPS, or Virtual Private Server, is a hosting service that ultimately combines the benefits of shared hosting and dedicated hosting solutions.
In other words, VPS is a piece of physical hardware functioning like several entirely separate servers, where you can set up custom software, run any operating system, and more.
How does VPS hosting work?
With VPS Hosting, you still share the physical server with other users, but it simulates the experience of a dedicated server for a much lower cost.
With the help of virtualization technology, your web hosting company puts a virtual layer on top of the server's operating system (OS) and separates your server from other server users.
VPS allows you to set up your website within a secure container with guaranteed resources like memory, disk space, etc., and you get the same root-level access as if you had a dedicated server.
Why do I need a VPS?
Shared hosting is usually cheaper and might be enough to sustain small blogs, portfolios, or personal websites. However, once your site gets larger and your traffic increases (especially if you're running an online shop), you might start experiencing issues.
For example, you can encounter slower loading times, low bandwidth, or a lack of RAM. These and other problems are common because, in shared hosting, every user has access to all server resources. That means if someone else gets a massive spike in traffic, it might lead to an unpleasant experience for you and your website visitors.
On the other hand, when using VPS, you won't have to share RAM, CPU, bandwidth, or any data with other users, unlike when using shared hosting. Additionally, VPS provides several layers of impenetrable security, which serves well for businesses dealing with customer information or just people who value their privacy.
How much does VPS hosting cost?
For comparison, virtual private server hosting costs more than shared hosting but less than a dedicated hosting plan.
There is no exact price that you'll pay for VPS hosting because it will depend on the features and resources you choose in your plan. The price also depends on the size and the scope of your website.
Where to buy VPS with Bitcoin or cryptocurrencies
To buy VPS with Bitcoin or other crypto, check out these VPS providers that accept numerous cryptocurrencies for payments:
Hostinger
Hostinger might be the cheapest web hosting provider on our list that accepts crypto payments and offers the most hosting solutions, VPS being one of them.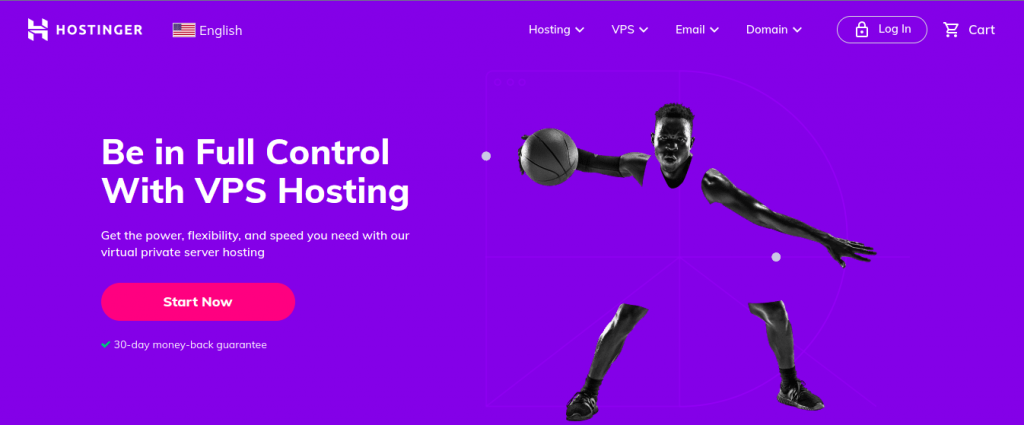 You can choose one of 8 suggested VPS hosting plans for your site. The cheapest one costs $2.49/month and offers 1GB RAM, 20 GB SSD Disk space, 1TB Bandwidth, a dedicated IP, full root access, 100 Mb/s networks, and 24/7 support.
Hostinger gives you complete control over your hosting with a full root access feature and ensures exceptional loading times with a 100 MB/second guarantee.
The company provides enough processing power for any medium or large-scale online project because each private server has the latest Intel Xeon processors, terabytes of NVMe SSD storage, and 512 GB RAM.
What about security, you might ask? Their native /64 IPv6 block infrastructure will help you avoid latency, networking, and blacklisting issues, and automated backups will help you restore your website very quickly.
Price range: From $2.49/month to $77.99/month.
Accepted cryptocurrencies: Bitcoin, Litecoin, Ether, XRP, and +70 other cryptocurrencies.
Cherry Servers
Cherry Servers offers a broad range of web hosting solutions for small and large projects and might have the most flexible billing options out there.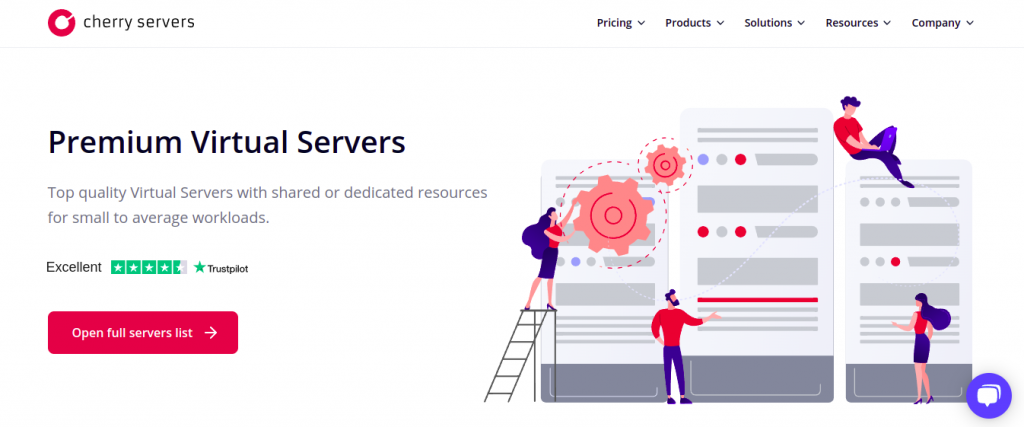 You can choose to pay per hour or month or opt for a quarterly, semi-annual, or annual plan. Costs of VPS plans are also flexible and mainly depend on how much power you need.
Companys' website is very detailed and easy to navigate, especially regarding plan breakdowns.
For VPS, you can choose either Cloud VPS or Storage VPS services. Cherry Servers offers a large set of features that mainly differs in RAM, processing power, and storage capacity. With Cloud VPS hosting, you can quickly scale up and increase CPU, RAM, and storage whenever you feel you could use more power from your setup.
Every VPS server includes automated server management through REST API, flexible billing options, root access, DDoS protection, and 1TB of free monthly traffic.
Even though Cherry Servers accepts bitcoin, they also offer the possibility to pay with PayPal and 80+ other payment methods.
Price range: From 9 eur./month to 78 eur./month.
Accepted cryptocurrencies: Bitcoin, Litecoin, Ether, Dogecoin, and +70 other digital currencies.
HostSailor
HostSailor provides VPS hosting services that are affordable, flexible, and easily scalable. Their plans come with automated backups and 24/7 monitoring services, backed by a 99.9% uptime SLA guarantee.

For VPS hosting, you can choose from OpenVZ, Xen, or KV with SSD or HDD. Host Sailor doesn't tie their customers with contracts and doesn't have setup fees. Moreover, their IPV4 and IPV6-enabled VPS servers deliver fast and smooth performance even for heavy traffic and workloads.
For an additional fee, you can choose from a wide range of addons, such as DDoS protection, extra bandwidth, extra IP, and more.
Shortly, HostSailor offers reliable, secure, and relatively cheap VPS hosting services where everyone can find what they want – from personal websites to massive business hosting.
Price range: From $1.99/month to $5.99/month, plus additional pricing for VPS Hosting Addons.
Accepted cryptocurrencies: Bitcoin, Litecoin, Ether, XRP, and +70 other cryptos.
XetHost
The company offers a range of Linux-based VPS packages with variations of three operating systems (Ubuntu, Debian, CentOS), as well as the ability to build your own custom VPS from the ground-up. Additionally, you can choose to have up to 4 IP addresses dedicated to you.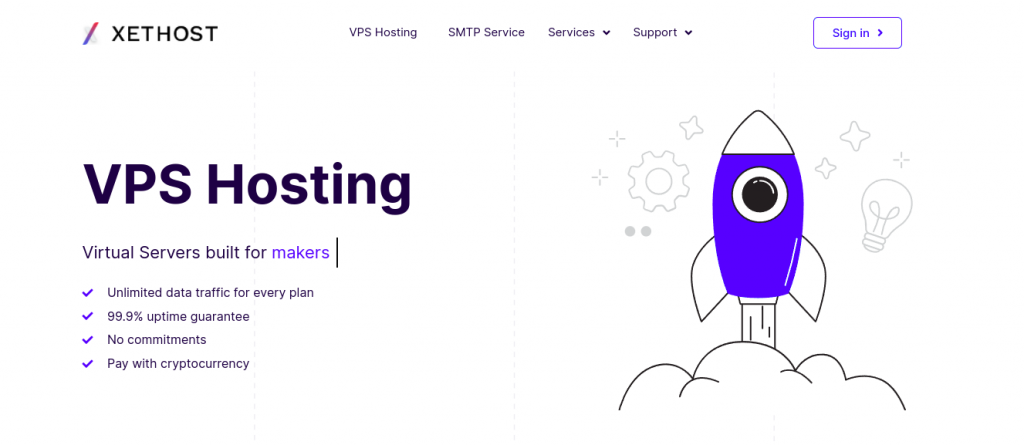 What makes them appealing is how easy it is to select exactly what you want and get immediate access to the service. And it's not that costly – the most expensive custom-built VPS (8 core CPU, 200 Mbit/s network, 16 GB RAM, 200 GB SSD, 4 IPs) would cost you 90$/month.
Even though the provider is not widely known, you can test their services with a 14-day money-back guarantee if you're not happy with the quality of their product. Who knows – perhaps that's the industry's hidden gem!
Price range: From $3.59/month to $33.59/month.
Accepted cryptocurrencies: Bitcoin, Litecoin, Ether, XRP, and +70 other cryptocurrencies.
Veesp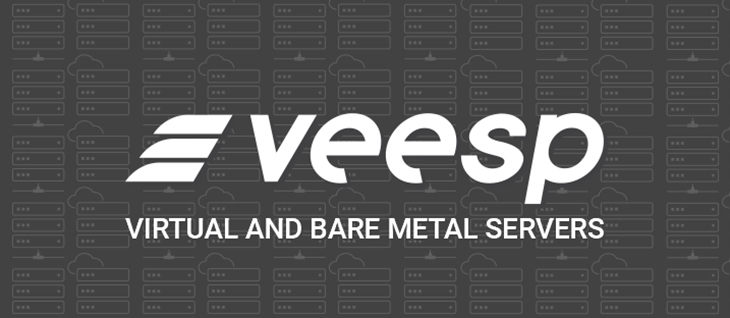 Veesp is a website hosting and cloud service provider that offers a range of benefits for users. Some of the key benefits of using Veesp include:
Reliability and uptime. Veesp offers 99.99% uptime and fast page loading speeds, which can help ensure that your website is always available and responsive for your users.
Security and protection. Veesp provides advanced security features, such as DDoS protection and SSL certificates, to help protect your website and its data from cyber threats.
Flexibility and scalability. Veesp offers a variety of hosting plans and options, so you can choose the right solution for your specific needs and budget. And with the ability to easily scale up or down as needed, Veesp can grow with your business.
Customer support. Veesp provides 24/7 customer support, so you can get help whenever you need it. Whether you have a technical issue or a question about your account, Veesp's support team is there to assist you.
Overall, Veesp offers a reliable, secure, and flexible hosting solution that can help your business succeed online. With its advanced features and dedicated support team, Veesp is a great choice for website hosting and cloud services.
Price range: From $5/month to $370/month.
Accepted cryptocurrencies: Bitcoin, Litecoin, Ether, XRP, and +70 other cryptocurrencies.
Evolution Host

Evolution Host is a leading provider of virtual private server (VPS) hosting and other hosting solutions. Their goal is to provide top-quality hosting services that meet the needs of businesses and individuals alike.
One of their most popular offerings is a VPS hosting service. Their VPS hosting packages come with a number of features to ensure that your website has the resources it needs to perform at its best. These features include:
High-performance SSD storage: VPS hosting packages come with solid-state drive (SSD) storage, which is much faster than traditional hard drives. This ensures that your website loads quickly and efficiently.
Flexible resource allocation: you have the ability to customize the amount of resources that your website has access to. This allows you to scale up or down as needed to meet the changing needs of your website.
Full root access: you have full root access to your server, giving you complete control over your hosting environment.
In addition to VPS hosting, Evolution Host also offers a range of other hosting solutions including game servers, VDS hosting, DDoS protection, and more.
At Evolution Host, they pride themselves on providing exceptional customer service. Their team of hosting experts is available 24/7 to answer any questions or concerns you may have. So if you're looking for top-quality hosting solutions at an affordable price that would gladly accept Bitcoin and other cryptos, look no further than Evolution Host.
Price range: Starting at ~$1.
Accepted cryptocurrencies: Bitcoin, Litecoin, Ethereum, XRP, and +70 other cryptocurrencies.
HostStage
HostStage offers VPS hosting for Windows and managed and unmanaged versions of Linux VPS. The company keeps up with the latest technologies to provide services built on the latest, high-end technology.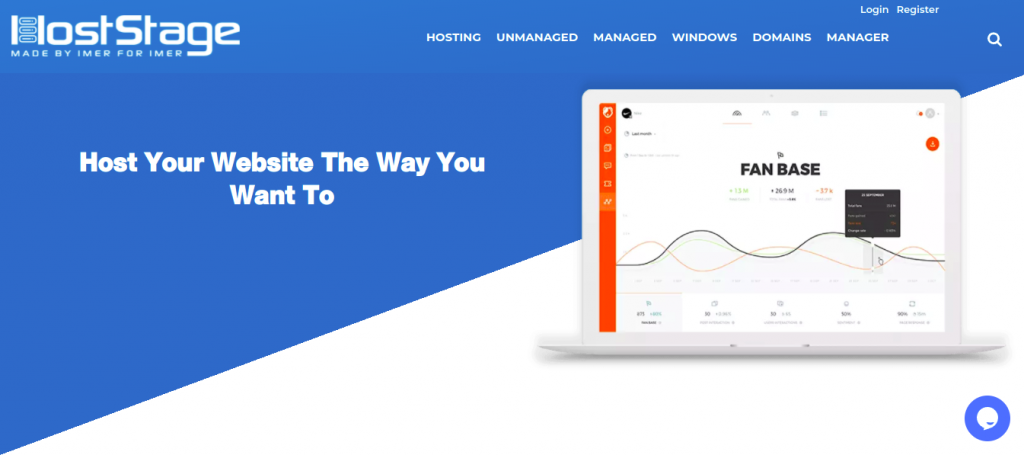 For example, they are one of the first VPS services in the industry to implement the DDR4 ECC RAM and Intel SSD RAID 10 as a standard. On top of that, all their servers run on Intel Xeon E5 CPUs, which are currently proven to be the best in the market for virtualization.
The company is also putting extra effort into the safety of its services. Their DDoS protection based on a high-end Arbor infrastructure allows mitigating the bad traffic to the IP while taking up to a 450 GBPS DDoS attack.
Price range: From 4.95$/month to 144.95$/month.
Accepted cryptocurrencies: Bitcoin, Litecoin, Ether, XRP, and +70 other digital assets.
VPS hosting vs. shared hosting
In general, shared hosting is a cheaper option, suitable for small businesses, personal websites, portfolios, or blogs. But VPS might be better if you have a larger business, e-shop, or just want more control over your hosting environment.
VPS hosting might be pricier but offers more benefits: more resources, more control, better security, scalability, and customizable control. However, you need to measure how much storage and bandwidth you want.
Shared hosting will perform well for low-traffic websites and be the cheapest hosting option.
Yet, you are the only one to measure your needs and set a budget for hosting solutions, so consider everything listed above and choose wisely!
What are the benefits of using VPS hosting?
VPS combines the best out of dedicated and shared hosting services. Even though there are lots of benefits of using VPS, here are the main perks you get:
1. Increased reliability. Since you have a virtual private server, your resources are being secluded and heavy tasks on other users' servers won't affect your page performance and uptime.
2. Full control. VPS gives you complete control and management of your own server. It means you can construct VPS according to your needs. You can also install and configure any software you like, however you like it.
3. Easier scalability. VPS services allow you to scale up or down easily and without interruptions. If your website experiences higher than expected traffic levels, a VPS server can be quickly updated to meet your growing needs.
4. Heightened security. Your private server is isolated from other users. And, if other users' servers are hacked, yours will not be affected. In addition, you can put up firewalls and other security tools according to your own needs.
5. More resources. Much like a dedicated server, VPS and all its resources are dedicated to you only. You are provided with a certain amount of RAM, CPU, and disk space, meaning your server will always run smoothly.
6. Improved performance & availability. VPS hosting can help you achieve higher performance levels. Since your server runs on an always-powered machine, it will always be available, even if you turn off your computer. Increased capacity and processing power speed up your sites' loading time and results in higher engagement levels and a boost in your SERP ranking.
Without question, VPS offers a nice bunch of benefits and might be just what you need in terms of web hosting solutions. And, when you buy VPS with Bitcoin or other crypto, you get to share less information about yourself.
Need more VPS solutions?
In case you came here to buy VPS with Bitcoin and didn't find what you're looking for, no worries – previously, we also wrote about top web hosting services that accept crypto. Might be worth checking out!
Subscribe now
Enter your email adress below to stay in the loop far all blogs