Crypto Payments, Crypto-Friendly Merchants
8 Web hosting services that accept Bitcoin and other cryptocurrencies in 2023
Last updated: August 18, 2022 10 min read
The mass adoption of cryptocurrencies is still in its infancy stage. However, there are some industries like domain or web hosting, as well as VPS services that adopt cryptocurrencies like Bitcoin more rapidly than others.
In fact, hosting companies were among the first to utilize Bitcoin payments when the blockchain technology started to gain massive attention. It did not take long to realize the benefits that cryptocurrency can potentially bring for the internet-based businesses. Especially focusing on those that exclusively provide digital services.
Considering how highly the web hosting user-base values its anonymity for security purposes, there is no surprise that such businesses are so keen on accepting cryptocurrencies. Since Bitcoin knows no borders and provides a certain level of privacy, both companies and individuals eventually embraced it as a convenient tool to pay for web hosting services.
Best web hosting services that accept cryptocurrency
Today, we share top web hosting companies that are accepting Bitcoin and other cryptocurrencies for their services. Here we go:
1. Hostinger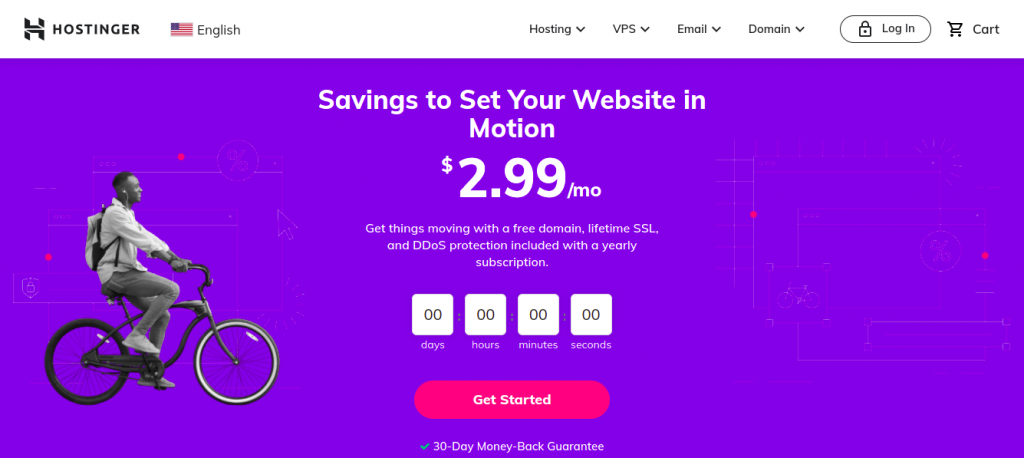 Hostinger might be one of the cheapest web hosting providers out there with a handful of different options to choose from. Whether you are just starting to build your web or have a large business – Hostinger will have something to offer. Web Hosting, Cloud Hosting, WordPress Hosting, Hosting for agencies, VPS Hosting, CyberPanel Hosting or Minecraft Server Hosting, whatever floats your boat.
Will you get value for the money you pay? We'd say yes. First, you can order hosting with bitcoin or any other cryptocurrency of your choice (over 70 cryptocurrencies are supported). The most basic single shared hosting plan offers 50 GB SSD storage, a 100 GB bandwidth for one website, and easy auto installations of WordPress. Plus, you get customer-friendly content management systems and 24/7 live chat support. More costly plans give their customer even more features and a free domain for one year.
Hostinger's mission is to bring success to everyone who goes online. They do it by removing all the complexity for their user, providing excellent website speed, and providing all the support the customer might need. So if you are looking for web hosting solutions, Hostinger might be just the place.
Locations: Netherlands, Lithuania, UK, USA, Brazil, Singapore, India.
Price Range: Web Hosting plans from $1.99/month to $3.99/month; Cloud Hosting plans from $9.99/month to $29.99/month; WordPress Hosting plans from $1.99/month to $11.59/month; Hosting for agencies plan from $3.99/month to $29.99/month; VPS Hosting & CyberPanel Hosting plans from $3.49/month to $77.99/month; Minecraft Server Hosting from $6.95 to $77.99.
Accepted cryptocurrencies: Bitcoin, Ethereum, Litecoin, Dogecoin, Shiba Inu, Cardano, Algorand, Loopring, Solana, and +70 more cryptocurrencies.
2. Cherry Servers
Finally, the cherry on top of a cake. Cherry Servers offer KVM based SMART virtual servers, as well as pre-configured fully dedicated Bare-Metal servers that can be deployed in just 10 minutes! You can even order a customized dedicated server if you have any specific requirements. Their team of experts promises to take care of you with ease.
Cherry Servers also excel at security as they do not have a single point of failure on their network. On top of that, they ensure your data against any human error caused incidents.
Also, they take their customer support very seriously as every client is assigned with a dedicated account manager. After being in the industry for 17 years, they leave no reasons to put your trust anywhere else.
Locations: Lithuania;
Price Range: Bare-metal servers from 127$ to 1034$ per month, virtual servers from 63$ to 94$ per month;
Accepted cryptocurrencies: Bitcoin, XRP, Litecoin, Ethereum, and +70 Altcoins.
3. Evolution Host

Evolution Host – a premium VPS Hosting provider specializing in-game servers and various other software, offers a variety of products to its customers: KVM VPS Hosting, VDS Hosting, Game Server Hosting, Game VPS Hosting, FiveM DDoS Protection, and Minecraft DDoS protection.
With 20+ years of experience in the online hosting industry, they stand out by combining low prices and excellent services. They guarantee a 10 minutes response time from support any time you have a question and firmly believe that clients' satisfaction should never be overlooked.
Evolution Host provides numerous services for your hosting needs and boasts a wide array of locations worldwide, including Canada, Germany, USA, UK, Poland, Finland, France, and Asia. That allows them to achieve the lowest latencies possible and target specific audiences. So if you're in a search for VPS Hosting provider, you should definitely check them out.
Locations: Frankfurt, Germany; Dallas, USA; London, UK; Montreal, Canada; Warsaw, Poland; Helsinki, Finland; Virginia, USA; Hillsboro, USA; Roubaix, France; Strasbourg, France; Singapore, Asia;
Price Range: For VPS/VDS hosting services, price range would be €5 – €420;
Accepted cryptocurrencies: Bitcoin, Ethereum, Cardano, BNB, Litecoin, Dogecoin, Bitcoin Cash, NANO, DAI, Polkadot, Solana, Shiba Inu coin, USDT, LUNA and BTT.
4. Hostsailor
Hostsailor offers VPS Hosting, dedicated servers, domains, SSL certificates, and a huge variety of other web hosting packages and complementary technical services. However, there are several things that make this company stand out.
First of all, Hostsailor earned the reputation for their highly customizable hosting solutions as well as seamless integration with numerous operating systems. Also, they guarantee 99.9% uptime of their servers, and, judging from the reviews online, many people seem to appreciate it a lot. Moreover, their focus on customer support is unmatched as they use special forums and live chats with representatives to solve issues. And, of course, there is always 24/7 support in place.
As they are competing with other hosting providers with low prices, Hostsailor might be one of the best options out there. And, of course, they accept a wide range of cryptocurrencies.
Locations: Netherlands, Romania;
Price Range: VPS from 2$ to 45$, dedicated servers from 39$ to 227$ per month;
Accepted cryptocurrencies: Bitcoin, XRP, Litecoin, Ethereum, and +70 Altcoins.
5. Host1plus
Host1plus provides Enterprise cloud, Virtuozzo VPS and dedicated servers designed mainly to satisfy business needs both small and large. Relying on their top-tier hardware, they lend their computing resources on fully automated platforms. Beforehand implemented services and plugins allow web developers to effectively increase the capacity of any network, however large it is. If, for example, your business has to meet very certain requirements, their engineers can offer you a customized solution, and 24/7 hour support is always there to assist you.
They also provide numerous network and management solutions which might be of interest to big business owners. They already made a name for themselves by partnering with some big companies. It includes names such as Telia, KingstonSmith, Terabit Systems, Ynvolve and many more. However, these well-trusted web hosting plans might cost you more than a penny, but good is almost always equal expensive.
Locations: +15 countries in Europe, Africa, North and South America;
Price Range: Cloud servers from 20$ to 1,500$ a month, depending on a wide range of options; Dedicated servers from 160$ to 1,500$ a month;
Accepted cryptocurrencies: Bitcoin, XRP, Litecoin, Ethereum, and +70 Altcoins.
6. THCServers
The company was built by two college buddies that strived to offer everyone the possibility to create and develop a web presence at affordable prices. As a result, they offer cheap VPS services and dedicated servers with unmetered bandwidth, as well as web hosting plans for Joomla, WordPress, Magento, and other well-known CMS applications.
For bigger businesses, they have THC special dedicated servers in place that provide high performance dedicated resources for CPU-intensive applications, complex databases, and websites with a high volume of traffic.
It is an affordable, yet reliable option that comes with very customer-oriented 24/7 support alongside the 99.9% uptime.
Locations: USA, Europe, Singapore;
Price Range: Web hosting starting at $1.95 a month, VPS hosting starting at $14.95 a month, dedicated servers starting at $59.95 a month;
Accepted cryptocurrencies: Bitcoin, XRP, Litecoin, Ethereum, and +70 Altcoins.
7. Hosting.co.uk
UK based hosting company offers dedicated servers and various hosting plans that scale up to unlimited disk space, data transfer, email accounts, and unlimited websites. If you are not a very tech-savvy person, you can relax – while using their services, advanced technical knowledge is not required as they provide a one-click installation of WordPress, Joomla, Drupal, and over 200 web applications.
Even if you are in need of switching service providers, their experts will migrate any existing dedicated server seamlessly, free of charge and within 24 hours. Also, they also guarantee that the price you are paying for your chosen plan will never ever change.
Locations: United Kingdom;
Price Range: Web hosting from 3$ to 12$ a month, VPS hosting from 12$ to 50$ a month, dedicated servers from 25$ to 225$ a month;
Accepted cryptocurrencies: Bitcoin, XRP, Litecoin, Ethereum, and +70 Altcoins.
Why web hosting services accept crypto?
These are just a few companies that accept payments with cryptocurrencies among many others out there, including numerous industries worldwide. The inherent values of the blockchain technology allowed these web hosting companies to elevate their businesses by entering a large crypto economy. In fact, it enabled them to operate extremely efficiently as their customers could now purchase their services from anywhere in the world instantaneously as long as they are connected to the Internet.
On top of that, cryptocurrency payments are cheaper and do not require to provide any personal information to the hosting provider that might be considered highly sensitive. Thus, the demand for the blockchain-based payment options became loud and clear. The necessity of Bitcoin payments prompted hosting services to start adopting cryptocurrencies and embracing the blockchain technology.
Considering the rapid growth of the blockchain payments industry, the number of web-based companies that accept cryptocurrencies is inevitably going to rise. Especially keeping in mind the recent developments of the Lightning Network protocol which promise to make Bitcoin payments even cheaper, faster and way more convenient.
In fact, even right now accepting cryptocurrencies for any kind of business is easier than ever.
If you are a merchant who considers doing the same, we recommend checking our ultimate guide on why and how to accept cryptocurrencies. Even if you are just looking for companies that would accept your coins, you might also suggest such opportunity to your favorite merchants. That way, you could contribute to the mass adoption of cryptocurrencies as well!
Can you buy a domain name with Bitcoin?
You can buy a domain name with Bitcoin or another popular cryptocurrency. Some of the web hosting companies listed above offer web hosting plans which include domain names, or you can buy them separately when ordering a hosting plan of your choice.
Is it safe to buy hosting with Bitcoin and other cryptocurrencies?
It's safe to purchase hosting plans with Bitcoin and other cryptocurrencies. But if you want additional safety barriers, consider using VPN services when purchasing something online and sharing sensitive information. Also, don't forget to choose the right currency network and provide the correct wallet address.
How can my website accept Bitcoin?
If you want to accept Bitcoin payments in your business, you can do it manually by setting up a Bitcoin wallet and establishing a checkout process for it. Or you can use a 3rd party payment gateway service. For example, with CoinGate, you can accept more than 70 different currencies, choose from multiple payout options and take advantage of numerous other tools.
Join the crypto-movement today!