Crypto Payments, Educational, Getting Started
Benefits Of Accepting Cryptocurrency Payments 
Last updated: September 8, 2022 14 min read
The emergence of blockchain technology gave birth to countless cryptocurrencies, and each one has its own community, structure, particular use case, utility, and more.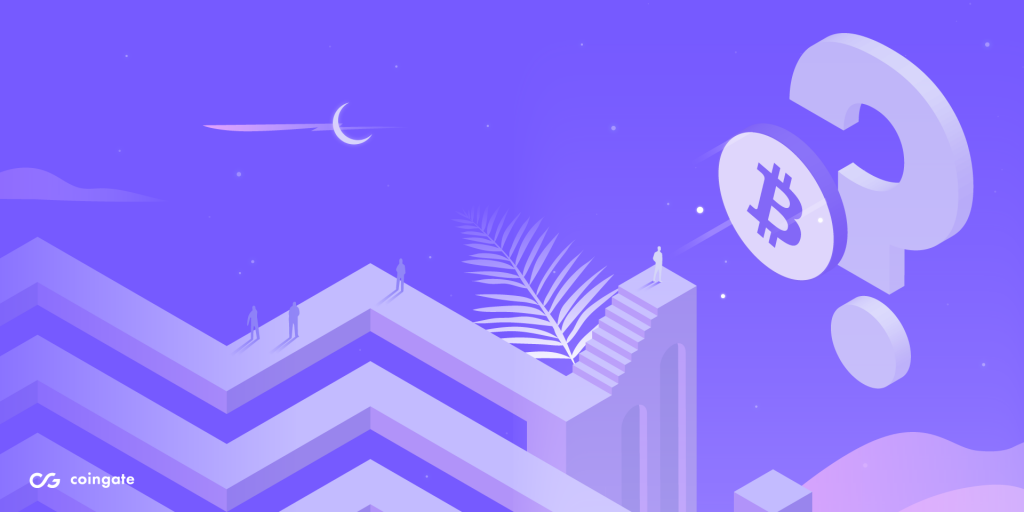 But there's also one thing that all cryptos have in common: they are changing the way society engages in day-to-day financial activities and how the perception of money, ownership, and value slowly shifts towards a stronger appreciation for blockchain-based currencies.
Sure, the shift might feel rapid now when the DeFi space alone is seemingly halfway to becoming a trillion-dollar sector. Still, the fundamental changes started way back in 2008 when the Bitcoin whitepaper took the cypherpunks' mailing list by storm.
Since that day, there has been no way of coming back from the exponentially growing excitement around Bitcoin's potential. Soon, the public's interest in blockchain technology grew more vigorous, which turned out to cause a spectacular rise of thousands of various cryptocurrencies, DeFi, NFTs, the dApps and the DEX'es, and all the crazy stuff that came along with it.
Crypto as a new kind of medium of exchange
Today it's safe to say that not only Bitcoin but cryptocurrency as a whole has achieved a status of a new, intriguing and exciting medium of exchange for both casual crypto users and businesses that seek to expand their reach to open and unrestricted financial markets.
It seems evident as nowadays, spending cryptocurrencies for goods or services does not seem unusual anymore. There are businesses from, quite literally, every industry you can think of that went on to trade, transact or accept payments without intermediaries on decentralized networks – something that was impossible before the invention of Bitcoin – whether because it suits their business model well, or because cryptocurrency payment methods simply supplement traditional ones quite nicely, or else.
However, there are many more reasons to consider if you're starting to think that accepting crypto for payments might be a good idea. Perhaps even a good one for everyone! And you just might be right, as the following study will suggest.
Is accepting cryptocurrencies worth the effort?
Despite thousands of businesses already accepting crypto payments as a viable form of payment, recent studies performed by crypto exchange Crypto.com show that there is still a massive mismatch between consumer demand and merchant acceptance of crypto payments.
According to this recent study, which includes a modest 110,000 customers and over 1.5 million Worldpay merchants, only 4% of surveyed merchants accept crypto payments, even though 60% show interest in such an option. Meanwhile, 40% of surveyed customers already use digital assets to buy goods and services, whereas 75% are interested in having the ability to do so.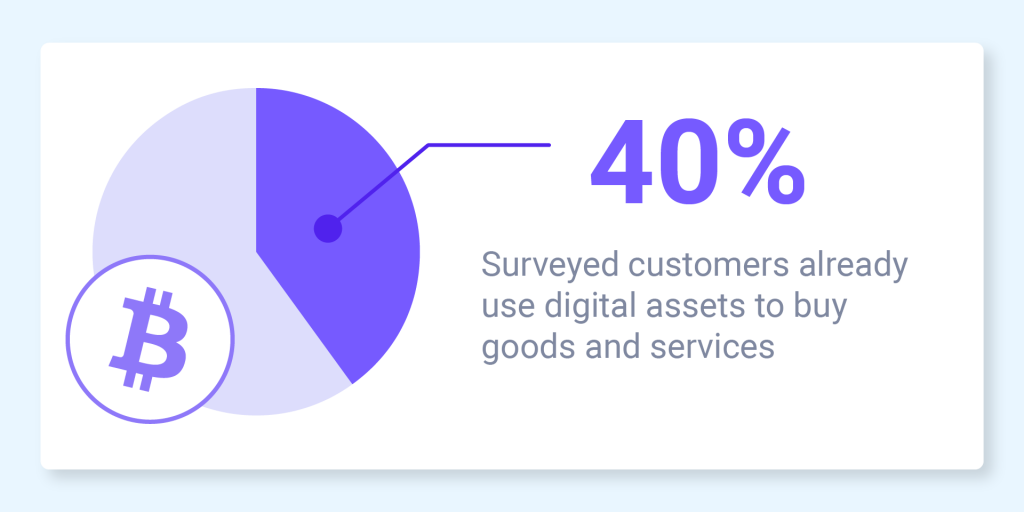 As a result of this ~10x disparity between crypto-friendly customers and merchants who do business in crypto, 64% of Crypto.com's customers use prepaid cards to spend their assets at places that do not directly accept digital coins for payments. It strongly suggests there's an intense hunger for broader adoption of cryptocurrency payment methods.
These statistics indicate a massive opportunity for every merchant worldwide, more notably in the travel, automotive, digital media, and hospitality industries, where the demand and disparity are the highest, as the study suggests.
Although it's good enough of a reason already, the high demand for cryptocurrency payment options from consumers is, by far, not the only incentive for every business to strongly consider letting their customers pay with crypto.
What are the business benefits of cryptocurrency?
Many people find cryptocurrencies very appealing to use for payments for various reasons – it's either faster, cheaper, simpler, more private, or, sometimes, all of it simultaneously.
Likewise, merchants with crypto payment options set up also reap extra benefits, mainly in avoiding numerous issues and hurdles that traditional means of payment like credit cards or bank transfers impose and embracing new opportunities that would otherwise be unavailable.
By implementing cryptocurrency payment rails into business operations, merchants will always end up in a win-win situation, and here is why:
#1: Get paid instantly and from anywhere
When customers use crypto assets, their location does not impact the speed or cost of transactions in any way. In fact, in most cases, payments are processed in seconds as most blockchains tend to settle cryptocurrency transactions immediately.
By using crypto payment processing services like CoinGate, even payments in Bitcoin and Ethereum that usually take more time to process can be detected and safely approved as paid even before they are fully confirmed on the blockchain, significantly reducing the otherwise lengthy waiting time. All these crypto transactions are openly displayed on the public ledger and can be tracked in real-time.
No bank accounts or credit/debit cards are needed to transact in cryptocurrency. Merchants can take advantage of that, whether they only offer digital products online, sell goods or services in-store, ship the merchandise to another continent, or even collect funds from business associates.
Cryptos have no borders, and neither do businesses that use them. Whatever the case, having cryptocurrencies as an option can always come in handy.
#2: Avoid costly and inconvenient currency conversions
Suppose your business tends to make international deals. In that case, cross-border payments via multiple banks through several accounts can get quite frustrating if currency conversion is involved, creating additional obstacles like delays and additional costs.
On the contrary, paying or collecting payments in digital currency instead does not involve any cross-currency settlements. And, if it does, it's never a burden compared to a headache of dealing with fiat currency exchange rates and procedures.
Perhaps it's not the most relevant perk for most businesses, but in some instances, it can make you appreciate the simplicity cryptocurrencies bring to the table even more.
#3: Enjoy lower transaction fees
Traditional payment providers, such as credit card processors, will easily charge merchants a standard 2.9% or higher fee plus 30 or so cents for every incoming transaction. However, these fees simply cease to exist by taking advantage of crypto payments.
The only circumstance when a merchant might face some costs is if a 3rd party payment processor is used that handles the payment flow and provides tools for accounting and other business operations.
However, the fee that crypto payment providers charge is several times smaller than what traditional means of payment charge and, in the best-case scenario, does not exceed 1% of overall transaction volume.
#4: No more fraudulent chargebacks
Most e-commerce veterans, at some point, had to deal with customers that called their bank and asked for a chargeback on their products or services.
Reasons for customers initiating chargebacks might vary – some people forget what services they subscribe to and get scared that someone is charging their credit card with random purchases, while others intend to exploit consumer protection laws and trigger a refund through the bank for a product or service that's already been used.
However, it appears that customers rarely can tell the difference between a refund and a chargeback, which results in up to 80% of all chargebacks being filled wrongfully. Instead of contacting the merchant for a refund, some tend to call a bank and ask for a refund that way, which turns the situation into so-called friendly, or unwilling, fraud.
Fighting fraudulent chargebacks is always an unwanted burden but is absolutely necessary as each undisputed chargeback might punish a merchant with a hefty fine from the bank and a loss of entire profit from a sale. On top of it, if a merchant gets an outstanding amount of chargebacks compared to the total number of his orders, a credit card processor might consider stopping the payment processing services for that particular client.
Sadly, disputing chargebacks rarely go the merchant's way. Studies show that card issuers usually tend to favor consumers rather than vendors. Speaking more precisely, it's five times more often, which does not sit well with merchants considering how time-consuming and overwhelming these disputes can become.
The good news is that cryptocurrencies make fraudulent chargebacks a thing of the past – it is impossible to charge cryptocurrency wallets without their owner's permission. Even if such a payment method is there just as a complementary way of paying, it can still significantly reduce the mentioned risks.
#5: Embrace new, wealthier customers
According to a study of BitPay customers conducted by research and advisory firm Forrester Consulting, 40% of customers who choose to pay with crypto are first-timers to the merchant. Besides, blockchain-friendly customers tend to spend twice as much money than those paying with credit cards and are more prone to come back another time if their experience is positive.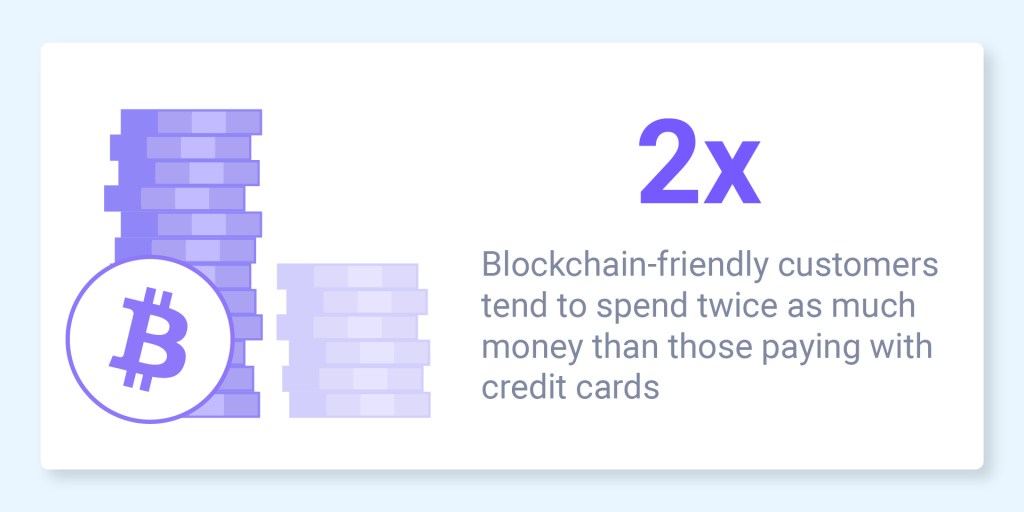 It is especially relevant for businesses that cater to a demographic of educated males under age 34 – accepting crypto payments is a no-brainer as they own the largest share of decentralized wealth globally.
Allowing them to spend that wealth at your enterprise may significantly increase the overall volume of sales and revenue, which brings us to the following argument.
#6: Use crypto for marketing opportunities
Where new customers are coming to you just because your business accepts some of the cryptocurrencies they own, few decent marketing opportunities might manifest.
As a company that processes crypto payments, we witness the success of merchants who advertise themselves as crypto-friendly establishments every day. In their way of thinking, not only do you serve a product or a service, but also make it accessible to as many people as possible and let them know that if you own crypto, you're always welcome to do business here.
Companies like booking service Travala embody this mindset perfectly, showing that a crypto-focused approach and clever use of social media can boost sales for any type of business that decides to accept digital assets.
By providing means to pay with crypto, merchants gain a competitive advantage in the early adopter's market and access a new segment of customers that only gets broader with time. You can even cooperate with your payment provider to get more exposure to crypto-friendly online shoppers. In other words, if you use this opportunity wisely, it'll pay off sooner rather than later.
#7: Stay in control of your money
Crypto gives actual ownership of money back to the people, businesses included. When you get paid in cryptocurrency, it's up to you whether you want to keep it as it is on the blockchain or immediately exchange it for a local fiat currency through 3rd party payment processors upon receiving the final settlement.
Though it's worth noting that, even if accepting Bitcoin payments by yourself is easy, collecting multiple coins simultaneously without external help can quickly become a never-ending hassle and a tax nightmare.
That is the main reason why most businesses do not develop cryptocurrency payment rails on their own but instead don't bother at all or partner up with other companies that can do all the work for them and even offer the flexibility they didn't dream of enjoying.
#8: It's easy and affordable to implement
If you are one of those hardcore businesses, you can set up your own Bitcoin payment system with an open-source BTCPay Server point-of-sale app – a self-hosted, open-source payment processor for everyone.
This option is the most secure, private, 100% censorship-resistant, and, besides, accepting bitcoin transactions through it is free to use. The downside is, from there, you're on your own. You manage your own private keys, exchange proceeds to your local currency, and do customer KYC all by yourself.
This might be a great option if you want to be a Bitcoin-only business. However, these days, many companies wish to collect payments in several coins or tokens at once and have all the tools to manage their cryptocurrency operations without the whole process becoming a burden.
We at CoinGate do just that – provide merchants with everything they need to accept numerous cryptos for payments while guiding your customers through the whole payment process, and give multiple options for withdrawing the collected funds (e.g., to a digital wallet address or to a bank account).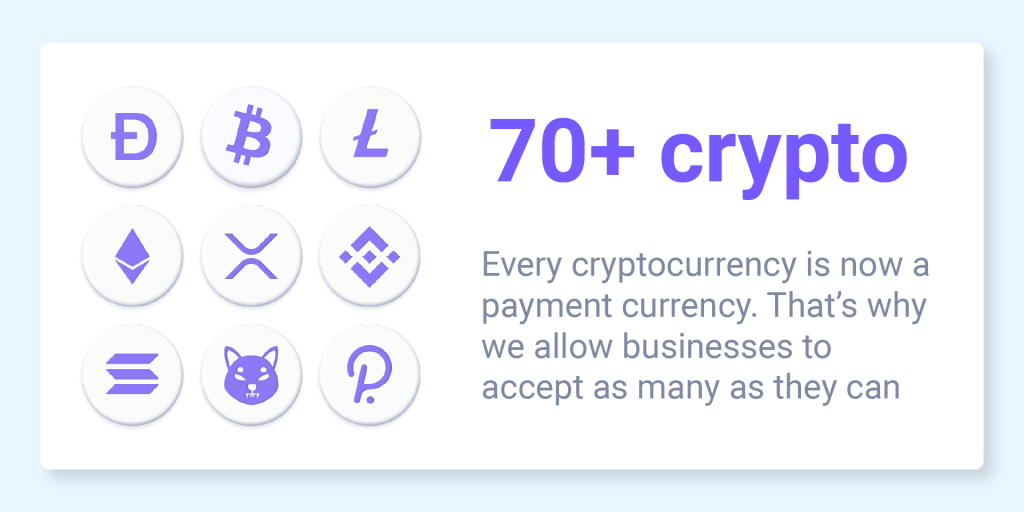 CoinGate also handles overpaid and underpaid orders, issues refunds when and if possible, and provides additional tools for merchants' convenience, such as email/direct billing services or collecting payments via bitcoin's Lightning Network without setting up your own node.
It's easy to set up, while the integration itself, whatever method you choose, costs nothing. The only fee that CoinGate has is 1% of processed transaction volume, and that's it.
How to start accepting crypto payments and what to consider before starting
Before accepting crypto payments, the first thing to consider is whether you want to do it yourself or employ a helper such as CoinGate. It entirely depends on what you wish to achieve with it.
As we already established, doing it by yourself might be burdensome and impose some limitations when compared to hiring specialized companies to do it. It will require dedicated personnel to manage and maintain and will take time to get over a steep learning curve of the crypto industry.
But, suppose you intend to accept multiple currencies and want the flexibility to receive final settlements in your national currency (which also solves many crypto-related tax implications). In that case, there is no better way than employing a payment processor that could handle even the smallest of tasks when it comes to collecting crypto payments.
CoinGate offers several ways to establish crypto payment methods, such as integrations via plugins, buttons, billing features, or a code library that allows for deeper customization via a dedicated API, leading to a better customer experience. They all come with elaborate payment infrastructure and a management dashboard for tax and accounting purposes.
Need more info? You can learn how crypto payments work on CoinGate by following the highlighted link. Alternatively, check out a guide on how to accept crypto payments.
Businesses that currently accept cryptocurrency payments through CoinGate
Right now, CoinGate serves hundreds of businesses that actively sell their goods and services using our crypto payment solution and, on average, process ~2500 transactions daily.
Companies like Hostinger, Surfshark, and Cointraffic are just some of the more notable names in their respective industries to entrust their crypto payment operations to CoinGate.
But what do the numbers tell? Do our customers actually increase sales by taking advantage of crypto payments? Well, yes! For example, ZenMarket, a Japanese proxy service for online shopping, has experienced a 264% increase in overall yearly sales since introducing CoinGate payments to their customers, despite crypto accounting for only 1% of total monthly sales.
On top of that, ZenMarket got a lot of media exposure in Japan and saved a considerable amount of money by cutting out fees associated with traditional cross-border transactions.
You can follow the same success formula and cater to an ever-growing cashless society starting today – the first step is to create an account at CoinGate and begin exploring the vast range of cryptocurrency services we offer.
Ready to gain a competitive advantage over your competitors?
Cryptocurrencies did not become mainstream overnight. It took thousands of people and years of education to establish their current role in the financial markets and find much-needed scalability solutions that could satisfy the growing demand for transacting on decentralized networks, whether it's on Bitcoin, Ethereum, or other popular blockchain solutions.
Now that the groundwork has been done, it has become easy to become part of the global economy and accept cryptocurrency. And, with the help of payment providers, the whole process can be streamlined with little to no effort, in turn, rewarding businesses with multiple benefits you simply can't get anywhere else.
In fact, any business can integrate a crypto payment option with ease and join the next revolutionary movement, and, best of all, it doesn't take much to jump in. Are you ready to up your game? Accept crypto payments today with the help of the CoinGate payment processor and start your crypto journey right away.