Brands & Shopping, Crypto Payments, Crypto-Friendly Merchants, Gift Cards
What Can You Buy With Bitcoin (BTC)?
Last updated: May 20, 2022 7 min read
The evolution of cryptocurrency, particularly Bitcoin, has transformed the financial landscape, offering novel and exciting ways to transact.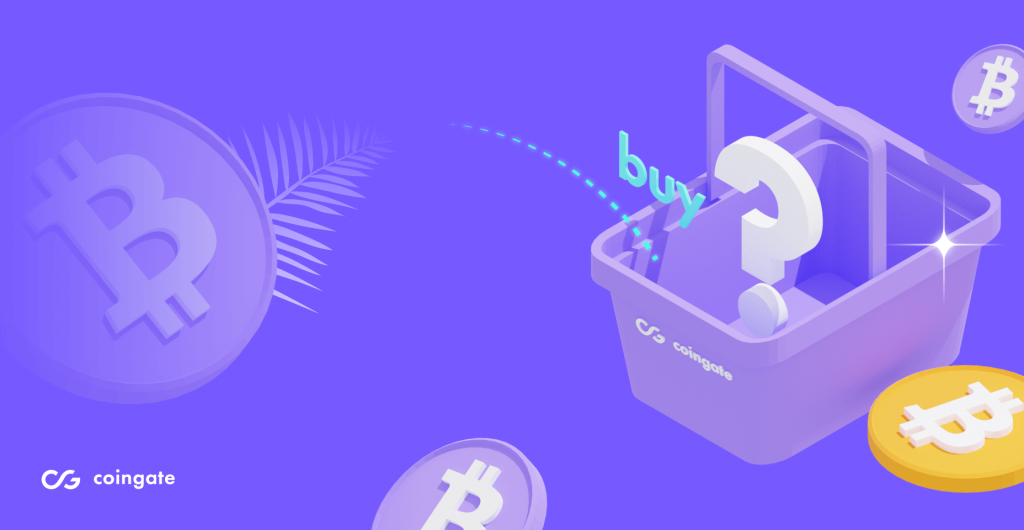 With the crypto market experiencing a staggering 300% growth in 2021, reaching a highest valuation of $2.1 trillion by year-end, the global interest in utilizing cryptocurrencies like Bitcoin for purchases is palpable. An estimated 3.9% of the global population, approximately 300 million users, were owners and active users of cryptocurrency back then, compared to 420 million in 2023.
Indeed, even our internal data is showing that 2023 is shaping up to be even more exciting for Bitcoin payments. For those who perceive Bitcoin not merely as an investment tool but as a revolutionary payment option, the opportunities to buy with Bitcoin are expanding.
Whether you are a seasoned crypto enthusiast or a newcomer eager to explore, this guide will unveil a myriad of products and services you can acquire with Bitcoin. From everyday items to luxury goods, discover how to leverage Bitcoin to meet your purchasing needs and navigate through the diverse and growing realm of crypto-friendly businesses and retailers.
Steps to Buy Products and Services with Bitcoin Easily
If you are someone who sees crypto not only as an investment but as a payment option, read along to see the variety of products and services you can get with bitcoin. It's broader than you think, and believe us, it will only grow further.
The easiest way to spend your bitcoin is to use a crypto debit card. It works like a regular debit card, only instead of fiat, it's preloaded with BTC, ETH, or other cryptocurrency of your choice.
Another option is shopping online. Here you will need to find crypto-friendly businesses, know your wallet address, and follow the instructions in the payment window.
If your favorite brand doesn't accept bitcoin payments yet, don't quit the idea of buying what you need using only crypto and check the crypto gift cards option.
Discover Items and Services You Can Purchase with Bitcoin
There is still a mismatch between customer demand and merchants accepting cryptocurrency payments. According to this study of 110,000 customers and over 1.5 million Worldpay merchants, only 4% of surveyed merchants accept crypto payments.
75% of surveyed customers are interested in having the ability to pay with bitcoin, ether, USDC, litecoin, or other cryptocurrencies. Meanwhile, 40% of those customers already use digital assets to buy goods and services.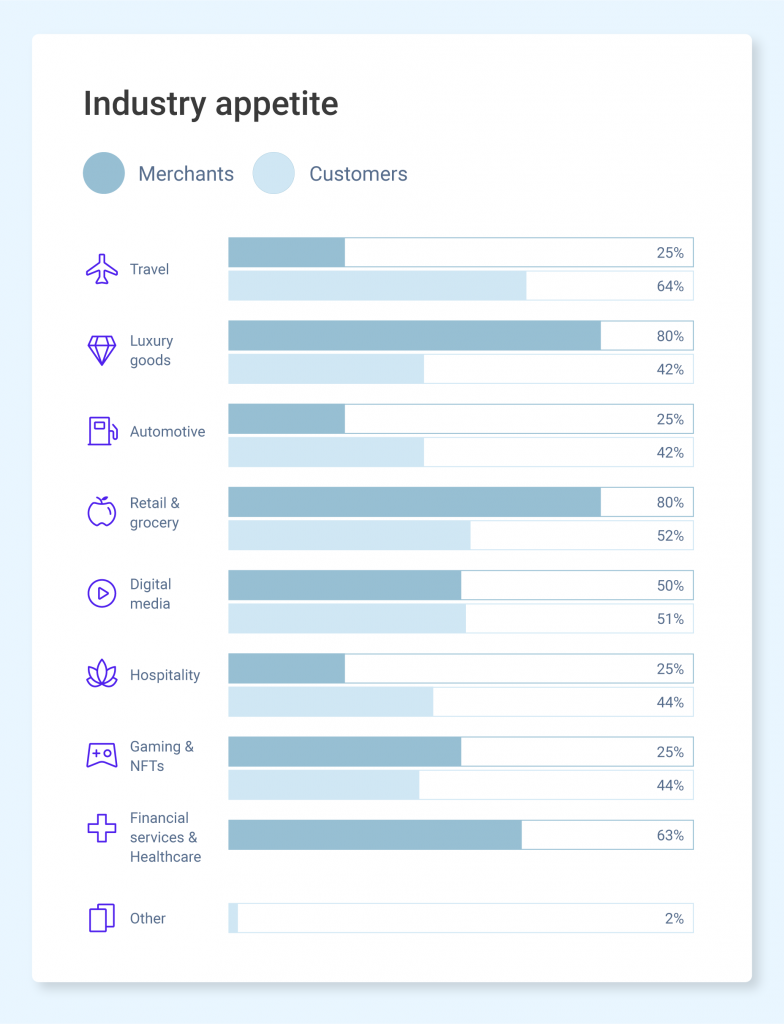 Study shows that the travel, automotive, digital media, and hospitality industries don't meet the needs of consumers' demand for crypto payments options.
However, it's possible to purchase various products from e-commerce businesses using bitcoin or other cryptocurrencies. Here we will list some options where you can spend your bitcoin for what you want.
Buying Cars with Bitcoin
Some automotive and car dealership industry players already accept bitcoin payments. From used car sellers like AutoCoinCars to luxury car dealers like BitCars. You can purchase cars with bitcoin in the blink of an eye.
If you search for auto parts and other related goods, consider using crypto for AutoZone gift card.
How to Purchase Gift Cards from Major Retailers with Bitcoin
While major retailers still struggle to accept BTC as a payment option, you can purchase various gift cards using the cryptocurrency of your choice.
Crypto gift cards from well-known brands to small local businesses will show you the fastest way to get what you want. eBay, Target, Amazon, Starbucks, and 1500+ other gift cards are available for crypto and might cover all your needs.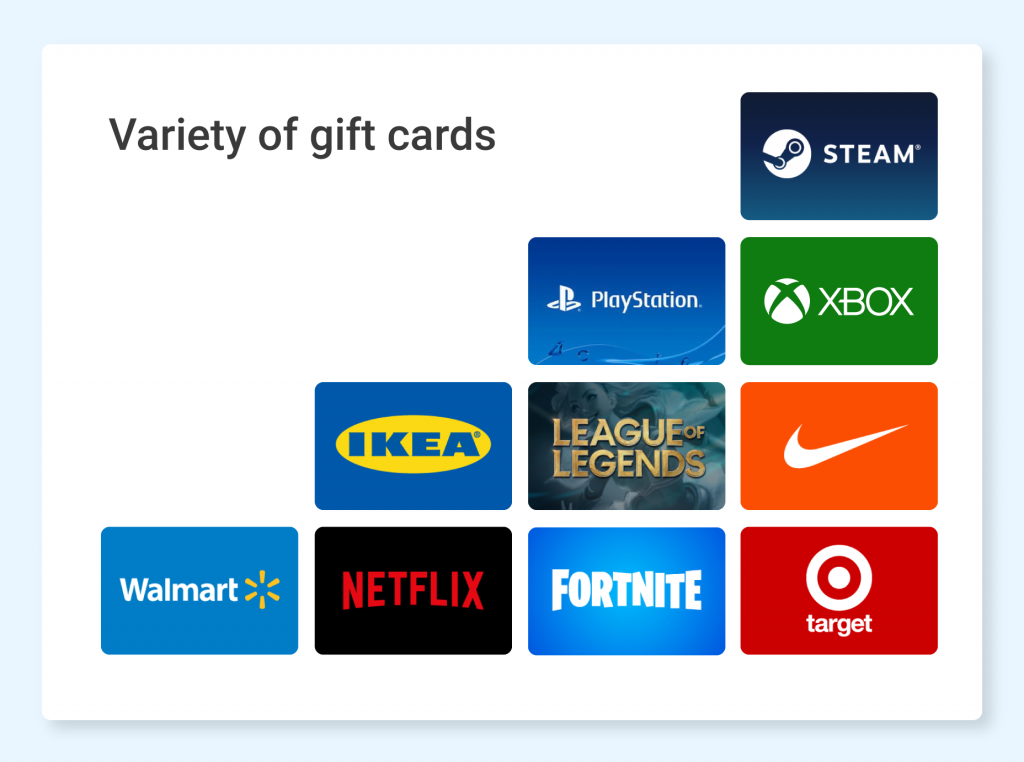 How to Book Travel and Accommodations with Bitcoin
According to the study mentioned above, the travel industry shows the lowest crypto payments adoption and the highest customer demand. Nevertheless, a variety of options to have the ultimate crypto-holiday experience exists.
Some travel sites accept bitcoin payments. You can book a flight through Alternative Airlines or Travala.com and reserve a place to stay through Airbnb, hotels.com or you can purchase other travel gift cards with crypto.
Web Services and Products You Can Acquire with Bitcoin
You can spend bitcoin on many companies that provide tech products and web services websites. In fact, this industry is one of the fastest to adopt crypto payments.
Hostinger, Surfshark, NordVPN, and many other web hosting service providers, VPN or VPS companies accept bitcoin payments for their dedicated work.
Video Games and Credits You Can Buy with Bitcoin
Remember when you had to walk to a video games store to buy some new games you could try on your Nintendo? These days most gamers shop online. The video game industry reaches new popularity levels each year, and more and more leading game-selling platforms accept Bitcoin as a form of payment.
You can use bitcoin to buy games from Xbox, Playstation, or Steam. Or you can top up Minecraft, Roblox, League of Legends, or PubG game credits using a digital currency of your choice.
High-End Goods and Jewelry to Buy with Bitcoin
Luxury goods makers already saw the value of cryptocurrencies and have begun accepting bitcoin as a form of payment.
Gucci recently announced that bitcoin purchases for their fashion products will soon be available for everyone. Online retailers like BitDials or Project O offer Rolex and other expensive watches to buy with bitcoin and other cryptocurrencies.
You can also find Swarovski, Coccinelle, and other luxury brands and spend crypto to purchase gift cards.
Subscribing to News Media and Digital Content with Bitcoin
News media usually accept bitcoin for subscriptions. It's already a common practice for cryptocurrency media outlets with names like Time Inc. or Chicago Sun-Times to join the crypto-friendly website train.
You can also use bitcoin transactions to cover your monthly digital content subscriptions from Spotify, Netflix, or other streaming services.
Insurance Policies You Can Pay for with Bitcoin
Insurance providers are very cautious and have only started to embrace crypto adoption. Due to regulatory issues, life insurance is off-limits, but you can now pay premiums with bitcoin in some insurance companies.
Swiss insurer AXA has enabled private customers to pay for all non-life products with bitcoin to meet growing demand. Metromile, an agency that sells "pay-per-mile" auto insurance policies, also accepts bitcoin for premium payments.
A Guide to Making Purchases with Bitcoin Safely and Efficiently
In order to make a bitcoin payment, you have to own it. You can buy BTC in CoinGate or other popular exchanges like Binance, Kraken, or CoinBase. Then you should create a bitcoin wallet and know your digital wallet address.
Whenever you want to buy something with bitcoin, double check your details so you wouldn't send money to the wrong address.
Otherwise, paying with crypto at crypto-friendly online stores with a setup crypto payment option is the same as spending Euros or Dollars with your credit card online: you select merchandise, go to checkout, make a payment, and there's that.
If you're doubtful about using bitcoin for gift cards, check this step-by-step guide on how to purchase gift cards with bitcoin or other cryptocurrencies.
Also, when you use bitcoin to purchase goods and services, look for Lightning Network. This bitcoin scaling solution helps with faster transactions and lower fees.
Why More Businesses Accept Bitcoin Payments
Businesses began to understand the need to accept bitcoin (BTC) and other digital currency payments for their goods and services. This need came from growing customer demand because crypto owners started to use their digital assets as a daily payment option.
Also, businesses saw the benefits and opportunities that come with crypto-friendly merchants.
It did not take a single night for cryptocurrencies to become mainstream. It took years of education, thousands of people, and many tries to find a scalability solution that satisfies a growing demand for transacting on decentralized networks.
It has become easy for various businesses and e-commerce platforms to be a part of the global economy and accept direct bitcoin payments.
With the help of payment processors, merchants can integrate crypto payment options and accept over 70+ different cryptos. They can also choose to get paid in fiat currency, stablecoins, or digital assets of their choice.
With a growing number of crypto owners and a demand to use bitcoin the same way we use euros or dollars, it's just a matter of time to see the mass crypto payments adoption in different companies.