VPN is a crucial tool if you want to stay secure and anonymous online, and the safest and most convenient way is to buy VPN with Bitcoin or crypto.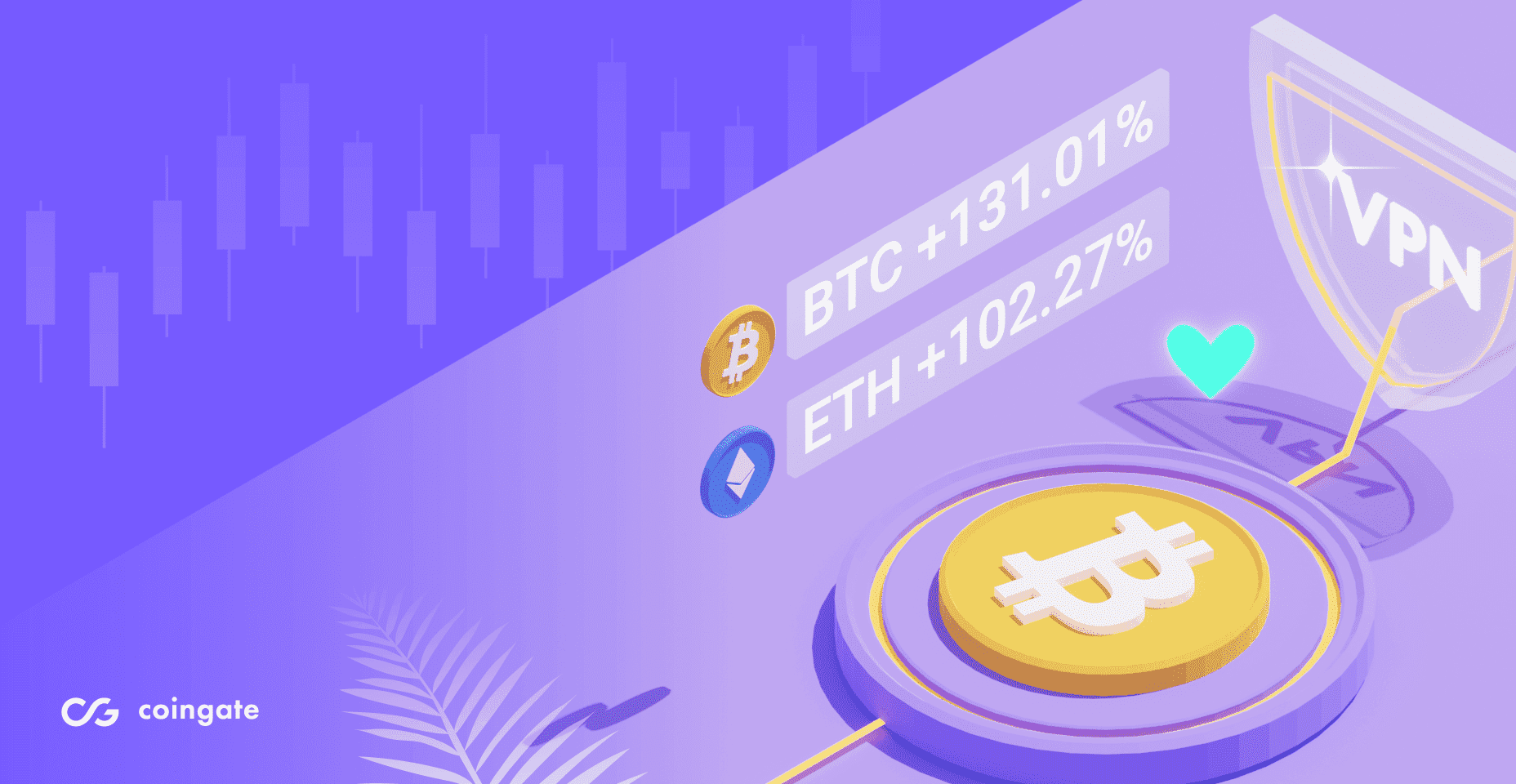 In this comprehensive guide, we will present the top five VPN providers where you can buy VPN with Bitcoin, along with other cryptocurrencies like Ethereum, Dogecoin, USDT, and 70+ more.

What is a VPN and Why Should You Buy VPN with Bitcoin?
VPN, or Virtual Private Network, is a software tech that encrypts your data and acts as a bridge between you and your internet provider.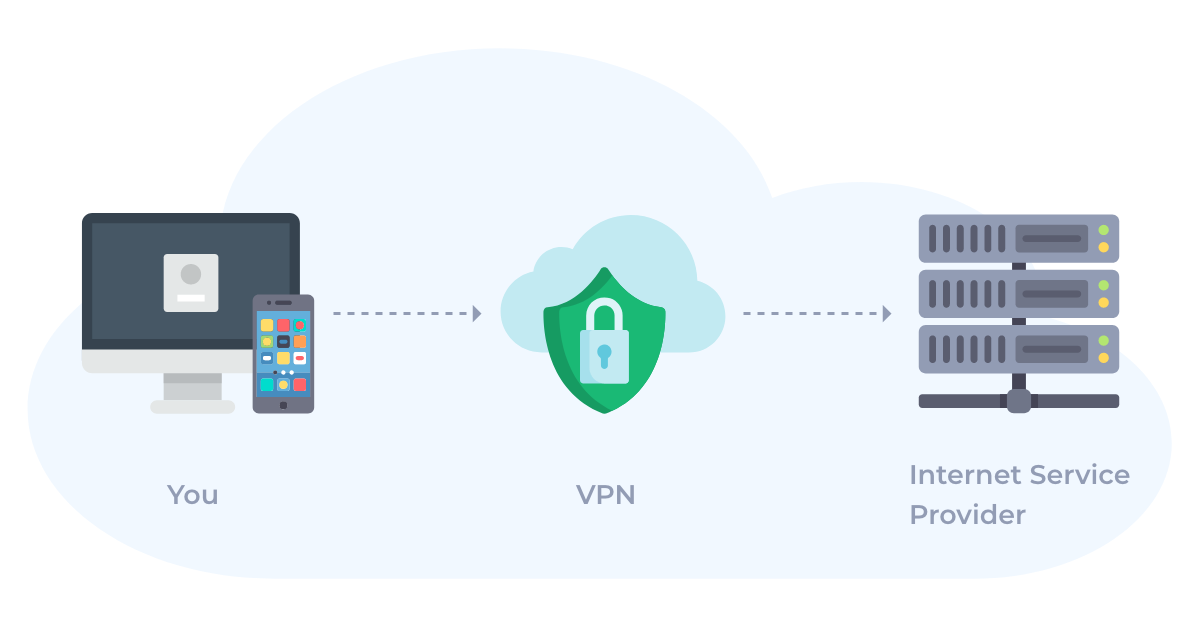 It connects you to the internet securely and protects your incoming and outgoing data by transmitting it via encrypted tunnels.
Why Should I Use VPN?
VPN hides your actual IP address and location, so you stay anonymous at all times.
Basically, it provides an additional encryption layer to keep you safe and ensures that you will connect to the internet via private internet access.
It also lets you bypass censored parts of the internet, access your favorite TV shows on other continents, and much more. If you're looking for ways to stay anonymous at most times, buy VPN with Bitcoin to leave a smaller digital footprint.
How to Buy a VPN Using BTC and Crypto
Buying VPN with Bitcoin or dozens of other cryptocurrencies is easy – you just need to find one and make a payment.

VPN providers showcased in this article all accept cryptocurrency payments. If you choose 'CoinGate' as your payment method, use this step-by-step payment instructions to guide you through the process of paying.
Top 5 VPN Providers That Accept Bitcoin & Crypto Payments
Below, you will find a list of the best VPN providers that accept cryptocurrency payments and are considered to be excellent options.
So if you are looking for VPN providers that accept bitcoin payments, here they are! Note that most of these VPNs accept many cryptocurrencies an tokens, so if you own a less-known coin, there is a decent chance you will be able to use it at these websites as well.
Here are 5 places where to buy VPN with Bitcoin and 70+ cryptocurrencies:
NordVPN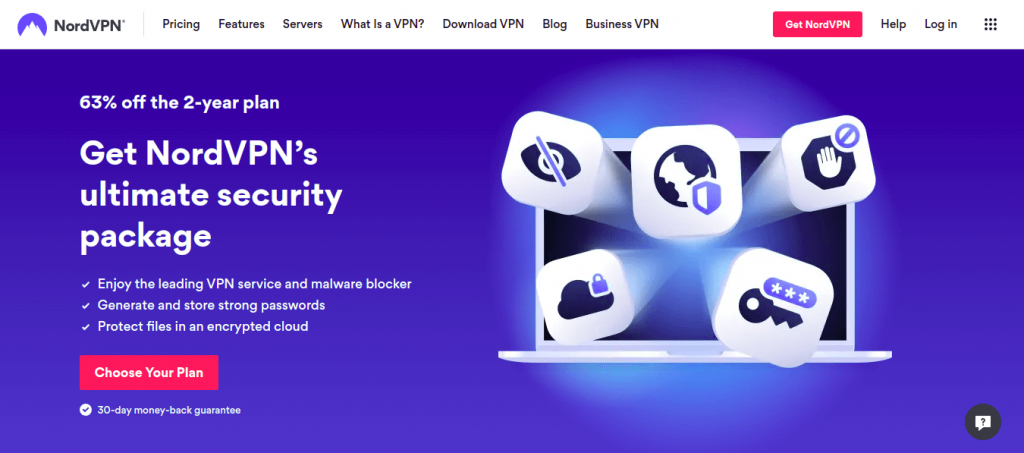 Hands down, NordVPN is the most well-known provider with the biggest hype around it. But does it live up to the expectations?
In short, yes. It's safe, fast, relatively cheap, and comes with all the features you could ever think of.
Firstly, NordVPN has a super user-friendly interface, which is modern, clean, intuitive, and easy to navigate. Even your grandma would know how to use it. On top of it, the company offers 24/7 live support together with a help center that provides a FAQ section, troubleshooting suggestions, and user guides.
The security aspect of NordVPN has the best game in the VPNs area. The NordVPN app uses the AES-256-GCM encryption algorithm and regularly changes keys to make the encryption even more secure.
NordVPN offers a handful of features: you can split tunnel, obfuscate your servers, use double IP protection, and block malware with Threat Protection. Also, the company warns you about dark web data leaks and immediately guides you on how to secure your data. Moreover, NordLocker encrypts your data, while NordPass protects your passwords.
The pro list contains the possibility to connect six devices at once, a strict no logs policy, and the biggest server park with over 5,423 servers in 50+ countries. NordVPN supports torrenting, unblocks Netflix restrictions for various regions, and works with BBC iPlayer, ABC iView, and Hulu.
NordVPN has an excellent 4.4 rating on Trustpilot and Google Play store, as well as a 4.7/5 score on Apple Store. Sounds too good to be true? Try it yourself!
Price range: 1-month plan from 10.49 Euros, 12-month plan from 4.39 Euros/month, and a 24-month plan from 3.49 Euros/month;
Server count and countries: 5,423 servers in 58 countries;
Accepted cryptocurrencies: Bitcoin, Litecoin, XRP, Ether, Cardano, and +70 other cryptocurrencies.
Surfshark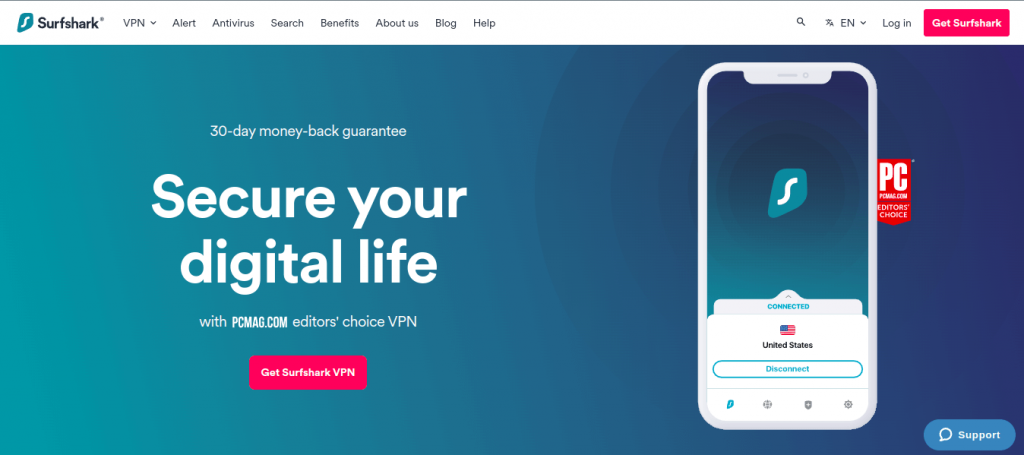 Surfshark stands out as one of the most secure VPN providers.
This particular VPN company encrypts your data by using industry-leading AES-256-GCM encryption. According to the report of independent web security testers Cure53,
"Cure53 is highly satisfied to see such a strong security posture on the Surfshark VPN extensions, especially given the common vulnerability of similar products to privacy issues".
Surfshark has a strict no-logs policy and relies on RAM-only servers, meaning that none of your data is being collected from a company's side.
Surfshark has a massive server network and allows you to use the service on unlimited devices. The company offers a wide variety of additional features. These include private DNS & leak protection, NoBorders mode, Camouflage mode, and so on.
Even if your VPN connection drops, your online activities and personal data are never exposed due to an automatic Kill Switch feature. And all of this is presented to you in a user-friendly way.
If all these features make no sense to you, don't worry – Surfshark has live support set up, so you can always ask questions on the spot and get answers from a knowledgeable professional right away.
This relatively new player in the industry took it by storm, offering low prices, versatile service, and excellent customer support. All their plans come with a free tree trial and a 30-day money-back guarantee in case you are unsatisfied with a service. Also, the company accepts crypto payments!
Price range: 1-month plan for 9.89 Euros, 12-month plan for 4.99 Euros/month, and a 24-month plan for 1.76 Euros/month;
Server count and countries: +3,200 servers in +95 countries;
Accepted cryptocurrencies: Bitcoin, Litecoin, XRP, Ether, and +70 other cryptocurrencies.
HideMy.Name

The simplicity of their service combined with excellent customer support makes them a decent choice you can't go wrong with.
Boasting overwhelmingly positive reviews on the internet, a hidden gem HideMy.name has definitely earned customers' trust as a reliable VPN provider that has operated since 2006.
HideMyna.me VPN allows connecting up to five devices (including gaming consoles and TV) with unlimited bandwidth on Windows, macOS, Android, iOS, Linux, and routers.
You can try their services by getting free access with a trial code that works for one day without any limitations. The company applies a 30-day money-back policy if you are not satisfied.
Price range: 8$/month, 6 months for 5$/month, 1 year for 4$/month;
Server count and countries: 138 servers in 46 countries and 84 cities;
Accepted cryptocurrencies: Bitcoin, Litecoin, Dogecoin, Ether, and +70 other cryptocurrencies.
Le VPN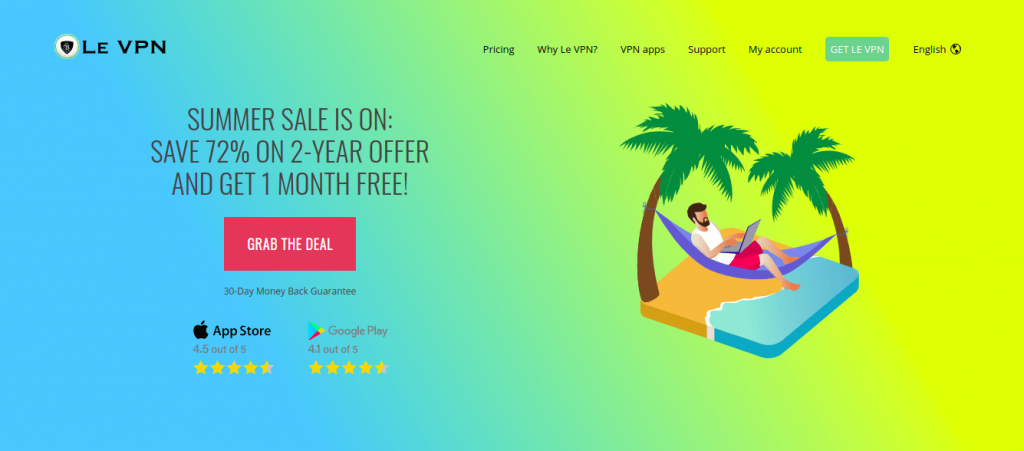 Le VPN service is quite an old player in the VPNs field. It's been around since 2010, developed by a team of cybersecurity pioneers who fought against censorship and for people worldwide to have digital freedom.
The company offers a vast server network in 100 locations, including places that usually aren't catered to by other VPN providers – the Middle East and Central America.
The encryption and security features of Le VPN are totally legit and offer Wireguard, OpenVPN, IKEv2, IPSec, and L2TP protocols. The VPN has AES-256-CBC cipher, SHA256 authentication, and DH-2048 for TLS handshake. It also implements PFS with DHE.
Although the strength of Le VPN does not lie in privacy. The company doesn't record or monitor its users' browsing activities, but they do keep some connection logs and IP addresses.
Le VPNs speed tests show decent results in both local and long-distance speeds. As such, it should work well while streaming. It's possible to access Netflix using its US server network. The company also allows Torrenting but does not recommend it.
It comes with features like Kill Switch and 5-devices-per-license. All plans come with a 7-day money-back guarantee, and, of course, Le VPN accepts Bitcoin and other cryptocurrencies.
Price range: 1-month plan from $9.95, 12-month plan for 4.95 $/month, and a 24-month plan for 2.78 $/month;
Server count and countries: +700 servers in 100 locations;
Accepted cryptocurrencies: Bitcoin, Ethereum, Cardano, Binance Coin, and +70 other cryptocurrencies.
CactusVPN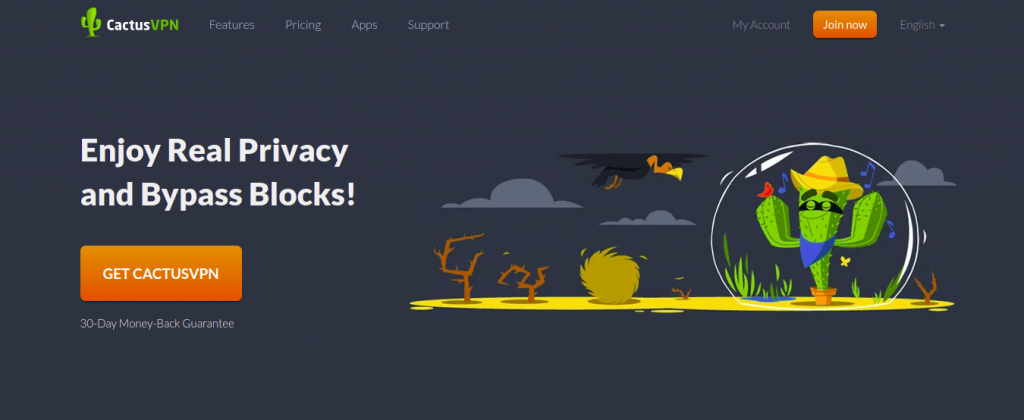 CactusVPN is yet another well-trusted provider.
It is one of those services that have a strict no-logging policy. It means they will never store IP addresses, traffic logs, used bandwidth, timestamps, or the session duration.
The company provides an option to choose from seven VPN protocols: OpenVPN, L2TP/IPSec, IKEv2, SSTP, SoftEther, and PPTP. Their VPN comes with numerous additional features, including apps killer, Internet kill switch, DNS leak protection, sorting servers by speed, and so on.
Moreover, customers get unlimited bandwidth and access to the service from up to 5 devices simultaneously. CactusVPN is available across various platforms, including Windows, macOS, iOS, Ubuntu, Chromebook, the Tor browser, routers, Android, Android TV, and Amazon Fire TV.
You can try CactusVPN services without limitations for free for one day without sharing your credit card information. They offer a 30-day money-back guarantee if you experience any issues.
Price range: US VPN 4.89$/month, UK VPN 4.89$/month, VPN + Smart DNS 6.99$/month. 3-months plan for US & UK VPN 4.19 $/month, VPN + Smart DNS 5.59 $/month.
Server count and countries: 36 VPN servers in 22 countries;
Accepted cryptocurrencies: Bitcoin, Litecoin, XRP, Ether, and +40 other cryptocurrencies.
Buy VPN Gift Cards With Bitcoin, Litecoin, Ethereum, And More
Another way to buy VPN with Bitcoin or cryptocurrencies is by purchasing VPN gift cards from the CoinGate store.
It's a great alternative if you intend to buy a VPN as a present for other people, something like a NordVPN gift card or Surfshark VPN gift card that are the top players in the industry.
A crypto-centric CoinGate gift card store is also helpful if you wish to get your hands on a VPN service that does not directly accept crypto payments at their checkout.
As an example, you can pay for a VPN subscription using an iTunes App Store or Google Play Store gift card as long as the VPN provider accepts payments through these marketplaces.
Why Use VPN For Cryptocurrency Transactions?
The booming cryptocurrency market draws attention from not only investors but also various hackers and cybercriminals. They are hacking into the crypto exchanges, wallets, and businesses. In 2021 alone, scammers stole over $14 billion worth of crypto. And, when it comes to cryptocurrency, you are the only one responsible for your security.
Here are some reasons to buy VPN with Bitcoin and keep using it together at all times. In fact, crypto and VPN go together like salt and pepper. But why is it such a good match?
It raises your security levels. Many falsely believe that cryptocurrencies give you anonymity. Crypto and VPN go together like salt and pepper. Why is it such a good match? Privacy? Yes. Anonymity? Not so much.
All transactions ever made from your wallet are visible to everyone, and it is possible that hackers could link your wallet address with your IP address. From here, it's not that hard to trace your real identity and location. VPN helps you hide your identity by hiding your IP address and making hacking into your wallet a way more difficult job.
It gives you invisibility. VPN secures your internet traffic and eliminates traces of your cryptocurrency trading activities.
It helps to avoid geo-blocks. Some crypto trading platforms are geo-restricted and might be inaccessible for you to reach, depending on your location. For example, Binance is unavailable in some parts of the US, and Coinbase is unavailable in China. VPN allows you to bypass geo-restrictions and access crypto trading platforms from any part of the world.
What Makes a Good VPN for Crypto Trading?
As you can see, crypto trading without a proper VPN comes with risk. But how to choose the right one? Here are some things to consider when selecting the best crypto trading VPN:
Look out for strong encryption. VPN should secure your data and activities online, so search for a VPN with at least AES 128 or 256-bit encryption.
Strong no-logs policy. VPN companies will hide your activities from third parties, but will they do the same for themselves? Many VPN companies are keeping your data, even though they claim otherwise. So always check the logging policy!
Massive server network. The more – the merrier. If a VPN provider offers an extensive server network, you will have more options and possibilities to bypass regional restrictions and enjoy the internet without censorship.
No leaks. When choosing the best VPN for crypto trading, search for one with a kill switch function. It will keep your data safe even if the VPN connection fails. Also, check VPN providers' reviews or do a DNS, IPv6, and WebRTC leak test.
Reliable support. Good customer support is crucial for a good customer experience. Check if you find help at any time you will face a problem.
Subscribe now
Enter your email adress below to stay in the loop far all blogs