Are you concerned about your internet privacy? Do you seek a safe, secure, and user-friendly solution that ensures your digital data stays protected? NordVPN might be it.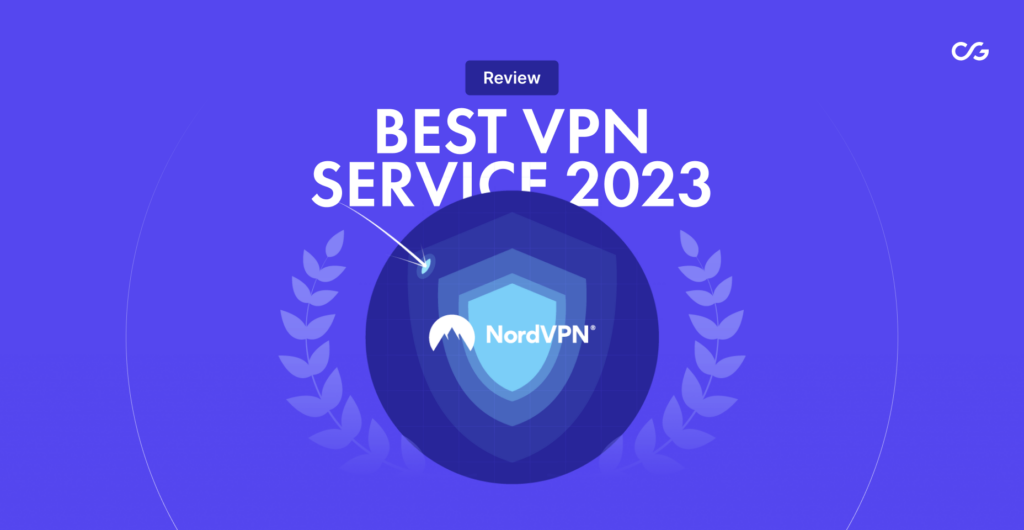 Let's introduce you to the realm of Virtual Private Networks (VPN), and more specifically, NordVPN, arguably one of the best VPN services of 2023.
What is NordVPN?
VPNs are essentially encrypted tunnels that shield your online activities from prying eyes. They protect your privacy by hiding your IP address and encrypting your data, keeping you safe from hackers, surveillance, and even annoying ads.
With a myriad of VPN providers in the market, selecting the best one might seem daunting. But, rest assured, we have your privacy needs covered.
The ultimate champion of internet security is none other than NordVPN, a titan in the VPN industry that's only getting better with time.
As this NordVPN review suggests, the service often stands out among its competitors, thanks to its cutting-edge security measures, user-friendly interface, and fantastic customer service.
So, is NordVPN the best VPN service in town?
NordVPN Review: Is It the Best VPN Service?
NordVPN is often considered one of the top options in the VPN market, ticking off all the critical points a new user should consider when choosing a VPN.
Security and Privacy
NordVPN guarantees a secure and encrypted tunnel for your online traffic, ensuring no one can see through it or get hold of your online data.
At the same time, it safeguards your real IP address and location, offering peace of mind when using public Wi-Fi.
In simple terms, it's like having a secret, invisible path on the internet that only you can use and nobody can track.
This makes it an excellent option for securely accessing personal information or work files, encrypting your internet connection, and keeping your browsing history and online identity private.
Server Network
NordVPN boasts an extensive network of over 5700 servers spread across 60 countries.
This wide coverage allows you to access geo-restricted content from various locations around the world, ensuring your internet connection doesn't suffer regardless of the country you choose.
Speed and Performance
NordVPN prides itself on providing fast and stable connections, eliminating the dread of buffering while streaming or downloading files.
It also offers unlimited bandwidth, making it a standout choice for those who prioritize speed and performance​.
Furthermore, NordVPN offers a 30-day money-back guarantee, allowing you to test their service risk-free.
Simultaneous Connections
With one NordVPN account, you can protect up to 6 devices at the same time.
This is great if you have multiple devices like a laptop, phone, and tablet, or if other people in your family need to use the service too.
Device Compatibility
NordVPN provides broad compatibility, offering applications for Windows, macOS, iOS, Android, Linux, and even Android TV.
It also offers encrypted proxy extensions for Chrome, Firefox, and Edge, making it a versatile choice for various operating systems and devices
Additional Features
NordVPN goes beyond just being a VPN with its Threat Protection feature, a trait only the best VPN services have.
This feature enhances your cybersecurity by protecting you from ads, trackers, and malware without needing to connect to a VPN server.
It ensures safer, faster, and smoother browsing while neutralizing cyber threats before they can cause real damage to your device or data.
NordVPN Price
If you're in the market for a dependable and affordable VPN, look no further than NordVPN. Known for its robust security and wide server coverage, NordVPN offers a range of pricing plans to suit every user's needs.
| | | | | |
| --- | --- | --- | --- | --- |
| Plan Name | Monthly Price | Billing Cycle | Total Cost for Billing Cycle | Added Features/Benefits |
| Standard Plan | $3.49 | 2 Years | $83.76 | Basic security & privacy |
| Plus Plan | $4.49 | 2 Years | $107.76 | Added features |
| Complete Plan | $5.49 | 2 Years | $131.76 | Comprehensive features |
| Plus Plan | $5.99 | 1 Year | $71.88 | Added features |
| Complete Plan | $6.99 | 1 Year | $83.88 | Comprehensive features |
*Monthly billing options are also available.
Save Money on NordVPN Subscription.
For the budget-conscious, the Standard Plan is a great place to start. Priced at just $3.49 per month, you'll be billed $83.76 for the first two years. It's a small price to pay for the security and privacy that NordVPN offers.
For those looking for a little more, the Plus Plan might be the best fit. At $4.49 per month, this plan gives you added features and benefits for just a few cents more each day. You'll be billed $107.76 for the first two years, providing excellent value for the price.
If you're someone who requires a more comprehensive VPN solution, NordVPN's Complete Plan is worth considering. This plan is priced at $5.49 per month, and you'll be billed $131.76 for the first two years.
But what if you're not ready to commit for two years? No worries, NordVPN has got you covered with their one-year plans. The Complete Plan for one year comes in at $6.99 per month, billed as $83.88 for the first year. Alternatively, the Plus Plan for one year is priced at $5.99 per month, billed as $71.88 for the first year. You also have an option to pay a monthly subscription.
Remember, investing in a VPN like NordVPN is not just about cost, it's about ensuring your online privacy and security. So, whether you're a casual browser or a heavy-duty user, NordVPN has a plan designed just for you.
Hopefully, our NordVPN review will help you choose the best VPN service to fit your needs and have peace of mind that comes with knowing your online activities are protected. Try NordVPN now with a 30-day money-back guarantee.
NordVPN's Pros and Cons
By concluding this NordVPN review, here's what comes to mind when deciding whether it is the best VPN service around:
Positives:
NordVPN provides strong encryption, advanced security features, and a strict no-logs policy, ensuring your online activities remain private and secure.
With servers in over 60 countries, NordVPN allows you to bypass geo-restrictions and access content from around the world.
NordVPN offers an intuitive and easy-to-use interface, making it accessible for both beginner and advanced users.
NordVPN provides affordable pricing plans, offering great value for the features and performance it delivers.
Negatives:
While NordVPN generally offers good speeds, some users may experience occasional fluctuations or slower connections depending on their location and chosen server.
While NordVPN does offer customer support through live chat and email, response times may vary, and some users have reported mixed experiences with customer service.
Does NordVPN Accept Crypto?
While NordVPN accepts PayPal and card payments, the VPN provider has also embraced the future of transactions by partnering with a payment processor CoinGate to accept Bitcoin and 70+ cryptocurrency payments.
NordVPN's customers tend to care about their cybersecurity and value their online privacy, so the integration of cryptocurrency payments has been welcomed by a significant number of NordVPN users.
According to Rytis Meškauskas, CRO at Nord Security, ensuring privacy is often perceived as the highest priority by some customers.
"Our customers were delighted to offer another secure payment method, especially cryptocurrency users. So far, the reactions have only been positive, which makes sense because our customers value their privacy, including activists and journalists living in authoritarian regimes. NordVPN services are the most necessary for them, so discovering a cryptocurrency payment method was a really pleasant surprise for them," said the interviewer.
As Rytis suggested, cryptocurrency payments not only provide more privacy, but also ensure safe money transfers without relying on third-party services: "Using cryptocurrencies is beneficial because they provide a high level of security during transactions. Cryptocurrency payments can reduce the need to use third parties to make payments as the same can be achieved using blockchain. As a cybersecurity company, the privacy of our customers is our priority, but the security of payment methods is also very important."
Verdict: Is NordVPN a Good Buy in 2023?
With its unbeatable security features, unparalleled server speed, user-friendly interface, and excellent customer service, NordVPN rightfully claims the throne as one of the best, if not THE best VPN services of 2023. You can find more information about features by visiting their official website.
Don't just take our word for it, experience NordVPN for yourself. Click here to sign up for NordVPN, grab yourself a hefty discount and embrace a safer, faster, and more private internet experience.
We hope you found our NordVPN review useful in your search of a best VPN service. Step into the future of internet security with NordVPN today! And don't forget, you can pay with your crypto coins by selecting the CoinGate payment method.
Here's how it works.
Subscribe now
Enter your email adress below to stay in the loop far all blogs