Crypto Payments, Tutorials
How To Pay a CoinGate Invoice? Step-By-Step Guide (2023)
Last updated: February 22, 2017 6 min read
Paying for a CoinGate invoice is usually an easy and intuitive experience but sometimes help is needed. This article will answer the most common questions and guide you through the entire payment process.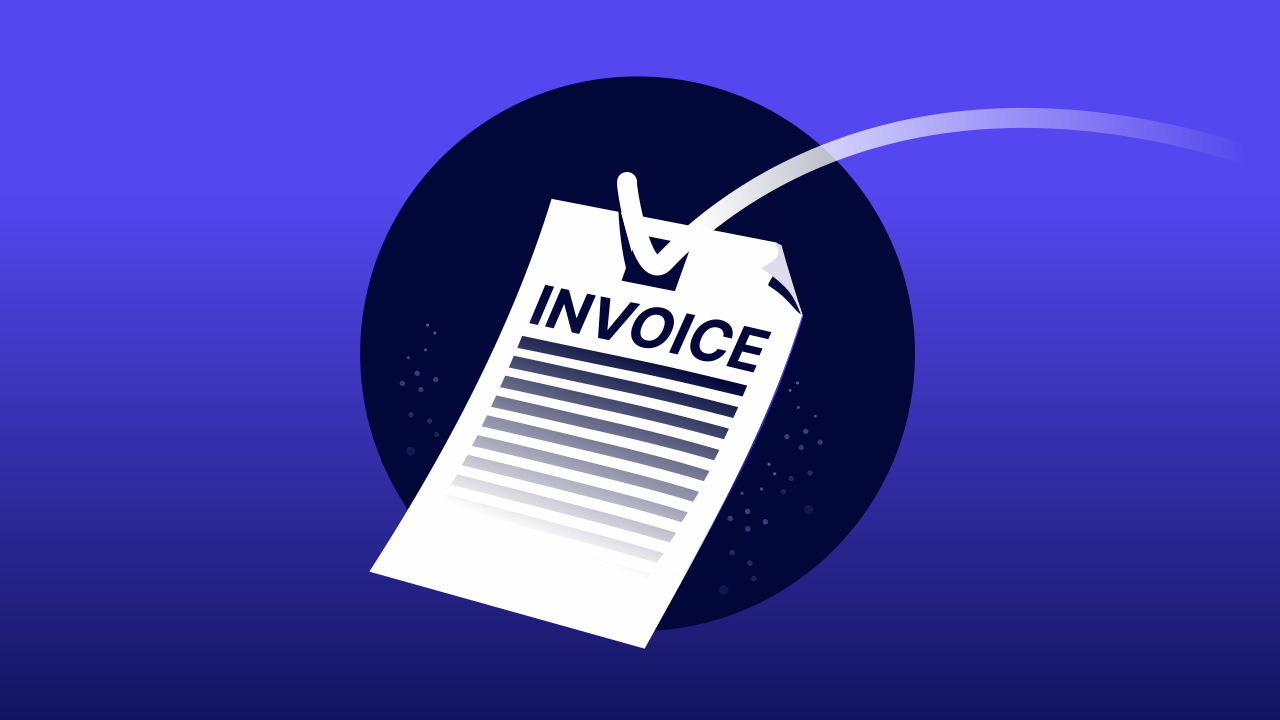 We also cover other possible scenarios, such as what happens when you pay too little, too much, too late, and explore other invoice features.
Preparation
If you're new to this, you'll need a cryptocurrency wallet with funds deposited into it to make a payment. In this particular example, we'll use Bitcoin, although any cryptocurrency from the list of available options can be used.
Not ready to start yet? See the instructions for creating an unhosted Bitcoin wallet (Electrum), then buy some Bitcoin with a credit / debit card or bank transfer.
Without further ado, let's see how to proceed when you encounter a CoinGate invoice like the one below: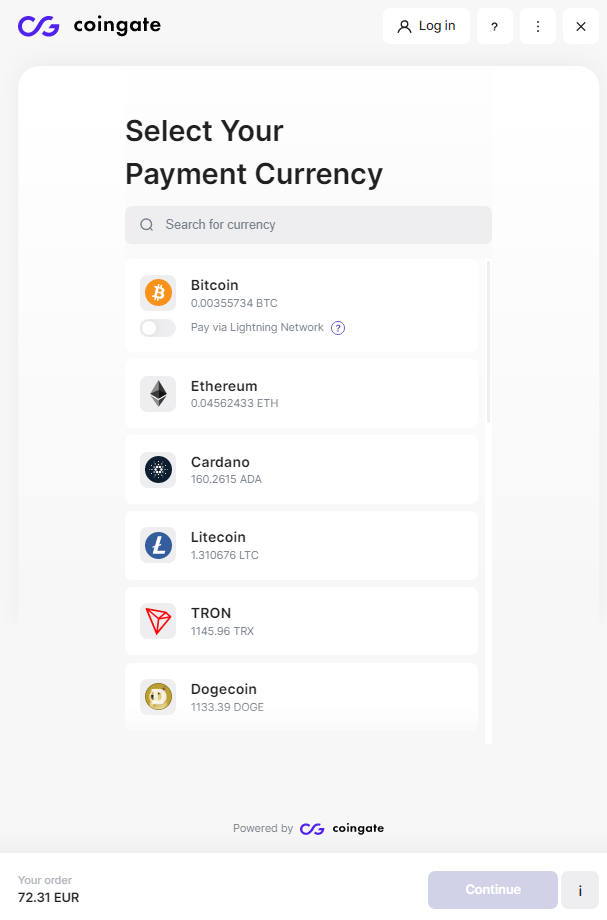 How to make a payment through CoinGate?
Note that the example below is described using BTC, but the same conditions apply to all other cryptocurrencies.
The only few differences are that (1) some cryptocurrencies, for example, XRP, require to provide a destination tag during the payment; (2) Some coins, for example, USDT, have several blockchain network options.
#1: Select a cryptocurrency to pay 
First, scroll down the list to select the currency you want to spend. Depending on the merchant setup, there can be up to +70 cryptocurrency payment options. 
You can also switch on the 'Pay via Lightning Network' option if you use a Bitcoin wallet that supports Lightning Network payments. This would result in an instant payment execution and zero network fees.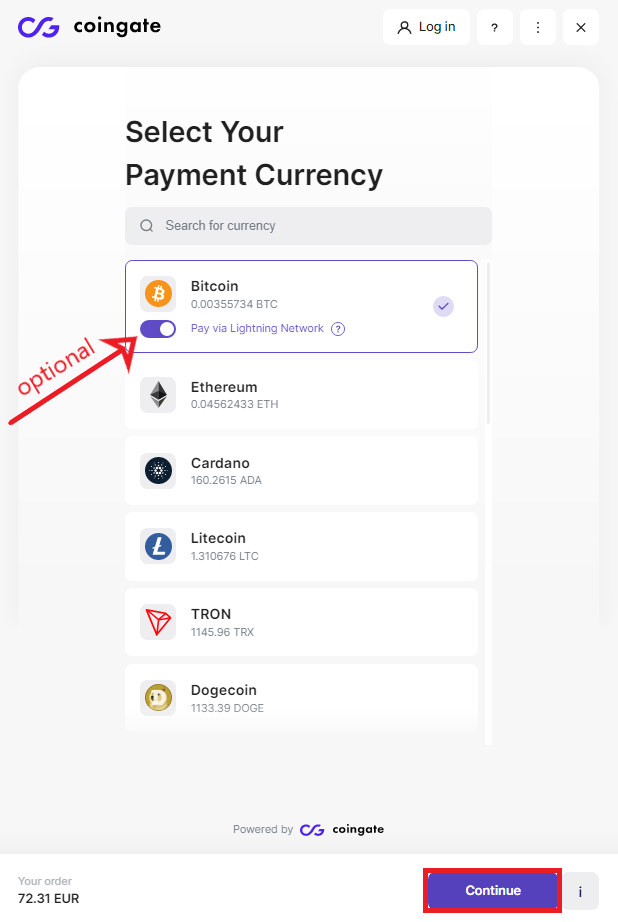 Select a cryptocurrency to pay and proceed by clicking 'Continue'.
#2: Enter your email address, login, or skip 
In the next window, you'll be asked to provide your email address. 
Although providing email is optional, it is strongly recommended to do as it's the only contact method CoinGate has in case of rare payment issues.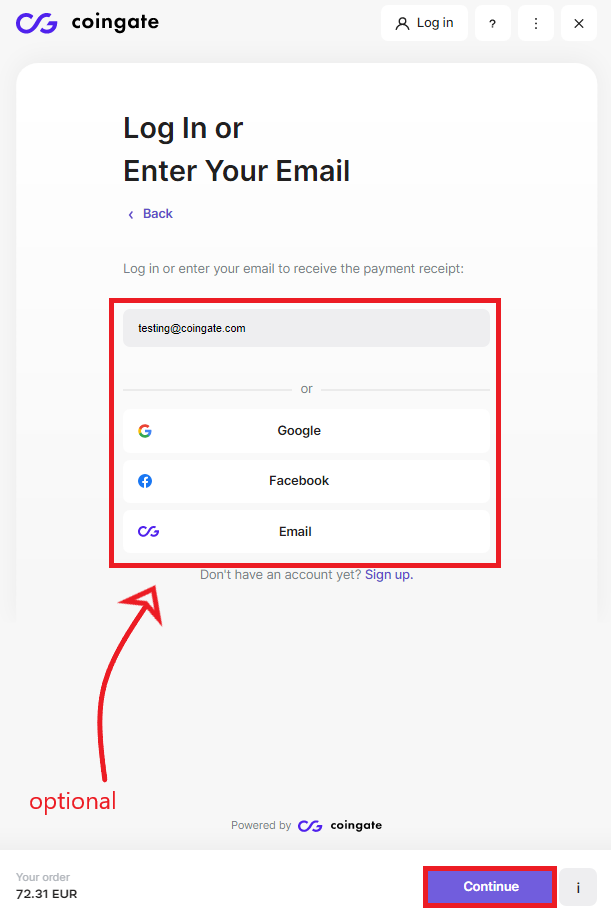 Alternatively, you can log in with your Google/Facebook or existing CoinGate account. Logging in before making a payment provides additional benefits, such as:
Save the purchase history;

Make large purchases;

Monitor order status;

Manage refund requests;

Get special cashback offers.
When ready, click 'Continue'.
#3: Select a blockchain network
The next step requires you to choose a blockchain network. In the case of BTC, there will be only one option available.  However, more options will be presented when selecting other cryptocurrencies, such as Ethereum, TRON, or Binance Chain.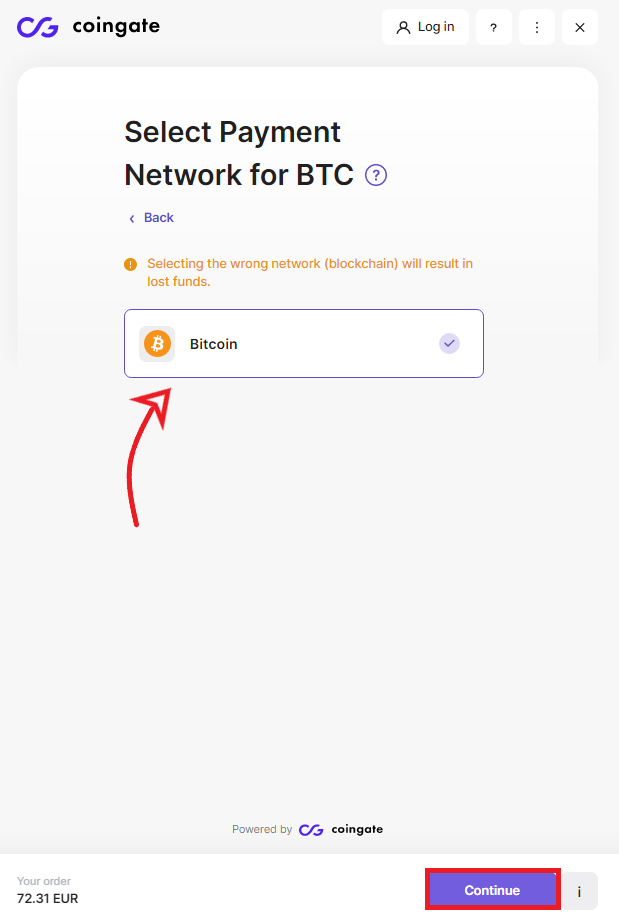 You must identify the network correctly, as coins sent to the wrong network most likely will be lost forever.
When done, click 'Continue.'
#4: Make a payment
When the payment window appears, enter the amount of BTC you need to send in the 'Amount' field on your wallet. Our advice is to copy the exact BTC (or whatever currency you use) value shown on the invoice. 
Helpful advice: If your Bitcoin wallet only shows a certain number of digits, you should round the amount to the higher side to avoid sending an insufficient amount. For example, if 4 digits are allowed past the decimal, and you need to pay 0.011180 BTC, it is advised to round the number up and transfer 0.0112 BTC.
Next, either manually select and copy the Bitcoin address from the CoinGate invoice to your wallet, scan the QR code, or click the copy button next to the bitcoin address and paste it into your wallet.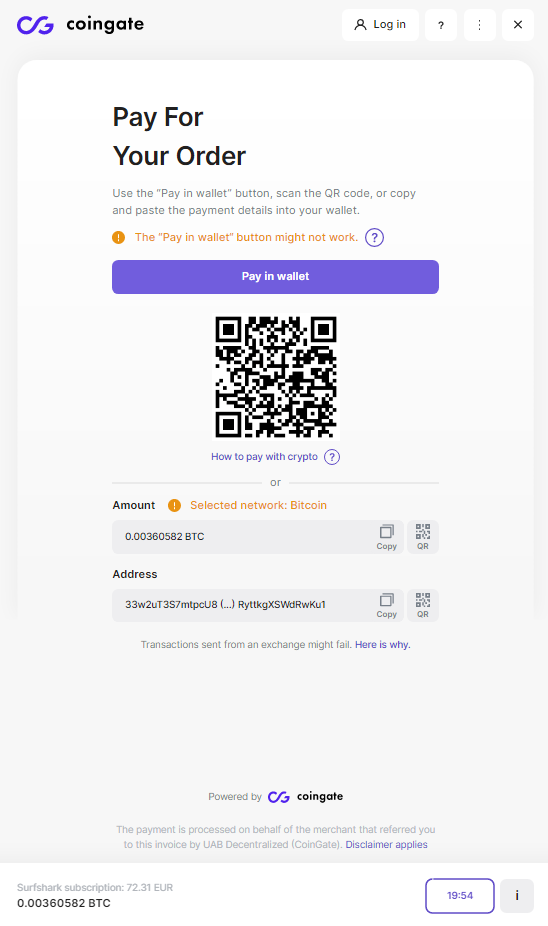 Notice that there's also a 'Pay in wallet' button. You can use this option if you have a software wallet installed on your device that supports your selected blockchain network.
Finally, make a payment. The invoice will soon detect your incoming transaction and inform you about the current order status.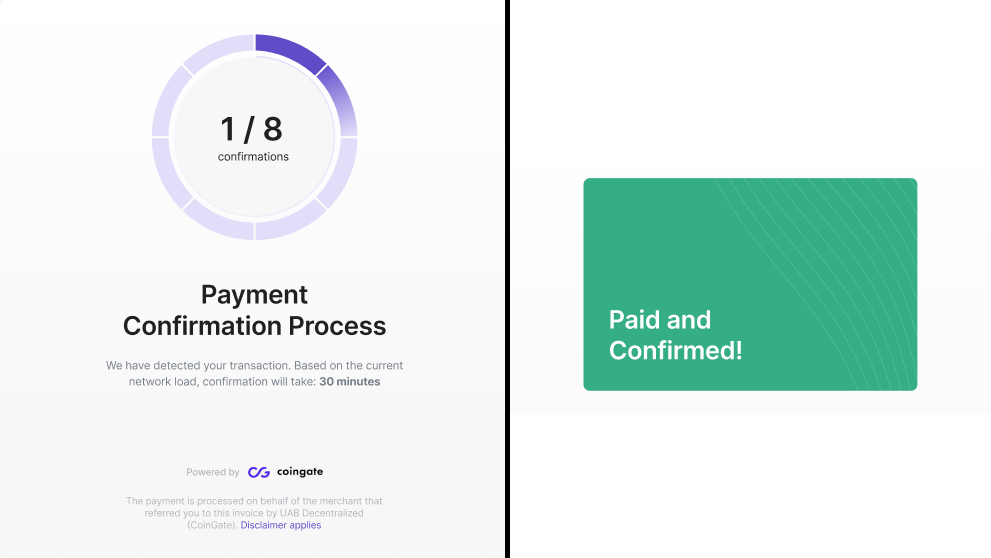 Void transactions and possible scenarios
A transaction can become void, in other words, somehow compromised. It might happen in several different ways, such as:
You canceled the invoice but paid it nonetheless.

The payment did not arrive within a given time frame.

The invoice was paid insufficiently.

The amount paid was too high.
If you end up in one of these situations, read ahead to find solutions.
What to do if I paid too little?
If you underpay your invoice, the invoice will show the amount of cryptocurrency you sent, as well as the amount still left to pay. Simply make the second transaction to cover the underpaid amount before the invoice expires.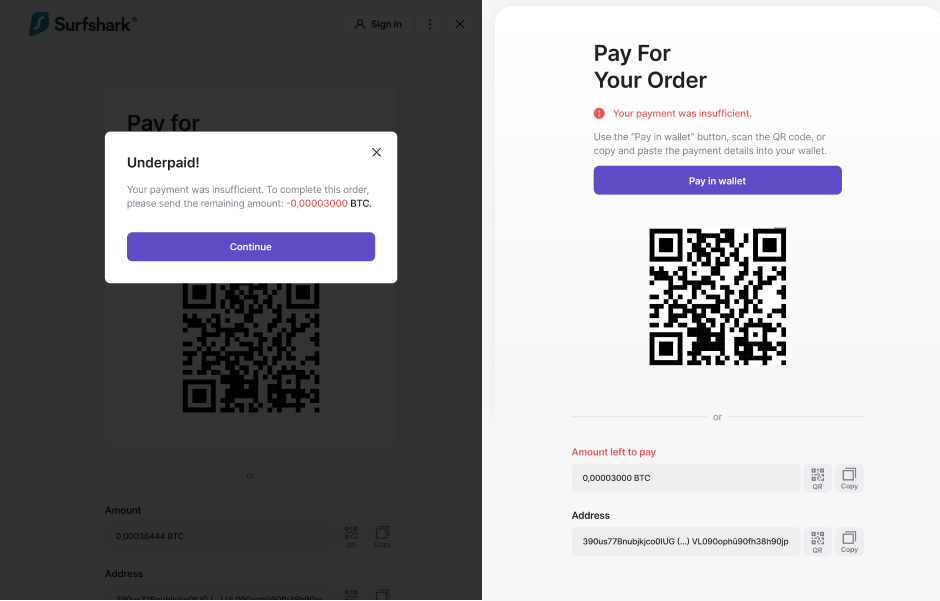 Once you make sufficient payment, your transaction will be confirmed. You will see a confirmation window with your Transaction IDs on the invoice.
If the CoinGate invoice expires, a refund form will show up on the invoice. Once it does, fill in the necessary details and request a refund. The CoinGate team will process it manually within 48 hours.

What to do if I paid too much?
If you pay too much, CoinGate will automatically present a refund form on the invoice after the system approves the payment. Note that the payment will still be processed, and a refund will be issued for the overpaid amount only.
Keep the invoice window open until the refund form shows up, and fill it out.

My invoice has expired or been canceled after I made a payment. What now?
If you paid the invoice is paid after it was canceled or has expired, you'll be presented with a refund form shortly on the same invoice window.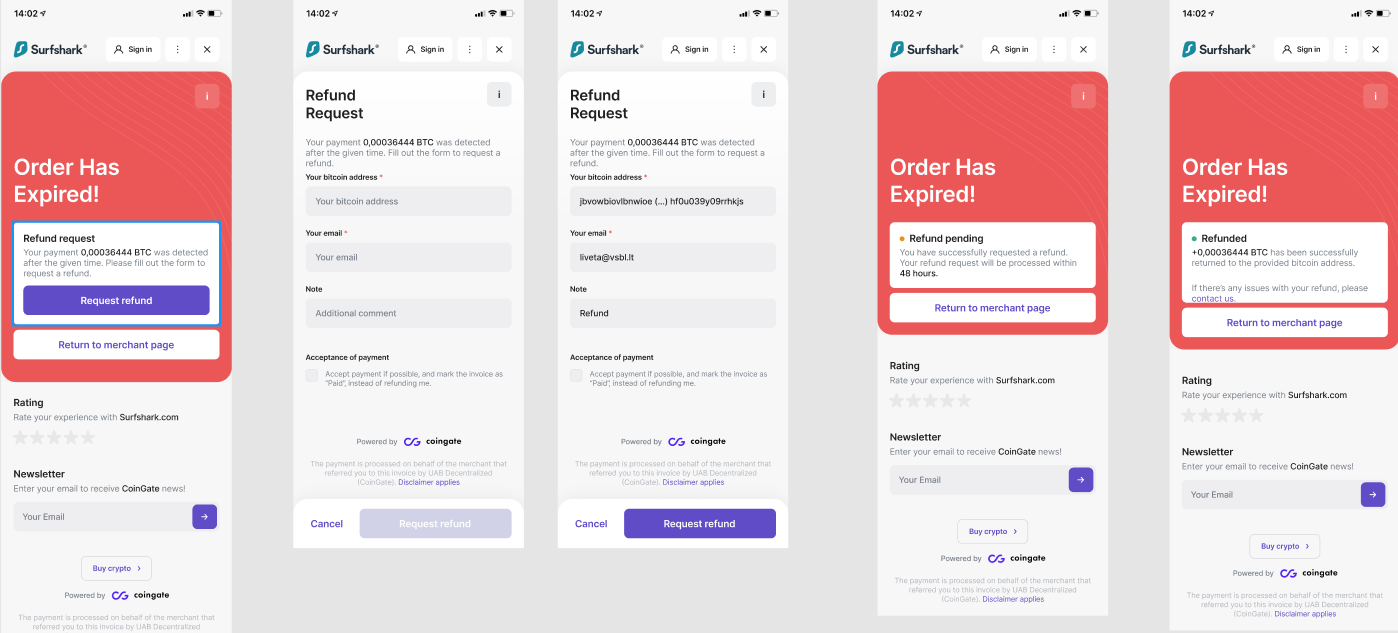 Note that if payment is paid in full, you can mark the 'Accept Payment' checkbox on the refund form, and we will make every attempt to process this payment.
However, it may not be possible, and a refund may be inevitable.
How to get a refund for a service or product I want to return?
Only your merchant can issue refunds for fully paid orders. You'll need to contact your merchant directly and ask him to fill out a refund form.
Other good-to-know features
CoinGate invoice has some additional goodies you might find helpful. These can be accessed by clicking the icon at the top right corner of the invoice window.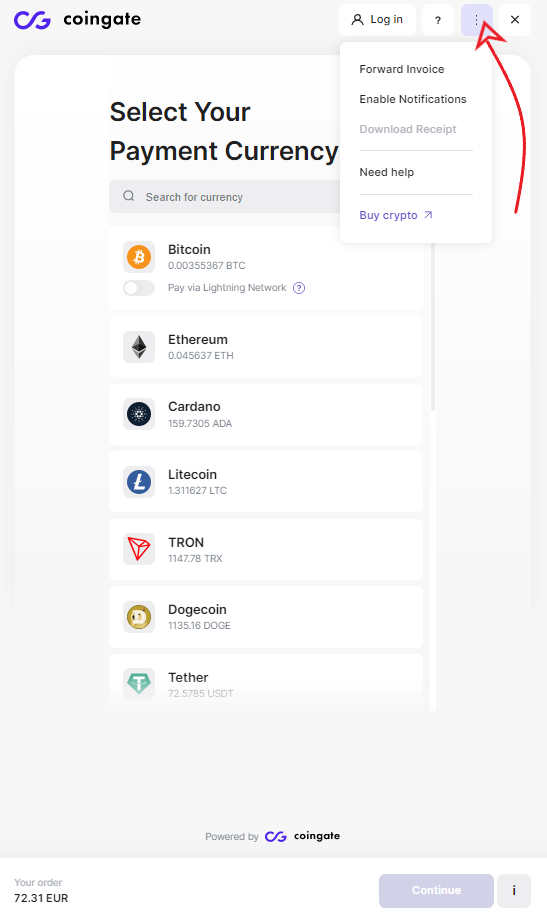 The

'Forward invoice'

option allows you to send an invoice you generated to another person via email;

The

'Enable notifications'

option allows you to receive notifications about the status of your order directly to your device;

The 'Need help' button will open up a list of most commonly asked questions where you can find relevant information;
The 'Buy crypto' button will redirect you to our trading services where you can stack up on cryptocurrencies.
Didn't find the answers you were looking for?
Don't hesitate to contact our support team at support@coingate.com if you encountered a situation that's not described in this article. Our team will help you as fast as possible.