Company Updates, Crypto Payments, Tutorials
What's a merchant refund feature & how to use it?
Last updated: August 2, 2022 6 min read
We made it easy for our merchants to reimburse their customers. Now, business accounts can issue refunds for customers' orders, no matter what cryptocurrency was used to pay for goods or services.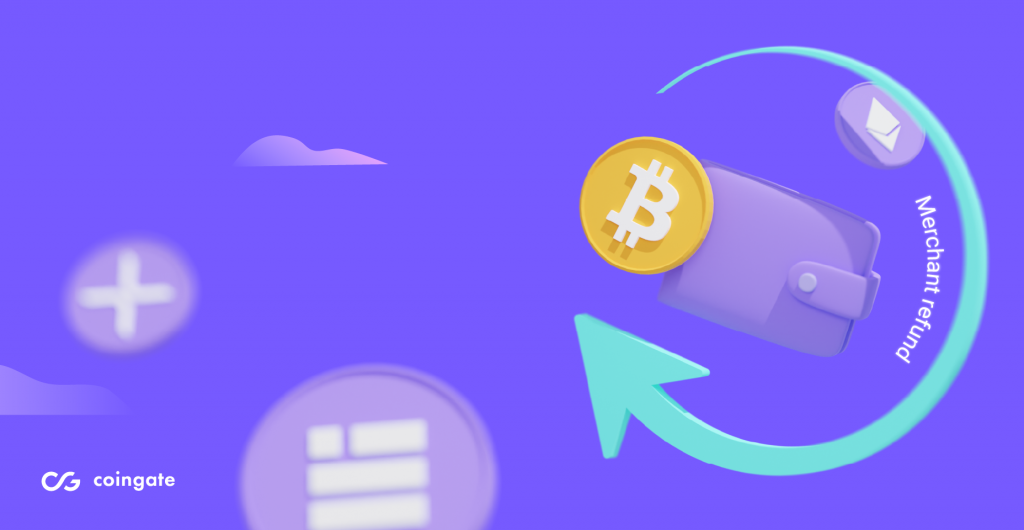 A merchant refund is CoinGate's brand new feature that allows issuing, tracking, and managing refunds conveniently from the account dashboard.
This development will greatly simplify how businesses can return money to their customers and make the journey faster.
Besides, it will be tremendously helpful for those businesses that offer a money-back guarantee policy to their customers. With the new refund system ready to use as of today, it's now hassle-free to reimburse customers that want to return the product or service.
Continue reading to find out exactly how merchant refunds work, what the process of returning money to the customer looks like, and other things you should know.
Merchant refund: an example
Here's how a merchant refund works, as per the example below:
Let's say the customer pays the order for a VPN service using BTC valued at 10 EUR.
However, weeks later, the customer ends up dissatisfied with the service and decides to ask for a refund to get his money back. Also, he wishes to get the funds in their original form (BTC). And so, communication takes place directly between the shopper and the merchant, without any involvement of the CoinGate team.
A customer provides information like a currency he wishes to receive, a wallet address, and a name corresponding to the blockchain network. After both parties share the necessary information, the merchant fills out a refund form on his account dashboard and initiates a refund.
What's a refund form?
A refund form is a tool that allows merchants to issue refunds for those orders that have already been paid in full.
It's helpful in cases when a customer contacts the merchant directly and asks to return the money after the service or a product has already been provided.
To issue a refund to a customer, a refund form needs to be filled out. To start, go to the Merchant > Orders tab on your menu dashboard (or use this link). Then, click on the order that needs to be refunded.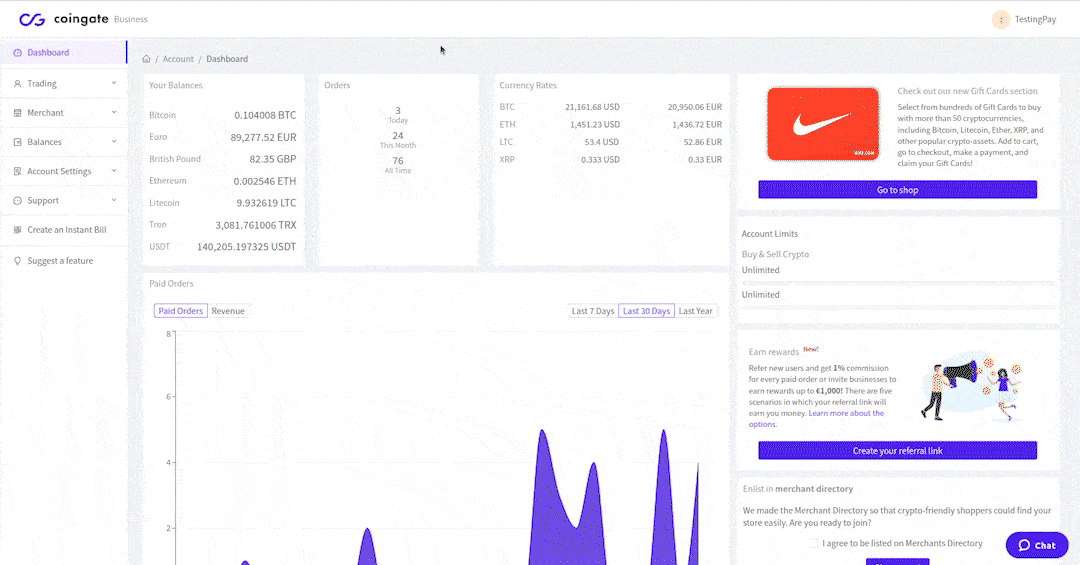 At the bottom, you'll find a refund form to place all the customer information and other details necessary to return the funds.
The refund form contains these information fields:
Balance. Select a currency on your balance sheet that will be used to deduct the refund amount. All your options will be shown amongst available selections. You can also check your balance by going to the Balances > Accounts tab on your menu.
CoinGate will automatically convert a currency from your account balance to currency your customer prefers to receive, which must be indicated in the 'refund currency' parameter (see below). Currently, this feature is free of charge.
Merchants can use their existing balances for refunding.
See this article to find a step-by-step guide for topping-up your account balance.
As the best options for issuing refunds, we also highly recommend having either EURT or USDT stablecoins in your balance. This helps merchants to avoid cryptocurrency price fluctuations when calculating the right refund amount.
Refund amount. Enter the amount to refund your customer. Mind that the Refund amount must be entered in a currency that has established the original price of your merchandise.
For example, if your product or service was priced in EUR on your website, the EUR amount will be calculated to a 'refund currency' at the current exchange rate, e.g., if a 'refund currency' is set to BTC, then the EUR will be converted to BTC.
That way, a merchant can always choose whatever currency is more convenient for him at the time, while his customer has all the same capabilities.
Merchants have many options when it comes to choosing a refund currency. See the available options here.
Email. Enter the customer's email address.
Refund currency. Select a currency in which the refund will be issued, as requested by the customer.
Currency network. Select the blockchain network matching the wallet address as indicated by the customer.
!!! This piece of information is essential to get right because coins sent to the wrong network will most likely be lost forever. The blockchain network must be identified and communicated by the customer to the merchant alongside a matching wallet address and a currency to be refunded.
Address. Enter the customer's wallet address where the refund will be sent.
Reason. Specify the reason why the refund is being issued.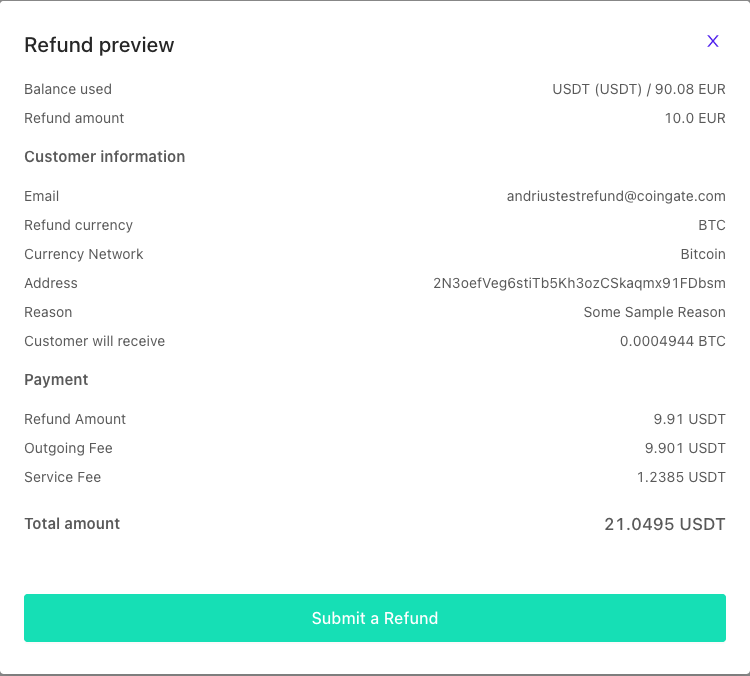 On the refund preview screen, click the 'Submit Refund' button, and it's done. CoinGate staff will confirm the refund and transfer funds to the wallet specified by the merchant in the 'Address' field, as requested by the customer.
As mentioned previously, the refund amount will be deducted from the business account balance. CoinGate will notify both merchant and customer via email when the refund is completed.
Be mindful that, in addition, the customer will get a confirmation email. At this stage, your refund request will receive a 'Pending' status. You can review all pending, rejected and confirmed refunds by visiting the 'Merchant > Refunds' menu section.
The refund will be processed only if and when a customer opens an email and confirms that the refund amount and receiving address are correct.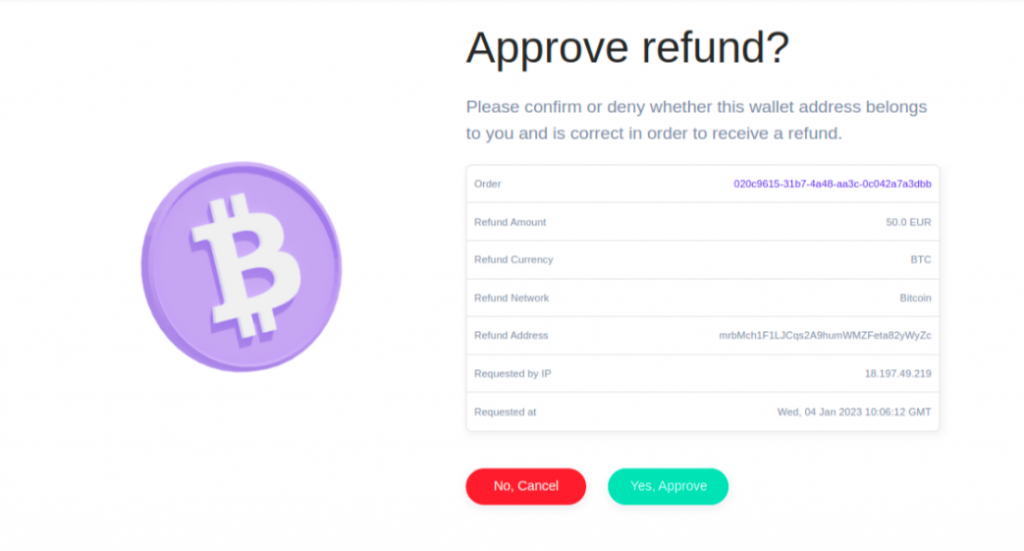 Be mindful that refunds have two fees: Refund Issuance Fee and Conversion Fee (applied only in case refund currency differs from merchant balance currency). Check the pricing here.
How's the refund amount calculated?
This part is also very important to know as some shoppers might have additional questions when the refund is issued.
The refund amount is calculated based on the initial pricing of merchandise and the current exchange rate of cryptocurrency that's been used to pay.
That means if the service or product costs 10 EUR, the merchant can enter up to 10 EUR or less in the 'refund amount' field, and the entered amount will be converted to cryptocurrency using its current exchange rate.
For example: if a customer wants to get a €10 refund in BTC, and the EUR/BTC rate is €40,000 instead of €32,000 at the time of paying, then the final refunded amount will be 10 / 40000 = 0.00025 BTC instead of the initial paid amount of 10 / 32000 =0.0003125 BTC.
Full and partial refunds
When the refund request is marked as 'completed,' the order status will change to 'refunded' or 'partially refunded' depending on whether the refund was issued in full or not.
For example, if a payment was made for 100 EUR and a refund is issued for 45 EUR, the status of your merchant's order will change to 'partially refunded.' Issuing a second refund for the remaining amount (in this case, 55 EUR) would result in an order status of 'refunded.'
Both merchant and shopper will receive an email notification about a successful refund.
Refunds via API
Merchants also have the ability to issue refunds via API. All the relevant documentation can be found by following this link.