As 2021 was a record year for the whole crypto world, we want to take a deeper look at major events which covered the year 2021 on a global cryptocurrencies market scale as well as in CoinGate.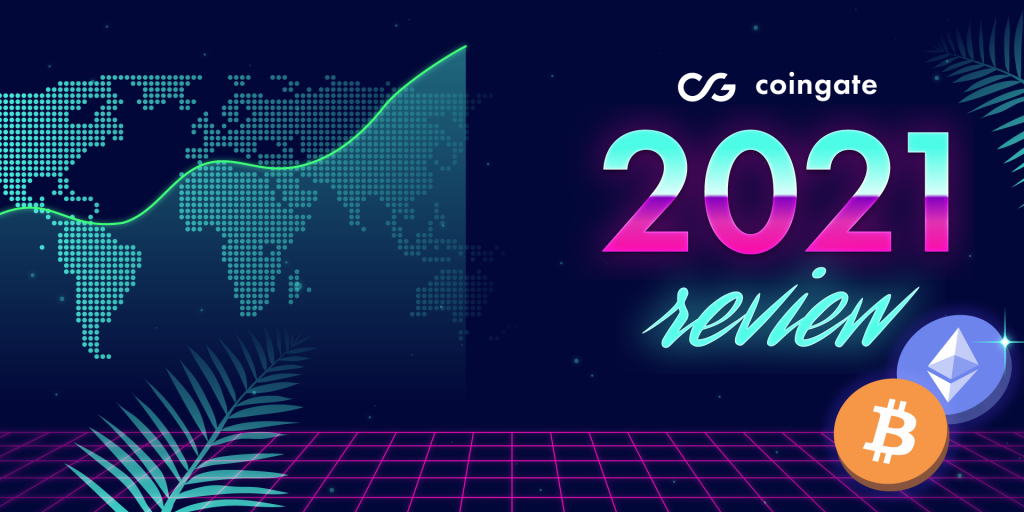 In this article you will find:
2021 was the year of massive crypto recognition and adoption. In the past 12 months, we saw a growth of crypto adoption in mainstream businesses and on personal use, new technological solutions, the public sector interest in blockchain technology use and we witnessed many all-time highs.
And don't forget the regulators who finally recognized cryptocurrency as a financial product. But let's start from the beginning.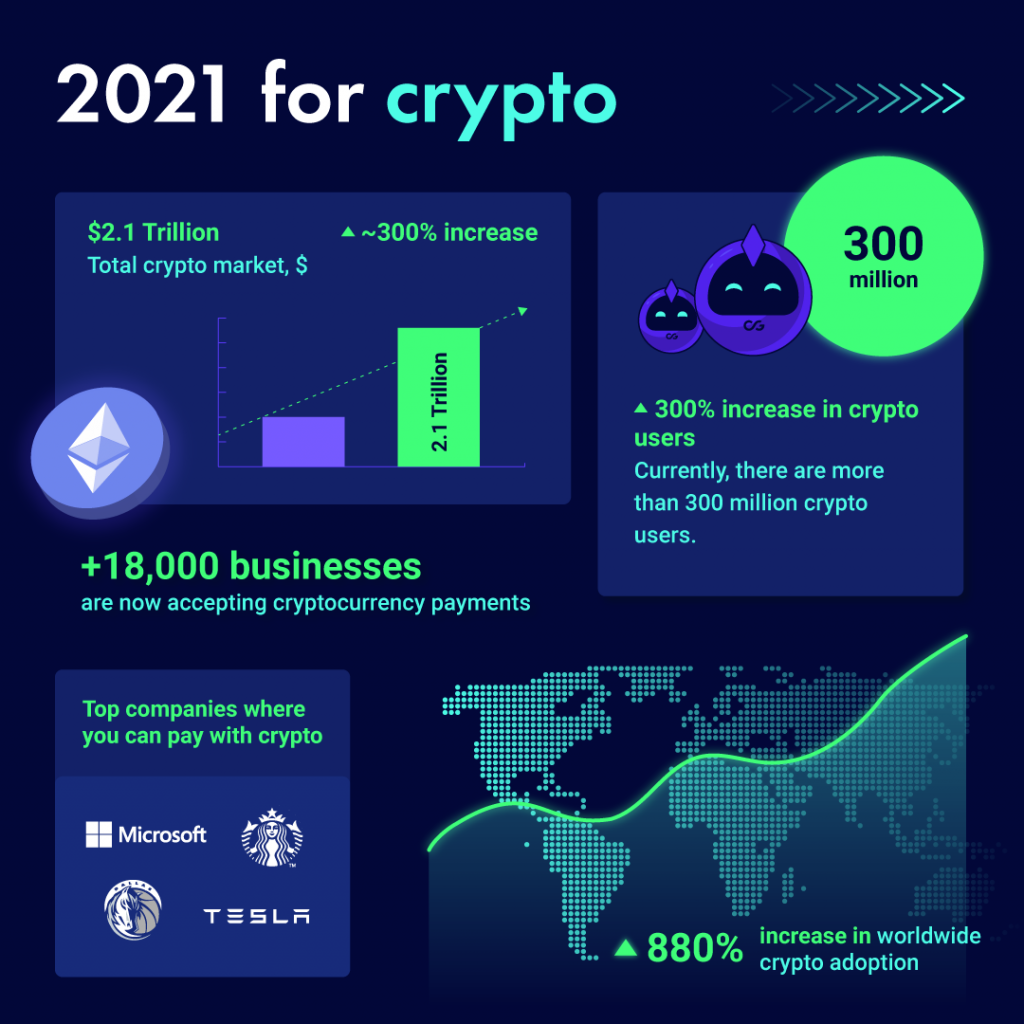 Total crypto market value increase
In 2021, the crypto market grew by 300% and was worth $2.1 trillion at the end of 2021, while at the start of the year, the market cap was around $700 billion.
Another notable mention is that On November 8th, 2021 crypto market value reached its all-time high and was worth $3 trillion.
Over 300 million crypto users
In this record year, we call 2021, estimated calculations show that there are more than 300 million crypto users worldwide and it represents about 3.9% of the whole world population.
Crypto adoption in business
More and more businesses began to accept crypto payments. They began to understand the need to accept crypto for their goods and services. The need partly came from those who want to use cryptocurrencies daily.
Now more than 18,000 businesses have started accepting cryptocurrency payments, and the international adoption of cryptocurrencies has increased by 880%.
Companies like Microsoft, Starbucks, Tesla, Overstock, Whole Foods, and many others already accept crypto payments. You can check where you can spend your cryptos by clicking here.
Growth of a Bitcoin
How can you review the year without taking a look at the biggest cryptocurrency by the market cap? In 2021 BTC managed to grow by 60%.
Also, it was the year when El Salvador adopted BTC as a legal tender and approved the first BTC ETF in the U.S.
It is also worth mentioning that Bitcoin had the most significant upgrade since 2017. It was an important technological upgrade to the Bitcoin protocol known as Taproot.
The year of Ethereum
Many call the year 2021 the year of the second-biggest cryptocurrency – Ethereum. Last year ETH managed to grow by 407%.
It launched the major upgrade, called London. It included Ethereum Improvement Proposal (EIP) 1559, which changed the way transaction fees, or "gas fees," are estimated.
Also, with many upgrades during the year, Ethereum is almost prepared to move from proof-of-work to proof-of-stake model.
The year of regulations
With the growing attention to the crypto market, not only the private sector, but also the public sector became interested in blockchain technology, its use, and ways it can improve the current financial infrastructure.
Together came the regulators. They recognized cryptocurrency as a financial product and they began to regulate it through various provisions, restrictions, and documentation. This is a good sign to the whole market and this is a recognition that the crypto is not just for the dark web or supporting terrorists. It's a legit financial product.
How was the year for CoinGate?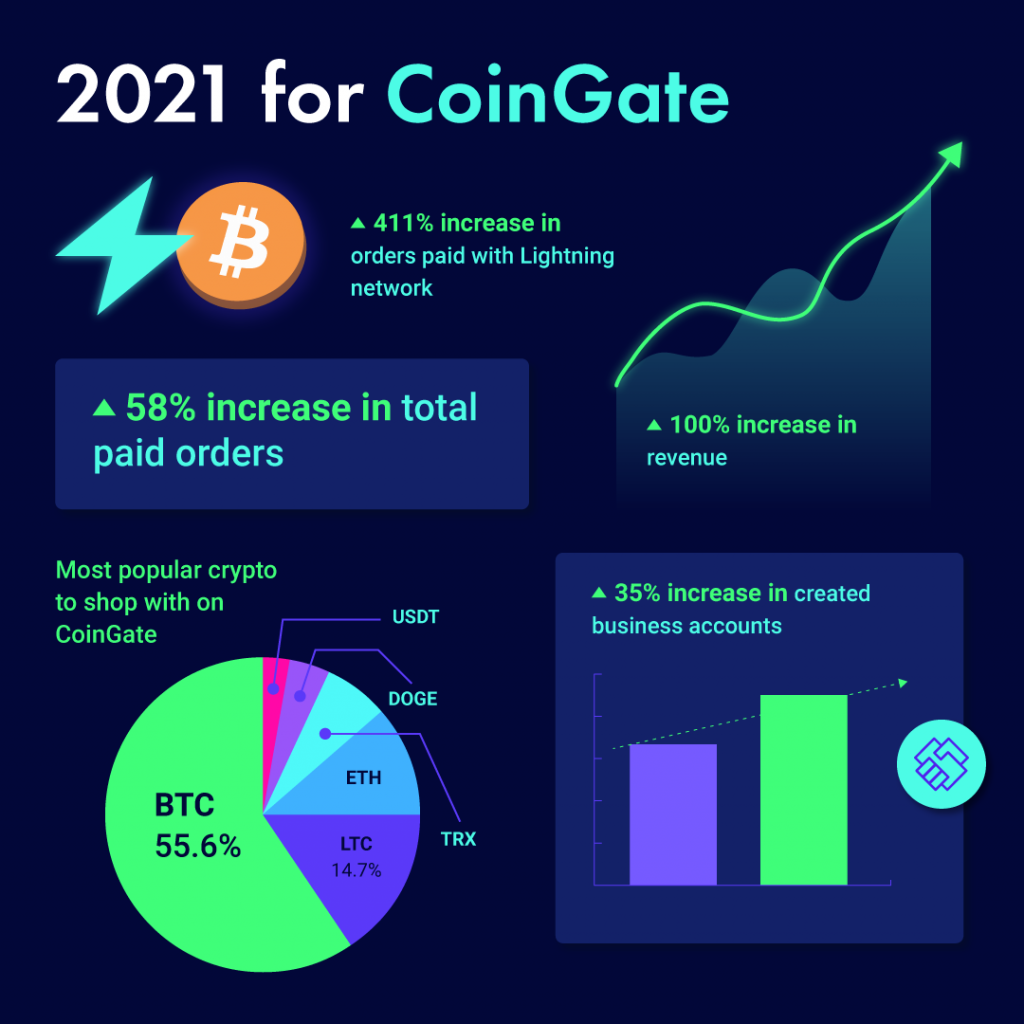 It is no surprise that it was also a record year for all of us in CoinGate. As our new CEO Justas Paulius says: "The more often you see topics about cryptocurrencies in the mainstream media, the better."
Increase in created business accounts
CoinGate is a crypto powerhouse enabling 6000 merchants to collect payments in crypto. Our solutions for businesses are implemented either through plugins or through an application programming interface.
In the year 2021, we saw a 35% increase in created business accounts and we couldn't be happier about it.
The largest number of customers were from the Netherlands, Spain, and the United Kingdom.
Also, in the previous years, the customer base consisted mainly of technology companies, such as those working with servers or website hosting, and last year we witnessed the growth of start-ups and commerce platforms that were willing to accept cryptocurrency payments.
CoinGate has been on the mission to foster Crypto adoption since 2014 by providing crypto payment gateway service, crypto trading, and crypto shopping services. Therefore, the more businesses join us, the closer we are to our goal.
An increase in total paid orders
In the previous 12 months, CoinGate witnessed a 58% increase in total paid orders. Meaning that the devoted client base of our merchants is more active and more willing to spend their cryptos.
Speaking of crypto payments, Bitcoin is still the most popular choice when it comes to shopping with crypto.
Three years ago, Bitcoin was the most popular choice among shoppers and covered 90% of total payments. In 2021 BTC covered 55.6% of all payments. Litecoin took second place with 14.7% of yearly turnover. Despite high gas fees, Ether was also a popular choice among our shoppers. Other popular choices included Tron, Dogecoin, Cardano, Polkadot, and USDT.
Increase in revenue and orders made with Lightning network
In 2021 we saw a huge increase in orders paid with the Lightning network. It was a +411% increase.
Another cause for celebration is a 100% increase in revenue with 81 million in turnover processed through our merchant orders.
Other major events that happened for CoinGate
All in all, the closing of the year 2021 was a success. We closed the year with a fully prepared anti-money laundering prevention, we are satisfied with our product and we more than doubled the number of our employees.
The product itself has been perfected, we have done everything we need to comply with regulations and laws, we have understood how financial products work (which was not the case in the beginning because crypto products were in the gray area of the law) and now we are ready for the next big step.
We see the value we bring for our current customers and we're not afraid to show that the next step for every forward-looking company is to accept crypto payments. And we're the ones who can help them. 
What's next?
CoinGate is full of surprises, so don't forget to subscribe to our blog, follow us on Twitter and LinkedIn to get all the news possible! We promise it's going to be worth it!
Subscribe now
Enter your email adress below to stay in the loop far all blogs