Crypto Payments
Introducing DAI stablecoin payments for merchants
Last updated: January 25, 2019 4 min read
CoinGate kicked off the year with a bang, launching both TRON payment support and the Litening Network. With the intention to keep up the good pace, we present yet another native crypto integration to our payment gateway this year! This time, our very first stablecoin – Dai!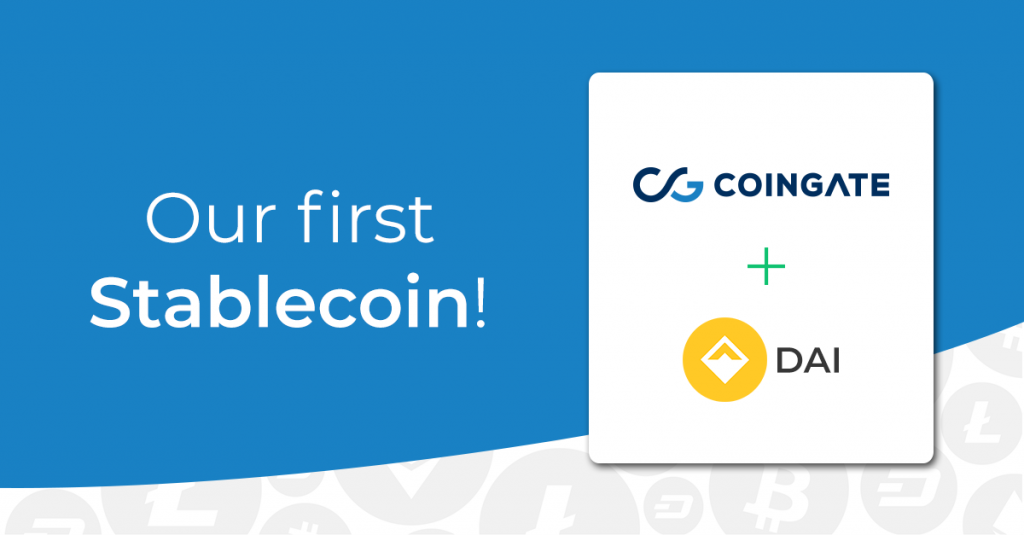 From this day forward, all merchants that use CoinGate services can expect some new customers as they now accept stablecoin Dai as a payment option, among others. It goes vice versa – Dai owners are now able to spend it at more than 4,500 of our online vendors! Whether you wish to buy something like a video game, or web hosting, or wristwatch, or anything else, now you definitely can.
As an addition, our merchants can now make a choice. They can instantly settle all the collected revenue from cryptocurrencies to Euros, or they can choose to keep some or all native coins, which also includes stablecoin Dai. Who knows, you might just find it extremely useful.
But first, what is "stablecoin" exactly?
The purpose of Dai
Stablecoins are cryptocurrencies designed to significantly reduce price volatility. Dai, the very first stablecoin on our payment gateway, stands out because it is asset-backed and fully decentralized. The value of Dai is supported by the value of the collateral that supports the currency. It successfully managed to maintain it's peg even during the most volatile times in 2018.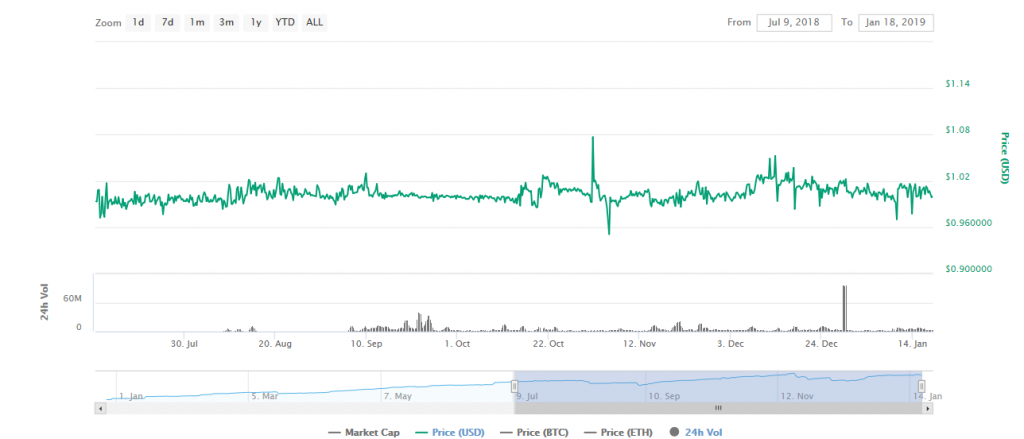 However, volatile cryptocurrency markets remain an issue for many. The impact of occasional price swings widened the gap between crypto users and merchants. As a result, people are more likely to spend their cryptocurrency when prices are high. On the other hand, merchants hesitate if they should accept cryptocurrency in the first place when it can easily drop 20% and more in a day.
Even though there are payment processing services like ours that can instantly settle merchants' revenue in Euros, the stereotypes about high crypto volatility persist. And that is exactly what stablecoins like Dai aim to change.
How does Dai work?
Created by the Maker project, Dai is essentially an ERC20 token on the Ethereum blockchain. The asset itself acts as a collateral-backed loan against Ether. You can create the stablecoin on the Maker platform using unique smart contracts that issue or burn Dai, depending whether you want to create (in other words, borrow) it, or repay the loan and redeem you collateral, removing Dai from a total supply in the process.
Anyone can create Dai if they want to. However, there are plenty of Dai available for purchase on exchanges that you can use without the need to put up your own crypto for collateral.
It is one of the rare stablecoins that is not backed by any centralized authority. Instead, it depends on the assets backing the currency and the community to maintain its value, providing various incentives for the participants of the network.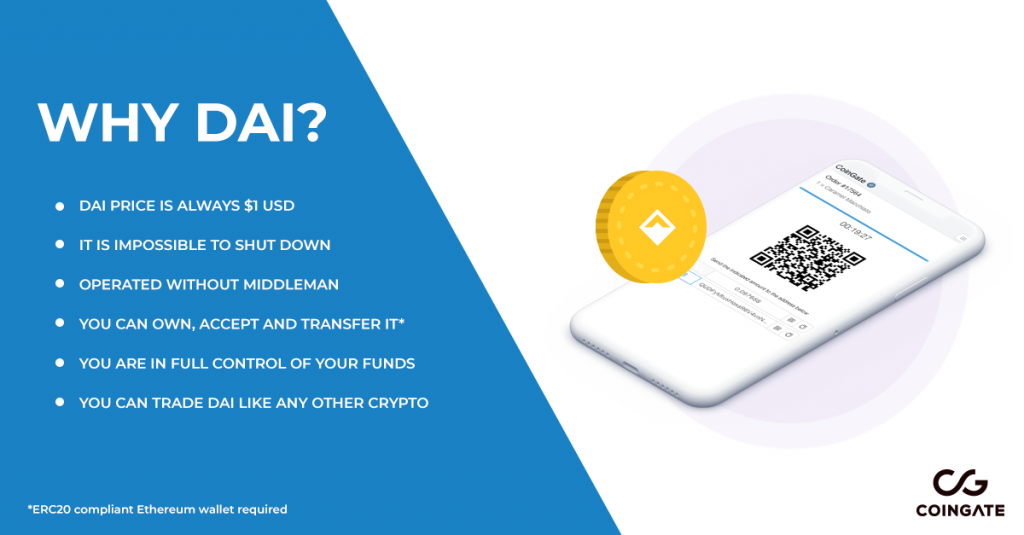 The value of Dai always remains stable as it is controlled by modifying incentives for holding or borrowing it. For example, if Dai price goes below $1 USD mark, it becomes more expensive to create it. On the other hand, if the price goes above the mark, the cost of creating new Dai reduces.
We could go really in-depth here, but from this point on, the underlying technology gets super complicated. However, if you are curious enough, we suggest peaking at the Dai whitepaper. WARNING: it is really geeky.
Conclusion
The whole movement of cryptocurrencies mainly revolves around the idea of decentralization. For a long time now, the blockchain technology has provided ways to make instant cross-border payments with close to no cost. However, volatility discouraged a lot of people. And then, we implemented Dai.
It is exciting to see the developments of projects like Dai that offer solutions for those who seek stability. By using Dai, merchants and their customers alike can benefit from every single advantage that the blockchain brings to the table without experiencing the nasty part of it.
As we mentioned previously, merchants who use our services can choose to keep Dai if they wish so. As long as your customer makes payment in Dai, it is for them to decide whether they want to settle all crypto revenue in Euros or keep some coins instead.
With that said, we wish Dai success as it continues its development and growth to become widely used as a common, convenient payment method of choice.
Or maybe it is already becoming one!