Company Updates
While MakerDAO leads DeFi, CoinGate expands Dai use cases
Last updated: August 3, 2020 6 min read
With so many people unhappy with inefficiencies of financial institutions and instruments we use today, it's only natural that, in the midst of exploring blockchain tech, revolutionary alternatives will start emerging.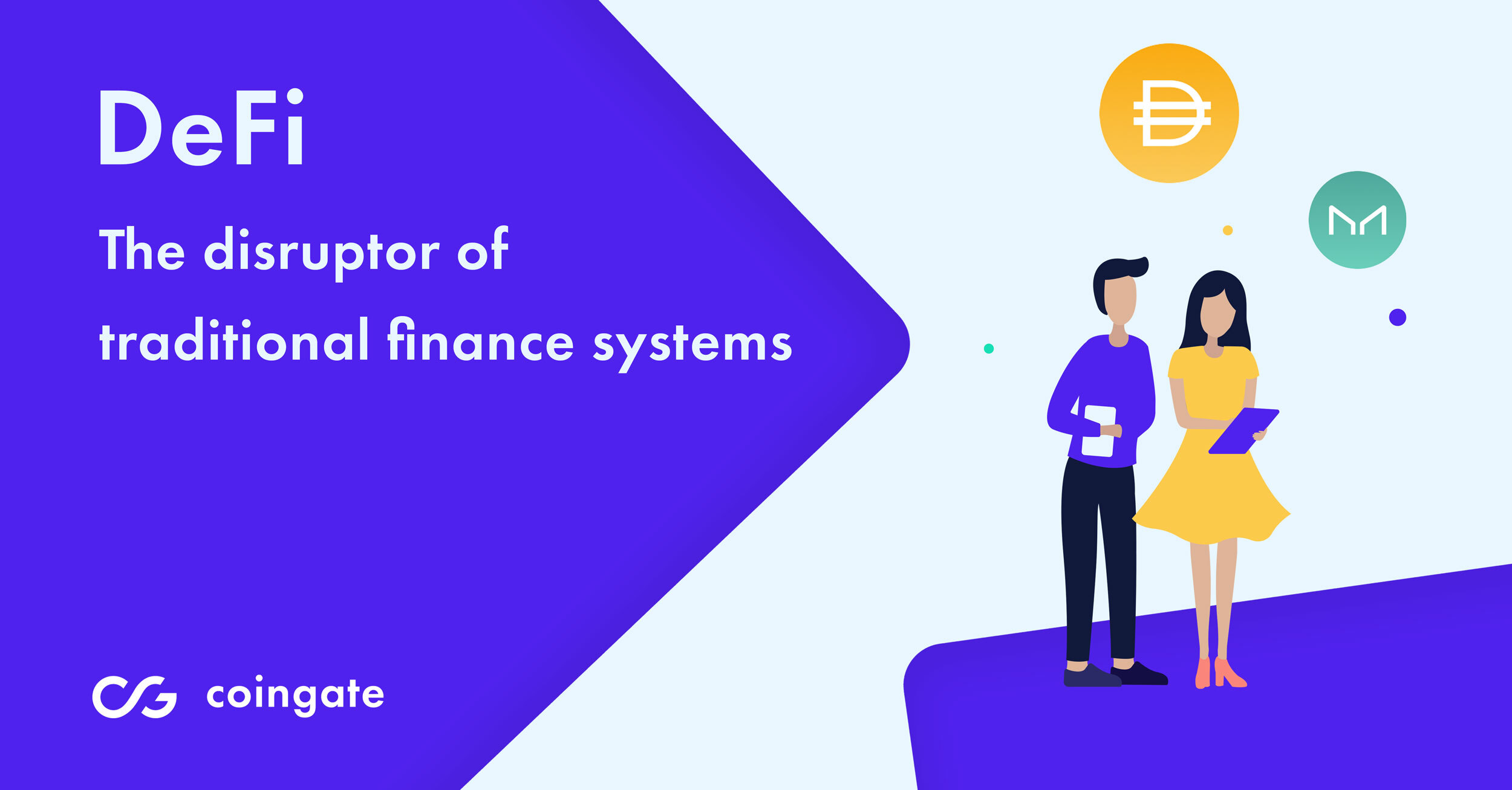 And now, the DeFi (or Decentralized Finance) movement consolidated on the Ethereum network seems to be the strongest candidate to fix universal flaws of centralized finance models and become the industry's game-changer.
By the way, CoinGate offers a multitude of ways to utilize DeFi products such as stablecoin Dai and take part in decentralized economies. Read more about it below!
Is it DeFi's time to shine?
DeFi aims to leverage blockchain technology to transform old financial products into trustless and transparent protocols. Judging from the ongoing community's interest and excitement, DeFi is certainly doing a lot of things right.
In recent weeks, DeFi has stolen the spotlight once again, as the total value of cryptocurrencies locked in DeFi products has skyrocketed from $1.87B to $4.22B in just over a month.
For comparison, in February 2020, an entire DeFi market crossed $1B mark in locked value for the first time.
Although it sounded like a big deal then, at the time of writing a single largest DeFi protocol MakerDAO has $1,29B value committed to it.
It goes without saying that the total value of DeFi products today is nowhere close to what anyone could've expected earlier this year.
What makes DeFi tick
With such exponential growth of the DeFi movement, it's safe to say that the world began reshaping the traditional finance system by bridging it with all the benefits of decentralization.
As such, the parties of centralized money issuing and governance are being replaced with mathematically sound, decentralized software protocols that continue building on top of each other.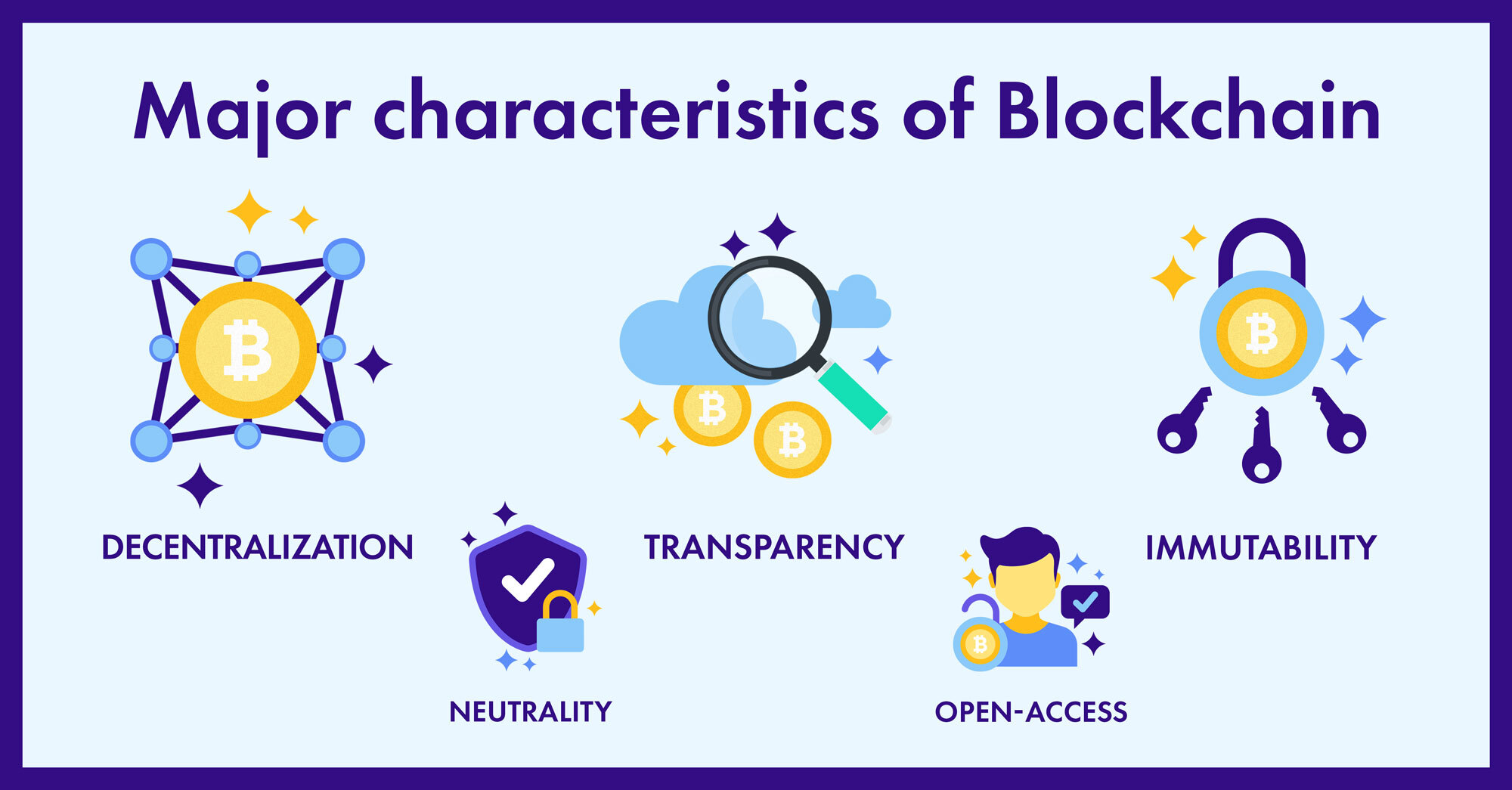 But for decentralized financial products and services like money markets, exchanges, lending, insurance or synthetic tokens to work, a non-volatile, secure, open, transparent and liquid unit of account is necessary to have.
And that's what stablecoin Dai is for DeFi and more than 600 decentralized applications (dapps) on the Ethereum blockchain.
How MakerDAO's Dai is shaping the future of DeFi
Created by an open-source project, MakerDAO, Dai is a decentralized, unbiased, collateral-backed ERC-20 token that does not fluctuate in value.
However, Dai is not issued by a company or a government body, or a bank. The stablecoin is created by its users, where its stability is supported by the monetary worth of collateral that backs the currency.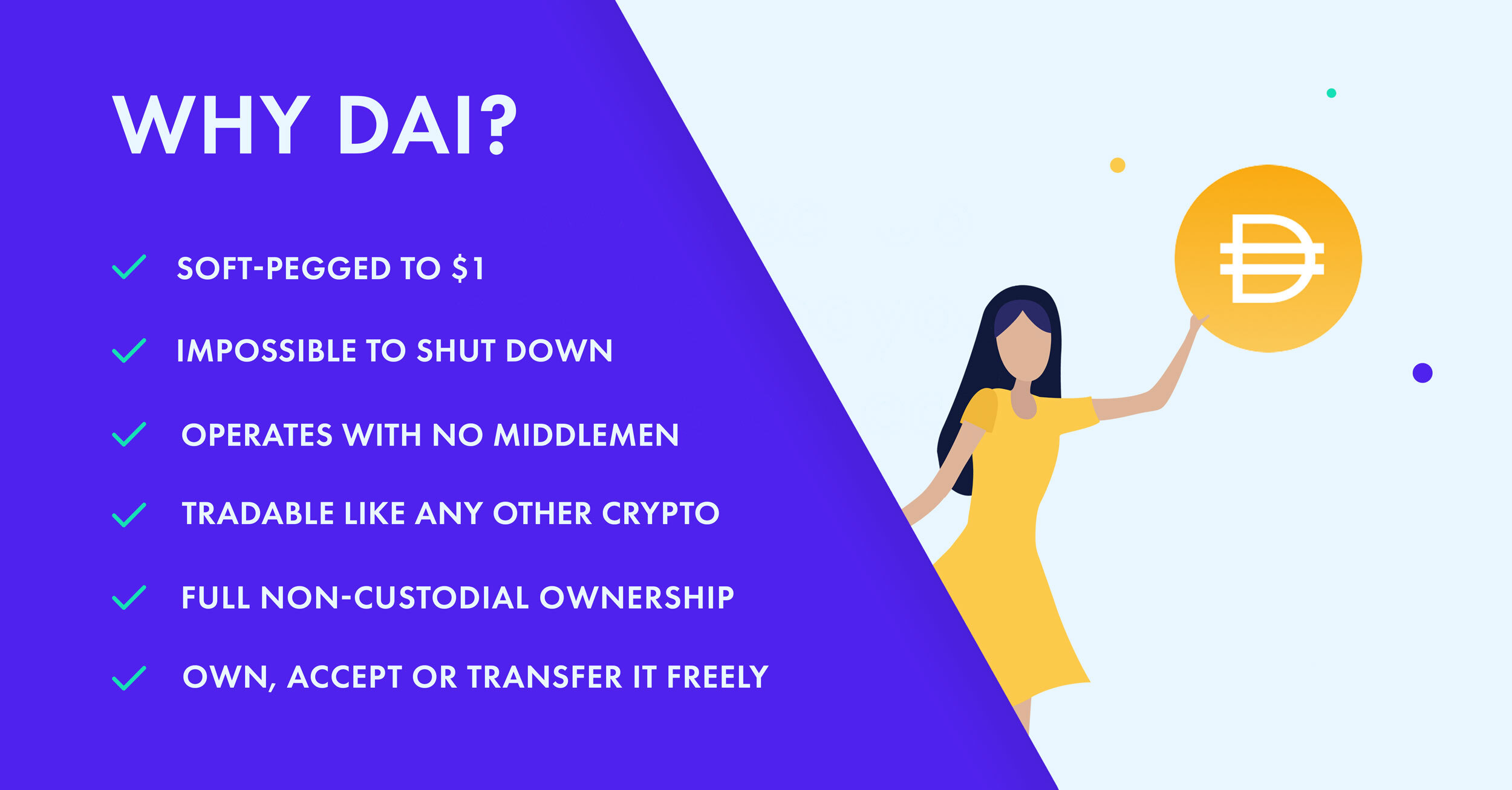 Anyone can create or destroy it on the Maker platform using smart contracts, depending on whether you want to issue new Dai (in other words, borrow against other cryptos), or repay your Dai and redeem your collateral. Redeeming collateral means removing Dai from the coin's total supply.
The stablecoin is seamlessly compatible with all the other dapps built on the network, which allows for easy integration with other smart contract-based software developed on Ethereum blockchain, creating a shared economy between numerous applications.
MakerDAO is also one of the oldest DeFi protocols, with Dai being an integral part of the movement and a crucial building block for the majority of developers focusing on DeFi products and services.
Let's break down Dai to its core to understand how important it is for challenging traditional financial systems.
Breaking down Dai stablecoin:
Because Dai operates on the Ethereum blockchain, the data on the ledger is permanent, traceable and immutable (in other words, secure);
No central authority is responsible for storing, issuing or changing the protocol of Dai. Instead, the system's governance is maintained by MKR token holders with the on-chain voting process, keeping the network fully decentralized;
Dai is soft-pegged to USD, or, in other words, collateralized by its users with multiple other crypto-assets via smart contracts, maintaining its stable value which always stays around $1;
Dai is open for everyone, meaning you don't need any permission to start creating, buying, selling, earning, borrowing or lending it, as well as building new dapps on top of Maker protocol;
Dai is easy and cheap to transfer, making it a superb asset of choice when moving money abroad, repaying debts, paying for products and services and so on;
Complete transparency of the Maker Protocol allows anyone to check Dai's Vaults at any time, see the ledger's history of transactions, etc.

Maker's smart contracts are also audited and formally verified

;
No bank account or other 3rd parties needed to use the stablecoin at its maximum capabilities – the only thing required is a wallet address.
As of now, the Dai stablecoin acts as a store of value, a transactional asset, a passive income generator, and a measure of collateral.
But while the new use cases of Dai are still emerging as the DeFi network grows more sophisticated, we at CoinGate also find unique ways for our customers to utilize Dai in their daily financial habits efficiently.
What can CoinGate users do with Dai?
There are several ways to make the best out of Dai with CoinGate. For example: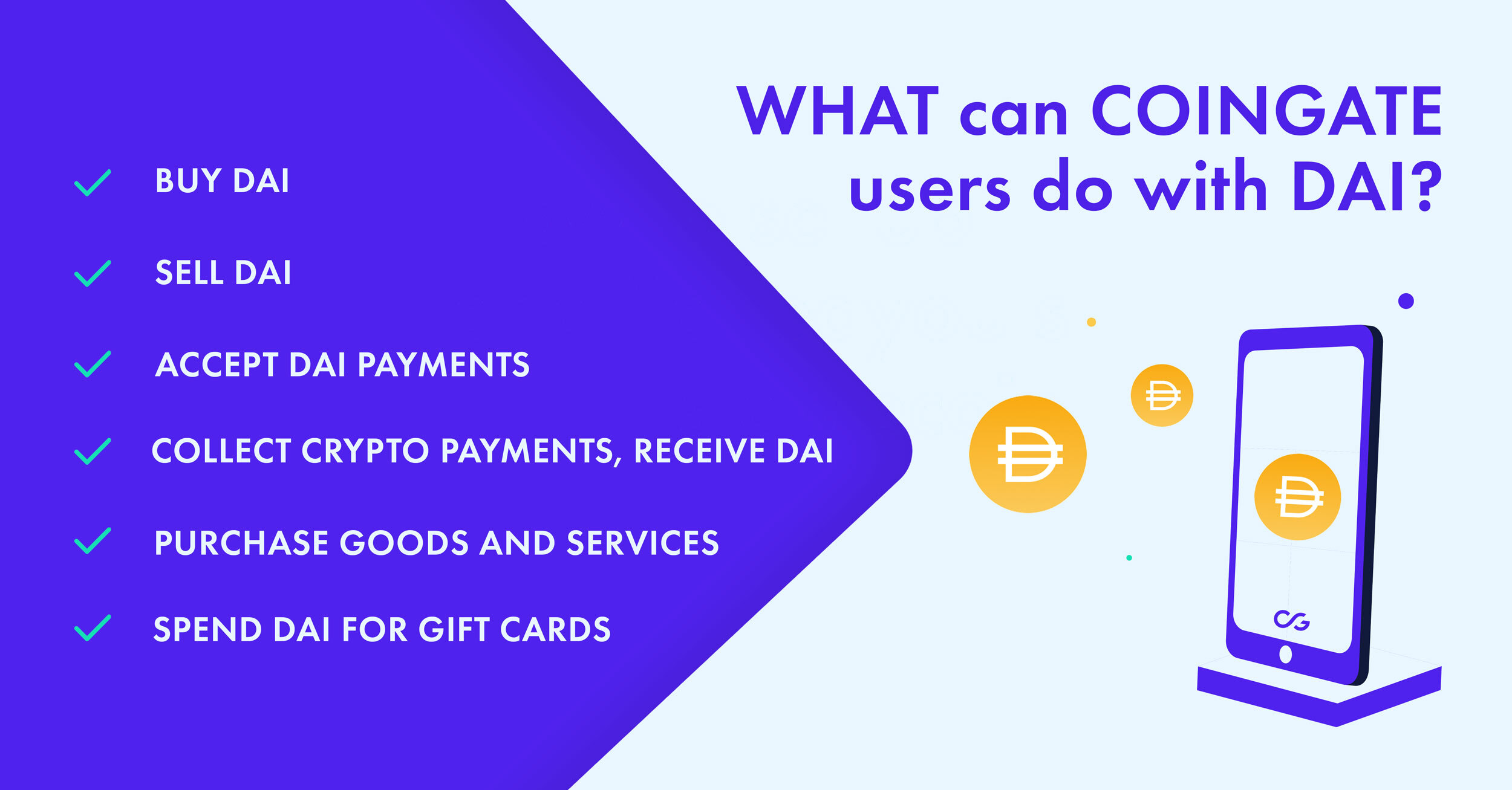 Accept Dai payments. Our payment processing solution enables a single invoice solution for customers to pay with Dai and 50+ cryptocurrencies on any online store. Integrate via

API

,

e-commerce plugins

,

payment buttons

and more;
Collect crypto payments, receive Dai. Our payment solution is customizable, meaning you can collect numerous cryptocurrencies and receive payouts in a single Dai currency;
Buy Dai. Use your bank account (Europe only), credit/debit card or mobile balance to buy Dai directly from us, straight to your wallet. Available for casual users and businesses;
Sell Dai. CoinGate can also buy Dai from you and send Euros to your SEPA bank account. Available for casual users and businesses as well;
Purchase goods and services. You can find plenty of online stores that accept Dai payments on CoinGate

Merchant Directory

.
Spend Dai for gift cards. In case there's nothing of interest for you on Merchant Directory, try looking for something worthwhile on the Gift Card Store.
For a limited time only, we're giving 3% cashback for purchases made with Dai through CoinGate payment option! Enter your email address at the checkout and receive a portion of your Dai back – the promotion is available from April 3 to April 17.
Do you see the DeFi's potential to disrupt the financial industry? Let us know on our Twitter!