Crypto Payments, E-Commerce Plugins
How To Enable CoinGate Payments On Wix?
Last updated: January 13, 2023 2 min read
Wix users can add cryptocurrency payment methods to their checkout page using CoinGate payments solution.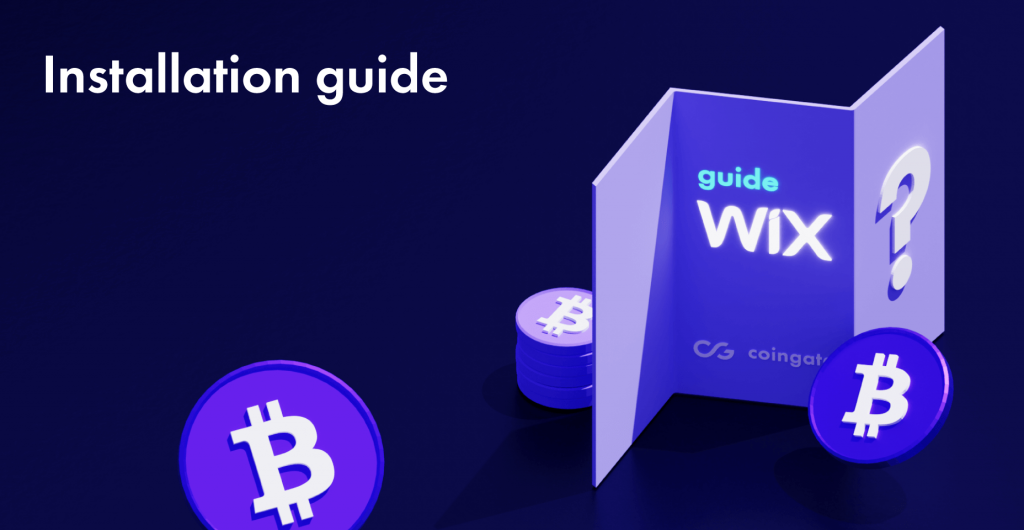 CoinGate app adds Bitcoin and 70+ cryptocurrency payment options, allowing crypto-friendly customers to pay for goods or services in the way that's most convenient for them.
The app allows merchants to collect funds and receive payouts in a single transaction and currency that they prefer, including Bitcoin, USDT, EUR, GBP, USD, and more.
Wix users in Germany, Lithuania, Netherlands and Spain can now connect CoinGate as a payment provider and start accepting cryptocurrencies.
Learn more about the reasons to set up CoinGate payment solution on Wix, or dive into the installation guide below.
Step-by-step instructions for enabling cryptocurrency payments on Wix:
1. Create and verify a CoinGate business account
A verified CoinGate business account is required to use the cryptocurrency payment processing services. Start here.
2. Create your API Authentication key
The API Authentication key allows you to connect your Wix store to CoinGate. You can create your API Authentication key from your CoinGate account dashboard (Merchant > API > Apps > +New App).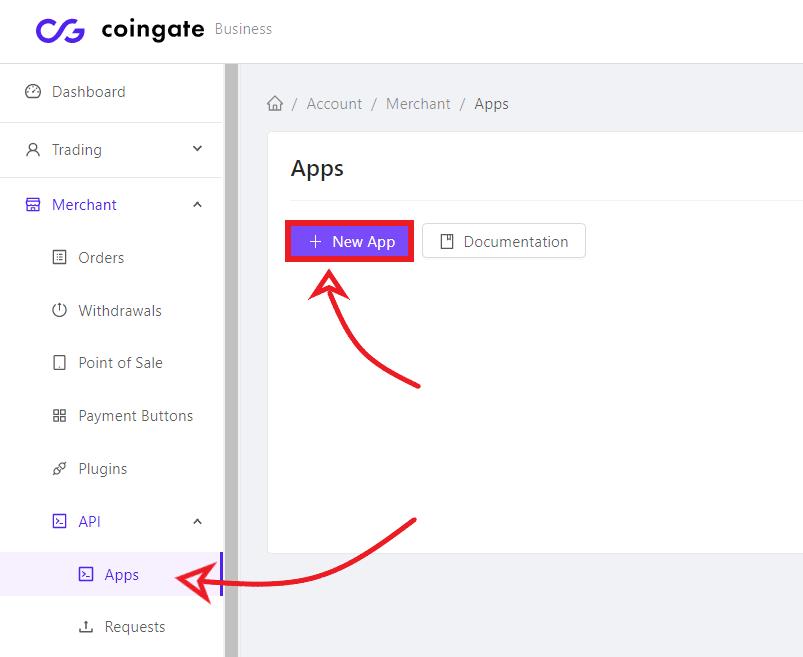 3. Enable CoinGate's through Wix backend
Go to the 'Settings' page on your Wix site's dashboard and select 'Accept payments'. Then, click on 'See More Payment Options', find CoinGate and click the 'Connect' button.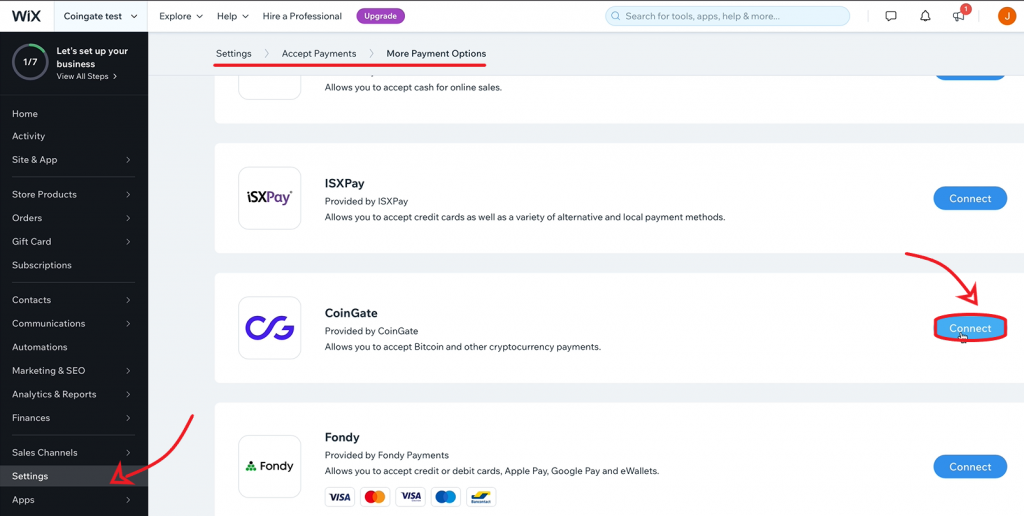 4. Copy and paste the API Authentication key
Place the API Authentication key you generated on your CoinGate account in the required field and click 'Connect'.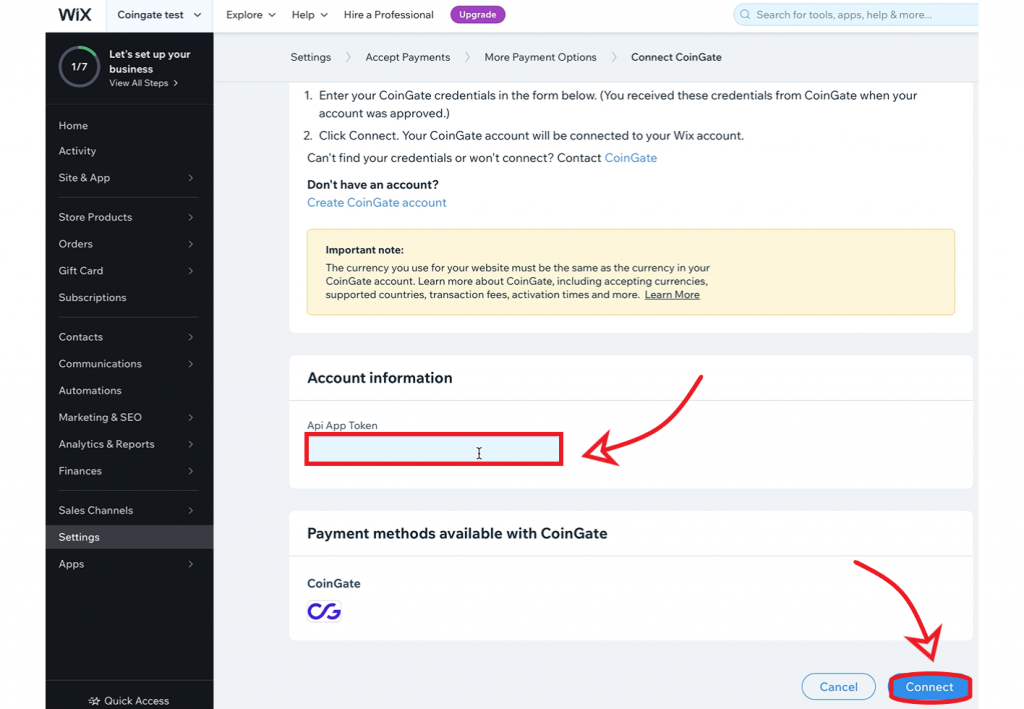 5. Choose a payout currency
Set a payout currency parameter to whatever currency you wish to receive when you withdraw the collected funds. Go to 'Account Settings > Manage Business > Currency Settings' on the CoinGate dashboard and click 'Add Fallback Currency.'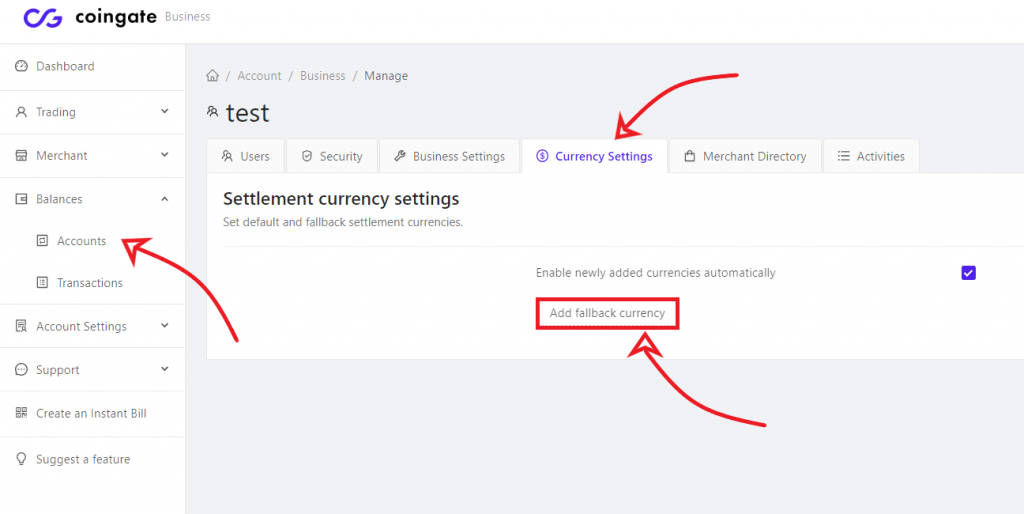 6. Add a payout address
Indicate a bank account or wallet address where to receive payouts. For that, log into your CoinGate account, navigate to 'Account Settings > Payout Settings' and add the payout address of a currency you set as 'Payout Currency' in step #5.