Crypto Payments, Educational
Mitigating High Transaction Fees With Layer-2 Solutions
Last updated: May 18, 2023 2 min read
The sudden and unexpected emergence of Ordinals and BRC-20 tokens has resulted in increased transaction fees for BTC and ETH, causing speculations about whether these networks can be efficient in the long term.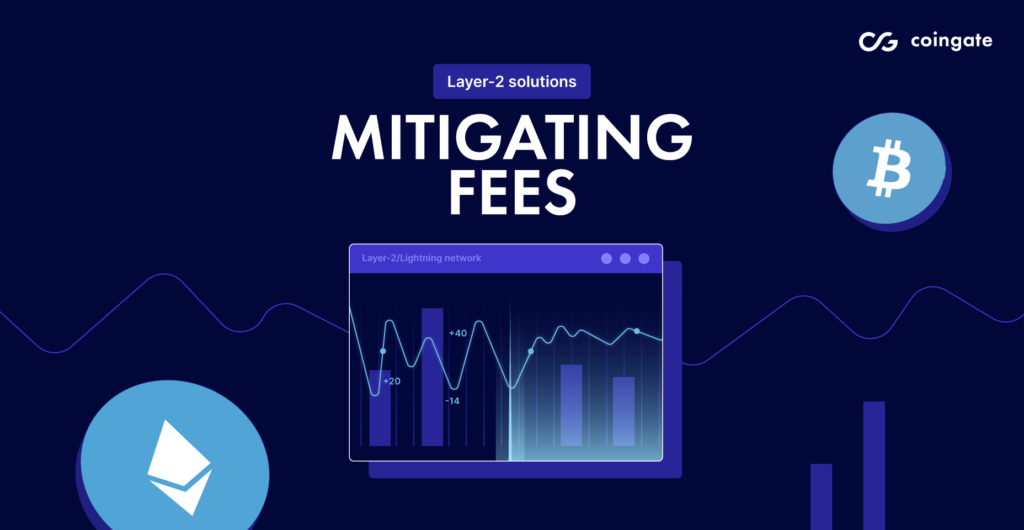 While the storm seems to have passed, leaving many miners a tidbit richer, one thing is clear: transaction fees might and will skyrocket from time to time, and it should be expected moving forward.
Another notable fact is that sudden spikes in transaction fees also affect crypto shoppers' behavior – apparently, but not surprisingly, people are not willing to spend BTC or ETH for goods and services when transaction fees are sky-high, resulting in many merchants making fewer sales than average.
In this case, the apparent solution is adopting 2-layer solutions, such as Lightning Network.
Integrating Layer-2 solutions into payment rails
It did not take a long time for big players to step up. Amid the high transaction cost craze, crypto exchange Binance announced plans to integrate Lightning Network withdrawals for BTC to mitigate the situation, with Coinbase implying doing the same.
Meanwhile, CoinGate has been supporting Bitcoin's Lightning Network payments since 2018. In early 2023, CoinGate also implemented BSC support and Polygon Layer-2 scaling solution to increase transaction speeds and reduce the cost of transactions for ERC-20 and BNB chain tokens. 
By supporting Layer-2 solutions like Lightning Network and Polygon, CoinGate enables crypto-friendly shoppers to pay with their assets without worrying about steep transaction costs, even during high network congestion.
Using Lightning Network: 8 Wallet Recommendations
However, adopting scaling solutions will not help if crypto owners will not use them.
Here are eight Bitcoin wallets that support transactions via Lightning Network. Use any of them to pay at any merchant that employs CoinGate as its crypto payment processor:
Learn how to use Lightning Network when shopping at the CoinGate-powered merchants.