Recently, we discovered a newfound craving for crunching the numbers, which helps us understand more about what our customers love and appreciate the most.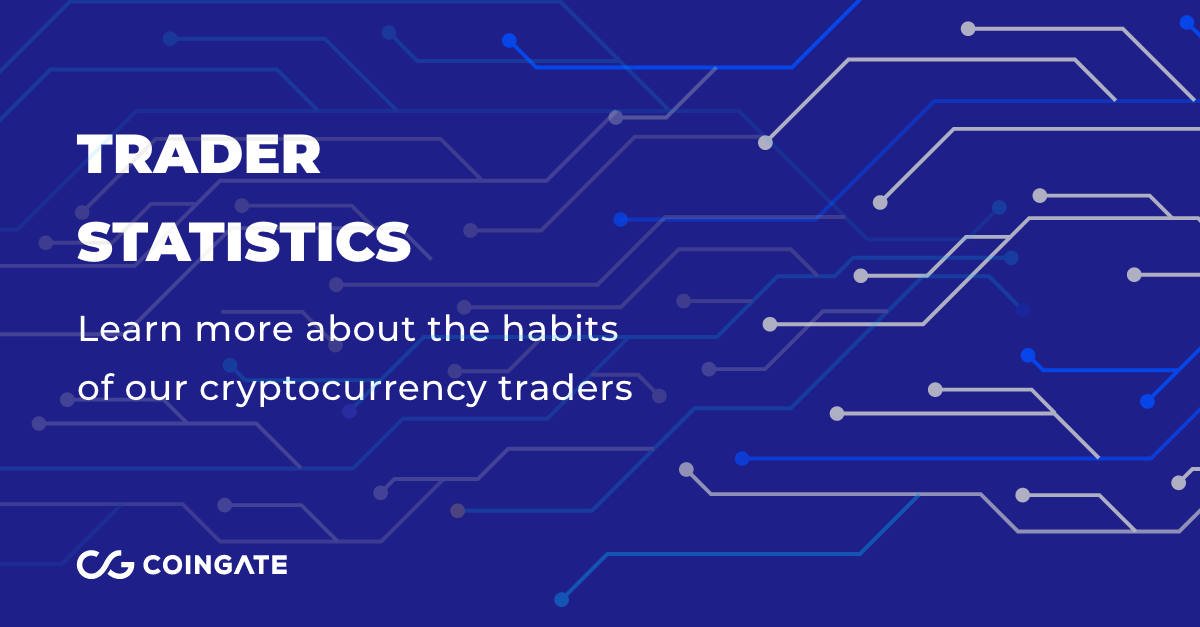 We already mingled with the Litecoin's performance as currency for payments, measured traction of the Lightning Network and even explored the unexpected rise of XRP. Now, it's about time for us to delve into the habits of those customers that prefer using unconventional methods to buy digital assets at CoinGate.
In this article, we will showcase the payment methods that our customers use the most, talk about most demanded digital assets for purchase, take a look at the change in our turnover during 2019, and more. Check out the infographic below, or continue reading for in-depth analysis!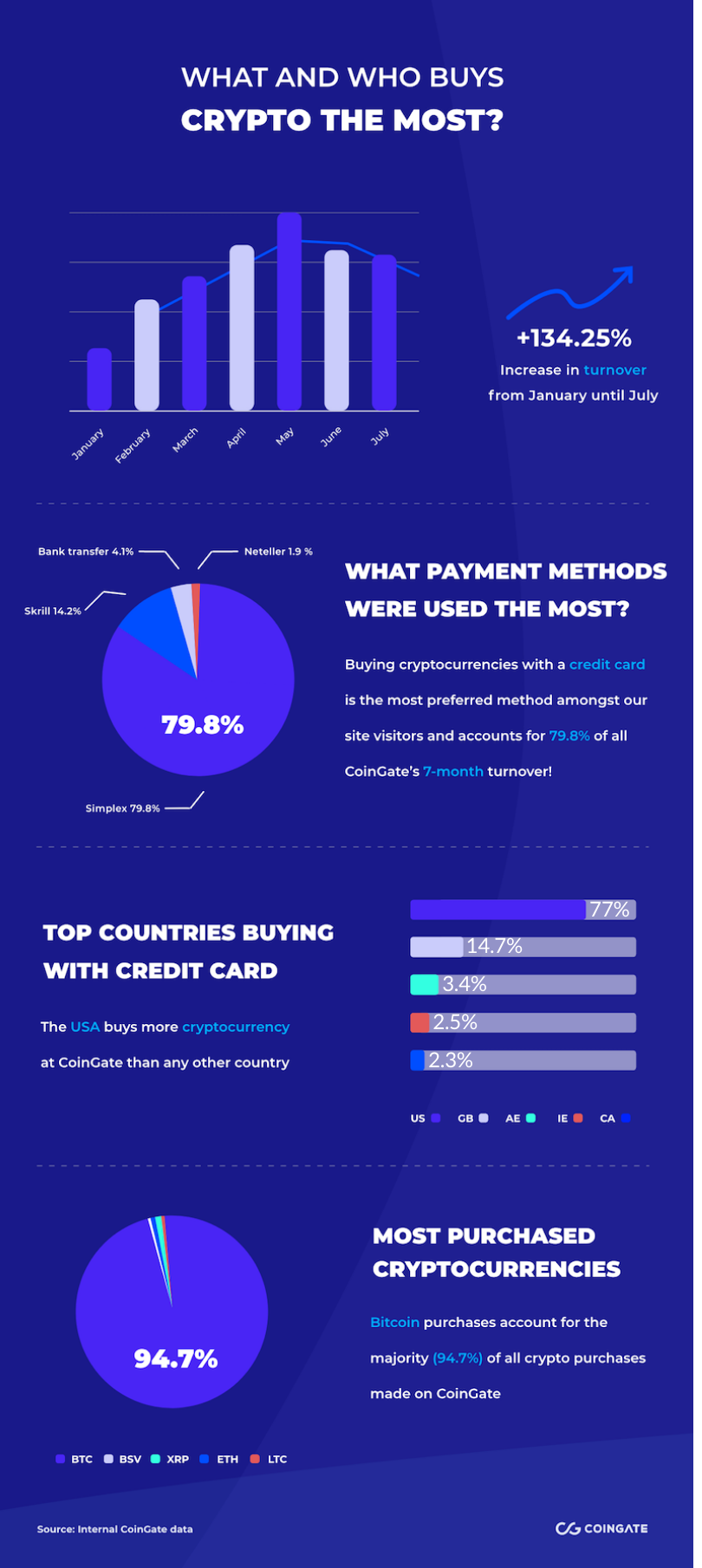 Change of turnover over the months
Let's start with the most exciting part – a change in turnover from the start of January until the end of July.
According to our data, January was the slowest month for us this year. However, In February, the overall turnover jump by 62.56% compared to the previous month. The percentage continued to climb steadily until the most productive month for us, which was May. Starting from New Year's Eve until May, the turnover rose by a staggering 195.53%.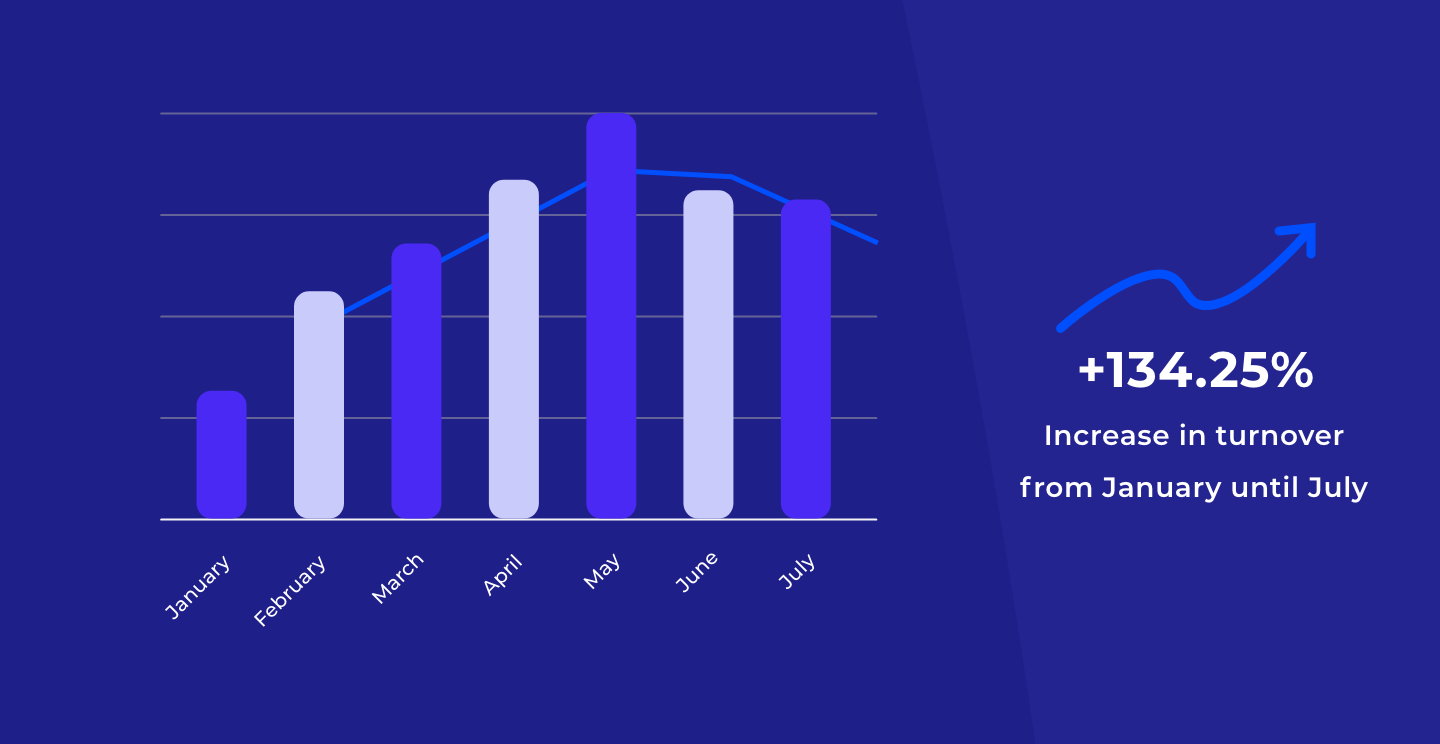 Even though in May we reach our peak, June and July numbers stabilized to an average between those months. Overall, the CoinGate's turnover from January to July rose by 134.25%.
Most popular methods for buying cryptocurrencies
As you may already know, we offer a wide range of cryptocurrency purchasing methods. However, not all of them are equally appreciated. In fact, the analysis results might be quite surprising for some.
As it turns out, buying cryptocurrency with a credit card is the most preferred method amongst our site visitors. Currently, credit card purchases account for 79.8% of all turnover generated on CoinGate!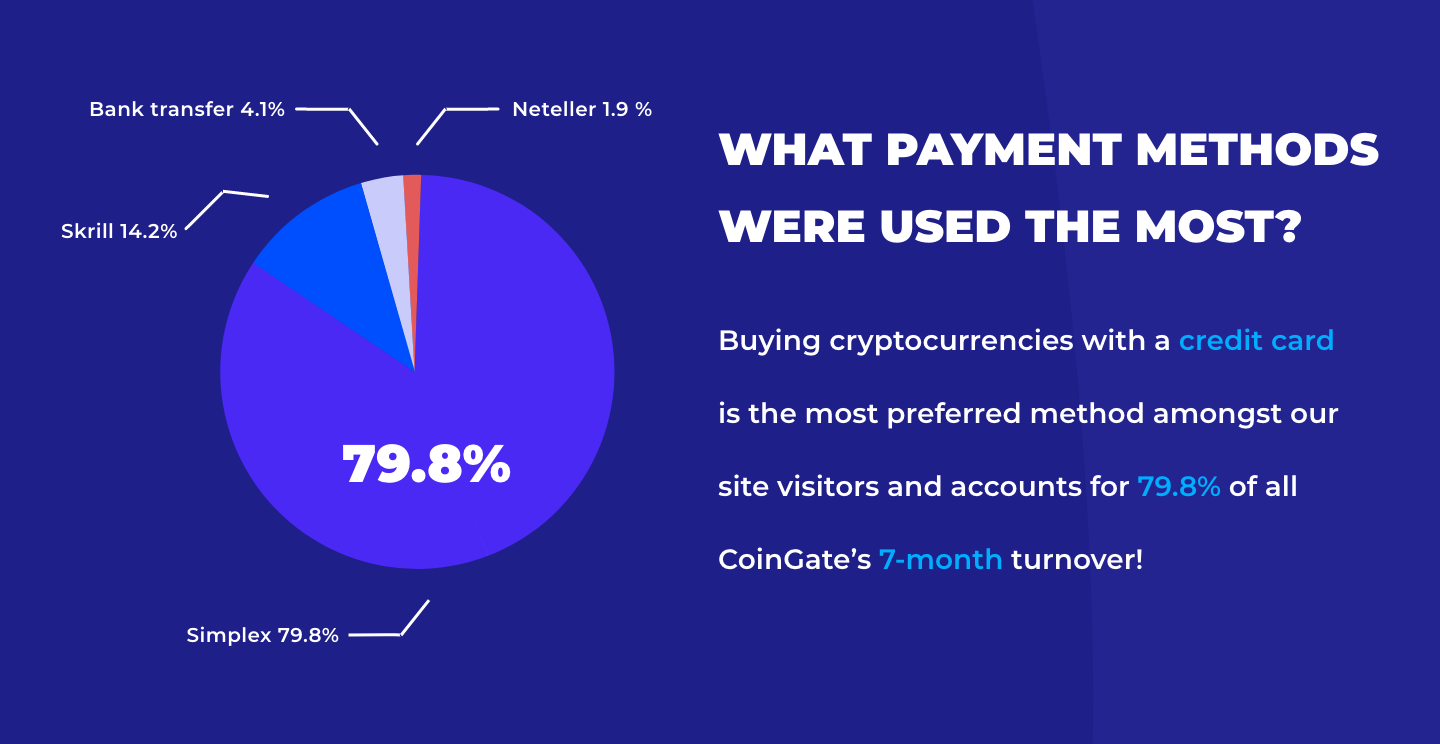 We believe the reason for this is simple: when you buy cryptocurrencies on CoinGate with a credit card, you are not required to have an account with us. A simplified KYC procedure is enough to buy digital assets fast and without much of a hassle. Apparently, convenience is what people appreciate the most!
Going further, the second most popular option of obtaining digital assets is through our Skrill express checkout – 14.2% of our customers prefer buying cryptocurrencies using their Skrill wallet. Considering that for verified Skrill users, signing up with CoinGate is not mandatory, it doesn't surprise us.
Lastly, users that prefer buying digital assets with a bank account for 4.1% of all cryptocurrencies bought on CoinGate, which makes it a third most appreciated option to choose from.
The remaining 1.9% spreads out across all the other purchasing methods that we offer – Neteller, Sofort, mobile balance, and others.
Which cryptocurrency people tend to buy the most?
Even though our customers can buy a lot of different digital assets, they like to stick to the classics – people still prefer buying Bitcoin more than anything else. BTC purchases account for the majority (94.7%) of CoinGate's 7-month overall turnover!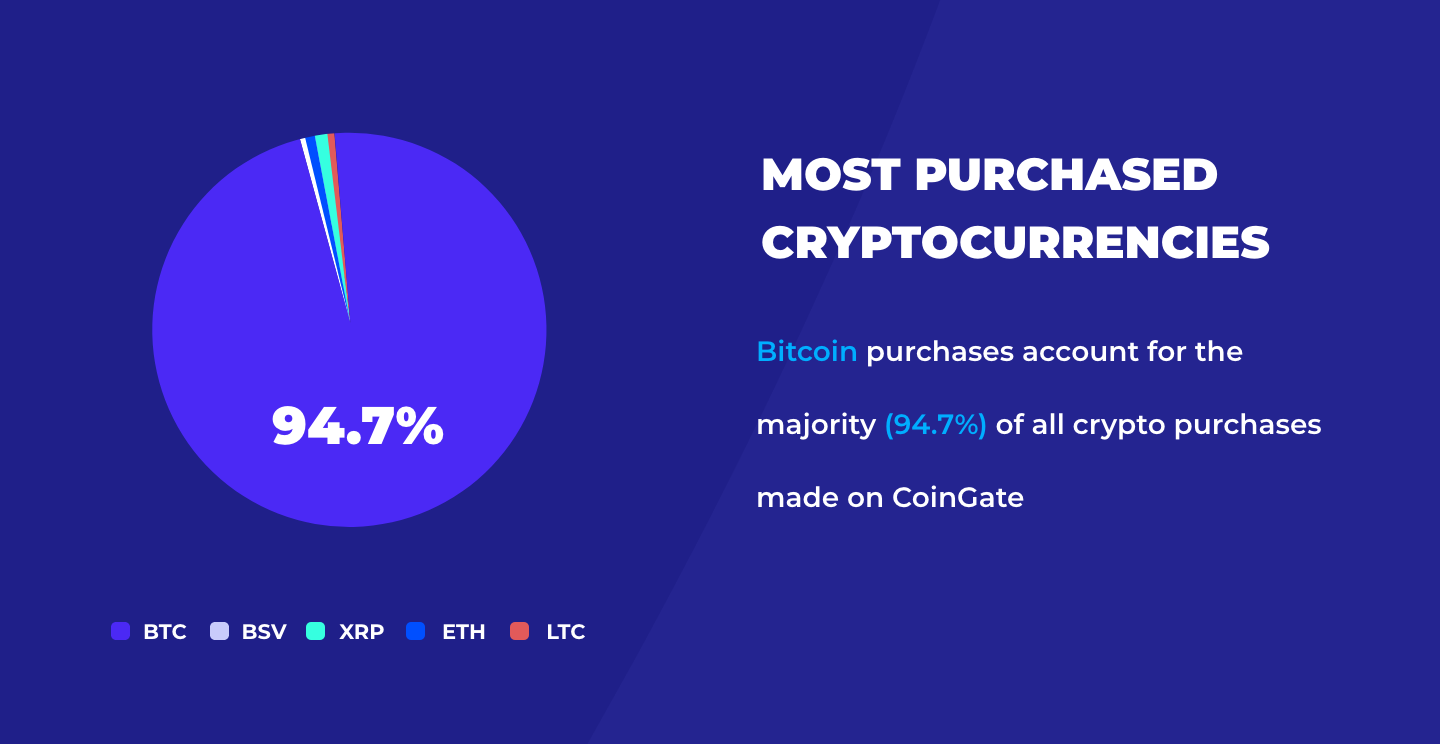 The second most popular currency for purchasing, even though the percentage might seem low in comparison to the whole picture, is XRP. Currently, it accounts for 2.2% of given period's turnover, whereas the third place goes to Ethereum with 1.7%.
Which country buys the most cryptocurrency?
We were also curious to see which countries prefer buying digital assets from CoinGate with their credit cards the most. Apparently, The U.S. unilaterally takes a firm lead on this one, boasting of five times larger turnover than the second country on the list – Great Britain.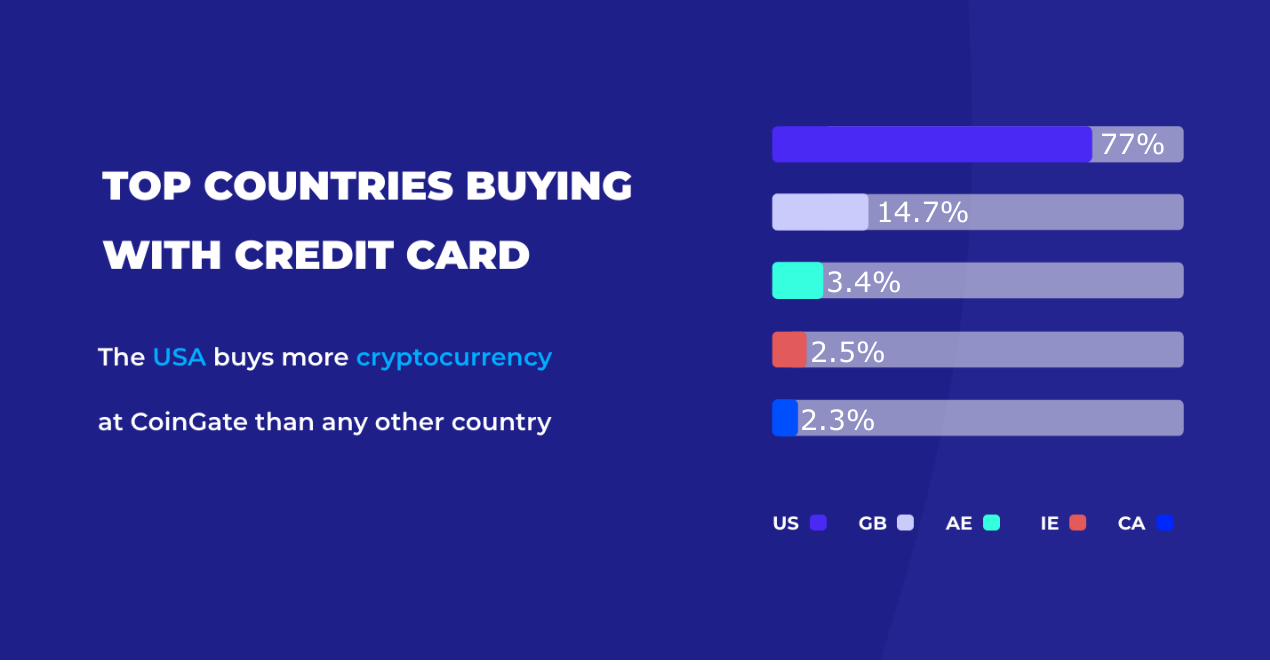 Here are the top 5 countries listed in a row from biggest to lowest turnover generated over a given period:
The USA

Great Britain

Arab Emirates

Ireland

Canada
More data analysis is coming!
Maybe you already noticed, but we are trying to make a habit out of analyzing the numbers that we have.
It gives both our readers and us a better perspective of what is happening in the cryptocurrency space, whether we talk about merchants accepting digital assets, casual traders getting themselves a portfolio of cryptocurrencies or the use of blockchain technology itself.
We will certainly keep this up, so stay tuned for more statistics like this!
Did you enjoy the article? If so, then we surely have plenty of interesting reads to offer that might be of interest to you. More will come as we move on, so don't hesitate to subscribe to our blog and follow us on Twitter so you would never miss a story from us!
Subscribe now
Enter your email adress below to stay in the loop far all blogs