Having a cryptocurrency payment option at your store presents exceptional marketing opportunities that often remain completely overlooked.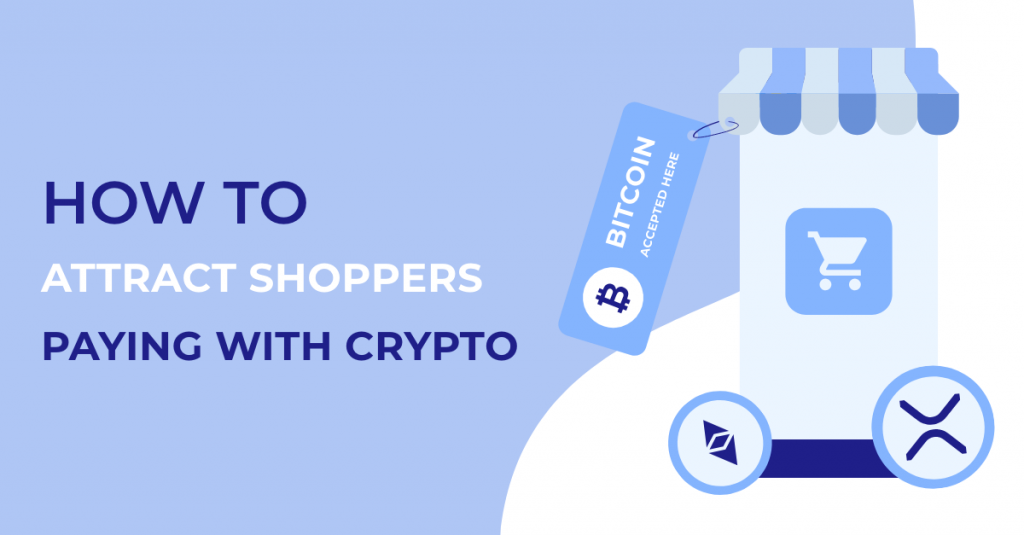 Sadly, we came to realize that most of our vendors do not inform their customers about the possibility of paying with digital assets.
We also noticed that those who do, tend to attract considerably larger traffic and make more sales.
The best part is, these marketing strategies we're going to talk about in this article are almost effortless, yet proven to be extremely effective. We suggest taking every single one into consideration!
List yourself in merchant directories
Whenever someone is scouting for shops that would accept cryptocurrency payments, it is likely that he or she will eventually land on merchant directory.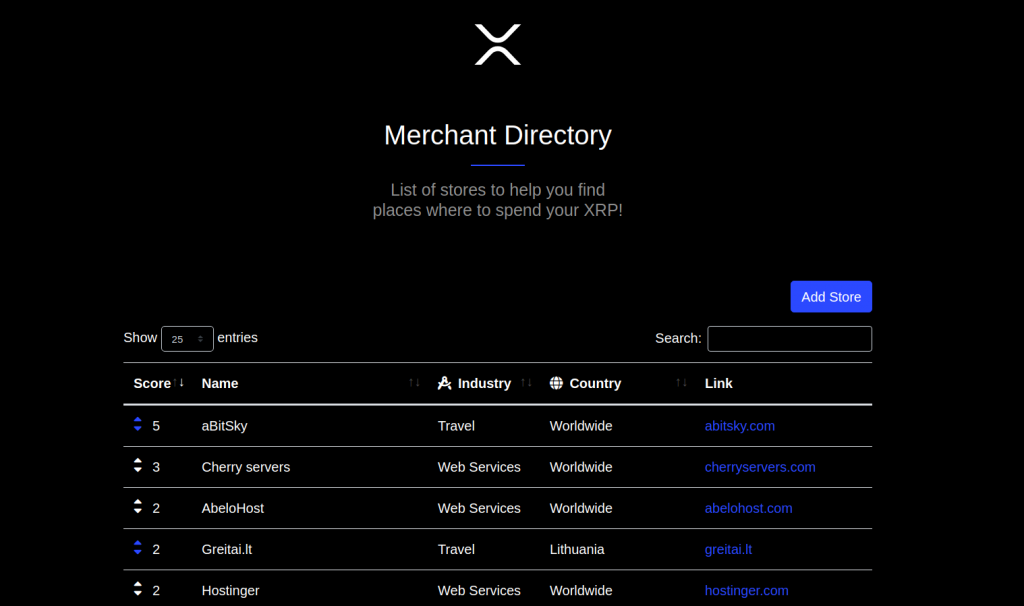 Crypto-oriented merchant directories are websites where anyone can conveniently search for shops based on which digital assets they accept.
It serves shoppers that wish to spend a particular coin but don't know any such vendors that would have crypto payment option set up.
Listing yourself on as many directories as you can give your business more exposure, sometimes enough to notice a significant boost in sales and traffic.
List of well-established merchant directories:
Use promotional payment buttons
Placing stylish, informative buttons on your website might serve as a disclaimer and catch the attention of the right customers.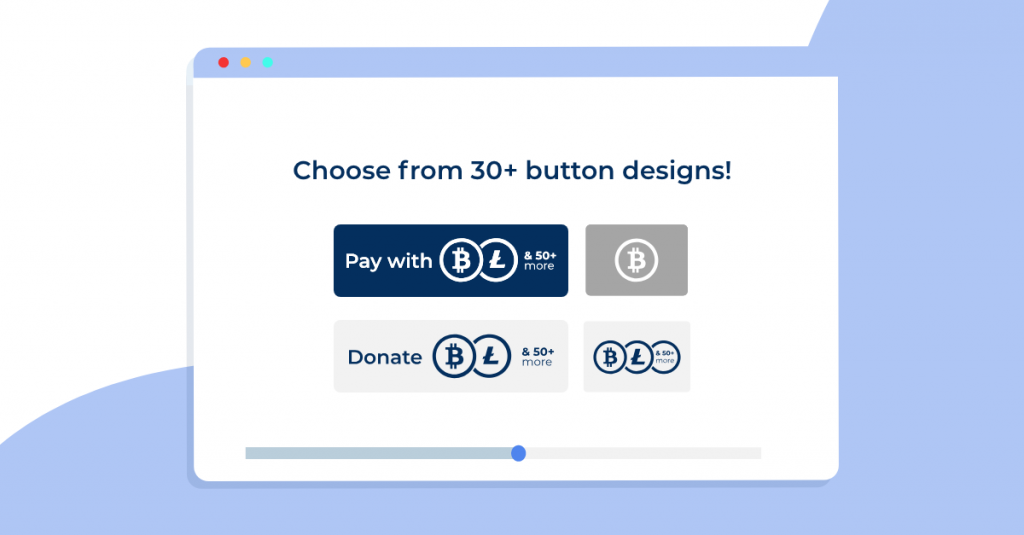 It is the simplest way to let your shoppers know about payment options you provide from the very start. Such a minor addition as a small banner to your site's footer can increase your chances of making a sale in crypto dramatically and will get you the positive results in no time.
It is also crucial to put a payment button on the page where you list all of your payment options. That's where most people will realize that you allow payments in cryptocurrency!
You can download a bundle of different buttons in various styles and sizes from us. They are free to use however you wish to.
– – – Download a batch of cool buttons – – –
Dedicate some content to it
Shoppers might want to pay with cryptocurrency, but some websites do an inferior job explaining exactly how it works, what are the fees, or what currencies are welcome.
That's why it is wise to dedicate a piece of content on your blog or website that would cover all the bases about paying with digital assets at your shop.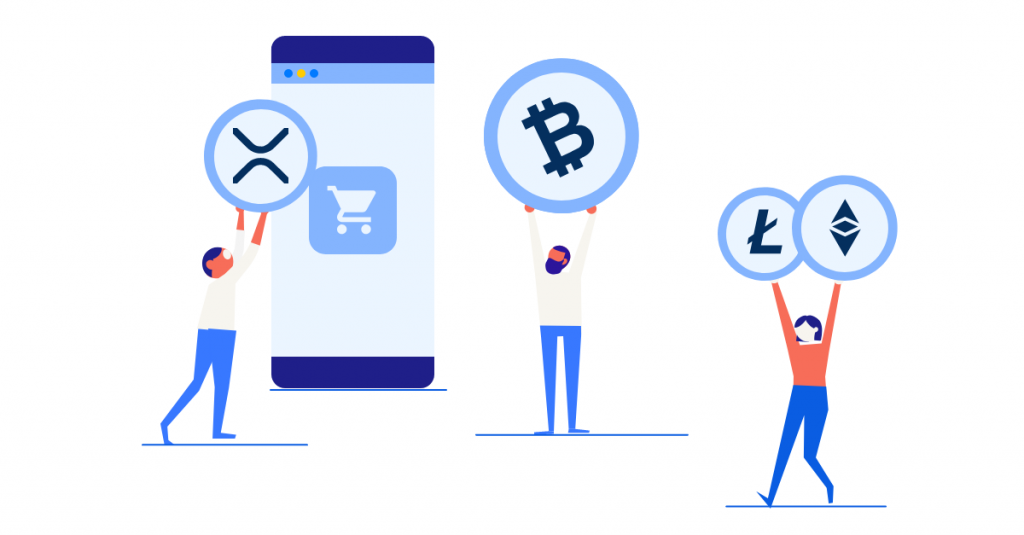 It is beneficial in several ways:
Seo-optimized. It is possible that people will find your shop organically by using search engines like Google. But for that to happen, you need to place some content on your website that would be rich with relevant keywords. For example, including searchable words and phrases in the title and subheadings ("how to pay with digital assets", "pay with Bitcoin", "cryptocurrencies accepted", etc.) will surely pay off in a long-term. Just make sure you

make the most out of your SEO marketing

.
Fewer questions asked. Besides filling your page with the right keywords, it is necessary to make your content useful, meaning it has to serve a purpose. For example, showcase currencies you accept or explain the crypto payment process step-by-step. As long as your text answers most frequently asked questions, your customers, as well as your support team, will undoubtedly appreciate it.
Sharable material. You can always share this content with those that have questions regarding cryptocurrency payments. It is also an article you can use when advertising your business on social media and forums, or reference it in your newsletter for shoppers.
Are we your payment provider? Then we offer you this SEO-optimized, informative, clean piece of content on CoinGate crypto payment option. It also includes a step-by-step guide for paying the invoice at your store. Let us help you elevate your business!
– – – Check out the article – – –
– – – Download images for it – – –
Note: make sure the names of assets in the text match those that you accept at your website!
Participate in relevant forum threads
Having a strong presence in the most significant corners of the Internet is everything you might ever need.
Websites like Reddit or Quora are great for exposing your business to your target audience. If done in the right place at the right time, you can expect to get noticed by many.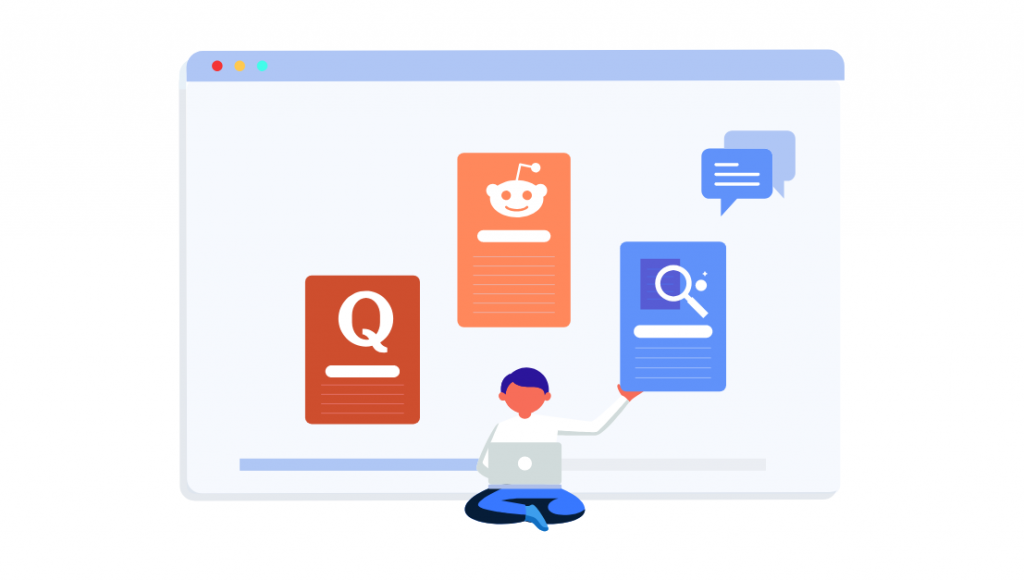 It doesn't necessarily have to be a direct advertisement. Participating in topics that are relevant to your business and adding value to discussions will naturally increase the reputability of your business.
Quora is a perfect platform for establishing your brand awareness on the Internet by answering people's questions about topics you know best. It puts your name out there in front, whereas placing a link here and there might bring in new traffic.
There are some extra benefits to it. For example, Google loves Quora.
If your answer is useful and stays up top, you might get additional exposure just because someone is googling the same question, and getting your answer.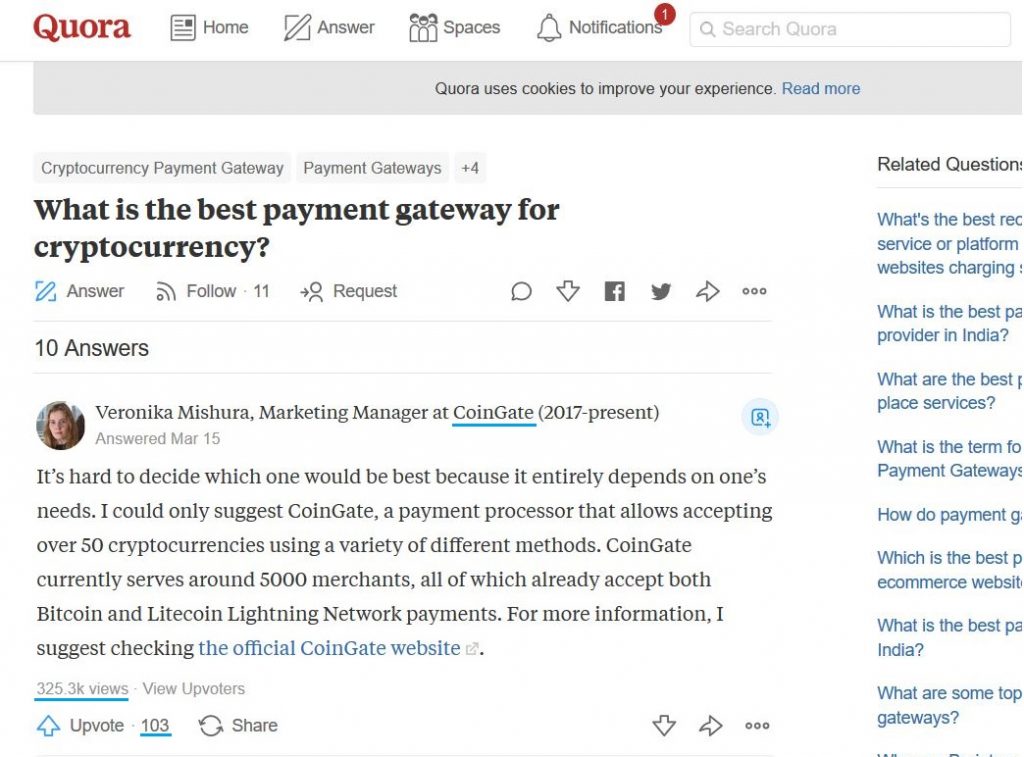 Reddit, on the other hand, is an entirely different space.
Still, there are plenty of people there asking to point them to particular shops that would accept their digital coins. And if someone is looking for something that you happen to provide, it's a perfect opportunity to step in and offer your services.
Although Quora and Reddit might not be suited for all, social media is.
Make the most out of social media
Tailoring a social media strategy around cryptocurrency payments is incredibly useful.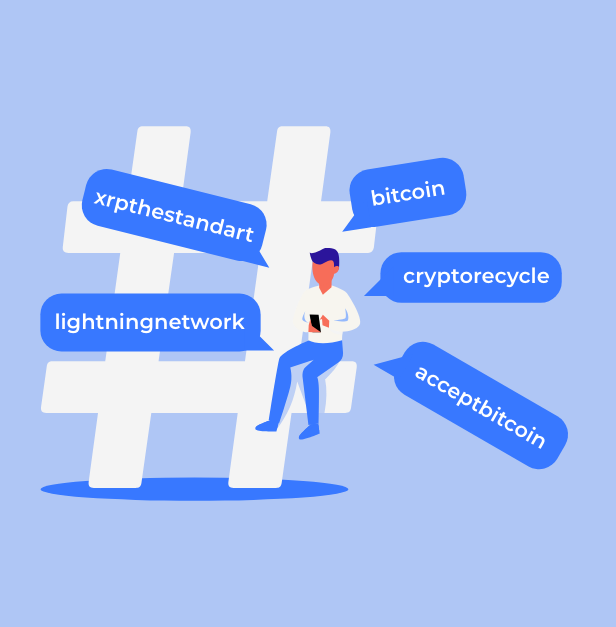 The truth is, just by using the right hashtags (particularly on Twitter) and naming coins that you accept, you can reach thousands of potential crypto-owning shoppers that otherwise would never get a chance to learn about your goods or services.
And since cryptocurrencies know no borders, your potential customer might find your business from any part of the world and turn into paying (or even returning) shopper just because you allow payments with particular digital assets.
You'd be surprised how many people look for such vendors ONLY on social media channels. Take advantage of it – there aren't many merchants who can offer what you have!
Be creative!
Marketing is all about creativity, and the best solutions are usually found by trial and error. Still, even the slightest change that doesn't require a lot of effort can make a huge difference.
So, why not try it out?
Subscribe now
Enter your email adress below to stay in the loop far all blogs