Crypto Payments, Educational
Attract Crypto Customers To Your Business: Tips & Tricks
Last updated: June 8, 2023 4 min read
By now, cryptocurrency has become a worldwide phenomenon, and many businesses have reported success after adopting crypto payments.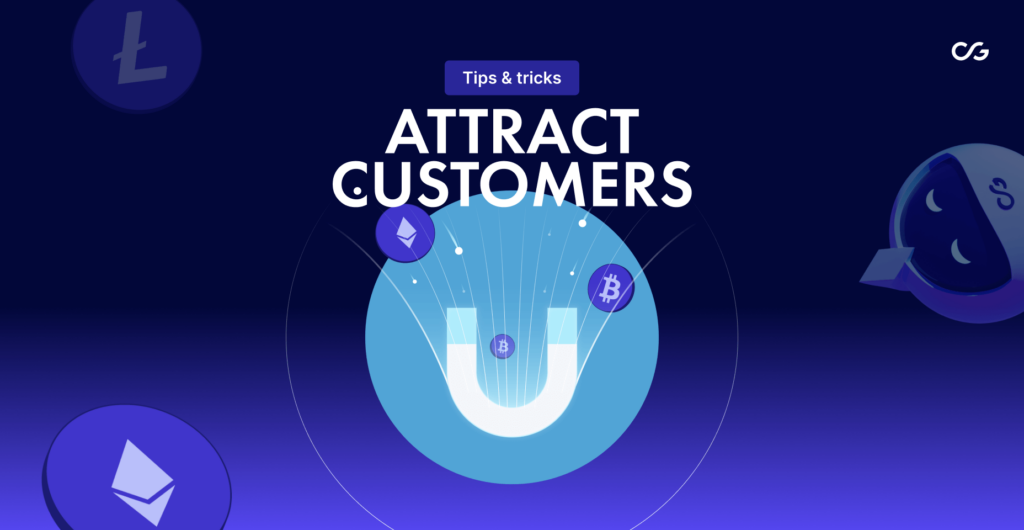 Some merchants experience thousands of new customers flocking their stores, drawn by the freedom, flexibility, and other benefits of crypto payments.
Feel free to explore numerous merchant success stories. However, not all businesses boast of immediate results.
For some, it takes time, while for others, it takes action. So, if your customers aren't using your crypto payment methods, what actions can you do to change that?
What To Do If Your Customers Don't Use Crypto Payments Enough
If you struggle getting sales from crypto-friendly customers, chances are it's due to lack of awareness that you offer such a payment method. It's also possible crypto payments are not popular among your target demographic.
Either way, there's a lot of things you can try to flip the script and become a prominent name in crypto community circles.
List your website on merchant directories
There are a plethora of merchant directories where businesses can list their online or physical stores for more visibility and exposure.
Some directories even cater specifically to crypto-friendly businesses, helping you reach your target audience more effectively.
This simple action allows potential customers who prefer to transact in crypto to find you easily.
Make your crypto payment option visible
Some merchants implement crypto payment methods, but their visibility is often neglected. As a result, customers might not be aware you accept crypto if it's buried deep within your payment options or never spoken of.
Make it a point to highlight this fact with social media posts, prominent banners, and clear payment options. It's not enough to just implement crypto payments – you need to let your customers know.
Write some content about crypto payments on your website
SEO plays a significant role in attracting customers. By featuring content about crypto payments on your website, you can attract traffic from people googling "bitcoin" or "crypto" together with your industry's or branded keywords.
It could be a blog post about your decision to accept crypto, a guide on how to make crypto payments, or an announcement about new cryptocurrencies you're accepting.
Such content will improve your ranking in search results and make it easier for crypto users to find you. Besides, you get to have some shareable material and information that can save time for your support team.
Send a newsletter to your customers
One effective way to spread the word about your crypto payment methods is through a newsletter.
This can be sent out to your existing customer base and followers, informing them of the new payment options and any related promotions or discounts. Here's a list of tools you can use to write newsletters efficiently.
If encouraged, your customers can also share this information within their networks, helping you to reach an even wider audience.
Leverage social media for more exposure
Social media is a powerful tool for broadcasting messages and gaining visibility.
Make regular posts about your acceptance of crypto, use relevant hashtags such as #crypto or #bitcoin, and try to engage with your audience.
Being active on social media not only increases awareness among your existing followers, but also expands your reach to potential crypto-friendly customers.
Make discounts for crypto-friendly customers
Offering discounts for transactions made with crypto is an enticing incentive for customers. Given that it's generally cheaper to process crypto payments, it's a win-win for both parties.
Such discounts can attract new crypto-friendly customers, who could potentially become regular patrons.
Ask CoinGate for help!
We at CoinGate are committed to supporting our merchants in achieving their goals. As such, we often offer promotional services, such as featuring merchants on our social media channels, writing blog posts, and creating case studies.
Our marketing team is always ready to work with you to devise the best strategies to drive more sales. Do not hesitate to reach out if you have any ideas or need assistance in promoting your crypto-friendly business.
After all, attracting crypto-friendly customers requires a combination of visibility, communication, and incentives.
With these strategies, you can increase the likelihood of your crypto payment option being utilized, growing your customer base and enhancing your business growth.