Christmas trees are lightening up, Wham! and Mariah Carey fill up the playlists in every supermarket and you start wondering how to surprise your loved ones. The season of giving starts with December 1st. Therefore, enlightened by the Christmas spirit, we want to give back to the crypto community, who supported us this whole year.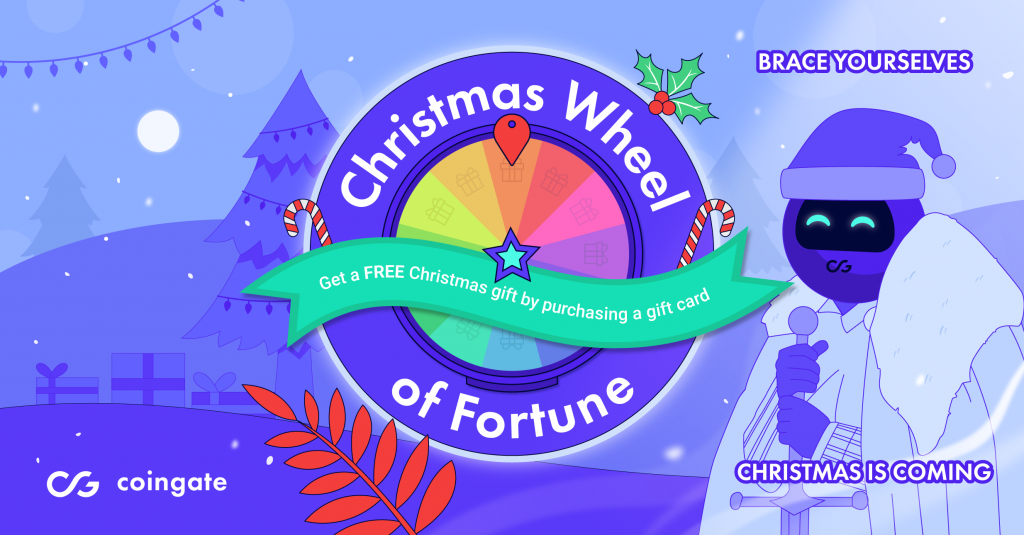 CoinGates' Christmas game starts today and you may get $500 worth of Bitcoin (BTC) and other prizes after every purchase you do. That's a 100%-win chance game and everyone will get something. That's what Christmas is all about!
What's the game?
Till 19th of December, you can buy any product from our Gift Card store or use CoinGates' checkout while ordering any services from Surfshark and Hostinger, and you'll get to participate in a 100%-chance-to-win game!
The game is quite simple: after purchasing any product from Hostinger, Surfshark, or our Gift Card store you'll get to spin the wheel of fortune where every spin is a win!
What are the prizes?
The prize pool of our Christmas game contains:
Up to $500 worth of BTC;

50%, 15%, and 10% discount promo codes for our Gift Cards;

10% discount for every new hosting plan (shared, VPS, WordPress, Cloud) in Hostinger;

5% discount for 'Trezor Model T' or 'Trezor Model One' hardware wallets;

84% discount for Shurfshark VPN plans with 4 months free usage.
So mark the date! We are starting on December 1st and we will keep going until December 19th.
What are the rules?
As mentioned before, to participate in the game you'll need to purchase any product from our gift card store or use CoinGates' checkout on Hostinger and Surfshark pages. After a successful purchase of at least 1 USD, you'll get an email with a suggestion to spin our wheel of fortune.
More often you buy something –  the more times you get to spin the wheel and get various prizes. Also remember, that even though our Christmas game lasts till December 19th, you can use the coupons you won till December 31st!
Anything else?
Yes! If you're wondering who are those merchants who joined our Christmas game here is the info.
Hostinger is an all-in-one hosting solution to make the perfect website! From shared hosting and domains to VPS – all you need for online success.
Surfshark VPN lets you secure your digital life today with all in one VPN solution.
Trezor is an original hardware wallet and a safe place to keep your coins.
And there are us! At CoinGate you can choose from 1000+ gift cards from brands like Amazon, PlayStation, eBay, Xbox, Apple, Google Play, and more. Instant delivery and various cryptocurrencies are supported.
Also, to participate in our Christmas game, you must agree to our Terms and Conditions, so press here to read them carefully.
So go ahead, and start shopping!
Subscribe now
Enter your email adress below to stay in the loop far all blogs