Recent years have seen companies from across a variety of industries working to provide customers with the ability to pay in cryptocurrencies.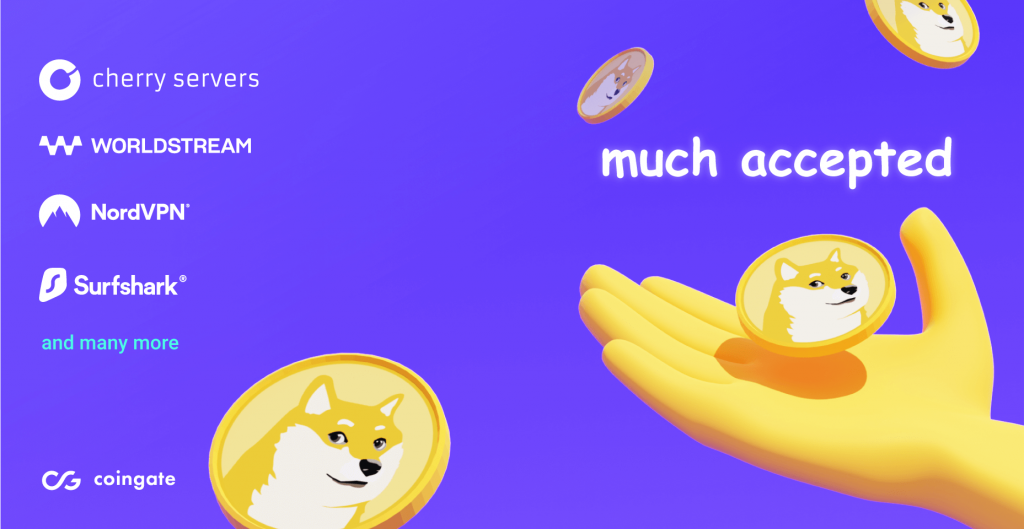 According to a recent study by Crypto.com, the demand for cryptocurrency payments has increased dramatically as now there are ten times more consumers willing to pay with crypto than merchants that offer such an option.
Lots of forward-thinking companies seized this opportunity to gain a competitive advantage, and accepting cryptocurrency payments has grown in popularity over the past few years as a result.
It has also become a no-brainer for nearly any sort of business thanks to the flexibility of today's payment gateways that seamlessly link with traditional banking systems.
While some retailers only accept Bitcoin payments, others go the extra mile by offering payments in other popular cryptocurrencies, such as Dogecoin.
Below is a list of companies that accept Dogecoin payments.
What can you buy with Dogecoin?
In terms of the variety of goods and services that are possible to buy with Dogecoin, it's surprisingly vast. From VPNs, VPS, hosting and other digital services to video games and plane tickets, nothing is out of reach when you have some DOGE in your wallet.
And it doesn't even matter if a particular merchant does not accept Dogecoin payments at his point of sale. It's still possible to buy a merchant's gift card with DOGE through 3rd party providers such as CoinGate, and then spend it at a place that wouldn't take your DOGE directly.
This article features both merchants that accept Dogecoin payments directly and ways to obtain gift cards of the biggest brands in the world using this famous meme coin.
Places that accept Dogecoin payments
Note that all merchants below accept DOGE & other cryptocurrency payments using the CoinGate payment solution. Find all the crypto-friendly shops below listed by industries for your convenience.
If you're new to crypto markets but are ready to make your first cryptocurrency payment, be sure to visit this step-by-step guide for paying a CoinGate invoice.
Virtual Private Servers (VPS) & Shared Hosting
Check out VPS and shared hosting companies that accept numerous cryptocurrencies. For more recommendations like, including tips and tricks, can be found here.
NordVPN
The only people that haven't heard about NordVPN yet are those living under a rock.
Being one of the most private and secure VPNs, NordVPN owns the biggest server park of 5,423 servers in 50+ countries. Moreover, it has numerous useful tools that take your browsing experience to the next level.
So what exactly does it offer? With NordVPN, you can enable double IP protection, obfuscate servers, use the split tunnel feature, block malware with in-built threat protection, get notifications on data leaks and receive immediate guidance for protecting your data efficiently.
NordVPN keeps you safe on all fronts, even those you did not consider. For example, the NordLocker feature can encrypt data on your device, and NordPass can protect your passwords from prying eyes.
Let's not forget why the security of NordVPN is considered unmatched. It makes use of the AES-256-GCM encryption algorithm which, combined with other means of security such as a strict no-logs policy and constant changing of encryption keys, creates a perfect storm of protection.
Not only is NordVPN secure, it also protects several devices at once (Windows, macOS, Linux, Android, iOS, and Android TV). Sounds great? Get NordVPN by paying with DOGE or other cryptocurrencies.
Hostinger
Hostinger is a very popular hosting and VPS company, according to user surveys. The reason for this is that Hostinger's hPanel is intuitive, fast, and overall better than a standard cPanel, eliminating all the difficulty of using it.
Furthermore, you can use their automated WordPress migration tool to transfer your website.
Alternatively, you can ask their 24/7 migration assistance for assistance. You'll like Hostinger's suite of features, which include free migration, SSL, PHP speed boost, access management, backups, LiteSpeed WordPress module, Auto Script installer, e-commerce optimisation, DDoS defense, and more. Available to buy with Dogecoin and more.
In addition, it is available in +70 cryptocurrency choices.
SurfShark
Surfshark is yet another no-logs VPN that's making waves in the industry. The fact that it's independently audited and has an overwhelmingly positive feedback from customers is what puts SurfShark in a leader's position.
Just recently, Surfshark has presented Surfshark One, a package deal that puts several of SurfShark's services into one and includes Surfshark VPN, Surfshark Alert, Surfshark Search, and the new Surfshark Antivirus!
Besides, there's ad-free web search with protection from malware, data leaks viruses, and various other privacy threats, which makes it a great choice for anyone.
Feel free to use SurfShark on as many devices as you have. And don't worry – if you're not satisfied with the service, you can always get a refund within 30 days.
Get your Surfshark One package deal for Dogecoin or other cryptocurrencies.
XetHost
XetHost is one of the few VPS, dedicated servers, or web hosting services that gives unlimited data traffic on CentOS, Debian, Ubuntu, and AlmaLinux-based operating systems.
XetHost provides pre-made hosting plans that require no commitment or that you can upgrade or downgrade at any time. If you require a VPS or dedicated server plan, you may do so from scratch at XetHost, which is backed up by numerous positive reviews and a 14-day money-back guarantee.
It's a good idea to give XetHost a shot if you want to pay with over 70 cryptocurrencies, including Dogecoin.
HostStage
HostStage delivers isolated and elastic web hosting with outstanding hardware technology in numerous server locations, as well as unmanaged and managed VPS for Windows and Linux.
Should you desire the highest quality service, HostStage may be the answer. HostStage offers an SEO-optimized service with excellent speed, impenetrable security, and immediate delivery, in addition to a variety of other valuable features and tools.
Consider checking out a HostStage service list before making your decision, which is available for DOGE and other cryptocurrencies.
HostSailor
HostSailor provides VPS hosting, dedicated servers, domains, SSL certificates, and other services like most other businesses on this list.
VPS hosting is quick, while dedicated hosting is scalable and versatile, so consistent peak performance is guaranteed. HostSailor also provides SSL certificates, reseller hosting, domain registration, and more to make it easy to operate an online company.
If you are not satisfied with the service, you may request a 100% money-back guarantee, 24/7 technical support, and an 99.9% uptime guarantee. Buy it for Dogecoin & more.
Cherry Servers
If you're striving to build on an open cloud platform that provides complete control, stable workloads, and 24/7 free technical support, Cherry Servers is an excellent choice.
The best part is that you can have your server up and running in just 3 minutes with Cherry Servers. Furthermore, you can adjust the cloud to your workload with on-demand servers that are billed per hour to increase the efficiency of your servers.
There are also open cloud platforms and cloud-native integrations with RESTful API, CLI, and Python & GO native libraries, as well as custom servers available.
If Cherry Servers' servers meet and likely exceed your expectations, you should consider working with them, especially if you have DOGE to spend.
Virtual Private Networks (VPN)
Speaking of VPNs, jump on this article to learn about why VPN is necessary these days and get more recommendations for good VPN services.
Worldstream
Worldstream's cloud, security, and backup services can be deployed on dedicated servers and IT solutions, from custom server setups to fully customized IT infrastructures at a set monthly rate.
With Worldstream, you can rely on our secure, ultra-low latency, and huge bandwidth with a 45% utilization rate to establish international routes.
Worldstream now offers private cloud services with non-shared resources and no network or hardware maintenance issues. As always, you may pay in Dogecoin and other crypto.
Le VPN
Le VPN might be a less familiar name but it still is an industry's veteran with servers in +100 locations, which covers less common regions like the Middle East and Central America.
Providing services since 2010, Le VPN has developed a way for users to choose from seven different VPN protocols tailored for different use cases, optimizing data movement and the preferred level of security and speed.
One of these protocols is HybridVPN, which mixes an SSL-level VPN connection with a SmartDNS proxy. As a result, users are allowed access to all geographically restricted content in other regions.
Another example of a protocol, L2TP OVER IPSEC, brings more confidentiality and data integrity compared to others as it adds a multi-authentication process.
No matter your intentions, Le VPN is one of the better options to match your expectations. Order Le VPN now for DOGE and other crypto.
CactusVPN
CactusVPN has no bandwidth limits and maintains extremely stable connections, in addition to guaranteeing all their servers act as proxies that are included in pricing. 
CactusVPN helps you bypass geographic restrictions and anonymize your traffic so you can stay invisible on the internet. All of our customers get 30-day money-back guarantees and no sign-up fees when they choose CactusVPN for their daily browsing activities.
A seven protocol VPNs, no logs, and end-to-end encryption are guaranteed for every CactusVPN client. You can purchase CactusVPN with DOGE and more.
Media & Advertising
TrafficStars
It's vital that advertisers and publishers become familiar with TrafficStars, a self-serve ad network that allows you to monetize your site and purchase traffic.
TrafficStars has several helpful features, such as intelligent targeting and pricing, dynamic targeting parameters, and real-time bidding for maximizing revenue or reaching the target audience using multiple ad formats.
Each of TrafficStars' services may be paid for with DOGE, Bitcoin and more. Because of the daily 5B impressions generated, TrafficStars is becoming one of the most popular advertising networks that should not be forgotten.
Cointraffic
Cointraffic is a new ad network specifically for crypto firms and audiences. You can drive an extremely targeted crypto audience through numerous ad formats, including banner or native ads, as well as press releases written by professional content writers.
It's also simple to monitor and analyze daily performance reports with Cointraffic, and you can receive personal assistance if you have any issues.
BitPanda, KuCoin, and CoinDeal have all effectively advertise their services on top-quality crypto sites like Bitcoinist, CoinGecko, AMBCrypto, and more, and you can, too. As always, Cointraffic services are available for Dogecoin, Bitcoin and other cryptocurrencies.
Consumer goods
ZenMarket
ZenMarket is a global shopping hub that connects thousands of Japanese products from Amazon, Rakuten, Yahoo Shopping, and other retailers.
Having been founded in 2014, ZenMarket delivers previously hard-to-find Japanese merchandise to the world. You can purchase everything from electronics to clothing, cosmetics, games, jewelry, and more.
EMS, SAL, AIRMAIL, FEDEX, DHL, and UPS will deliver your package to your doorstep. It's simple to shop at ZenMarket, and you'll want to do it again and again. If you're interested in signing up, start shopping right away using DOGE and other crypto assets.
Astteria
Astteria is a great place to find beautifully made rings, earrings, bracelets, pendants, and necklaces made from sapphires, rubies, and emeralds, as well as rare pieces of craftsmanship that are of the highest quality.
You can even get custom-made jewellery created to your specifications. It is the best gift you can give. If you want to spend your Dogecoin or other cryptocurrencies, Astteria is the place to go.
Varlė
You mustn't miss Varlė, especially if you are in Lithuania.
You can buy anything here – phones, computers, furniture, clothes, medicine, car parts, food, office supplies, and hundreds of other items. From more than 1,400 suppliers, Varlė has more than 350,000 items.
You can also pay with Dogecoin, Bitcoin, Litecoin, and Ethereum, something that most Lithuanians do not know.
CoinGate Gift Cards
Here's the best site for spending Dogecoin, Bitcoin and other cryptocurrencies for pretty much anything you can think of – CoinGate's Gift Card Store.
You can call it a clever workaround to get goods and services from stores that do not accept cryptocurrencies directly, such as Amazon, Steam, Eneba, and 3,000+ other companies.
It's really easy to use – choose a gift card, pay with crypto, receive that gift card in your email within minutes, and redeem it at the brand's official site.
For a detailed guide, check out this article.
Other noteworthy mentions
Here are some other good and interesting sports to spend DOGE and other cryptos.
Alternative Airlines
With over 600 airlines to choose from, Alternative Airlines offers a great way to fly.
Alternative Airlines is an excellent service for crypto-friendly travelers. You can fly anywhere in the world using Alternative Airlines, and you may pay for your plane ticket later by spreading the cost across several flights.
They also provide Cancellation Protection for your booking in case you cannot make it to your flight. The best part, however, is that you can pay for your flights with Dogecoin and others.
IPRoyal
IPRoyal provides proxy services with nearly 3 million IPs for all circumstances, including collecting stock market information in real time at multiple exchanges, collecting accurate SERP data from various search engines without geographic restrictions, and more.
If you ever require a top-notch proxy service, look no further than IPRoyal that also accepts DOGE & other crypto payments.
Torn
Have you ever played a text-based MMORPG game that allows you to be anyone and do anything? If so, Torn is the way to go.
Despite being released in 2003, Torn has continued to develop and expand over the years, making it the most popular online strategy game.
You can play in a variety of ways, starting with joining a faction, collecting and trading items, investing in Torn City stocks, racing cars, getting married, starting a company, getting a job, taking education classes, visiting a casino, playing poker, investing in the bank, writing for the Torn City Times newspaper, buying multiple properties, travelling, hunting, and much more.
Because of its 40,000 active players every day, Torn is at the pinnacle of the genre. To get in-game perks like extra points, a larger energy bar, and faster energy regeneration, purchase donator packs or subscriptions, all for Dogecoin and others.
K9 Rescue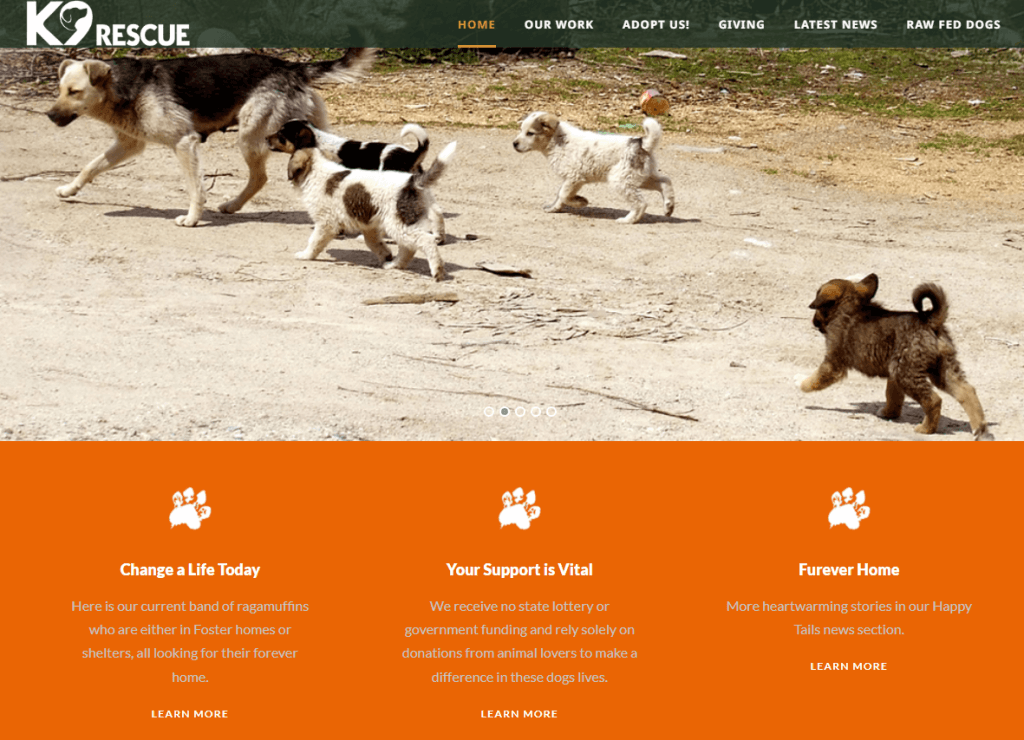 What's a better way to use Dogecoin than to support Doges who need help?
K9 Rescue is a charity that makes a huge difference by taking care of stray, abandoned and abused dogs from Eastern Europe and running a rehabilitation sanctuary for them in the UK.
By donating DOGE or other cryptocurrencies to K9 Rescue, you can help their cause and help save animals that otherwise would be left to fend for themselves.
If you're feeling generous today, K9 Rescue is, without a doubt, a great way to contribute to the well-being of mistreated dogs.
Here are even more merchants that accept DOGE
This list is not complete as many more online places are willing to take Dogecoin payments. Find more merchants like this in CoinGate's merchant directory.
Subscribe now
Enter your email adress below to stay in the loop far all blogs