Company Updates
CoinGate Facts and Figures: Reviewing the first quarters of 2021
Last updated: July 14, 2021 5 min read
Here's a quick recap of what CoinGate has managed to achieve in the first two quarters of 2021.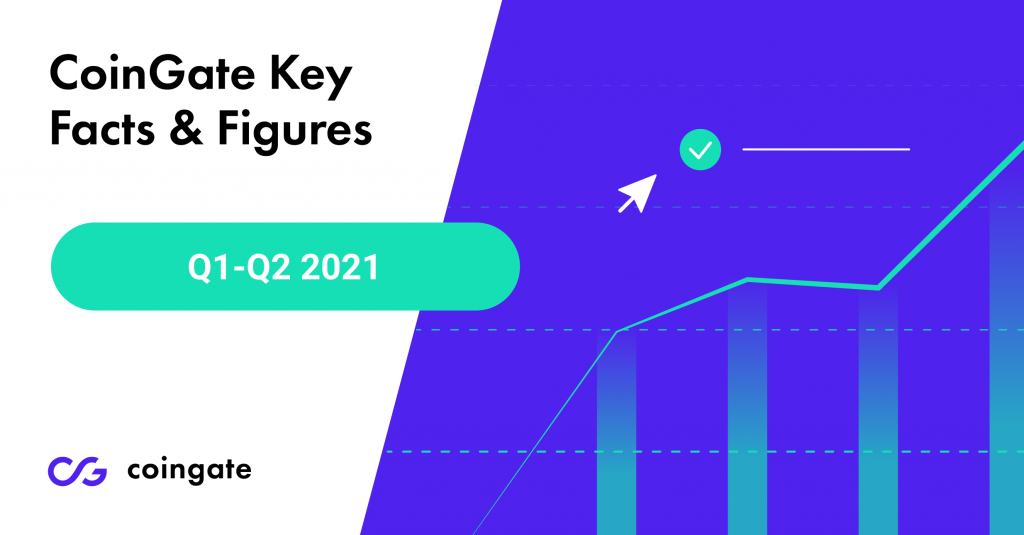 This is our very first CoinGate product usage and metrics report. It is intended to bring increased awareness and transparency to our user base, community, and others who are interested in learning more about CoinGate's offerings. With this report, we aim to provide an overview of the key trends and developments currently happening at CoinGate, along with the data on what drives our business decisions. By improving transparency, we hope to inspire potential users to take their first steps into cryptocurrency invoicing, payments, and gift cards.
Market Trends
The global cryptocurrency market soared in the first months of 2021, and topped the €2 trillion mark for the first time in April this year. Low ownership costs, quicker and safer transactions, when compared to traditional modalities of finance, are some of the factors that augment the market growth globally. In addition, the uncertainty in the global macroeconomic climate and varying currency exchange rates, the rise in fiat interest rates, and/or additional charges across all international transactions are further anticipated to boost the cryptocurrency market in the coming years. 
Although the market has seen some corrections since its' all time high market cap, it is still on a trend to continue in shaping the future of finance. 
User Base
"The more, the merrier" – this bit of collective wisdom holds true, even in the crypto world. CoinGate is happy to announce, that during the first half of 2021 we had a total of 52,000 new registered users, which adds up to the total of 240,000 users that have registered within our platform. Like with most statistics you will see on this report, just during the first half of 2021, we have already hit last year's target, and from now on – it's growth, sweet growth.

New business accounts
The figure presented below represents new businesses onboarding to CoinGate. As illustrated in the graph, our B2B user base is growing at a tremendous pace of over 67.1% per the last 6 months.
This growth can be attributed to our ongoing business developments with top crypto companies in addition to delivering more features to our products for a better user experience overall. For instance, we recently added more cryptocurrency options, and more options for invoices to be denominated in fiat. Additionally, CoinGate provides simple integration methods, such as API integration, payment buttons, plugins – all of which can help businesses to collect crypto payments with ease. 

Invoices created & paid
This metric provides insights that we can use to improve user experience, aiming to increase the paid versus issued invoice ratio and reduce the barriers to payment.
During the first six months of 2021 more than 1,500,000 merchant orders have been created out of which 15% has been successfully processed and paid, accumulating to a total of over 230,000 orders. Thanks to this, the total number of processed invoices has reached more than 1.3 million
Again, we have already hit last year's turnover figure, and expect to double it in the coming months. An annual growth rate that far exceeds 100% shows not just tremendous uptakes in crypto acception, but also highlights the trust that our merchants have shown towards CoinGate's products.


Currency breakdown on payments
We are continuously rolling out support for additional currencies as means of payment with CoinGate. Much of the decisions made for listing the next currency depend on the use cases of our users and business partners.
BTC continues its lead as the most used cryptocurrency for payments. This hardly comes as a surprise, and can be attributed to the currency's strong market presence, and deep trust among our clientbase. Although its dominance is still present, BTC has been losing momentum and popularity among crypto holders and businesses, and BTC usage has been on the decline for several months now.
The other most-preferred coins for payments are LTC, followed by ETH and TRX. DOGE has been a memetastic success so far, but only time can tell whether these results will stick. The rest of the cryptocurrencies that are used as payments and presented in the chart are: XRP, BCH, USDT, BTT, NANO, DAI, and several more.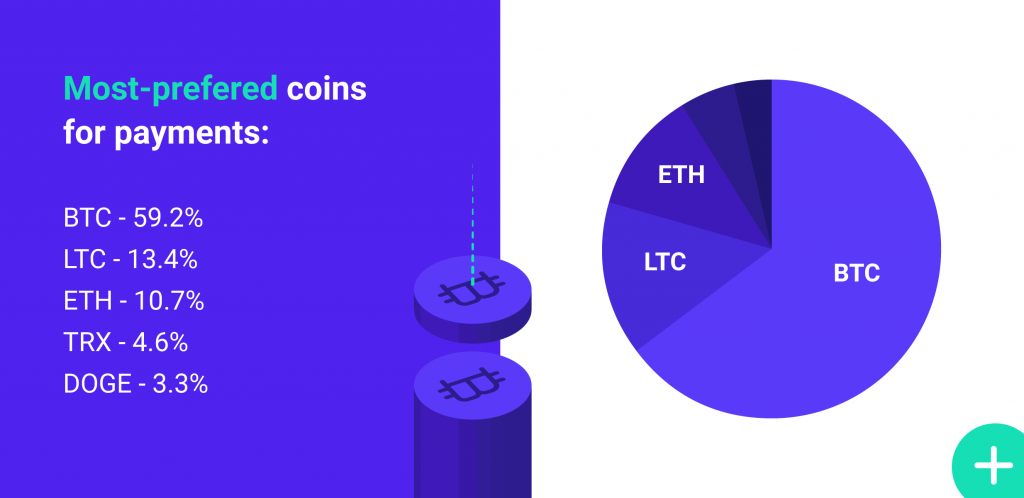 Gift cards
Here at CoinGate, our main mission is to bring cryptocurrency closer to mass adoption, and one of the methods in fulfilling this mission is our Gift Cards Store. Since we introduced our Gift Card Store in July 2020, we have seen an increasing growth in both transactions and engagement in our gift card marketplace.

The turnover in the first two quarters of the year was a whopping 900% more than it was for the first 6 months when gift cards launched, while the amount of gift cards sold is 6 times more within the same period.

The increased demand for gift cards and the need for people to spend their cryptocurrencies is attributing to the growth of this product. Additionally, we are constantly fulfilling the demand of the users by adding lots of new gift cards every month. By now, our gift card store has more than 1,000 gift cards to choose from, and we are not stopping there.

Summary
CoinGate kicked off 2021 remarkably, and during the first half of the year, we have greatly expanded our B2C user base, and already processed over 200,000 B2B transactions. The increased awareness, and increasingly large payment volumes demonstrate our users' and partners' trust and reliability. 
We have many great things planned ahead, but all good things come to those who wait, keep your eyes peeled by subscribing to our blog, or following us on Twitter.