Trading
Top Crypto Exchanges Of 2023: A Quick Guide
Last updated: May 3, 2023 10 min read
Cryptocurrencies are inevitably going mainstream, which is why the need for reliable and user-friendly crypto exchanges is skyrocketing globally.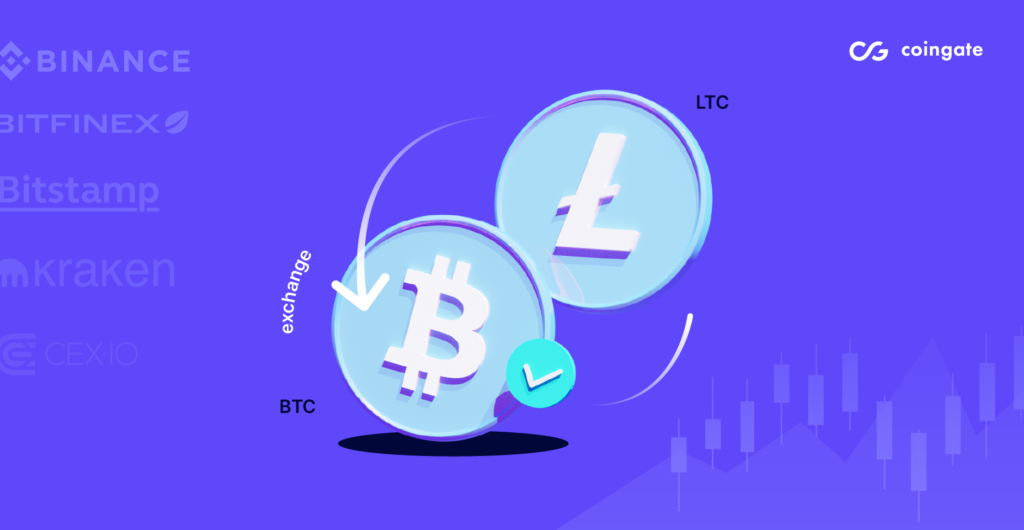 We're here to explore the top crypto exchanges that had a good standing over the years and are worth checking out in 2023.
While diving into the best crypto exchanges of 2023, we will detail their unique features, pros and cons, and more, including comparisons and extra reasons why you should consider these exchanges in particular.
Here's the list of exchanges featured in this article:
Before we review each exchange one by one, let's quickly clarify the criteria which was used to make up this list of the best crypto exchanges.
What To Look For When Choosing Best Crypto Exchanges
So, how should one determine which cryptocurrency exchange is the best one? Choosing between many options can be a daunting task, but knowing what to look for can ease the burden significantly.
To make the choosing process smoother, here are several factors to keep in mind before making a decision that can help you make the best choice, starting with:
Security
When dealing with crypto assets, safety and security is always the top priority.
Our recommendation is to look for exchanges with a strong track record of robust, impenetrable security.
Such exchanges should have such security features like two-factor authentication (2FA), cold storage, or advanced encryption protocols.
It might also be wise to use a VPN service when dealing with cryptocurrencies online.
Supported Cryptocurrencies & Fiat Currencies
If you consider yourself a trader, be sure to check out the range of cryptocurrencies, fiat currencies, and trading pairs that the cryptocurrency exchange supports.
While some exchanges offer a wide selection of cryptocurrencies and tokens to trade, others tend to focus on a more limited range of options.
On the other hand, they also do heavy due diligence before listing new coins, which is always a plus.
At least make sure you select a cryptocurrency exchange that supports those specific cryptocurrencies you plan to trade.
Fees
If you seek profiting from your trades, you know fees play a crucial role in your success.
As so, researching the fee structure for each exchange, including trading fees, deposit/withdrawal fees, and any additional fees becomes a must.
Note that some exchanges, such as Binance or KuCoin, offer fee discounts through their native tokens.
Some other exchanges might also offer tiered fee structures. They are usually based on trading volume, so make sure you count that in if you intend trading in high volumes.
Liquidity and Volume
High liquidity and volume are as essential as any other feature for an efficient trader.
Even if you are not a trader, making sure that the exchange allows you to enter or exit your positions quickly and without any significant price slippage is still important.
Note that exchanges with higher liquidity usually offer tighter spreads. If spreads are tight, it will make your trading efforts more cost-effective.
User Interface & Experience
An intuitive and user-friendly interface is always a plus, no matter if you are a beginner or an experienced trader.
Simply test the platform's interface and features when logged in. This way, you can check whether the exchange meets your needs and provides a clear trading interface.
Customer Support
Customer support is often underrated, at least until someone actually needs their help. That is why good customer support is crucial.
This is especially important when you deal with time-sensitive trading issues, so if you think it's a problem you might have, do not overlook support.
How to spot a good support? Start by checking for the availability of customer support channels.
It can be a live chat, email, and phone support – it does not matter. As long as the support team provides easy ways to communicate and is responsive, you're good.
Regulatory Compliance
Compliance is and will play a major role in exchanges going forward. That's why it is important to choose an exchange that will not fall behind the ever-changing regulations.
Keeping that in mind, we suggest you always choose an exchange that operates in compliance with the relevant regulations in your jurisdiction.
If the platform follows industry best practices, it should be able to give you peace of mind.
Additional Features
As always, the cherry on top is additional features that can sometimes be as important as everything else.
Those can be margin trading, futures trading, staking, lending options, etc. Depending on your trading strategy and goals, these features may provide added value and flexibility in your approach to trading.
Now let's take a look at exchanges that fit all or most of these criteria.
TOP 9 Crypto Exchanges List In 2023
Binance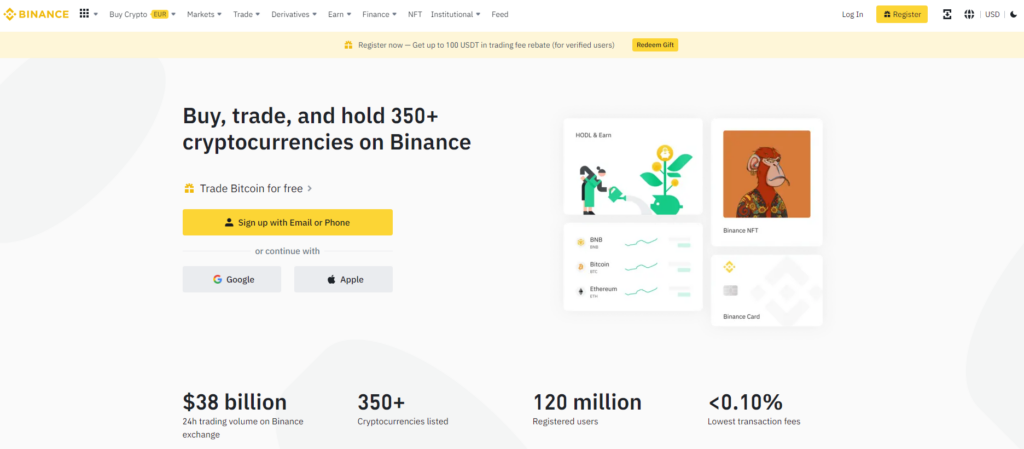 Binance is the world's largest cryptocurrency exchange, known for its wide selection of coins, high liquidity, and low fees.
Being one of the top crypto exchanges, Binance also offers a crypto debit card, Binance Pay app, an attractive affiliate program and the BNB utility token, which further reduces trading fees.
Crypto trading with Binance is accessible in many countries, but restricted in certain jurisdictions, including the United States (Binance.US operates separately).
Pros:
Extensive selection of cryptocurrencies
Competitive trading fees and BNB token utility
Advanced trading features
Cons:
Complex interface might be overwhelming for beginners
Limited options for fiat deposits and withdrawals
Bybit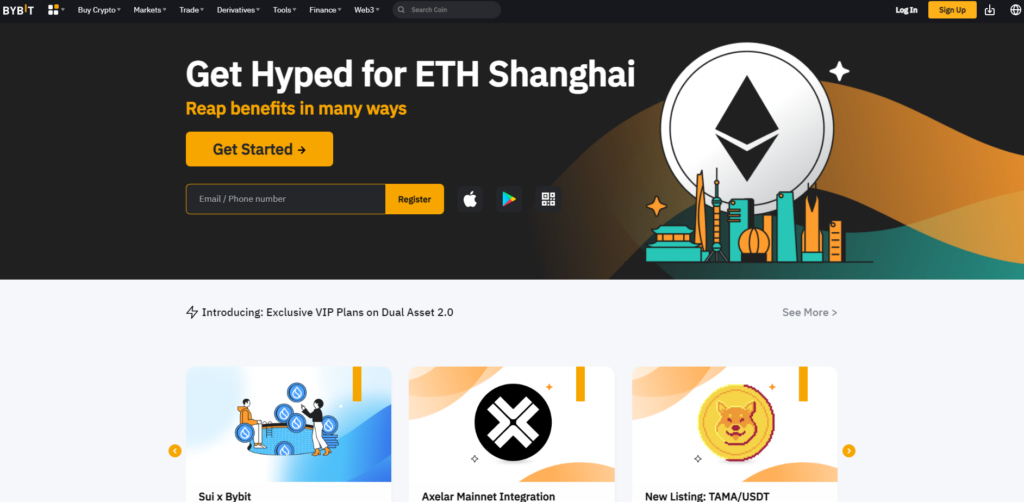 Bybit is a popular derivatives exchange specializing in margin trading and offering various futures contracts, including perpetual contracts for popular cryptocurrencies.
With its competitive trading fees, referral program, and focus on security, Bybit is generally a top choice for experienced traders interested in leverage trading.
It's available in many countries, but restricted in the US and some other countries.
Pros:
Advanced trading options and leverage
Competitive fees
Strong security measures
Cons:
Not suitable for beginners
Limited range of cryptocurrencies
No direct fiat currency support
CEX.IO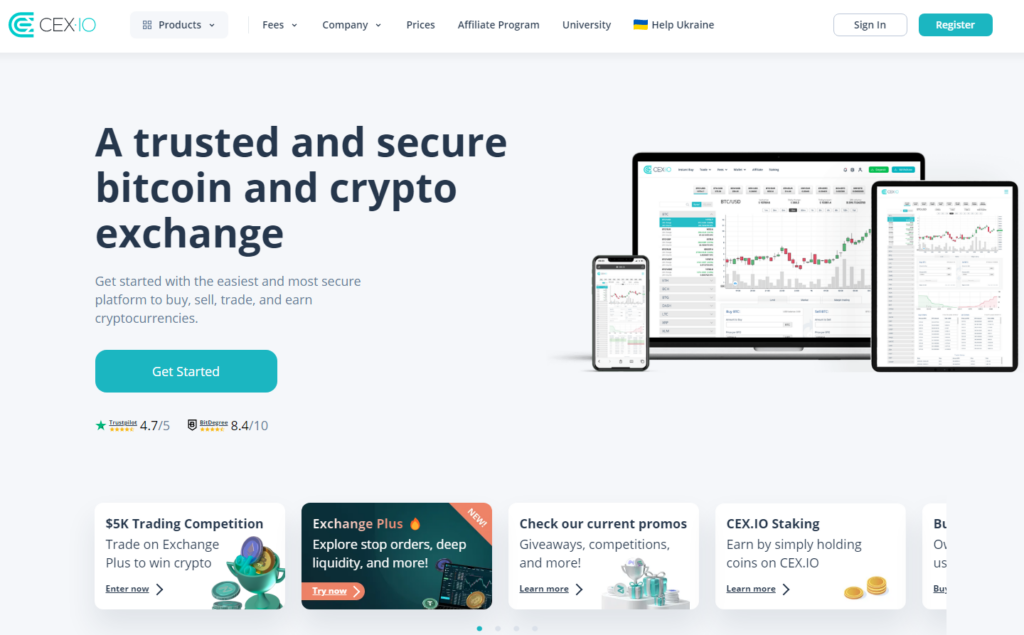 CEX.IO stands strong amongst the best crypto exchanges and is a well-established crypto trading platform that offers a user-friendly experience and a range of supported cryptocurrencies. 
Its global coverage and competitive trading fees make it a popular choice among many traders.
CEX.IO is available in most countries worldwide, with some restrictions in sanctioned countries.
Pros:
Intuitive interface suitable for beginners
Range of fiat currency options
High liquidity and volume
Cons:
Verification process can be time-consuming
Limited range of cryptocurrencies compared to some competitors
Bitfinex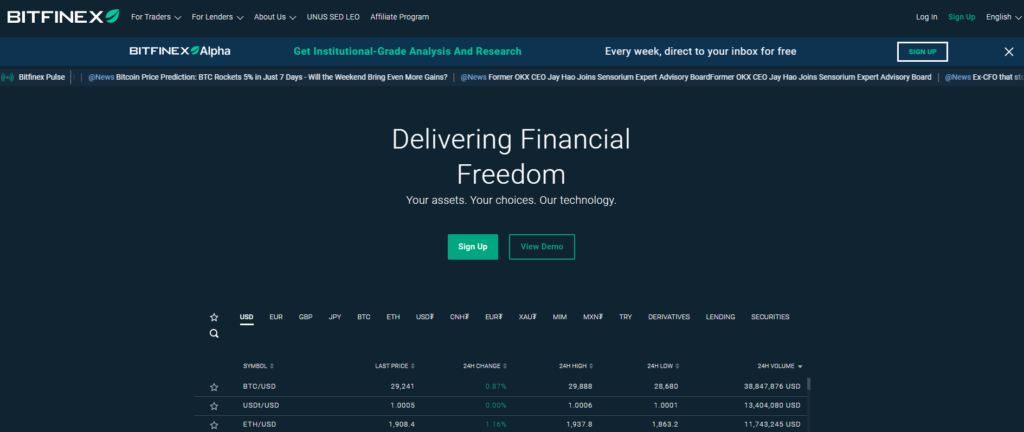 Bitfinex is a popular exchange for crypto trading among professional traders, boasting a range of advanced features and high liquidity.
With its multi-level affiliate program, Bitfinex also appeals to users looking to earn additional income.
The exchange serves customers globally, except for those in the United States and some other restricted countries.
Pros:
High liquidity and volume
Advanced trading tools and options
Attractive affiliate program
Cons:
Not beginner-friendly
Past security issues
BitStamp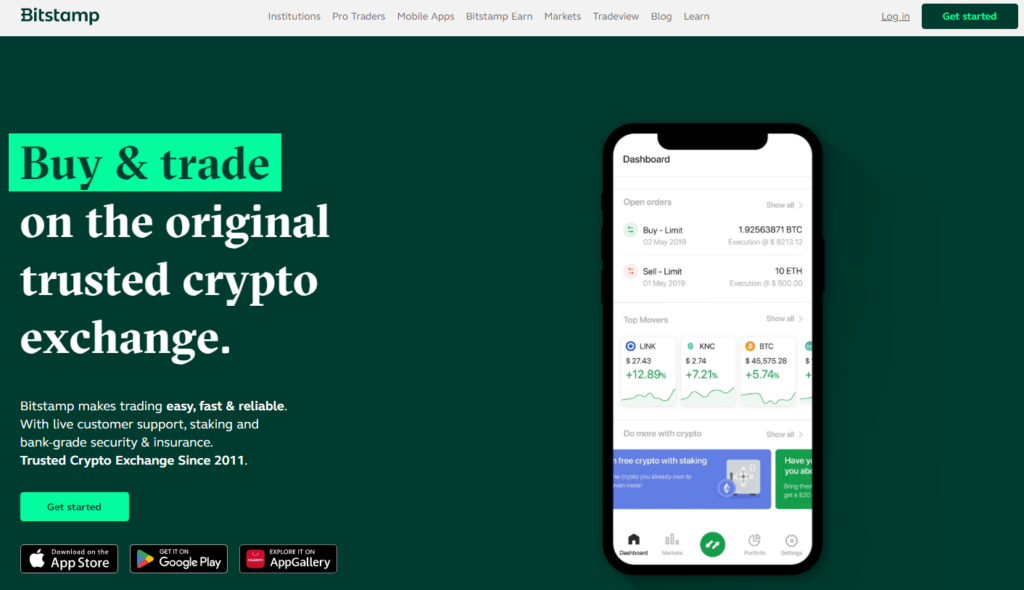 BitStamp is a well-regarded European exchange that supports both fiat and crypto assets.
Known for its transparency and security, BitStamp provides a solid choice for traders who prioritize safety.
Services are available in most countries, with some restrictions for sanctioned countries.
Pros:
Security and transparency
Range of supported fiat currencies
User-friendly interface
Cons:
Limited range of cryptocurrencies
Higher trading fees compared to some competitors
Kraken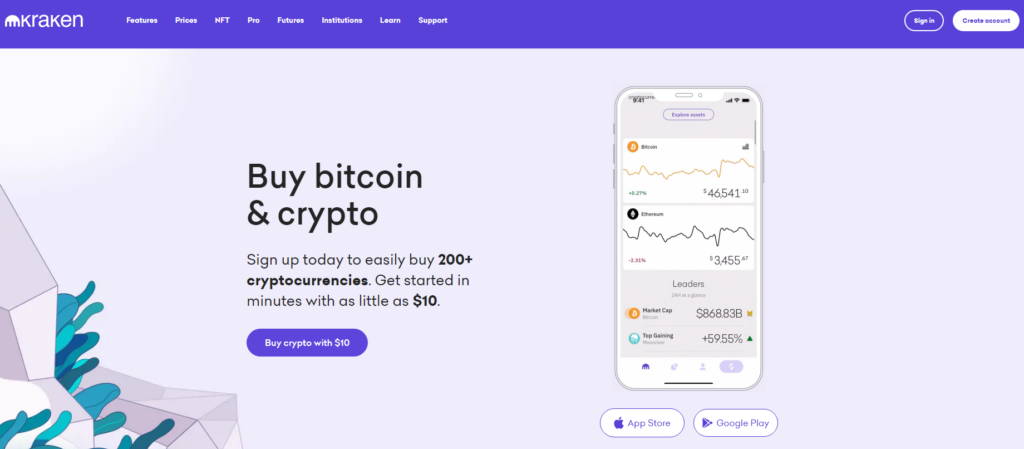 Kraken is known for its strong security measures, competitive fees, and a diverse selection of cryptocurrencies, making it one of the top crypto exchanges out there.
With its advanced trading features and no maximum limit on referral earnings, Kraken attracts both beginners and experienced traders that have different goals.
It's accessible in many countries worldwide, with some limitations in sanctioned countries.
Pros:
Strong security measures
Competitive fees and diverse crypto offerings
Advanced trading features
Cons:
Complex interface for new users
Limited customer support
Coinbase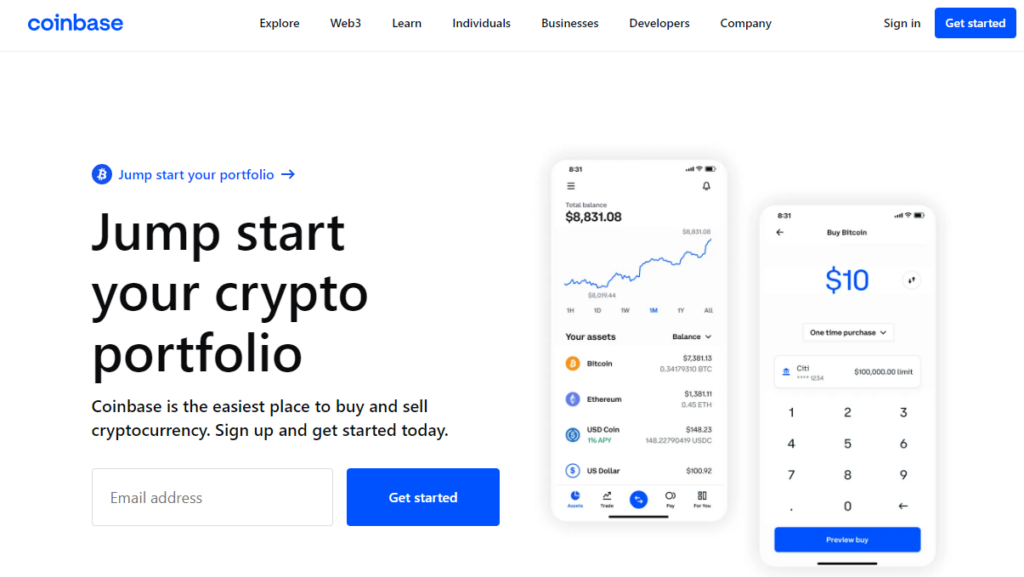 Coinbase is a popular US-based platform that offers a user-friendly experience and a wide range of crypto assets.
With its strong security measures and strong due diligence, Coinbase is an excellent choice for those new to crypto trading.
Coinbase is widely available in the United States, Europe, and other countries, but not accessible in some regions due to local regulations.
Pros:
User-friendly interface
Strong security features
Wide range of supported cryptocurrencies
Cons:
Higher trading fees compared to some competitors
Limited advanced trading features
Crypto.com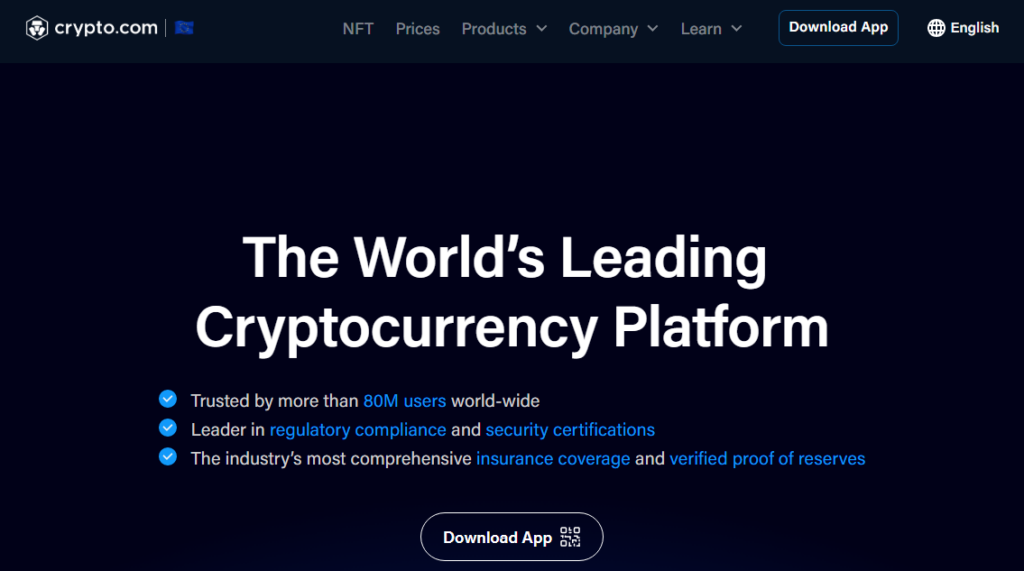 Crypto.com is a growing exchange and mobile app with a user-friendly interface and an attractive rewards program.
The platform offers a range of cryptocurrencies to trade, staking options, crypto debit cards, and the native CRO token.
Crypto.com serves customers in many countries, with a few geographical restrictions.
Pros:
User-friendly interface
Attractive rewards program
Staking and lending options
Cons:
Limited advanced trading features
Limited range of fiat currencies
KuCoin

KuCoin is a popular crypto exchange that offers a wide range of cryptocurrencies, great trading fees, and an attractive referral program.
With its native KCS token and user-friendly interface, KuCoin appeals to a broad user base that values simplicity and low costs.
KuCoin is accessible in most countries, with some limitations for users in certain jurisdictions.
Pros:
Wide range of cryptocurrencies
Competitive fees and KCS token utility
User-friendly interface
Cons:
Limited fiat currency support
Limited customer support
Which crypto exchange is safest?
Wherever strong security measures are signified. Two-factor authentication, cold storage, and advanced encryption protocols are good signs of secure exchange. Generally, Kraken and Coinbase are considered among the safest.
Which crypto exchange is best for the USA?
Coinbase is generally considered to be the number 1 crypto exchange in the US right now.
Is Binance or Coinbase better?
Binance and Coinbase are two very different options. Binance is more tailored for extensive coin selection, low fees, and advanced trading features. On the other hand, Coinbase is better known for its user-friendly interface and strong security features. Choose accordingly.
Which crypto exchange to avoid?
Avoid crypto exchanges that have a track record of security breaches, poor customer support, or those that do not comply with regulatory requirements.
Which crypto exchange is the cheapest?
If we consider that the cheapest crypto exchange should offer low trading fees, deposit/withdrawal fees, and sensible additional fees, Binance and KuCoin would be good choices.
They are known for their competitive fee structures due to fee discounts through their native BNB and KCS tokens.
Practical Advice On Securing Accounts On Cryptocurrency Exchanges
Enable two-factor authentication to add an extra layer of security to your account.
Use strong, unique passwords and change them periodically.
Enable withdrawal address whitelisting, if available, to ensure funds can only be withdrawn to pre-approved addresses.
Avoid using public Wi-Fi when accessing your exchange accounts.
In 2023, the top crypto exchanges cater to a wide range of user preferences, from beginners to experienced traders, and offer unique features that make them stand out.
When selecting the best platform for your crypto trading, consider factors such as supported currencies, trading fees, security measures, and user experience.
Whether you're an experienced trader looking for advanced features or just starting your crypto journey, there's a suitable exchange for you among the top crypto exchanges of 2023.
Remember to always do thorough research and consider your specific needs before diving into the world of cryptocurrencies. Happy trading!