So you've decided to get some cryptocurrency and want to keep your assets as secure as possible. Smart move.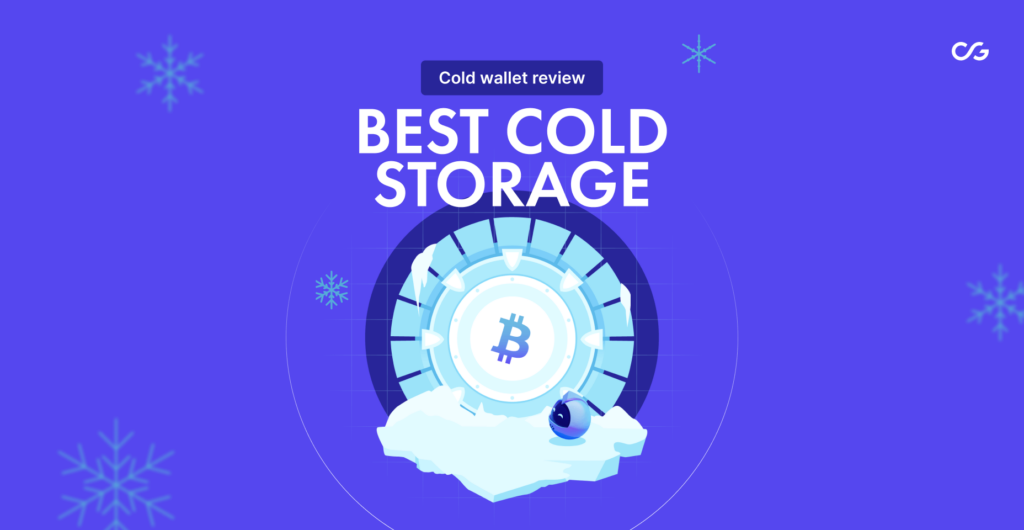 The best way to protect your crypto is with cold storage, also known as cold wallet.
Cold wallets are physical devices that are not connected to the internet, making them much harder to hack than an exchange or software wallet. Here's a detailed explanation of how cold wallets are different from hot wallets.
But with so many options out there, how do you choose?
Don't worry, we've got you covered. We evaluated the top cold wallets based on security, ease of use, supported currencies, and cost.
We'll walk you through the good and bad of the best cold storage solutions so you can quickly find one that fits your needs.
________________________________________________________________________________________________________________
Here's a list of cold wallets reviewed in this article:
________________________________________________________________________________________________________________
Time to get your crypto off the exchanges and into cold storage. Your future self will thank you.
NGRAVE: The Ultimate Crypto-Security Ecosystem
NGRAVE is a company that has taken the concept of asset ownership to the next level, allowing you to truly own what's yours​. NGRAVE offers a suite of crypto-security products that are sure to impress any crypto enthusiast.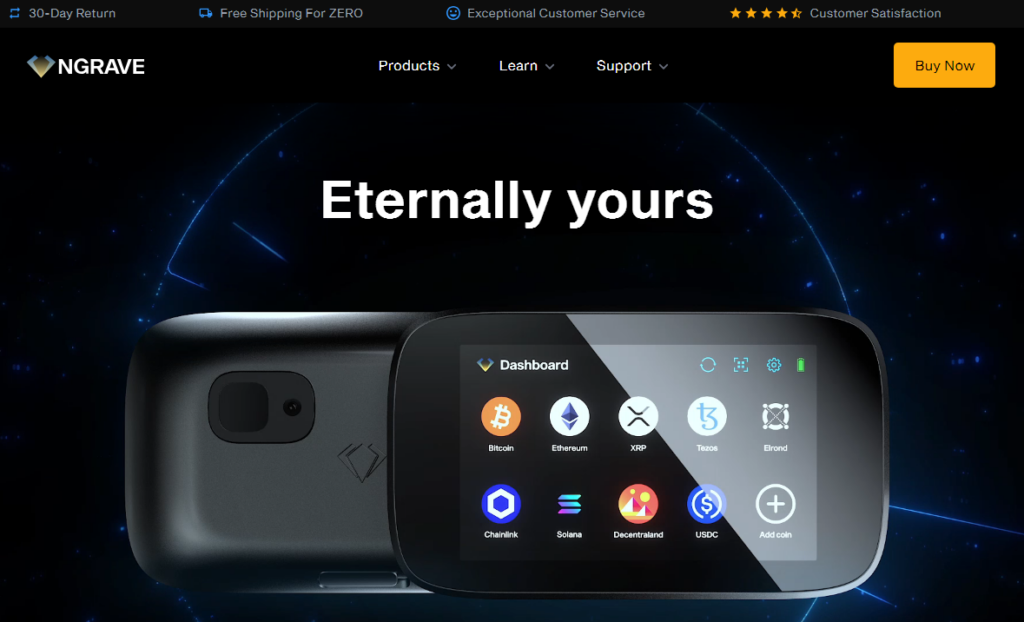 Leading the pack is ZERO, touted as 'The Coldest Crypto Wallet'. This is the first crypto hardware wallet that boasts the highest security certified OS in the world (EAL7)​. The ZERO wallet provides an unparalleled level of protection against online hackers.
It operates completely offline, eliminating any risk posed by WiFi, Bluetooth, NFC, or USB connectivity. Despite its advanced features, ZERO is incredibly user-friendly, offering a premium touch screen experience. Swipe, tap, and let ZERO do the rest. It also allows you to create your Perfect Key in a unique and patented offline interaction process, ensuring you truly own your crypto​.
Next on the list is GRAPHENE, dubbed 'The Ultimate Crypto Backup'. Forget paper wallets and the risk of losing your keys. With GRAPHENE, you'll have the first encrypted and recoverable backup at your disposal.
It's an everlasting piece of hardware, resistant to fire, water floods, corrosion, shocks, and well, practically anything else you can think of. Both plates are encrypted and only together will they reveal the key. If you ever need to restore your unique upper plate, you can do so while your secret key remains safe​.
For those who want to manage their crypto on the go, NGRAVE presents LIQUID, 'The Safest Crypto App'. With LIQUID, you can instantly receive and sign transactions without ever exposing your private keys.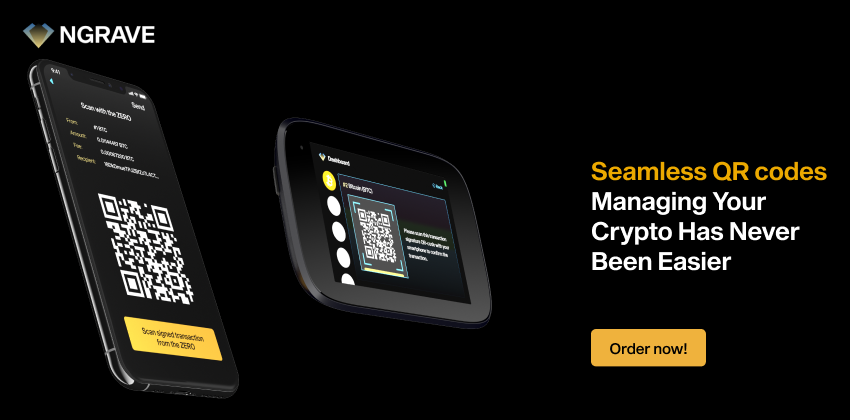 It allows you to easily consult real-time balances on the blockchain, ensuring peace of mind as your Perfect Key is never exposed and remains offline. Buying and selling are made easy and fast with the use of intuitive QR codes​.
What makes NGRAVE stand out is its ecosystem, which provides the first end-to-end solution for you to truly own your coins. It has made managing crypto every step of the way incredibly easy.
With the most advanced key generation process, NGRAVE allows you to generate your own computationally unbreakable, unique Perfect Key or seed phrase offline. What's more, no one else has access to it, not even NGRAVE itself​.
Further enhancing security, NGRAVE offers 2FA Biometric Security. Your fingerprint can be used to create your Perfect Key, unlock your device, and sign transactions, which is further secured with a solid 8-digit PIN code​.
Lastly, when you choose to pay with Crypto.com at checkout, you can pay with more than 30 tokens, including CRO, BTC, ETH, USDC, and DOGE, and receive a cashback in CRO. This means you can earn a 4% rebate, making your purchase even more valuable​.
Safe to say NGRAVE is more than just a provider of crypto-security products. It's a complete ecosystem that empowers you to truly own, manage, and secure your crypto assets. Whether you're a seasoned crypto investor or a beginner in the space, NGRAVE's offerings are worth considering.
Blockstream Jade: A Powerful Open-Source Cold Wallet

Maximum Security
The Blockstream Jade is a hardware wallet designed with advanced security in mind. It offers cold storage for your crypto assets like Bitcoin to keep them offline and away from hackers.
The Jade uses open-source software and hardware so its code can be audited.
It generates private keys on the device itself instead of on an internet-connected computer.
The Jade is built to be tamper-resistant and waterproof for maximum protection.
It enables two-factor authentication for sending transactions so funds can only be moved with your physical approval.
Simple Yet Powerful
While the Jade prioritizes security, it also aims to provide a good user experience.
The Jade has an easy-to-use interface with just two buttons and an LED screen.
It supports Bitcoin, Liquid Network assets, and more. You can send and receive funds directly on the Jade.
The Jade works with the Blockstream Green wallet app for managing your accounts and transactions on the go.
When you want to send funds, the Jade will display details on its screen for you to review and approve before broadcasting to the network.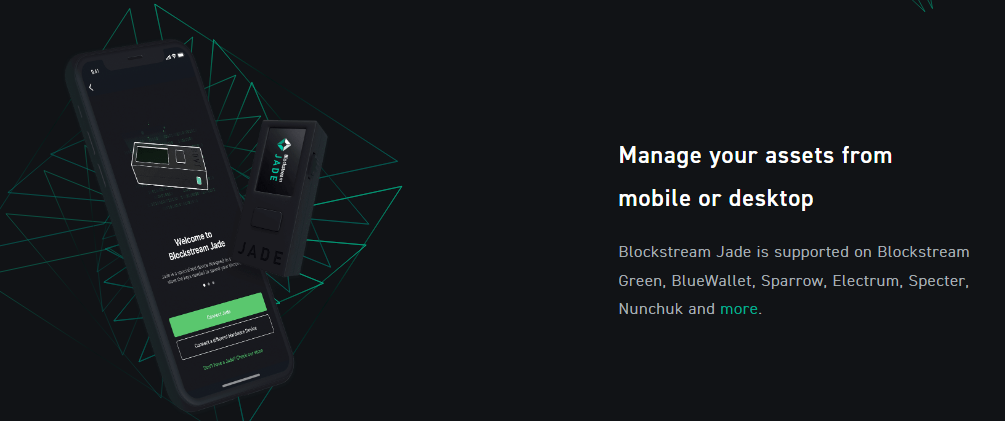 Open Platform
The Jade was created by Blockstream, a leader in blockchain technologies.
Blockstream is dedicated to developing open-source platforms and tools for the Bitcoin and Liquid networks.
The Jade code is open for anyone to audit and build upon. Blockstream aims for transparency in its products.
The Jade works with other Blockstream products like the Blockstream Satellite for broadcasting blockchain data, and the Blockstream Green wallet.
Blockstream prioritizes decentralization and gives users control of their own funds. The Jade enables you to have a secure storage solution for your crypto without relying on third parties.
The Blockstream Jade offers advanced security and functionality for managing your Bitcoin and Liquid assets.
For those serious about safeguarding their cryptocurrency, the Jade is a solid choice for cold storage. Its focus on open-source software, decentralization and giving users control of their own keys aligns with the ethos of the crypto community.
COLDCARDwallet: An Impenetrable Cold Wallet
Built for Security
The COLDCARDwallet is designed from the ground up to be an ultra-secure cold storage solution for your cryptocurrency. This air-gapped hardware wallet has specialized chips to store your private keys offline so they are never exposed to the internet.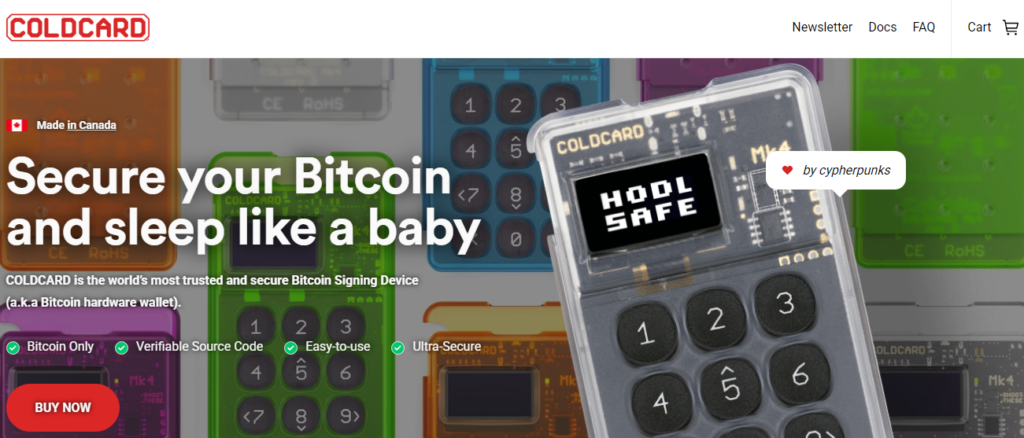 USB-C Connector: The USB-C port is only used to transmit unsigned transactions to the device and sign them. No data can be extracted from the COLDCARDwallet.
MicroSD Card: Your wallet seeds and keys are stored on an SD card within the device. This card can be destroyed at any time by entering your "Brick Me" PIN to wipe all data.
Top-Notch Chips: The COLDCARDwallet uses specialized secure chips to generate and store your private keys. These chips are designed to be extremely difficult to hack or extract data from.
Intuitive Interface
Despite its heavy security focus, the COLDCARDwallet has an intuitive interface that is easy to navigate.
Menu-Driven: All options are clearly laid out in the menu. You can quickly access wallet creation, transaction signing, PIN changes, and more.
QR Codes: Easily scan QR codes to send and receive transactions or import watch-only wallets. The COLDCARDwallet will validate the QR code before importing any data.
"Brick Me" PIN: Set a PIN that will instantly wipe your COLDCARDwallet if entered incorrectly 3 times. This ensures that if anyone tries to hack your device, your funds will remain secure.
Open-Source and Audited
The COLDCARDwallet is open-source, meaning its code is transparent and auditable. It has also undergone extensive security audits by third-party cybersecurity firms to check for any vulnerabilities. You can feel confident that there are no secret backdoors or exploits in the COLDCARDwallet system.
The COLDCARDwallet delivers maximum security and peace of mind for long-term cryptocurrency storage. If you're looking for an easy-to-use yet impenetrable cold wallet, the COLDCARDwallet is an excellent choice.
Your digital assets will be safe, secure, and under your complete control.
Trezor Model T: A User-Friendly HD Wallet
If you're looking for a user-friendly cold wallet that supports a wide range of cryptocurrencies, the Trezor Model T should be at the top of your list.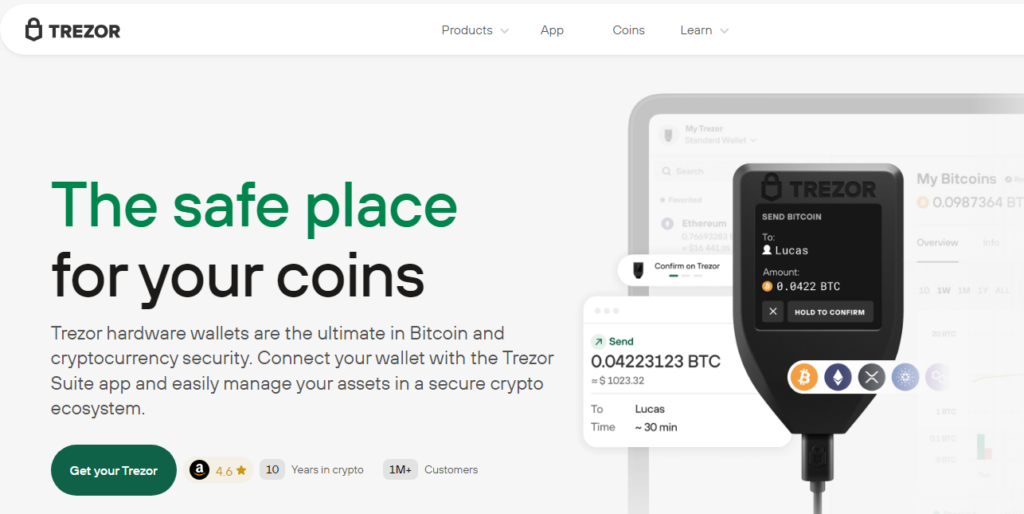 The Trezor Model T is Trezor's most advanced hardware wallet. It was designed with security and usability in mind. The full-color touchscreen makes it easy to use and navigate, even for beginners.
It supports over 1,200 different cryptocurrencies, including major coins like Bitcoin, Ethereum, XRP, and Cardano. No matter what crypto assets you hold, the Trezor Model T has you covered.
Your private keys are stored offline on the device, keeping them safe from hackers and malware. The Trezor Model T uses a 12-word recovery seed to back up your funds in case anything happens to the device.
Sending and receiving crypto is simple with the Trezor Bridge software. You can also use third-party wallets like Exodus, MyCrypto, and MetaMask with your Trezor for added convenience.
The Trezor Model T isn't the cheapest cold wallet, but for under $200, it offers solid security, functionality, and coin support for most mainstream cryptocurrencies. If you're investing in crypto for the long haul, the Trezor Model T is a worthwhile investment to keep your digital assets safe and secure.
For hassle-free cold storage of your cryptocurrency that's easy to set up and use, the Trezor Model T is a top choice. Its intuitive design and broad range of supported coins make it suitable for both beginners and advanced users alike.
SafePal S1: A Beginner-Friendly Cold Wallet
A Secure and User-Friendly Option
The SafePal S1 is a great choice if you're looking for an easy-to-use cold wallet that doesn't compromise on security.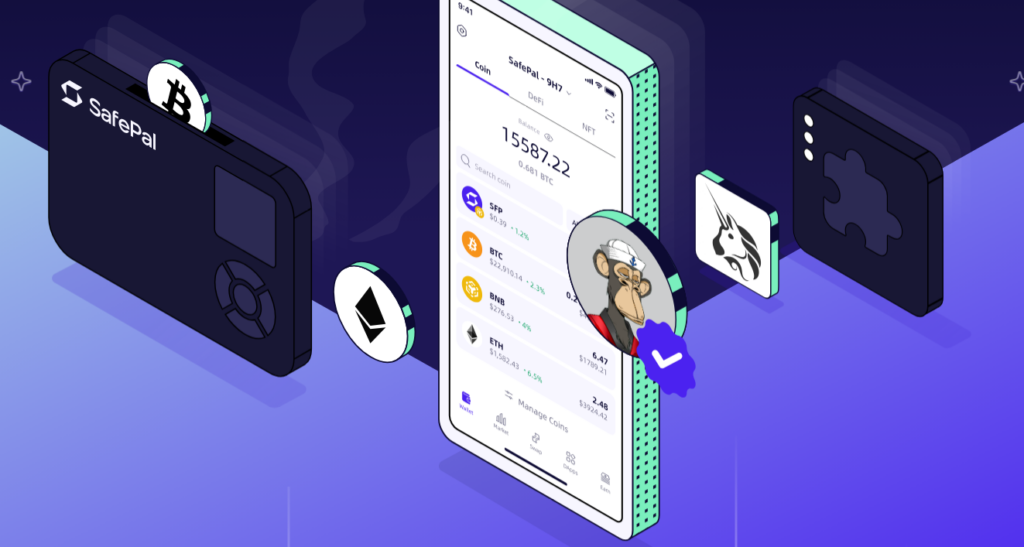 This hardware wallet is completely offline to keep your private keys safe from hackers and malware. Yet, it's still simple enough for beginners to set up and manage their cryptocurrency.
Supports major coins: The S1 is compatible with Bitcoin, Ethereum, Litecoin, and many other altcoins. You can store all your crypto in one place and manage them on the go with the SafePal app.
Air-gapped security: Your private keys are stored on the cold wallet, not on your phone or computer. This "air gap" ensures your keys stay offline and can't be accessed remotely by anyone. For added protection, the S1 uses military-grade encryption and a secure element chip.
Easy to get started: The setup process only takes a few minutes. You just have to pair your S1 with the SafePal app, set a password, and write down your 24-word recovery phrase. Then you're ready to send and receive crypto. The intuitive interface makes it simple to complete transactions, check balances, and more.
Recover your funds anytime: If anything happens to your S1, you can easily restore your wallet using the recovery phrase. This gives you peace of mind that you'll always have access to your crypto. You can also use the recovery phrase to set up your wallet on another SafePal device.
Affordable and portable: The S1 cold wallet is very compact and lightweight, so you can take it anywhere. It's also one of the most budget-friendly hardware wallets, making it a great choice if you want to securely store your crypto without spending a lot.
For maximum security of your digital assets without a lot of hassle, the SafePal S1 is a solid option to consider. This cold wallet gives you enterprise-level protection for your crypto in an easy-to-use device. Overall, the S1 offers a great combination of security, functionality, and value.
Ledger Nano X: A Secure Bluetooth Cold Wallet
If you're looking for one of the most secure cold storage options for your crypto, the Ledger Nano X should be at the top of your list. This Bluetooth enabled hardware wallet keeps your private keys offline while still connecting to your phone, giving you the best of both worlds.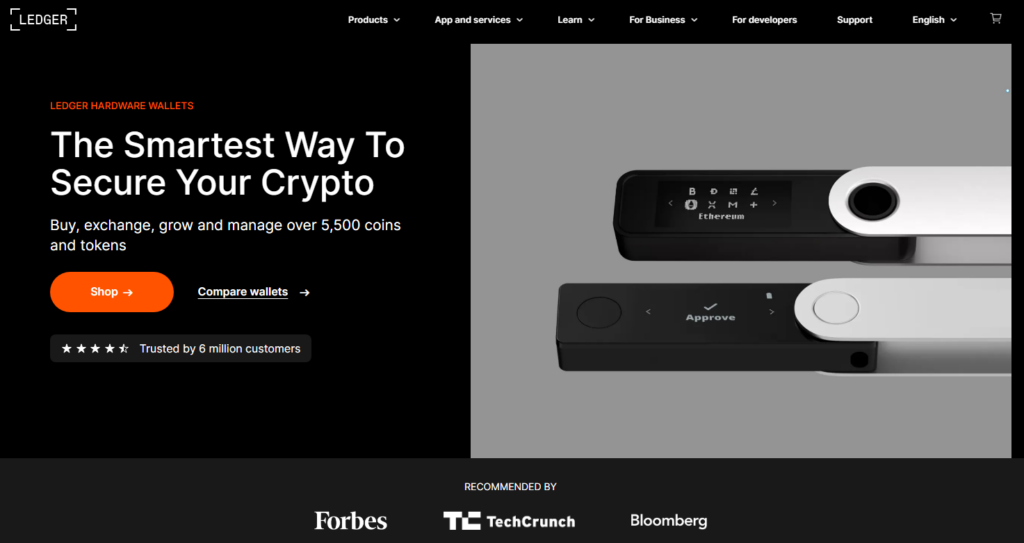 The Nano X features a certified secure chip (CC EAL5+) to protect your assets and prevent any physical hacking attempts. It's also easy to set up and use with the Ledger Live mobile app. You'll be able to check your balances, send and receive coins on the go without worrying about cyber threats.
To get started, simply connect the Nano X to your phone via Bluetooth and follow the instructions in the Ledger Live app. You'll set a PIN code to unlock your device and a 24-word recovery phrase in case anything happens to your wallet. Once set up, you can install the apps for the cryptocurrencies you want to store, like Bitcoin, Ethereum or XRP.
Your crypto keys and transactions are isolated inside the Nano X – they never touch any servers or the internet. Only you have access to your funds and full control over your assets. For an added layer of protection, you can also set up an optional passphrase.
If security and mobility are priorities, the Ledger Nano X is a solid choice. For under $120, you get a safe, convenient way to manage all your crypto in one place without worry. Why trust your valuable digital assets to anything less? Take control of your financial future and invest in a Ledger hardware wallet today.
Tapsigner: A Secure Cold Storage Card
If you're looking for an ultra-secure way to store your cryptocurrency keys offline, Tapsigner is a great option. This cold storage card generates and stores your private keys for you, keeping them completely offline and safe from hackers.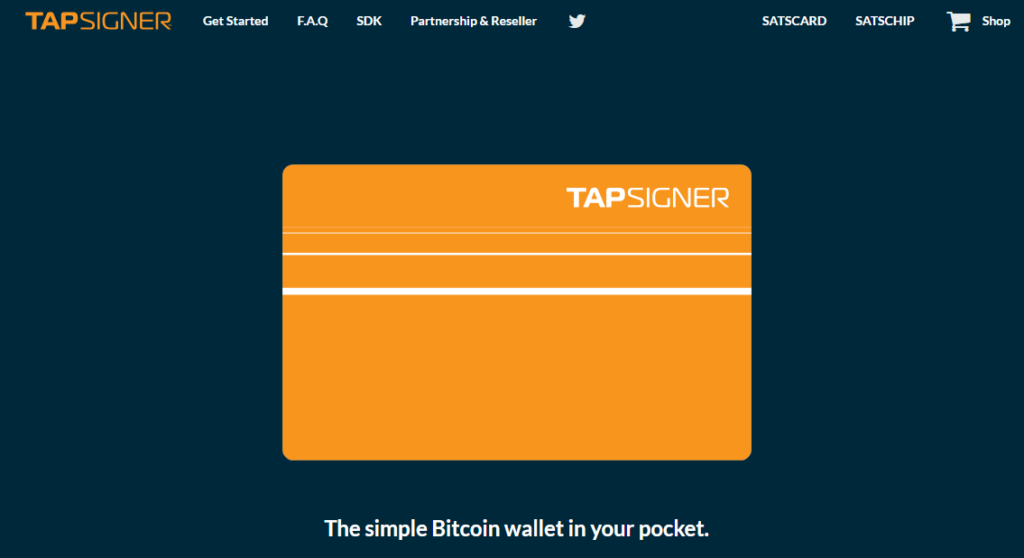 Tapsigner is a physical card about the size of a credit card that generates and stores your private keys. To set it up, you connect the card to your computer, enter a password to activate it, and it will generate a unique private key for you. The key is stored right on the card – it never touches the internet or leaves the card.
To use your Tapsigner, simply connect it to your computer or mobile wallet when you want to sign a transaction. Enter your password to unlock the card, and it will sign the transaction for you while keeping your key safe on the card.
Once the transaction is signed, disconnect your Tapsigner and store it in a secure location. Your keys stay on the card, protected from any online threats.
Some of the major benefits of Tapsigner include:
Ultra-secure cold storage: Your keys are generated and stay on the physical card – they never touch the internet.
Compatible with many wallets: Tapsigner works with popular mobile and desktop wallets like Electrum, Mycelium, and Coinkite.
Easy to use: Tapsigner is simple to set up and use to sign transactions while keeping your keys offline.
Durable and portable: The Tapsigner card is durable and easy to store in a safe or safety deposit box. But it's also portable enough to use when needed.
If you're looking for an extremely secure way to store your bitcoin or other cryptocurrency keys offline, Tapsigner is an excellent option.
This innovative cold storage card keeps your keys completely offline and protected while still being easy to use when you need to access your funds. For the ultimate in crypto security, Tapsigner is hard to beat.
SeedSigner: A DYI Bitcoin Signing Device
If you want maximum security for your crypto and the peace of mind of an air-gapped solution, SeedSigner is a great option. This DIY Bitcoin signing device lets you generate BIP39 seed phrases and sign Bitcoin transactions without connecting to the Internet.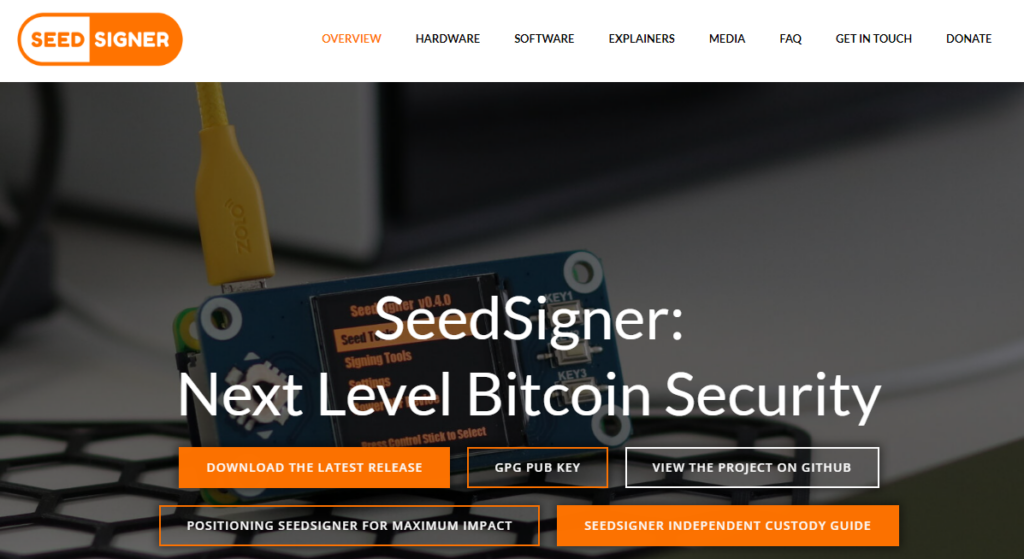 To use SeedSigner, you'll need:
A Raspberry Pi (Model 1B+ or newer)
An SD card
A touchscreen display
A keyboard
A USB flash drive
Set up your Pi
Download the SeedSigner image and flash it to your SD card.
Insert the SD card into your Raspberry Pi.
Connect the touchscreen display, keyboard, and USB drive.
Power on your Pi. SeedSigner will automatically launch.
Generate your seed phrase
Tap "Generate new seed" on the touchscreen.
SeedSigner will generate a random 12 or 24-word mnemonic seed phrase. Write this down on paper.
Tap "I have written down the seed phrase" to continue.
Enter a passphrase (optional). Tap "Generate addresses".
Your Bitcoin addresses and private keys will be displayed. Record these on paper.
Sign transactions offline
On an online computer, create an unsigned Bitcoin transaction. Save it to your USB drive.
Insert the USB drive into SeedSigner. Tap "Sign transaction".
Review and confirm the transaction details. Tap "Sign transaction" again.
SeedSigner will sign the transaction and save it to your USB drive.
Broadcast the signed transaction from your online computer.
SeedSigner lets you securely generate and store multiple seed phrases as well as sign transactions for different wallets.
For the ultimate in cold storage, you can't beat an air-gapped device like the SeedSigner. Sleep well at night knowing your crypto is as secure as can be!
KeepKey: An Affordable HD Wallet
If you're looking for an affordable yet highly secure way to store your crypto, KeepKey is a great option. This hardware wallet offers bank-grade security for your digital assets at a price that won't break the bank.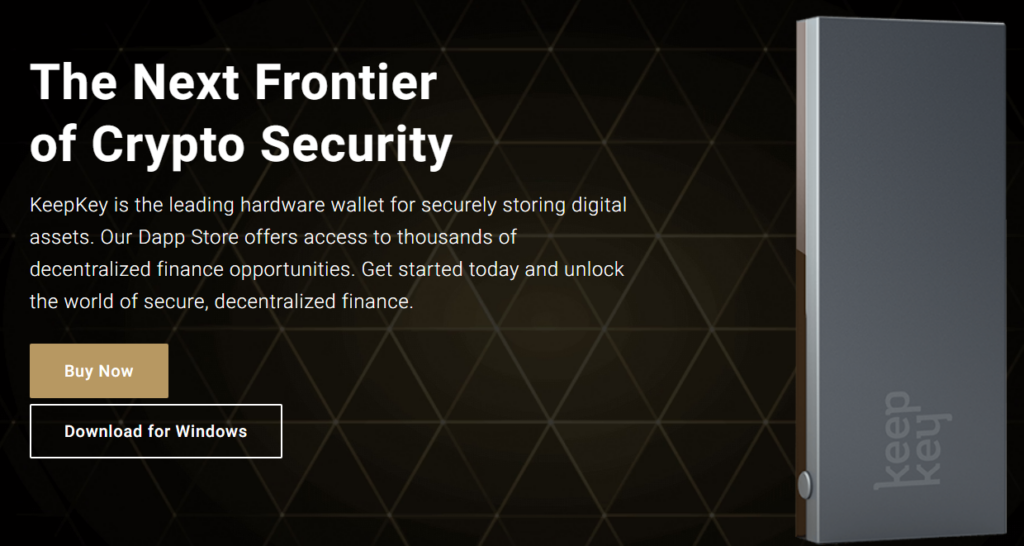 KeepKey is a hardware wallet that provides superior security for your cryptocurrency while remaining easy to use. It has a sleek, modern design that is slightly larger and bulkier than other hardware wallets.
However, its size allows for a simple yet robust interface with a digital screen that clearly displays each transaction detail before you sign off on it.
Securely generate and store private keys on the device
Protects against physical theft and hacking attempts
Compatible with multiple cryptocurrencies like Bitcoin, Litecoin, Dogecoin, Namecoin, and Dash
Free, open-source software and firmware
Random number generator creates a new private key with each transaction
Using KeepKey is simple. Just connect it to your computer, install the client software, and you're ready to send and receive cryptocurrency.
Every time you make a transaction, KeepKey displays the details on its screen and requires your manual confirmation before it signs off. This prevents unauthorized access and gives you full control over your funds.
For only $129, KeepKey delivers enterprise-level security in an easy-to-use device. If you're investing in cryptocurrency and want to ensure your assets are protected, KeepKey is a solid choice for an HD wallet.
You'll get peace of mind knowing your private keys are stored offline on a dedicated hardware device and shielded from cybercriminals looking to steal your coins. Overall, KeepKey hits the sweet spot between security, functionality, and affordability.
Cold Storage: FAQs
Cold storage for cryptocurrency, known as cold wallets, is a popular way to keep your digital assets secure. But you probably have some questions about how they work and which options are best. Here are some common FAQs about cold storage.
What exactly is a cold wallet?
A cold wallet is a way to store your cryptocurrency offline, disconnected from the internet. This makes it much harder for hackers to access your funds. Cold wallets come in two main forms:
Hardware wallets: Physical devices like USB drives that store your private keys. They plug into an online device to make transactions but are otherwise offline.
Paper wallets: Your keys are printed on a piece of paper. As long as that paper is kept safe and secure, your crypto is in cold storage.
Which cold wallet is the most secure?
Hardware wallets are generally considered the most secure cold storage option. Popular, trusted brands are Ledger and Trezor. They are encrypted, password-protected, and keep your keys offline. As long as you keep your recovery phrase safe in case anything happens to the device, hardware wallets offer excellent security.
How do I deposit and withdraw from a cold wallet?
To deposit to a cold wallet, you send cryptocurrency from an exchange or hot wallet to the public address associated with your cold wallet.
To withdraw, you plug in your cold wallet device, enter your PIN or recovery phrase, and send crypto from the cold wallet to another address. The actual keys are never directly exposed to an internet-connected device.
What are the risks of cold storage?
While very secure, cold wallets also come with risks like:
Losing or damaging your cold wallet device or paper wallet, which could mean losing access to your funds.
Forgetting or misplacing your PIN, recovery phrase or private keys. Without these, your crypto is inaccessible.
Theft or hacking if someone gains physical access to your cold wallet. Keep devices and paper wallets in a secure location.
Cold storage is one of the best ways to protect your cryptocurrency investment. But you do need to take responsibility for keeping your cold wallet, recovery information and private keys safe and secure.
Follow the tips and choose an option that gives you peace of mind. Your digital assets will stay cold and protected.
Bring Peace Of Mind With Cold Storage Wallets
So there you have it, the best cold storage options to keep your crypto safe and secure. Any of these cold wallets would be a great choice to protect your investment.
Just remember, once you transfer funds to cold storage, those funds are offline and inaccessible until you bring that wallet back online. Make sure you keep your recovery phrase in a safe place in case anything happens to your physical wallet.
But with the right cold wallet and security practices, you'll sleep better at night knowing your digital assets are safe and sound.
The future is looking bright for crypto, so get yourself a cold wallet and enjoy the ride!
Subscribe now
Enter your email adress below to stay in the loop far all blogs