Company Updates, Crypto Payments
Launching TRON blockchain and TRX payments for merchants
Last updated: January 14, 2019 5 min read
It is a pleasure to announce the newest addition to our bundle of native cryptocurrencies, TRX! Any user of the TRON blockchain can now shop at thousands of stores using CoinGate.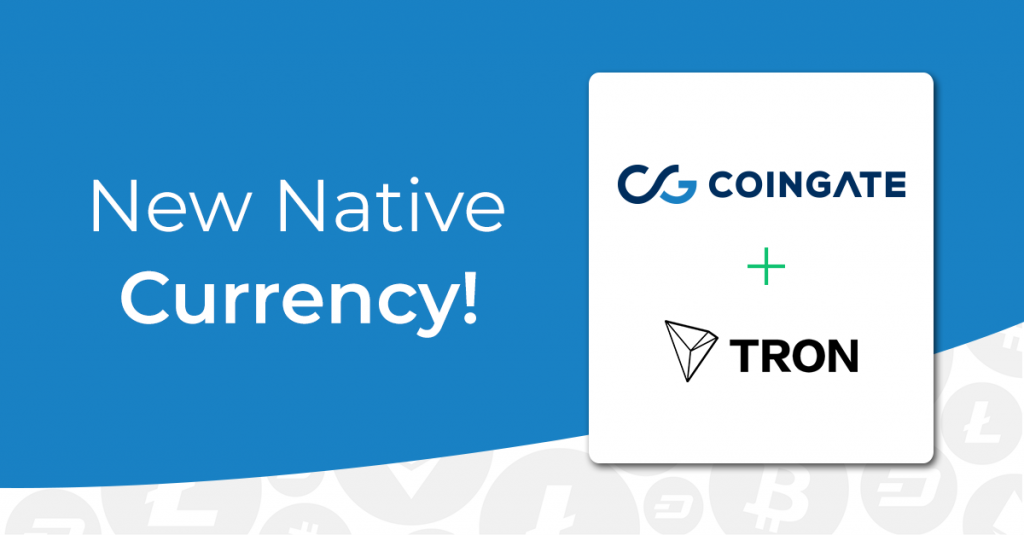 Our team here at CoinGate is sure that the rapidly emerging TRON blockchain will become a valued addition to our list of supported cryptocurrencies. By facilitating payments between TRX shoppers and online vendors, we aim to become a significant part of the TRON ecosystem and contribute to further growth of the community.
The TRON blockchain: mission & vision
Even though the TRON mainnet launched as recently as May 2018, it has already left a significant mark in the blockchain space. Led by the renowned founder Justin Sun, TRON demonstrates huge ambitions towards rebuilding the World Wide Web as we know it.
Resembling Ethereum, TRON provides the ability to build smart contracts with Solidity, issue custom tokens and deploy decentralized apps on top of TRON's network. All these tools allow building a huge variety of businesses and applications, including social media and retail networks, publishing platforms, online stores, peer-to-peer video streaming and pretty much anything else that currently exists on the Internet.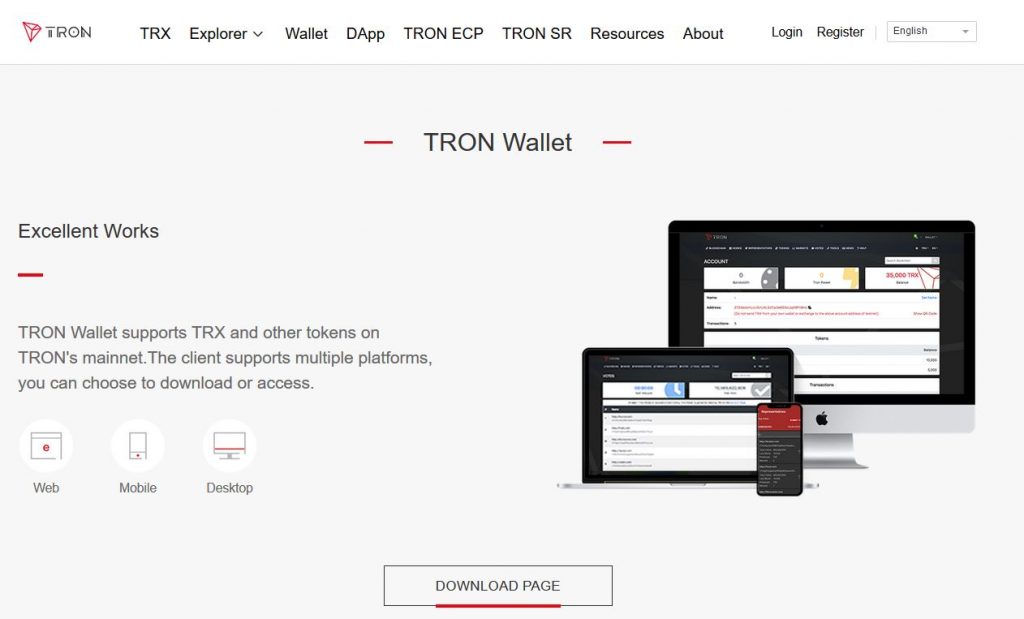 In simple terms, TRON aims to enable users to trustlessly publish and store virtually any kind of data as well as get rewarded for it, without the necessity of third-party involvement.
TRON and Ethereum, the eternal crypto rivals

TRON strives to surpass its direct rival Ethereum by providing more effective scalability solutions. Supposedly, the TRON blockchain is able of processing 2,000 transactions per second (TPS). For comparison, the current Ethereum network capacity is 15 TPS, though the most recent developments might soon change that.
For such a network to scale, an enormous amount of mining resources would be required. However, TRON is secured by the Proof-of-Stake rather than Proof-of-Work, and does not require that much power to function effectively and securely. As a result, any attempt to alter, delete or demonetize content published on TRON would be impossible as all the data is permanently stored on the blockchain – at least before usage of the network grows significantly enough to shed light on shortcomings of its PoS consensus.
The state of TRON today
Just very recently in July, TRON made a $126 million acquisition of BitTorrent, the largest peer-to-peer file sharing service in the world, and its collective user base of 100 million in the process. Merging BitTorrent with the network would make TRON the biggest decentralized ecosystem in the world, potentially bringing blockchain technology to the masses. Still, there is a long way to go, according to their extensive 10 year-long roadmap.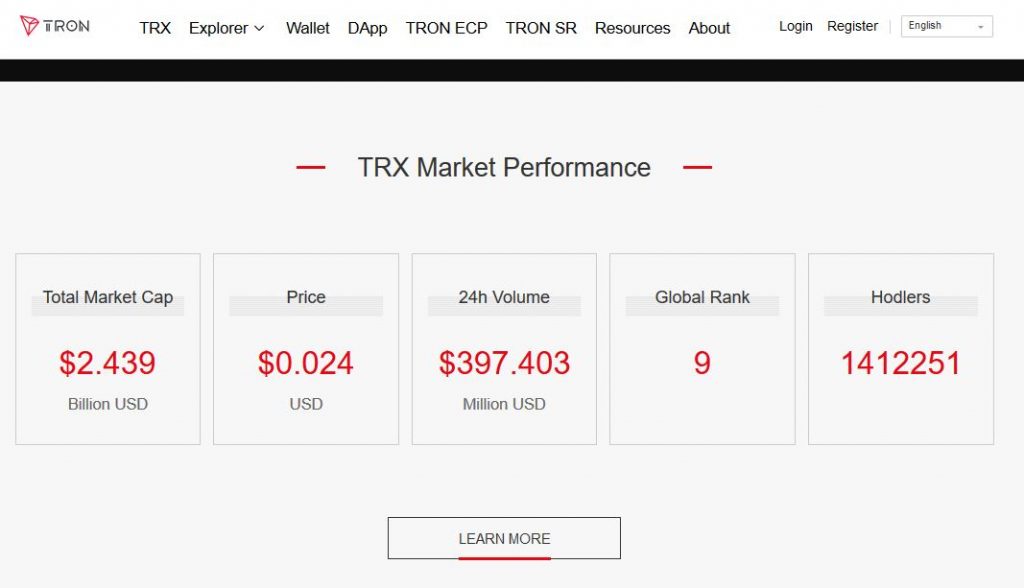 The more current objective of TRON is to set off the creation of a proprietary community of content creators and consumers. The team seems to have doubled down their efforts on this, as the number of dApps and smart contracts deployed on the network has been growing at a healthy pace.
As of now, TRON is getting ready for the crowdfunding of new cryptographic token BitTorrent (BTT) as a part of their secretive Project Atlas. It is a long-awaited release which aims to create a token-based economy, revolving around the usage of networking, bandwidth, and storage on hundreds of millions of computers around the world.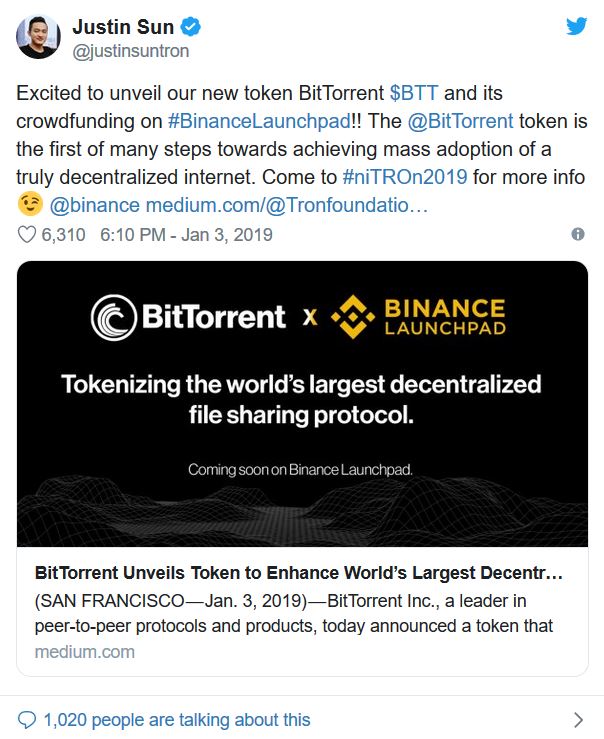 To put it simply, it will allow users to use the token for the improvement of BitTorrent's network speed. However, according to the BitTorrent whitepaper, the further development will "open up a whole new borderless economy exchanging value for computational resources on a global scale". Marked as the first step towards the decentralization of the Internet, the BTT token will be first distributed to TRX community via airdrop during the Q1 of 2019.
With the upcoming niTRON Summit, the very first TRON developer conference which will be held on January 17–18 in San Francisco, the project has attracted significant attention which also reflected on the price of TRX. The event will hopefully reveal more details about the BitTorrent token and Project Atlas.
Increasing the adoption of TRX
As the interest in blockchain-based technologies grows exponentially, TRX coin might as well become a commonly used payment option on our gateway. Recognizing that, we are here to cater to this community by providing a way to spend TRX cryptocurrency at more than 4,500 online vendors.
Hopefully, TRON, as well as all the cryptocurrencies that create a positive impact in the industry, will eventually gain enough traction to become widespread. As a bridge between crypto users and merchants, we are excited to accelerate the adoption of digital currencies by joining forces and combining technologies that benefit each other.
Of course, there is a way for everyone to make a contribution and, at the same time, get to enjoy numerous benefits that come with it. Check out the article where we provide some food for thought explaining why it is a good idea to consider accepting cryptocurrencies at your business. It also covers different ways you can integrate cryptocurrency payments to your store. Definitely worth spending a few minutes on it!
With that said, we will continue to offer more and more solutions that help increase the accessibility to crypto markets.
If you don't want to miss out on any important news, we suggest subscribing to our blog – just enter your email address down below! We release new content on a weekly basis, so keep an eye out.