Company Updates
CoinGate in 2020: our yearly progress
Last updated: December 30, 2020 4 min read
Even though 2020 was a hectic year when lots of our team members have been working from home most of the time, we can't say it wasn't a productive one.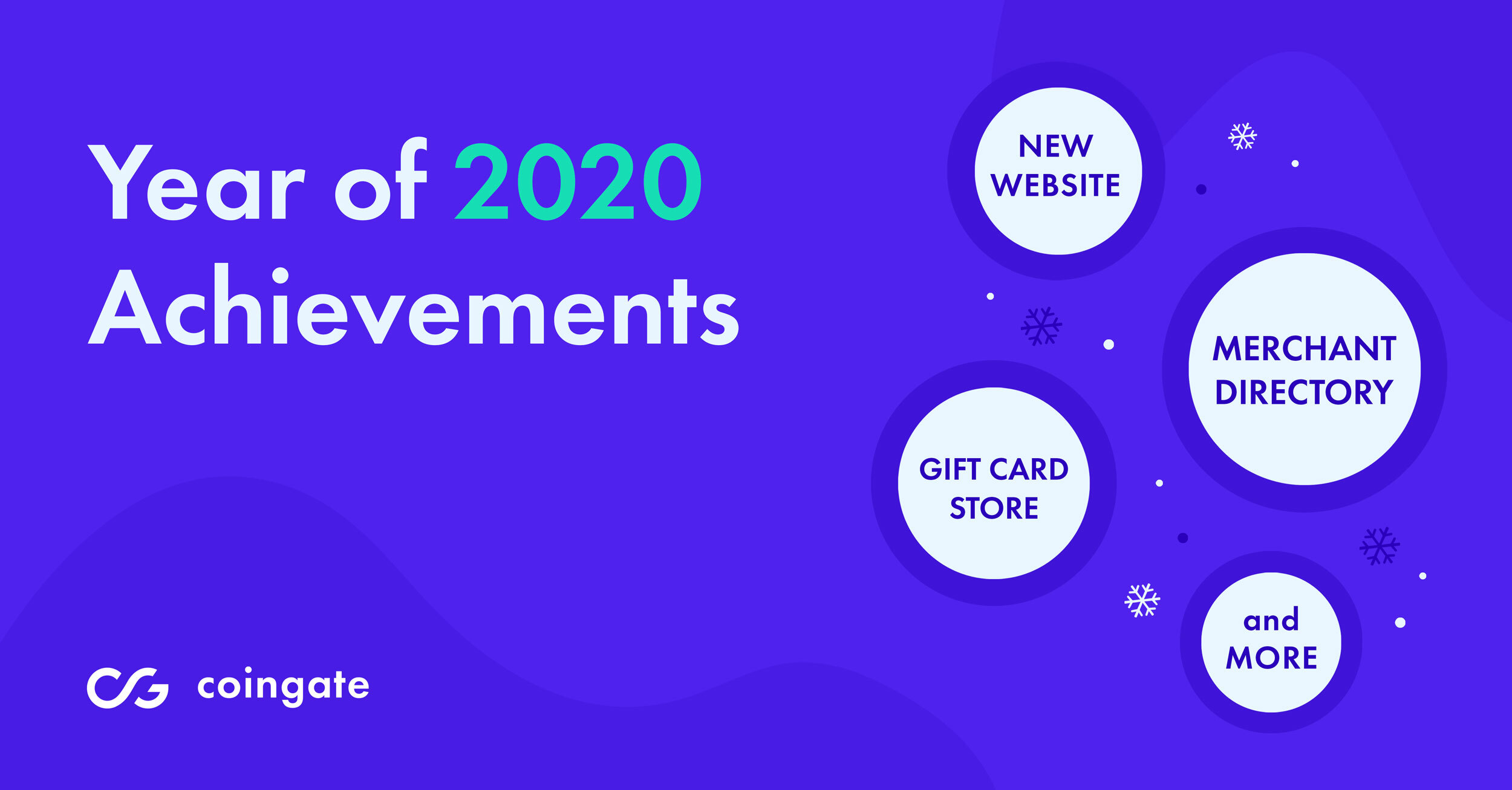 Sure, it was not easy for our team to make these changes at first, but as the time went by, we have managed to adapt to the situation and get comfortable working from pretty much anywhere, anytime. 
As for most companies, applications like Zoom became an irreplaceable and inseparable part of everyday life. Nonetheless, our team's working pace remained steady, and the year 2020 turned out to be one of the most productive ones in recent memory.
In fact, 2020 was the year when we got our 1,000,000th merchant order paid with cryptocurrencies, whereas at the time of writing the number already sits at 1,090,000!
But these are just numbers. We have many other proud milestones to share today, so, listed from oldest to newest, here are the most notable achievements by our team in 2020.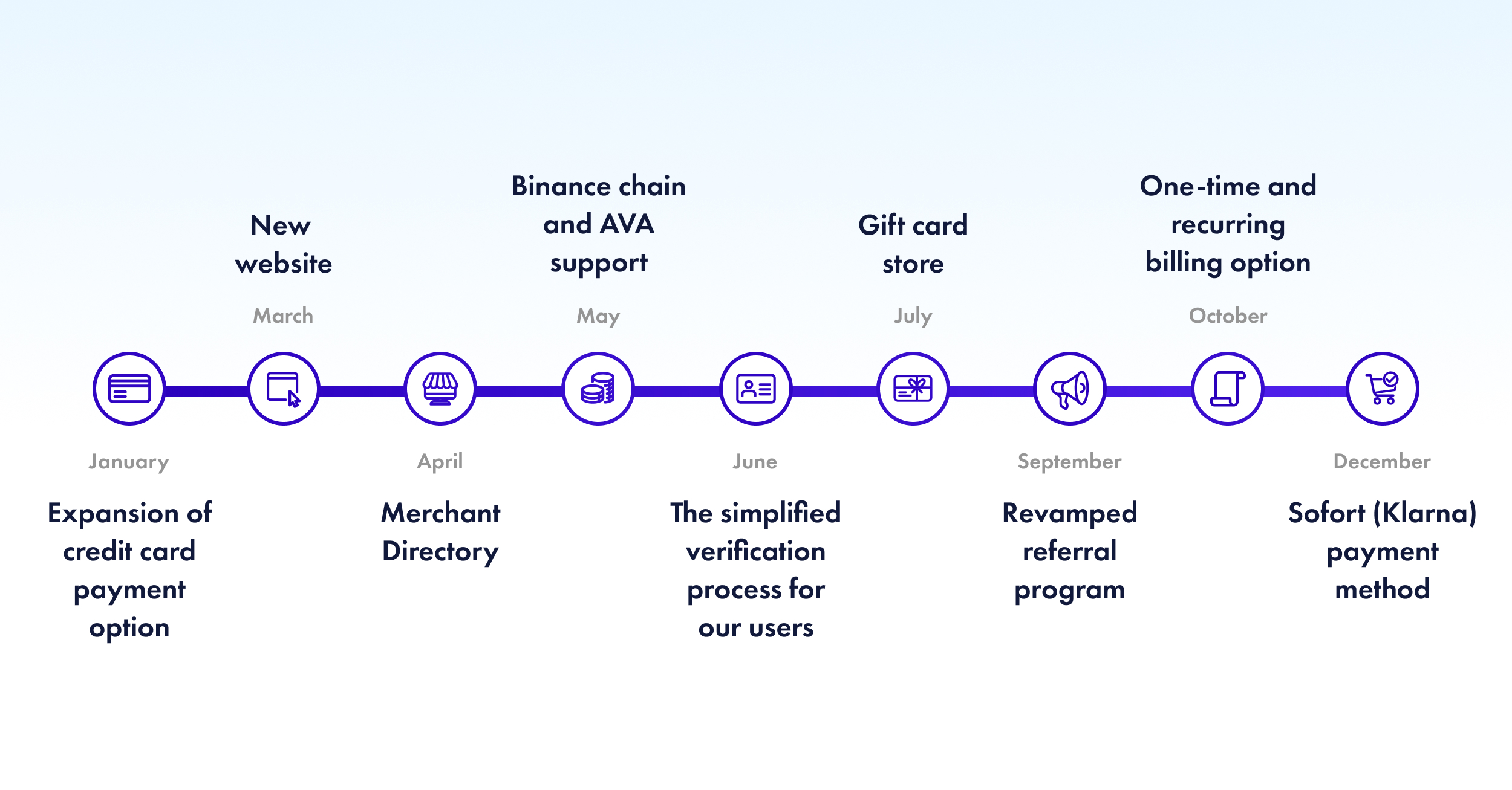 Expansion of credit card payment option
One of the first things we did in 2020 was expanding currency options for a credit card payment method. And just about a month ago, we did it once again. 
Currently, there are 51 fiat options that can be used to buy any of 28 available cryptocurrencies. If it's something that you would be interested in, check it out here.
New website
Later in March, after long preparations, we were ready to present a new design of our website. Although it was just a first step towards adding new things to it, it was a proud moment for everyone in the team. 
Merchant directory
Following the launch of a new website, we soon introduced our own merchant directory – a place where our merchants can showcase their products and services to people looking to spend their cryptocurrencies. 
There are over 150 shops listed there right now. Be sure to check out what we have to offer there. 
Binance chain and AVA support
While we were developing new product features in the background, we have also integrated the Binance chain onto our system in May, which makes the implementation of BEP2 assets on our payment gateway much easier. 
The very first BEP2 asset that was introduced as a payment currency on CoinGate was Travala.com Token (AVA). 
The simplified verification process for our users
Back in June, we have made some changes to our verification process for both traders and merchants. 
As a result, users who want to use our trading platform for purchases or sales below €1000 only need to provide their ID.
As for merchants, they got an option to create a trial account and start processing crypto payments for 30 days with a limitation of €1000 in turnover. The only document required to start is an ID.
Gift card store
One of the biggest milestones was the grand opening of our Gift Card store in July. Since then, more than 350 gift cards have become available, which include brands like Amazon, eBay, Google Play, Blizzard and many more.
All gift cards on CoinGate are available to purchase with Bitcoin, Litecoin, Ethereum, XRP, Bitcoin Cash, Nano, Dai, BitTorrent Token (BTT) and Travala.com Token (AVA). 
Revamped referral program
In September, our team enabled a new referral program, which allows earning rewards in Euros, Bitcoin and USDT from several sources. It's a great way to create some side income if you have many people asking you questions about cryptocurrencies. Just point them to us!
You can learn all about CoinGate referrals from our official announcement. 
One-time and recurring billing option
Just a few months back in October, our team launched a new tool for merchants to collect cryptocurrency payments – billing. This new option allows creating reusable invoices and sending them via CoinGate emailing service.
These bills can also be automated with an added schedule, making it a great way to enable subscription payments for your customers that prefer to pay with crypto.
Learn more about one-time or recurring billing options.
What's for 2021, then?
Tune in next week when we reveal some of our plans and bigger aspirations for 2021. 
Don't want to miss it? Subscribe to our blog down below or follow us on Twitter!