Company Updates
PrestaShop Releases Official CoinGate Module For Free In 13 Countries
Last updated: October 25, 2022 3 min read
Europe's leading e-commerce platform PrestaShop releases the official CoinGate module version V 1.5.1 developed by PrestaShop Partners.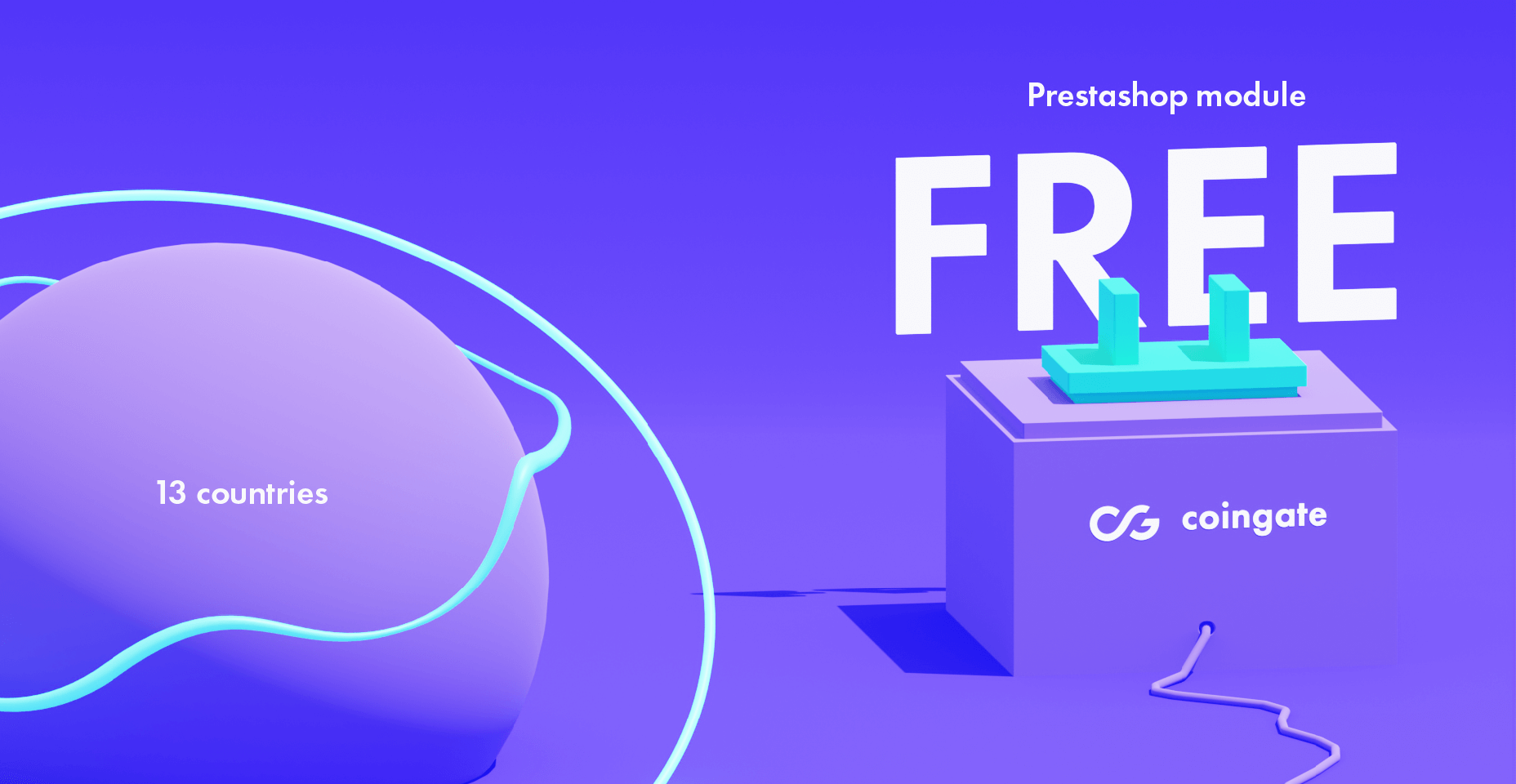 The recently released module, which is compatible with PrestaShop V1.6.0.4 – V1.7.8.7, adds a new payment method to the online store's checkout page so that customers can make payments using Bitcoin (+ Lightning⚡) and +70 other cryptocurrencies.  
Price your merchandise in any national currency–the CoinGate module sources real-time exchange rates automatically and accurately reflects them during a customer's payment cycle. 
Users of this module also have access to orders' data tracking, a refund system, invoice customization options, permission-based account management, API access, and custom payouts.
The module also can exchange all received cryptocurrencies for something else during the payment process. Take recurring payouts in BTC, originally received coins, or a single fiat currency, such as EUR, USD and GBP, directly into a bank account. 
This way, businesses protect themselves from price volatility risks and enjoy fixed value payouts no matter how volatile cryptocurrency markets are, but the choice is always yours.
If all that sounds nice, the CoinGate payment gateway might be the right solution for you. 
Simple to use and painless to set up, the CoinGate module for PrestaShop is free to download for +60,000 PrestaShop users in 13 countries: Spain, Germany, Netherlands, United Kingdom, Denmark, Norway, Lithuania, Bulgaria, Sweden, Hungary, Austria, Finland, and Ireland.
For PrestaShop users from other countries that do not get free access to this module, the same one can be freely downloaded from our GitHub repository and installed manually. 
Here's a step-by-step guide for setting up the PrestaShop module from GitHub.
How to set up CoinGate module to PrestaShop online store
1. Download the CoinGate module developed by PrestaShop Partners
The CoinGate module can be downloaded from the official PrestaShop add-on marketplace. 
Once the module is downloaded, go to your PrestaShop admin panel, navigate to Modules > Module Manager and click the 'Upload the Module' button.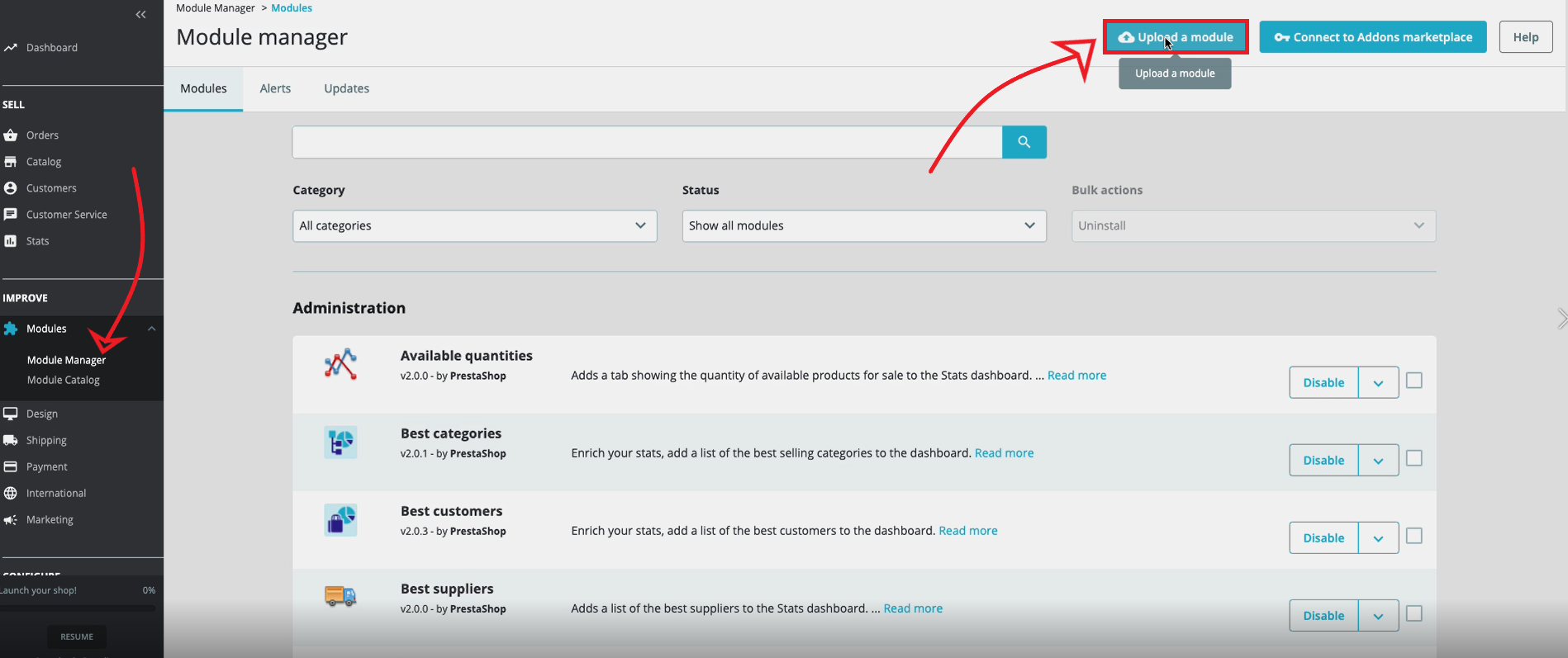 Drag the downloaded file to upload, or click 'select file', find the downloaded file, and click 'Open'. The installation process will begin.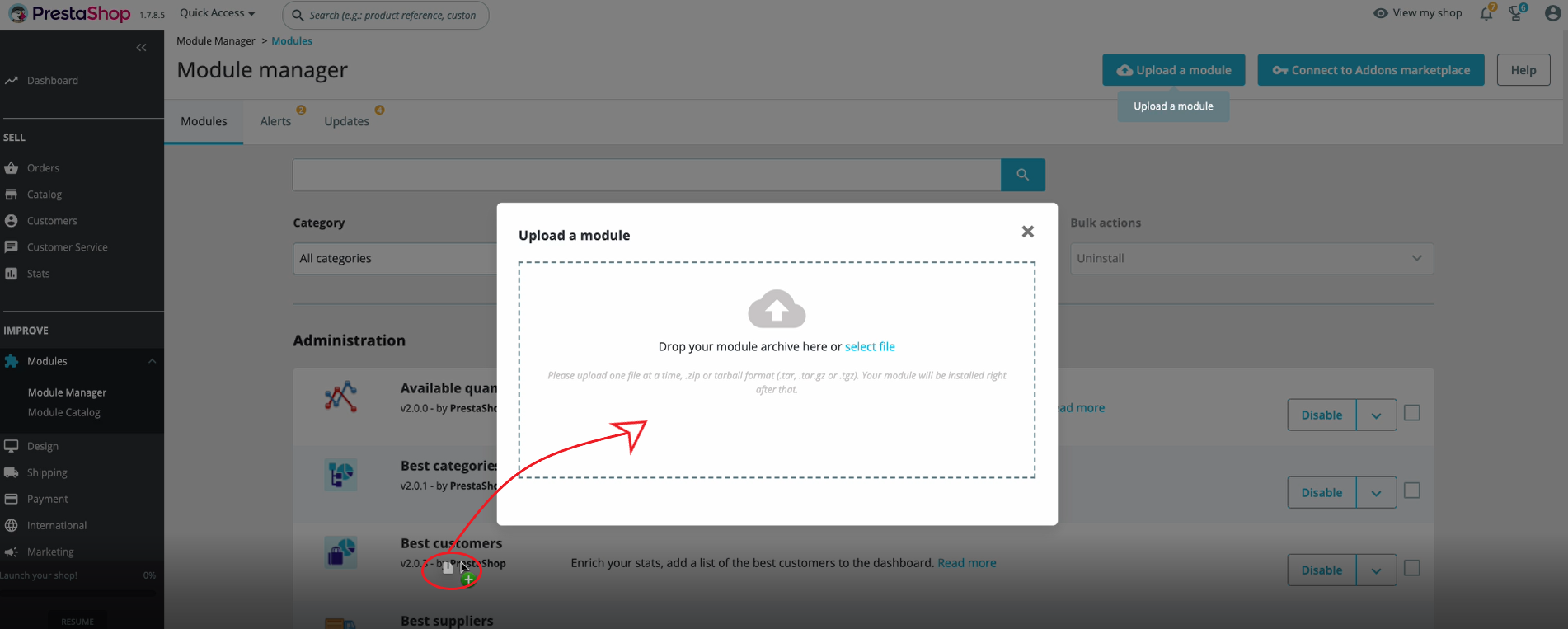 Alternatively, log into your PrestaShop account, navigate to 'Modules > Module Catalog', search for 'coingate' and click 'Install'.
2. Open a CoinGate business account
This module requires you to have a verified CoinGate business account. Start here. 
3. Create the API Auth Token on CoinGate 
Generate the API credentials (API Auth Token) when logged into the CoinGate account (Merchant > API > Apps > +New App).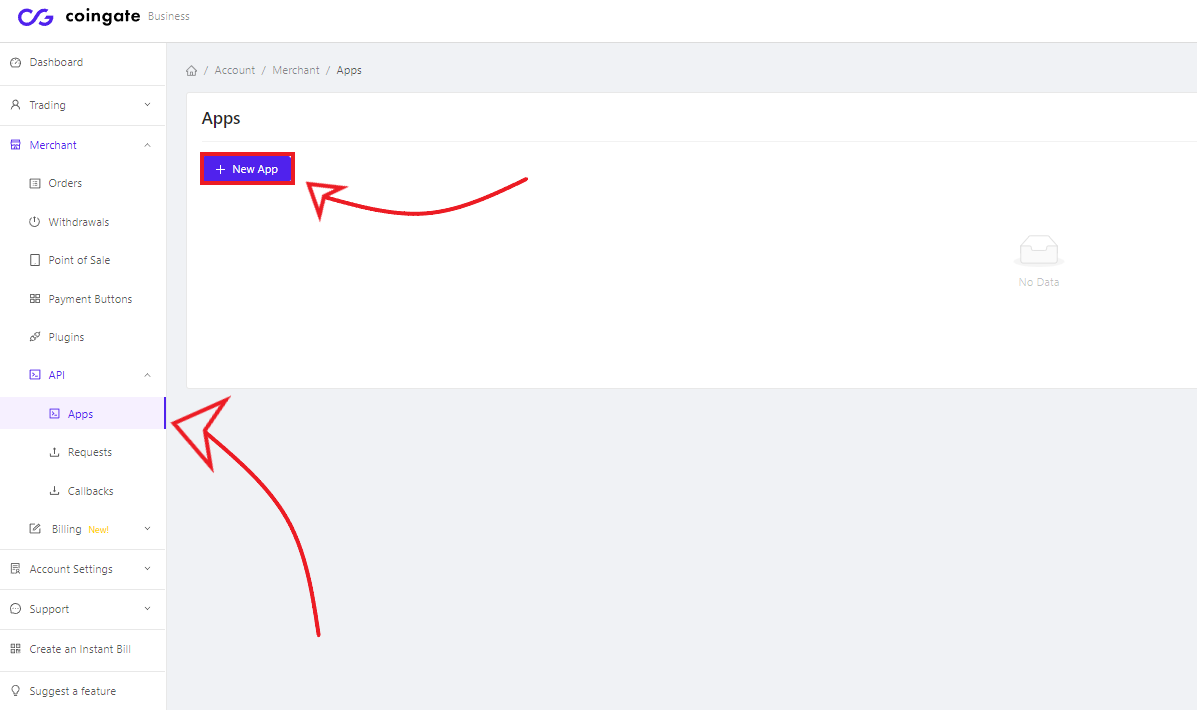 4. Configure the module's API settings
Navigate to the CoinGate module settings page (Modules > CoinGate > Configure) and click the 'Configure Settings' button.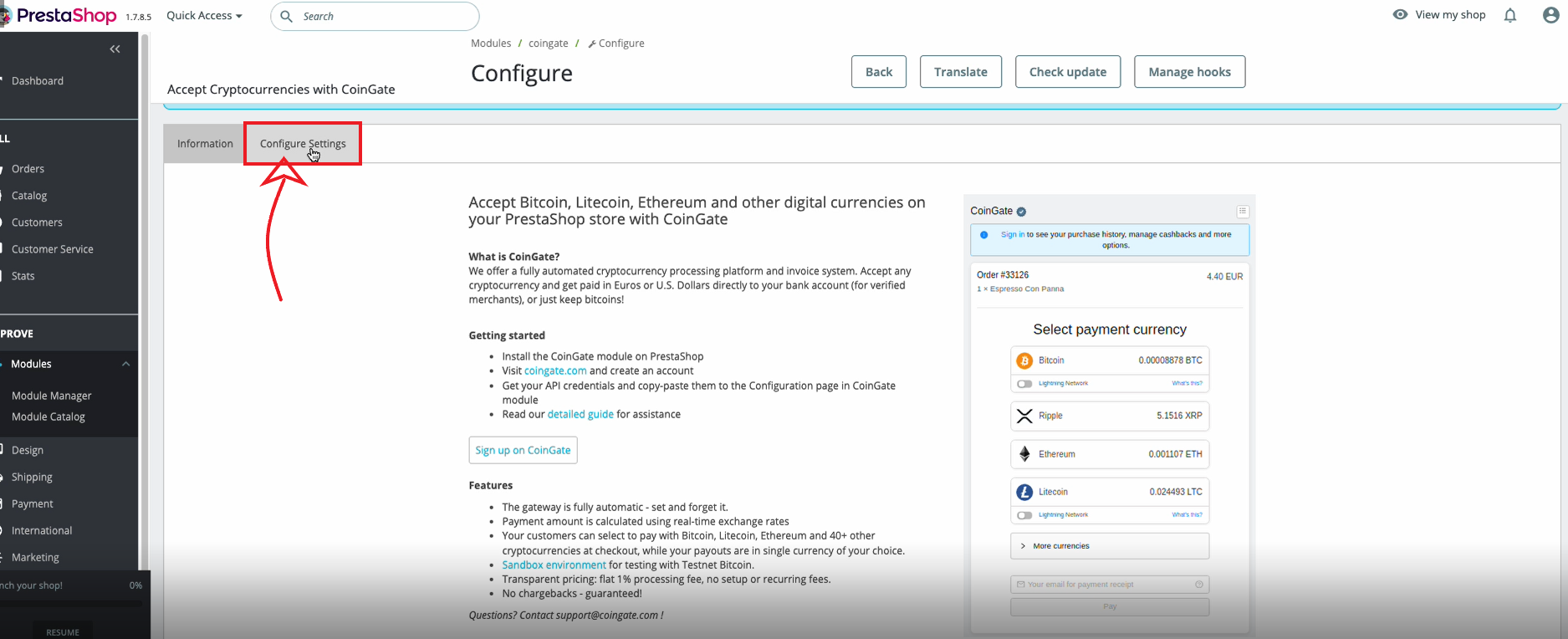 Then, enter the API credentials (or Auth Token) that you have generated on your CoinGate business account.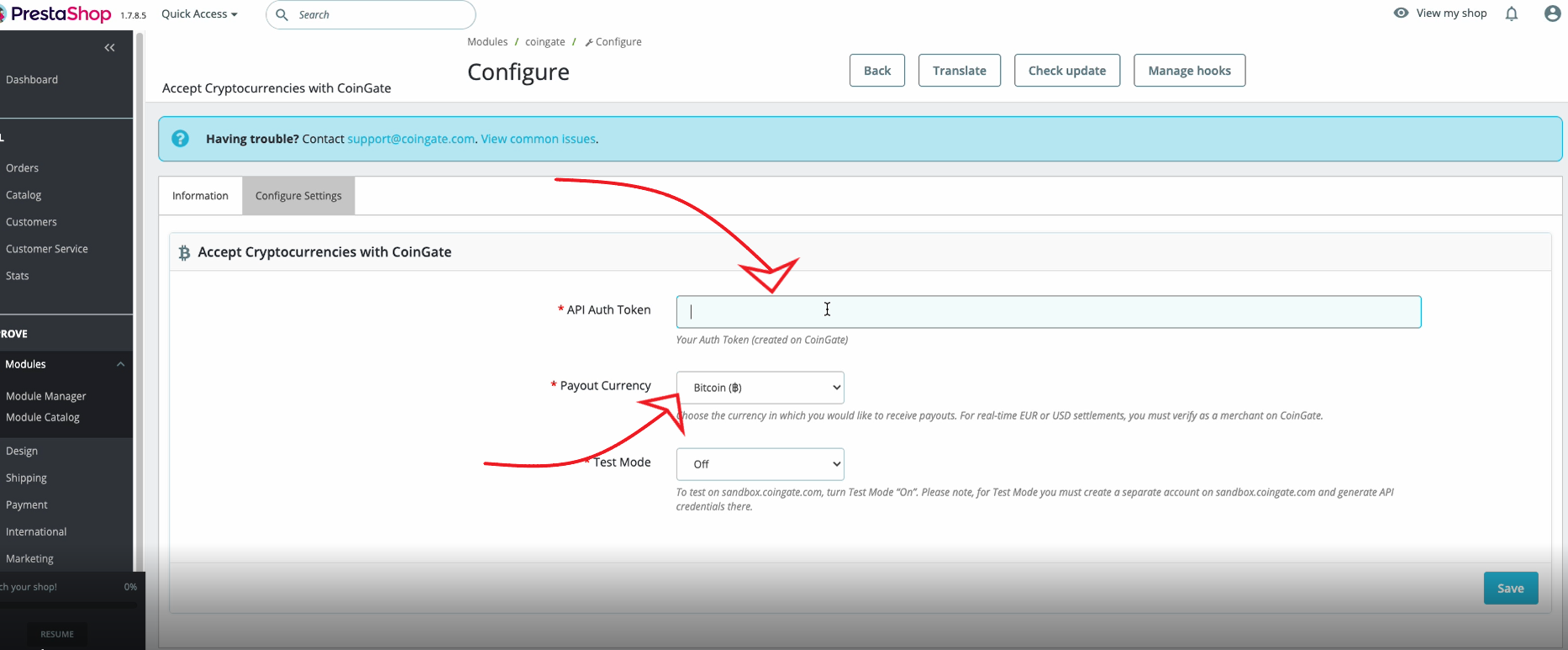 Lastly, set the 'Payout Currency' parameter to whatever currency, cryptocurrency or fiat, you wish to receive when payouts come in.
5. Add payout address
You must indicate a bank account or wallet address to receive payouts. Log into your CoinGate account, navigate to 'Account Settings > Payout Settings' and add the payout address of a currency you set as 'Payout Currency' in step #4.
Be mindful that the CoinGate payment gateway charges a 1% flat fee for payment processing services. 
For more advanced use, check out payment gateway API documentation.
In case of a support-related issue, review the CoinGate Support Database or email support@coingate.com.