Crypto Payments, Crypto-Friendly Merchants
Bring New Customers With These 3 Crypto Merchant Directories
Last updated: May 24, 2023 9 min read
Cryptocurrencies, with Bitcoin at the helm, have been making significant strides in global acceptance.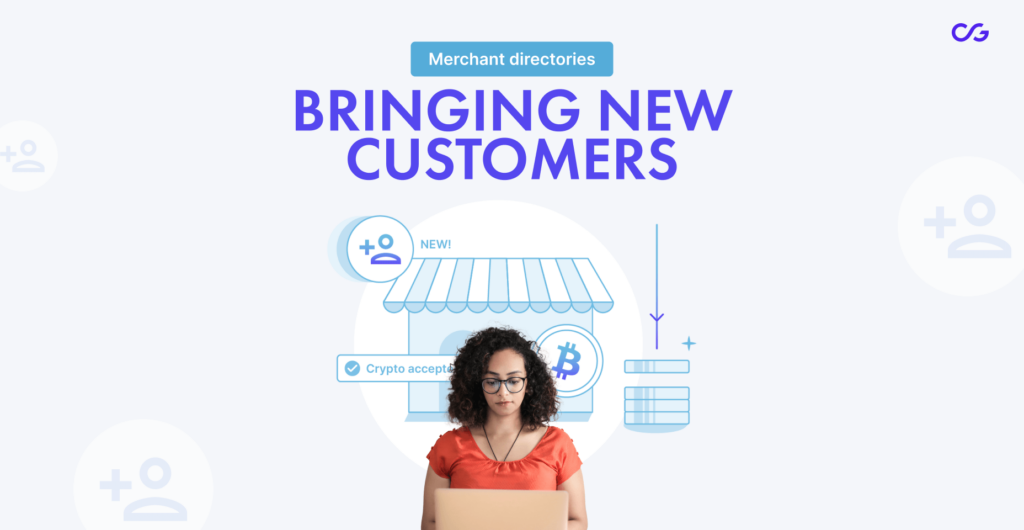 Its decentralized, secure, and global transaction features make it an attractive alternative to traditional payment methods. However, despite the growing number of businesses accepting Bitcoin and other cryptocurrencies, many companies are still missing out on a vast market segment of crypto spenders.
A common pain point for these businesses is that their cryptocurrency payment options often go unnoticed.
It's a challenge for merchants to communicate to potential customers that they accept these digital assets, leading to missed opportunities. Similarly, crypto-enthusiastic customers often struggle to find places where they can spend their digital wealth.
So, how can we bridge this gap? The answer lies in merchant directories, platforms designed specifically to connect crypto-friendly businesses with their ideal audience.
Those who already use CoinGate services probably know that we will soon have our own merchant directory. but for now, here are all the other best places where any company can list their business for thousands of crypto-friendly customers to find. More information about each merchant directory – later in the article: 
__________________________________________________________________________
BitcoinWide: This site provides information on businesses accepting crypto payments, including those near your customer's location​.
WeAcceptCoin: The directory is designed to help users find businesses that accept their chosen crypto.
Cryptwerk: The biggest and most popular merchant directory where merchants that accept cryptocurrency payments can also list their businesses for free.
__________________________________________________________________________
The Challenge of Crypto Payments Visibility
Companies accepting Bitcoin and other cryptocurrencies are a part of a financial revolution. However, despite their forward-thinking approach, they often find it difficult to gain traction and boost orders using these currencies.
The reason? A lack of effective platforms to publicize their crypto-acceptance. The word just doesn't get out to the customers who would be most interested in spending their digital coins. Not only does this limit their customer reach, but it also impedes the overall growth and acceptance of cryptocurrencies in the marketplace.
Navigating the Cryptocurrency Marketplace: The Customer's Struggle
On the other side of the coin, customers holding cryptocurrencies face their own challenges. With an increasing interest in utilizing digital currencies for everyday purchases, these customers are constantly searching for reliable outlets to spend their crypto wealth.
However, without a dedicated platform to find crypto-friendly merchants, it's like looking for a needle in a haystack. This leads to a frustrating customer experience and an untapped potential for businesses that accept cryptocurrency payments.
Introducing Merchant Directory Services: Your Gateway to Crypto Commerce
A Merchant Directory Service is a solution that businesses and customers have been searching for. It provides a platform for companies to showcase their cryptocurrency acceptance, directly targeting a market segment of eager crypto spenders.
Businesses listed in a directory benefit from increased visibility amongst the cryptocurrency community. Your customers no longer have to wonder where they can spend their digital assets. They simply check the directory, and your business is there for them to find.
Review Of Three Best Crypto Merchant Directories
Here is everything merchants need to know about the three merchant directories introduced above.
BitcoinWide
BitcoinWide, a global platform for businesses accepting crypto, offers an excellent opportunity for your business to reach new customers and boost your cryptocurrency transactions​​.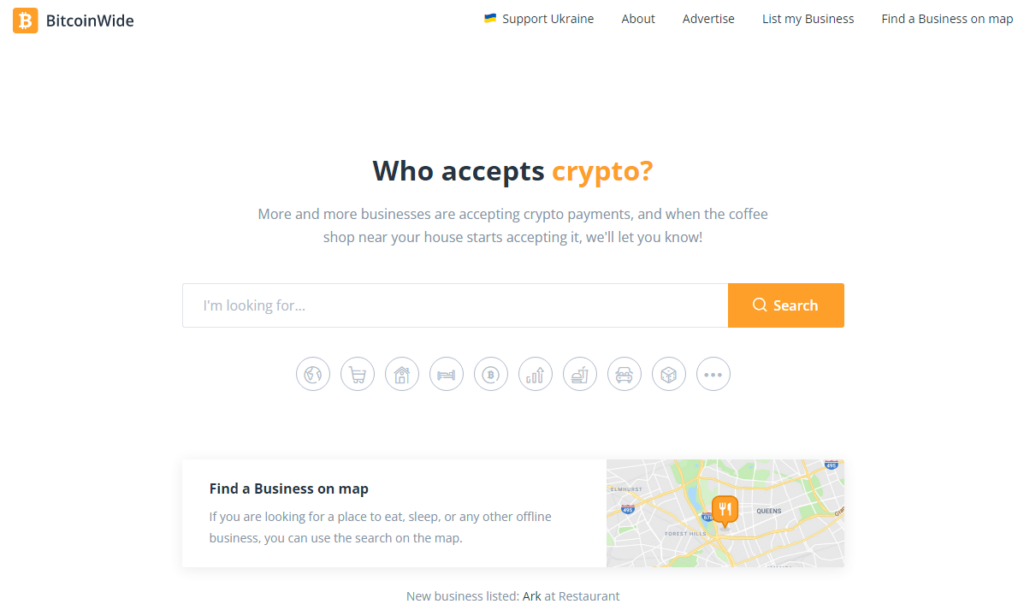 Born from a personal need for a directory of crypto-accepting businesses in 2016, BitcoinWide has grown into a vast network of over 7000 registered businesses from 150+ countries, with an average of 189 new businesses being added monthly​. The platform's mission is simple: to connect your company with potential clients and provide an ecosystem that facilitates the most efficient use of modern crypto and blockchain technologies​.
Listing your business on BitcoinWide not only puts your company in front of a global audience of cryptocurrency users but also provides several advertising options tailored to your specific needs. You can subscribe for 3 months at once and save up to 9% on the plan price, a testament to BitcoinWide's commitment to affordability and flexibility​​. Besides, there's an option to get listed for free as well.
Your business profile on BitcoinWide can be listed in their catalog and on the map. The SEO-optimized listing ensures that your business gains more visibility in search engine results, driving more traffic and potential customers to your profile. Additionally, BitcoinWide provides business verification, enhancing the trust and credibility of your business in the eyes of potential customers​.
The platform offers a variety of packages ranging from a free listing to a premium "Pro" package. The Pro package, priced at $33 per month, includes 10 pictures, badges & labels, advertisements on top search queries, category pages, subcategory pages, and cryptocurrency pages, among other perks. This package also includes priority support and the unique feature of displaying ads on your competitors' profiles, giving you a competitive edge​.
Furthermore, if your advertising needs go beyond the standard offerings, BitcoinWide provides the option for you to describe your specific request, after which their manager will contact you for further discussion. This feature showcases BitcoinWide's commitment to customizing their services to meet your unique business needs​.
BitcoinWide presents an indispensable opportunity for any business accepting cryptocurrency payments to expand its reach, attract new customers, and increase visibility in the crypto space. The platform's comprehensive features, tailored advertising options, and customer-centric approach make it an invaluable asset for your business's growth in the ever-evolving world of crypto and blockchain technologies.
WeAcceptCoin
WeAcceptCoin could be an ideal platform for you to increase your visibility in the crypto community. Offering a comprehensive directory for businesses and services that accept various cryptocurrencies, WeAcceptCoin can help elevate your business profile in the crypto market.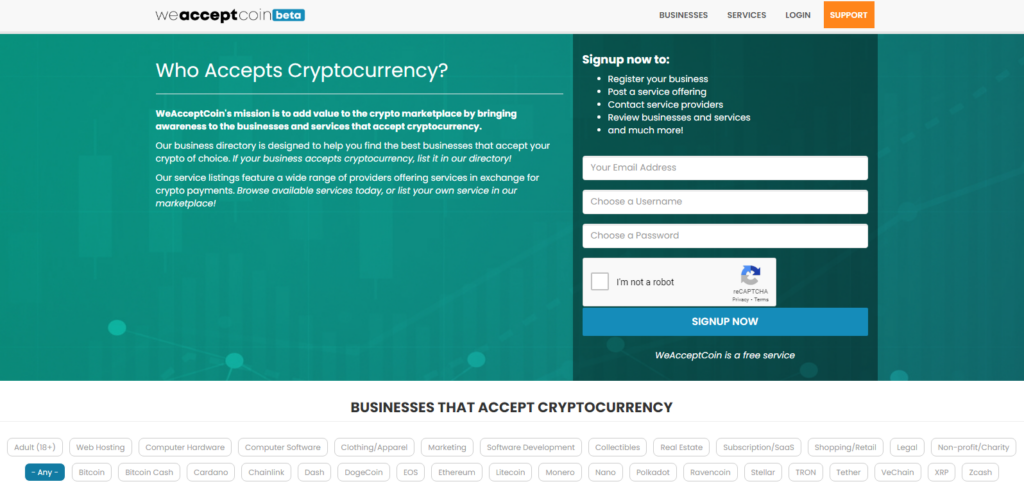 The platform is designed to bring awareness to businesses and services that accept cryptocurrency, adding value to the crypto marketplace​. By listing your business on WeAcceptCoin, you get the opportunity to be discovered by potential customers looking for businesses that accept their crypto of choice. Moreover, their service listings feature a wide range of providers offering services in exchange for crypto payments, so if you offer any services, you can list them as well​​.
One of the main advantages of WeAcceptCoin is its ease of use. You can sign up to register your business, post a service offering, contact service providers, and review businesses and services​​. The platform is versatile and accommodates various categories of businesses, ranging from web hosting, software development, and marketing, to real estate, and non-profit organizations, among others​​.
Another crucial aspect to note is that WeAcceptCoin is a free service​​, which means you can list your business without any monetary investment. This could be particularly beneficial for new or small-scale businesses that are keen on saving operational costs while reaching out to potential customers.
However, the specific details about how businesses are presented, the process of listing, or any additional benefits or features that may come with listing your business are not clearly mentioned on the site. For a comprehensive understanding, you might need to sign up and explore the platform further.
WeAcceptCoin presents a promising opportunity for businesses that accept cryptocurrencies to gain visibility and connect with potential customers. Its free service, ease of use, and comprehensive business and service listings make it an attractive platform for businesses in the crypto space.
Cryptwerk
Cryptwerk is a robust and feature-rich directory that connects businesses accepting cryptocurrencies with potential customers.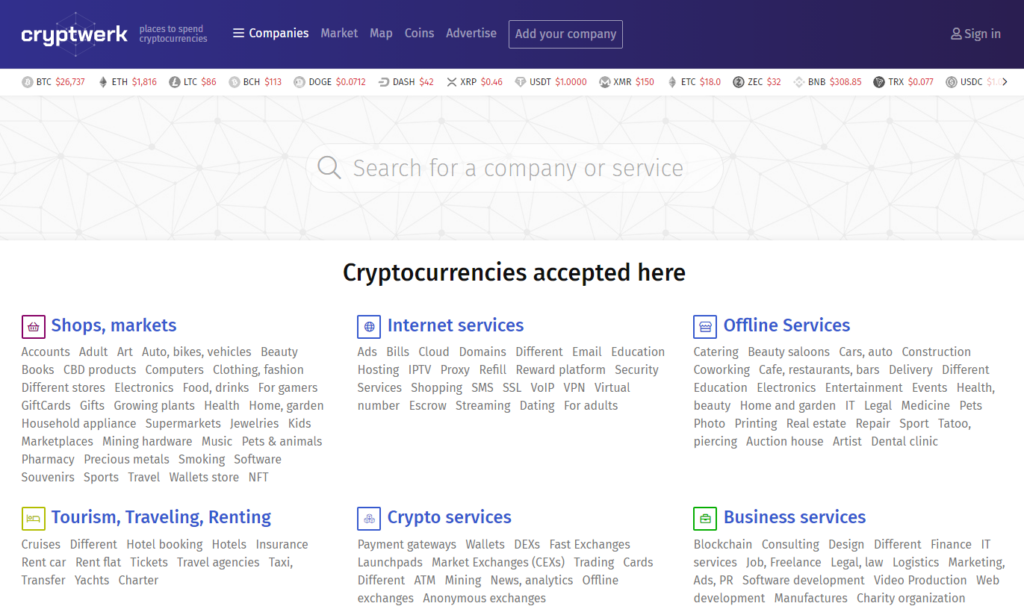 It offers a clean and intuitive user interface, making it easy for users to navigate through the site. The platform allows users to search for businesses by categories, such as online stores, internet services, offline services, and more, making it easy for potential customers to find your business.
Noteworthy is that the platform hosts a diverse range of businesses spanning across different industries. Whether your business is in food & drink, health & beauty, home & garden, or any other sector, Cryptwerk provides an avenue for exposure. This diversity also attracts a broad customer base, increasing the chances of your business being discovered.
One standout feature of Cryptwerk is its incentive system. As a business, you have the opportunity to offer deals, discounts, or cashback in crypto to attract more customers. This feature not only incentivizes customers to use your services but also promotes the use of cryptocurrencies.
Cryptwerk also provides businesses with useful statistics and analytics. You can track the performance of your listing, see the number of views your business has received, and more. This feature can help you understand your audience better and make necessary adjustments to improve your visibility and conversion rate.
Last but not least, the platform has a strong community of crypto enthusiasts. Users can leave reviews and ratings for your business, providing social proof to potential customers.
No doubt that Cryptwerk offers an impressive suite of features that can help your crypto-accepting business gain exposure and attract more customers. The platform provides a space where businesses and consumers in the crypto ecosystem can connect, making it a valuable resource for any business accepting cryptocurrencies.
A Win-Win for Businesses and Customers
With a crypto merchant directory service, crypto-friendly businesses can effectively publicize their acceptance of digital currencies, opening the door to an entirely new customer segment. On the flip side, customers can easily discover a wide range of services and products available for purchase with their cryptocurrencies.
In conclusion, it's time to seize the opportunity. Embrace the future of transactions and make the most out of your crypto-acceptance. Not accepting crypto payments yet? Sign up for CoinGate services or learn about the benefits of accepting crypto payments first. Get listed on our Merchant Directory Service, and let us connect you with the thriving community of cryptocurrency spenders.