Company Updates
CoinGate in 2020: here's what future holds for our users
Last updated: January 17, 2020 6 min read
January has already gained momentum, which means it's time for us to project our goals for the year 2020!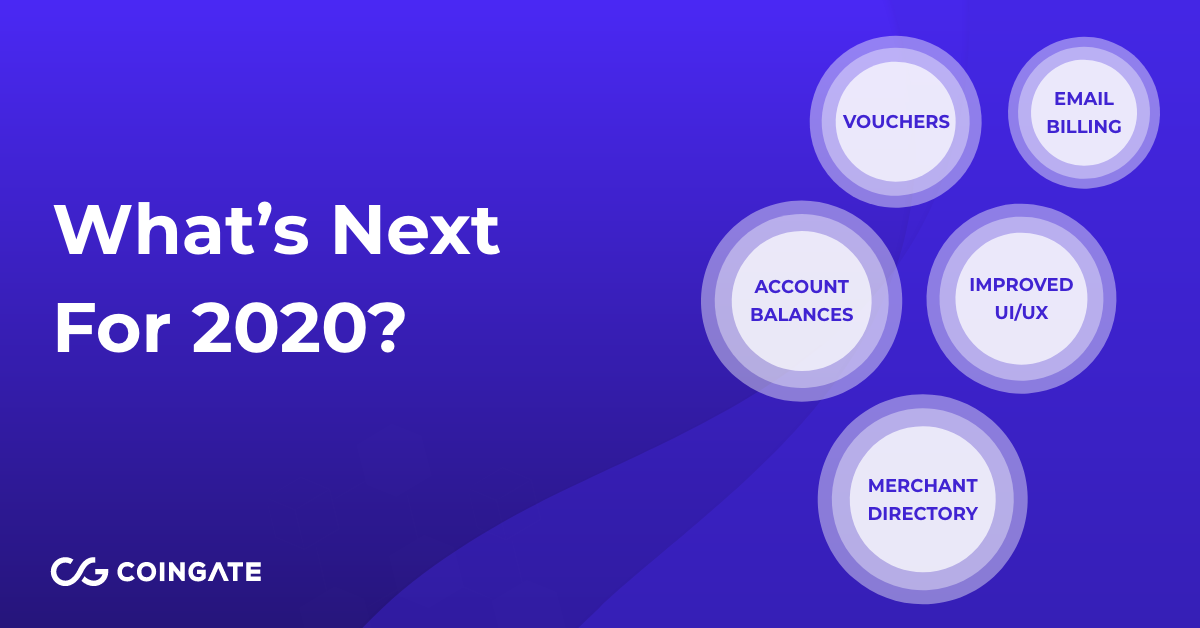 Looking back, 2019 was quite intense with all the new regulatory policies and requirements for crypto-related companies like ours popping up. It is not something we've wanted to focus on the most, however, last year, we still ended up dedicating a lot of resources for developing compliance-related features, operations and procedures. 
It took a while to get ready for the 5th AML Directive, which just went into force this month of January, and we still have lots of work to do in this department. But without these procedures, we couldn't plan very far in the future, and that's not our game plan. 
Make no mistake – we're here for the long run! While some are afraid that these regulations will do more harm than good, we believe a clear regulatory framework, though posing many challenges, will make the crypto ecosystem more transparent and legitimate in the eyes of all.
That's why it's so important not only for our company but also for businesses that want to accept cryptocurrency payments without worrying about whether it's done the right way or not. 
But enough of this rambling! We still introduced lots of new things in 2019, and a lot more have been planned for the year to come. 
CoinGate's Q1 and Q2
Although we are delighted to see the growth in pure numbers, we couldn't meet all of our set goals this year for the same reasons mentioned previously. However, nothing was left abandoned, meaning some things that we wanted to do in 2019 will be done in 2020 instead, and likely even better than we initially planned. 
While the milestones listed below do not represent the whole picture, it will give you a decent glimpse of what we will strive for in the year 2020. That said, let's jump right into it!
New website and dashboard design
It's no secret that our website looks somewhat outdated right now. However, we've been working on our new web design for quite a while now. And today, we're happy to finally announce that it's coming all together in late Q1! 
And, after we launch the new website, significant UI/UX improvements on the invoice and dashboard will follow right after.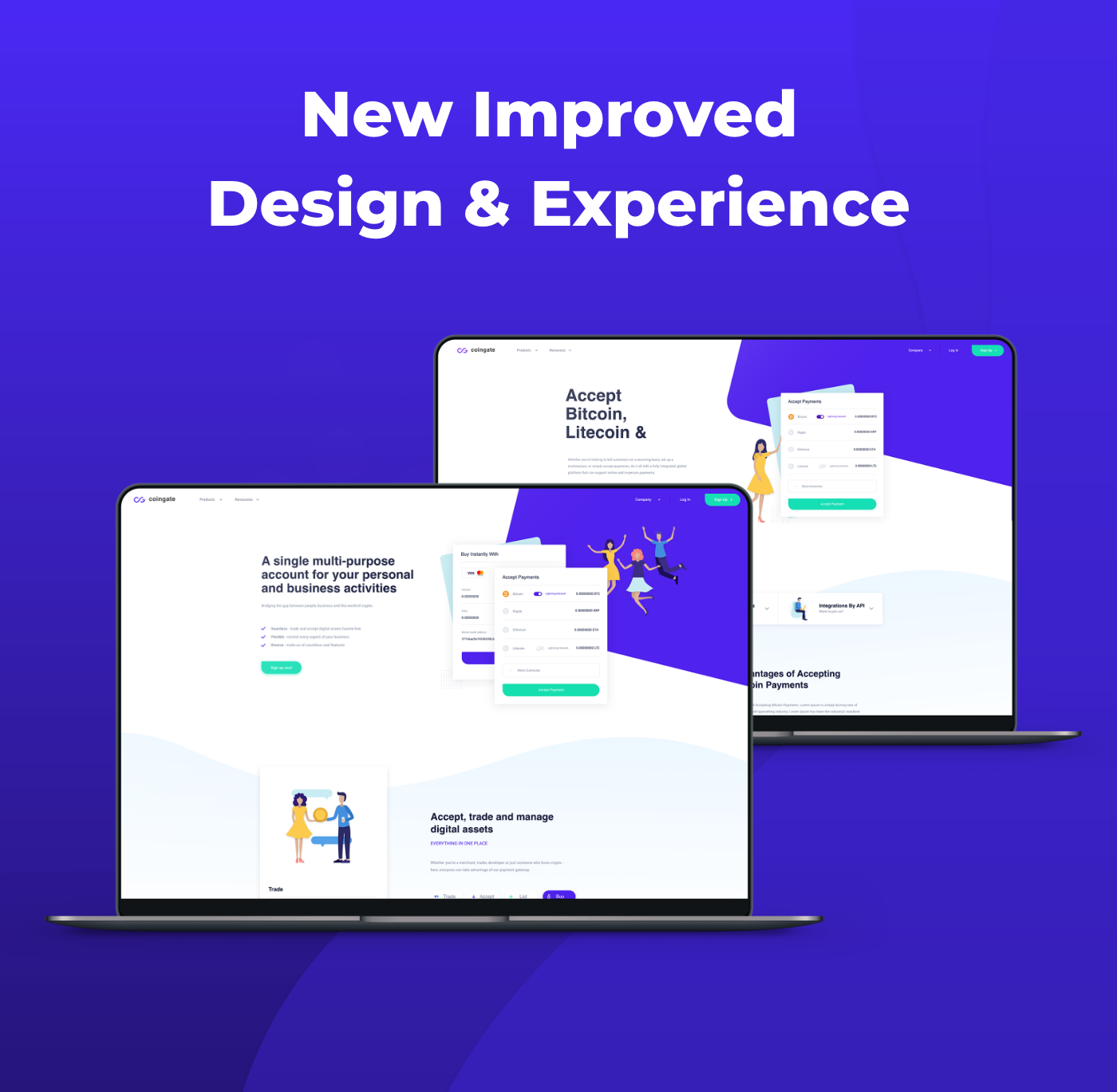 Merchant directory
Countless crypto shoppers were asking for it, and we thought there's no reason NOT to have it, so here it is – we're launching CoinGate merchant directory alongside our new website design! 
In our new directory, shoppers will have all the tools to find various types of companies that accept cryptocurrencies using CoinGate payment solution. 
There will be plenty of filters to play with, including search options by cryptocurrencies that the vendor accepts, countries, industries and even specific product types.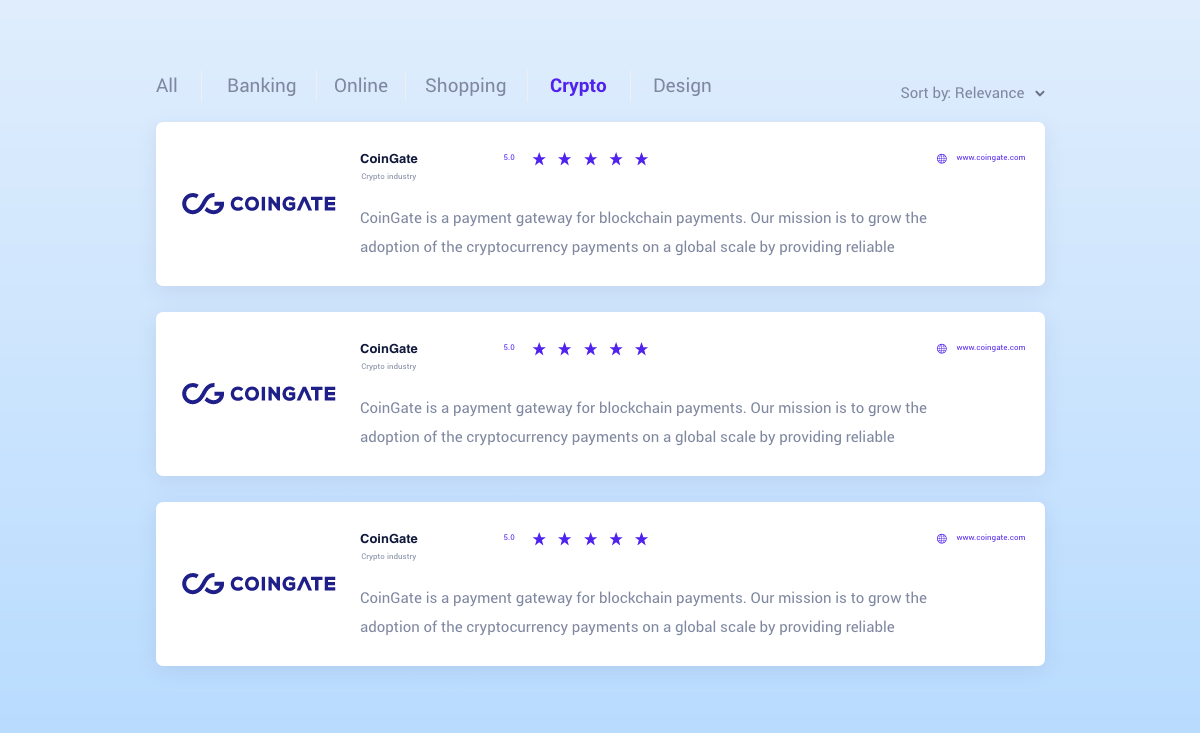 A fully established merchant profile would include the name of a company, website, logo, short description, country, industry and rating (if our customer chooses to enable it). 
Although it's entirely optional for our vendors to set up a profile on our directory, we know it's going to be an excellent tool for businesses to achieve broader exposure of their products and services to crypto communities. 
However, this will only be the first step. In time, our directory will be enriched with more features and provide new opportunities for both shoppers and vendors to take advantage of it. 
Vouchers 
We plan to introduce a variety of new services throughout the year, and one of them will undoubtedly be vouchers, also known as gift cards!
In due time, our customers will be able to purchase a wide range of different vouchers using any of our supported cryptocurrencies. These could then be used at numerous online shops, including those that do not have a CoinGate payment processing solution set up – simply buy a voucher, go to the store, redeem it, and you're all set!

We will likely make it an express checkout option, meaning that, in most cases, we will not ask users to create an account with us. However, registered users might get special treatment by getting better rates or special offers. 
Integration of vouchers to our platform is scheduled at the end of Q1 or early Q2.
The biggest aim of the year: account balances!
Implementing account balances into our platform is the primary focus of ours at the moment, and for a good reason. 
We will be rewiring our system and integrate a fully-fledged custodial wallet, which will allow our users to hold active balances in multiple currencies!
This particular development will enable our customers to perform a wide range of types of transactions with funds placed on our platform (including but not limited to features we've listed below). 
After we finish all the groundwork, we will incrementally introduce different types of payment features and operations over the year and beyond. 
Moreover, a lot of efforts will be dedicated to delivering programmatic payments solutions, meaning that all new transaction types and operations will first and foremost be available via our API.
Here are things you should expect to see first:
Issue refunds. Right now, shoppers can request for a refund straight on the invoice window in case the order is overpaid. In more complicated cases, a refund form must be issued by us manually. This process will soon improve as merchants will be able to issue, track and manage refund requests by themselves straight from the dashboard. 
Set up recurring payments. A lot of companies run subscription-type businesses where they need to collect cryptocurrency payments from their customers regularly. We are onto it – our clients will soon be able to bill their customers and partners via email.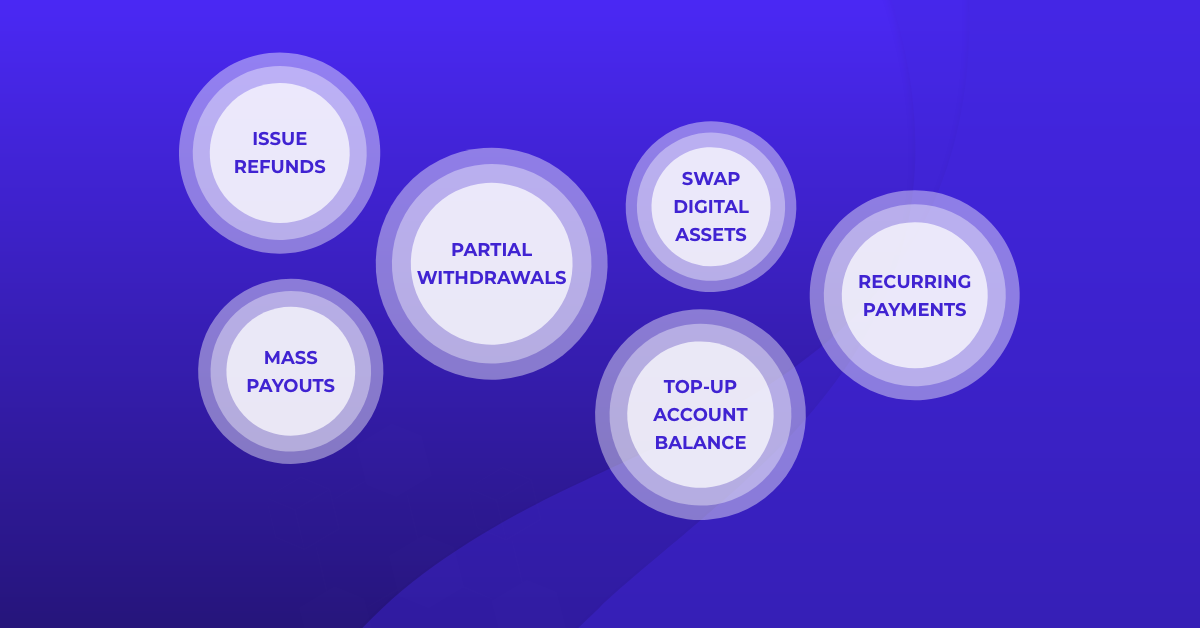 Make partial withdrawals. At the moment, our customers choose the settlement currencies and establish payout addresses before the orders are processed. After the account balance update, merchants will have the tools to hold collected funds, as well as split withdrawals into different payout addresses and currencies and more.
Execute mass payouts. Whether there is a need to send money to suppliers, pay for the company's expenses, or anything else, businesses will have an option to set up and execute mass cryptocurrency payouts.
Top-up account balance. Pre-funding your account balance will also be an option, which might be useful while setting up CoinGate business account, or setting up other accounts for subsidiary companies.
Swap digital assets. Once account balances are in place, swapping digital assets between each other will take only a few clicks on the dashboard!
We shall introduce the account balances sometime in late Q1 or early Q2, and start rolling out features mentioned above right after. 
Is that it?
Not in the slightest. However, some ongoing developments are too early to discuss openly. 
Rest assured, 2020 will likely be the biggest year for us by far, and we wish the same for the whole blockchain industry as well. After all, we all want to see it flourish!