Trading, Wallets
Best XRP wallets review (2019)
Last updated: February 4, 2019 6 min read
Just recently, we expanded our services by introducing XRP payments to our merchants. We hope it will bring our vendors not only additional payment options but also a significant amount of new customers.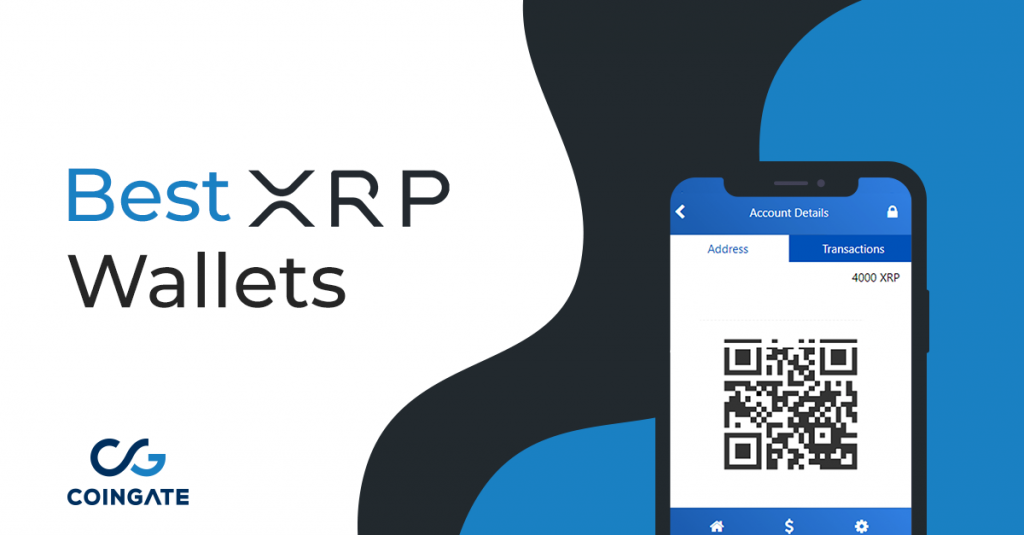 XRP is among the most traded cryptocurrencies by volume. Often overlooked, however, is that XRP is a good contender for usage in payments. Not only transactions are near-instant, but they are also extremely cheap.
Although many cryptocurrency owners still store their holdings on exchanges (and this is especially relevant for XRP holders), we always recommend our users to exercise caution when it comes to trusting third parties with money. Being in control of your private keys is crucial for safety. Moreover, using a wallet also makes your funds more accessible and convenient to use.
When it comes to making payments to our merchants, paying from an exchange may simply cause inconveniences. For example, your payment could arrive too late if the transaction is delayed. Using a wallet gives you full control over your funds, which is why we have decided to review and compare wallets supporting XRP.
Note: Some of these wallets also support other cryptocurrencies.
Top wallets for using XRP
Before we start, you should know that to activate any XRP wallet you will need 20 XRP. This is an in-built rule of the XRP ledger that protects it from growing excessively large as the result of spam or malicious usage. You can read more about the reserve requirements in the official documentation.
Without further ado, let's begin exploring the best choices for using and storing XRP.
Atomic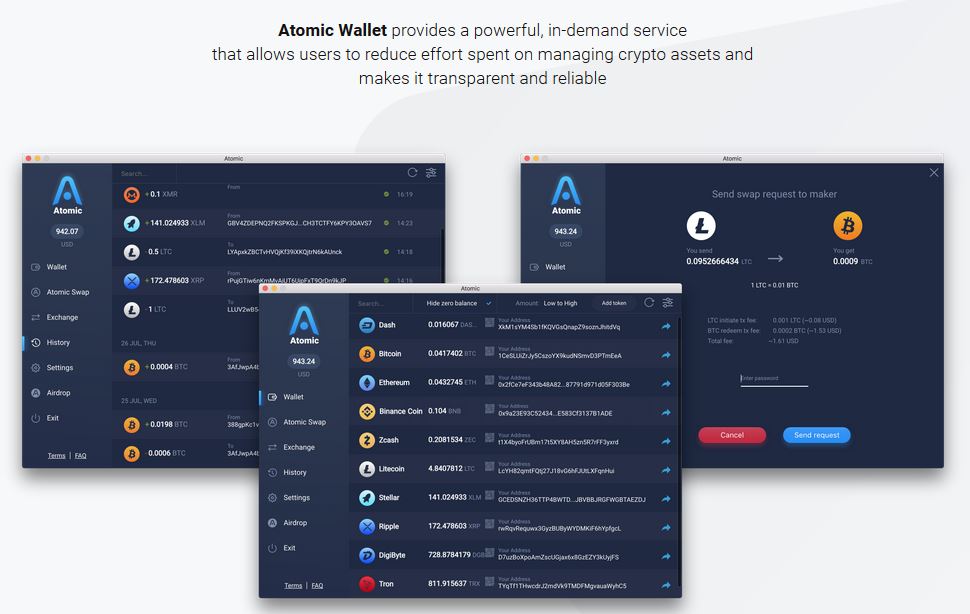 Atomic is a universal multi-asset wallet that supports over 300(!) coins and tokens in a single interface. Available for all major operating systems both desktop and mobile, Atomic lets you send, receive, as well as exchange and buy cryptocurrencies, including XRP, within the wallet.
What is quite unique about Atomic is that the wallet supports non-custodial Atomic Swaps utilizing a built-in decentralized exchange. In other words, it allows making seamless cryptocurrency trades while keeping ownership of your private keys – without the need to use a third-party service. Atomic Swaps currently work for BTC, LTC, and QTUM, but the feature should come out for XRP in the near future.
The Atomic wallet is a top choice when it comes to versatility, but it also does a wonderful job ensuring the security of funds, reaching as close to the level of cold storage security as any software wallet could. Learn more about cold storage and review your security practices to protect yourself from hacks and scams.
Exodus
Exodus is a great desktop wallet which, besides XRP, also supports over 80 other cryptocurrencies. In fact, it is an all-in-one platform that also provides a way to exchange between different cryptocurrencies on the go, just like Atomic, but also offers the option to create a cryptocurrency portfolio with a few clicks.

Exodus gives you full ownership of your private keys and keeps them and your transaction data encrypted locally. What might be lacking, though, is support for 2FA security and a mobile version of the wallet, though these features are supposedly already in the works.
Overall, Exodus is a good choice for a wallet. Praised for its user-friendly interface, it will definitely satisfy everyone who just wants to conveniently purchase some XRP and have a decent place to keep it. Crypto-beginners who are just starting to get familiar with the blockchain space will definitely benefit from Exodus' customer support and the extensive library of help articles.
Toast
Toast wallet is an open-source, cross-platform XRP wallet. In fact, it is the only wallet on this list that exclusively supports XRP, and is pretty straight-forward for anyone to use. As the team behind it have presented Toast: "it is simple enough for your grandma but safe enough for a Swiss banker".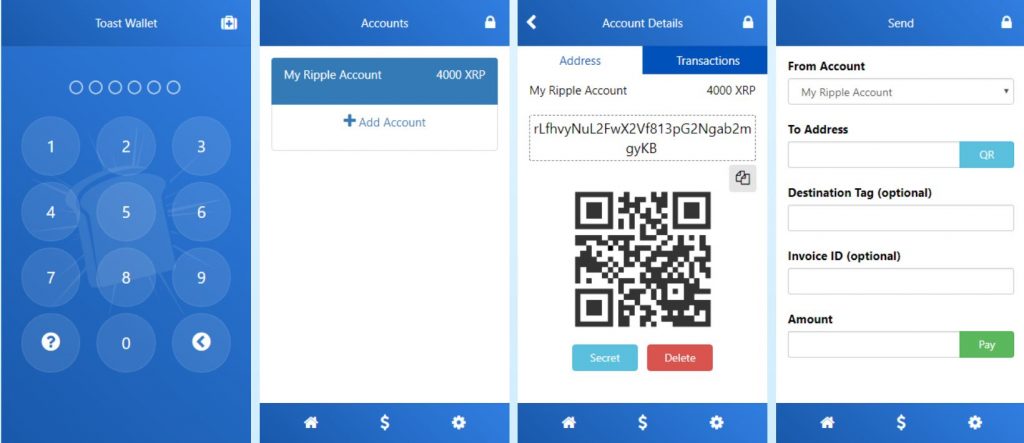 You can secure the wallet by creating a backup which you can easily store in any offline device, such as a USB stick. In case you lose the device or it gets destroyed, you are able to recover the backup using recovery phrase.
Toast wallet is highly secure and offers compatibility with iOS, Android, Windows, Mac, and Linux. If you seek a dedicated XRP wallet, you will definitely like the simplicity of Toast.
Edge
Edge is yet another all-in-one solution that provides multi-asset wallet with the tools to seamlessly trade between one another. Currently, it supports 20 cryptocurrencies which you can buy, sell, trade and store in a single app. Unlike others, however, Edge simplifies things by letting you log into your wallet using only email address and password.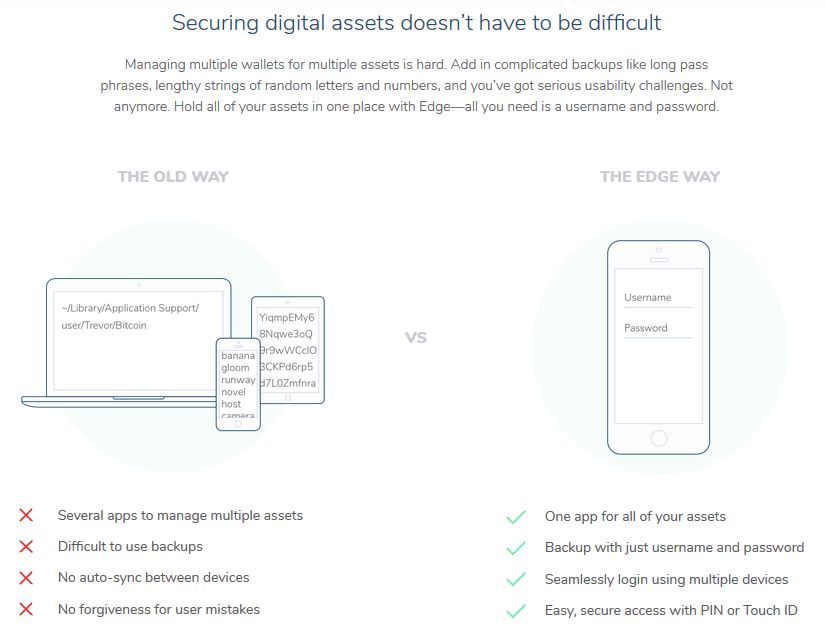 After creating a wallet, you will first need to encrypt it and securely store the encryption keys. Edge then takes the encrypted data and stores it on their peer-to-peer cloud servers. It means you can access your wallet from any other device without transmitting any personal information to the servers. As long as you are in control of your credentials, you are in safe hands.
Edge also provides some additional security measures like one-touch 2-factor authentication, PIN and password recovery in case you forget it. It is a very good wallet to choose if you value security and want that extra bit of convenience when it comes to accessing your funds from a range of devices.
Ledger Nano / Trezor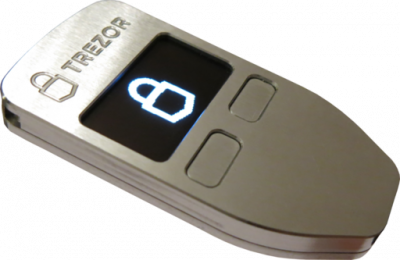 Without a doubt, hardware wallets, also known as cold storages, are the most secure option for storing and managing cryptocurrencies. Somewhat pricey, however, there is no better alternative when it comes to security.
To name a few, Ledger Nano or Trezor are the most well-known brands offering encrypted offline storage for hundreds of different coins, including XRP. Devices are quite simple to use as all actions are controlled with only a few buttons.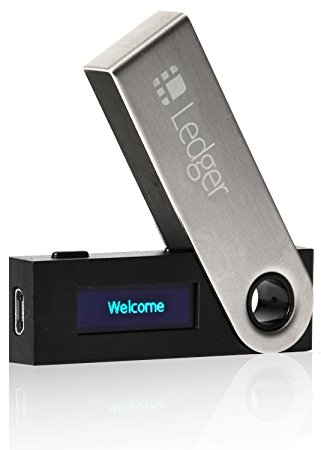 You don't even have to worry if you ever lose or break your hardware wallet – there is a way to regain access to it by using personally created recovery seed of 24 words.
Visit Ledger Nano or Trezor
Ready to activate your XRP wallet?
Don't forget you will need 20 XRP to get started with your XRP account. In case you don't have XRP readily available at hand, you can also buy some at CoinGate using credit or debit card. No registration required for any of these – simply provide your XRP address and proceed to checkout. It is that easy!
We hope this XRP wallet guide was helpful to you. If you want to read more articles like this, we suggest subscribing to our blog by entering your email address down below! It is enough to never miss a story from us!