Crypto Payments, Educational, Trading, Tutorials, Wallets
How to pay with XRP? A guide for wallets and exchanges
Last updated: March 19, 2019 3 min read
Spending XRP online is easy. In this guide, you will learn how to pay for a merchant's invoice with XRP using either an exchange account or a wallet.
Great news, you have just landed on a CoinGate invoice! Now select XRP and click on the "Pay with XRP" button to proceed. Entering your email address is optional but encouraged: you will only receive a single status update to your inbox.
A payment window with further details will open, and you will have 20 minutes (sometimes more) to send the transaction. Keep an eye out on the timer!
To make the payment, you will need to enter: the total amount to pay (1), the address (2) and the destination tag (3).
You can also scan the QR code (4) if you are using a mobile wallet, or click on the blue wallet button (5) to trigger the software wallet on your device.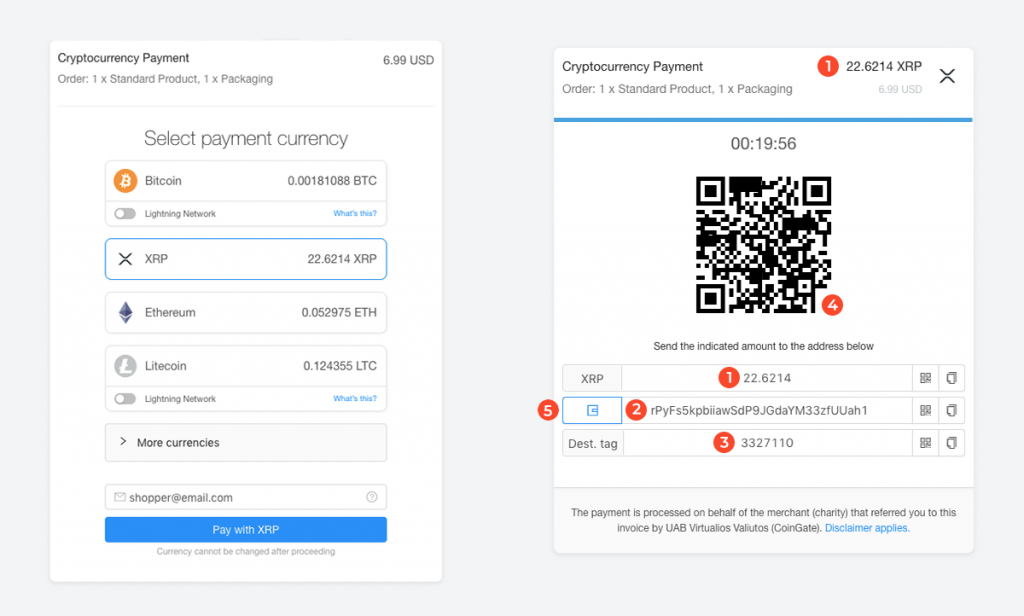 How to send XRP from an exchange
For this example, we will make a payment using the Binance exchange. First, go to "Funds" tab, select "Withdrawals" option and choose XRP in the dropdown.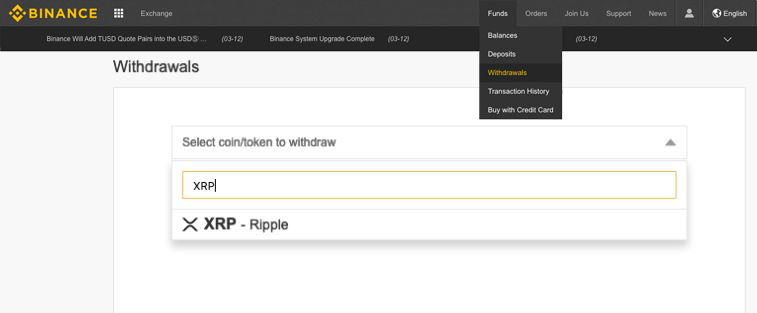 Then, copy the receiving address from your merchant's invoice and paste it in "XRP Withdrawal Address" field. Do the same with destination tag – copy it from the invoice and paste in Binance's "XRP Withdrawal Tag" field.
Note that the withdrawing funds from an exchange may have an additional transaction fee. In this case, it is 0.25 XRP. It is crucial that you don't forget to add it to the total amount you need to pay. Otherwise, your payment will not be automatically processed and you will have to repeat the process again.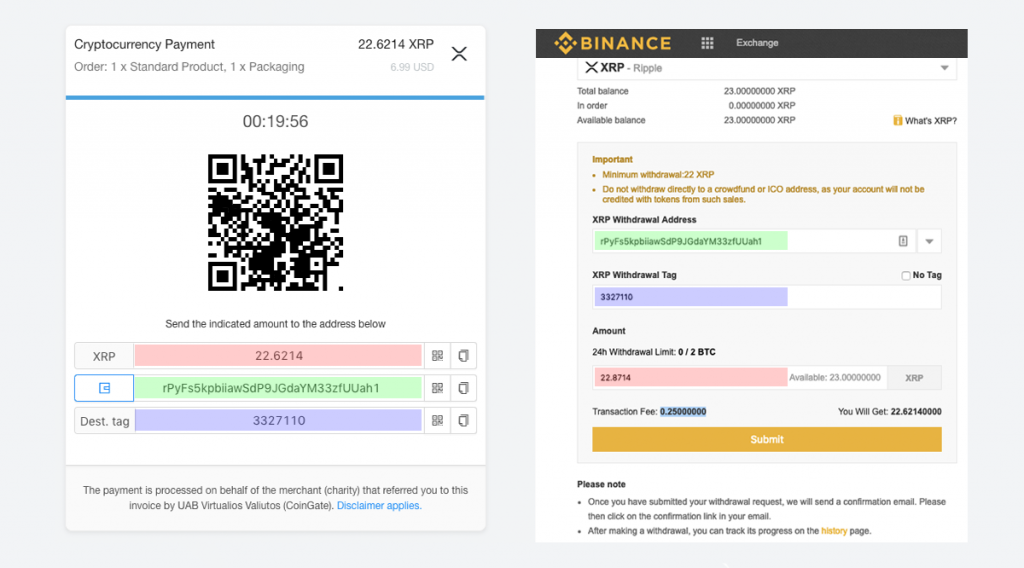 Click the "Submit" button, go through the 2-factor authentication and confirm the withdrawal using a link you will get in your email address. You will notice that your payment status has now changed to "processing", meaning that the funds will be sent shortly. Binance and most other exchanges process XRP transfers very quickly – as quick as every minute, in fact.
As soon as you submit your withdrawal request, return to the merchant's invoice. Within a few minutes or even less, you will see the invoice update; it is now paid and confirmed.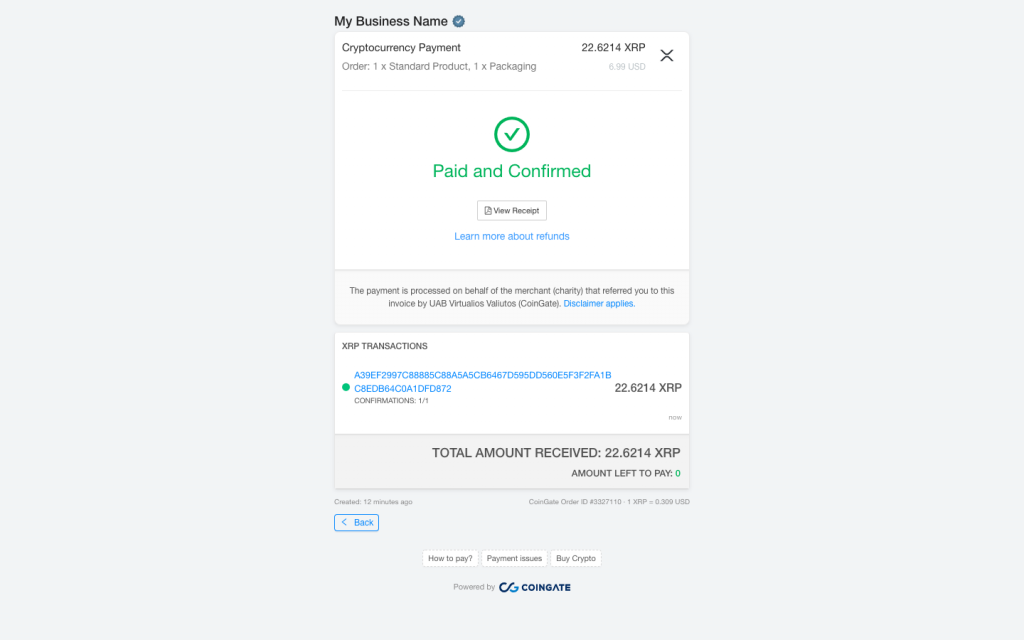 How to pay with XRP from a wallet
If you do not have a wallet that supports XRP, we recommend one of these wallets (or check this guide to set up Toast wallet). All wallets offer a similar transaction flow, and we will be using Toast wallet as an example.
Once you are ready to make the transaction, click on the "$" sign.
Copy the address from your merchant's invoice and paste it in the "To Address" field. Do the same with destination tag and payment amount, copying the values from the invoice and pasting them in "Destination Tag" and "Amount" fields, respectively. To send the funds, click "Pay" and enter your wallet password.
That's it! You will see an invoice status change to "Paid and confirmed" shortly.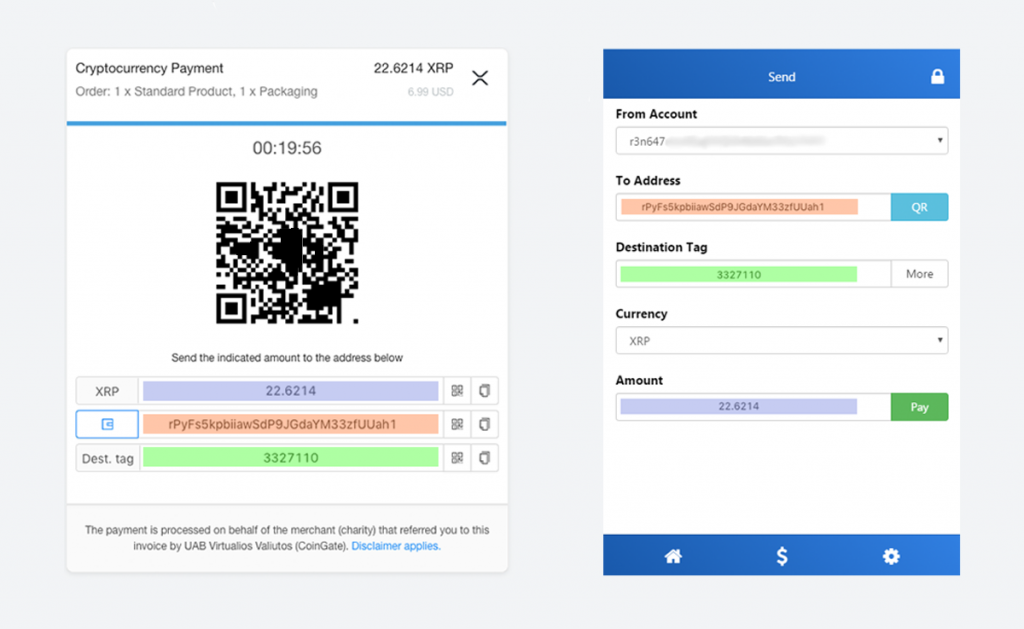 Need help with XRP transactions?
We recommend keeping the invoice open until you see your payment is confirmed. In case your transaction is not detected or confirmed, you may have forgotten to input the destination tag, or have accidentally sent an insufficient amount.
If this happens, just follow the steps on the invoice to receive a refund or contact our support team for help at support@coingate.com. To get help quickly and efficiently, in any communications, please reference your Order ID and Transaction ID.