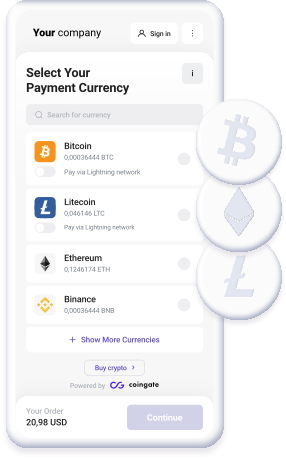 Accept
Ethereum

(ETH) payments

Get paid in Ethereum or other cryptocurrencies with a flexible and multi-functional crypto payment processor for e-commerce websites.
Payouts to a bank account
Industry-leading refund system
70+ cryptocurrencies to accept
Only 1% processing fee
Lots of tools to use: API, plugins, billing, PoS & more
WE ARE COINGATE
One of the best cryptocurrency payment gateways out there
Start accepting Ethereum with a powerful API, e-commerce plugins, email billing, and other solutions for collecting payments. Enjoy the benefits of converting funds to a local fiat currency.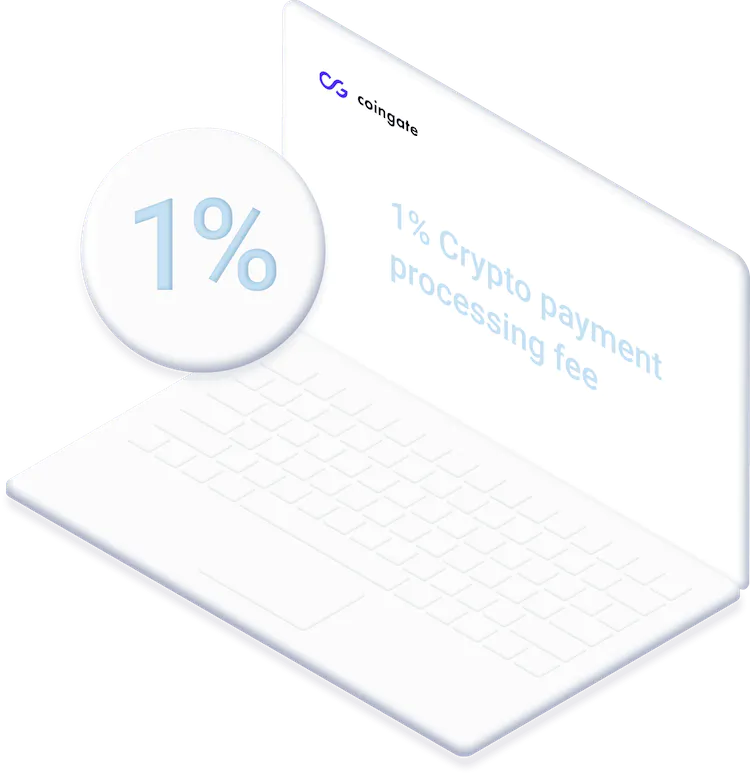 MULTIPLE PAYOUT OPTIONS
Collect Ethereum, receive fiat
Adjust withdrawals to your liking:
Convert Ethereum to fiat. ETH payments can be exchanged to EUR or GBP and sent to your bank account.
Settle Ethereum to another crypto. If you want payouts in BTC or other coins when you get ETH, simply change your payout settings.
Keep Ethereum. When paid in ETH, you can request a withdrawal in ETH to your wallet.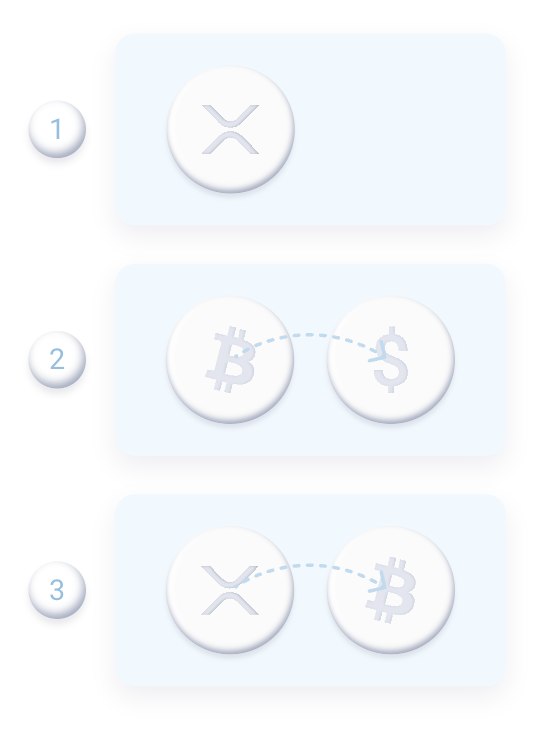 DEVELOPER FRIENDLY PLATFORM
From one-click setup to personalized solutions
CoinGate payment solutions are tailored for each and every type of business. Install a simple plugin within minutes, send bills manually, or use a programmable API for building custom-made integrations with our payment gateway – whatever suits your needs the best.

Sandbox
Test our payment tools in a safe environment.
Plugins
Learn about plugins, billing, and other processing solutions.
Code libraries
Get familiar with CoinGate's API and its vast capabilities.
Happy customers and partners
Aspects of CoinGate that we value: simple and functional dashboard, ease of currency conversion, wide coverage of crypto, great customer support.
Laurynas Zabulis, Head of Finance
CoinGate provides both a wide selection of cryptocurrencies and a seamless payment workflow that allows the user to complete transactions seamlessly. And all of this is delivered with a flawless user interface
Gediminas Griska, Head of Payments
With the help of CoinGate we have increased our conversion rates and attracted more customers who value privacy and prefer crypto payments.
Vaidas Rutkauskas, CEO
AS EASY AS IT GETS
How to accept Ethereum?
Create a business account at CoinGate
Pass the verification process
Select and enable a preferred payment integration method
Provide your ETH wallet or other payout (withdrawal) address
Collect Ethereum and other crypto payments automatically
Want to learn more about accepting Ethereum?
Book a demo call with our sales team to see CoinGate's payment solution in action.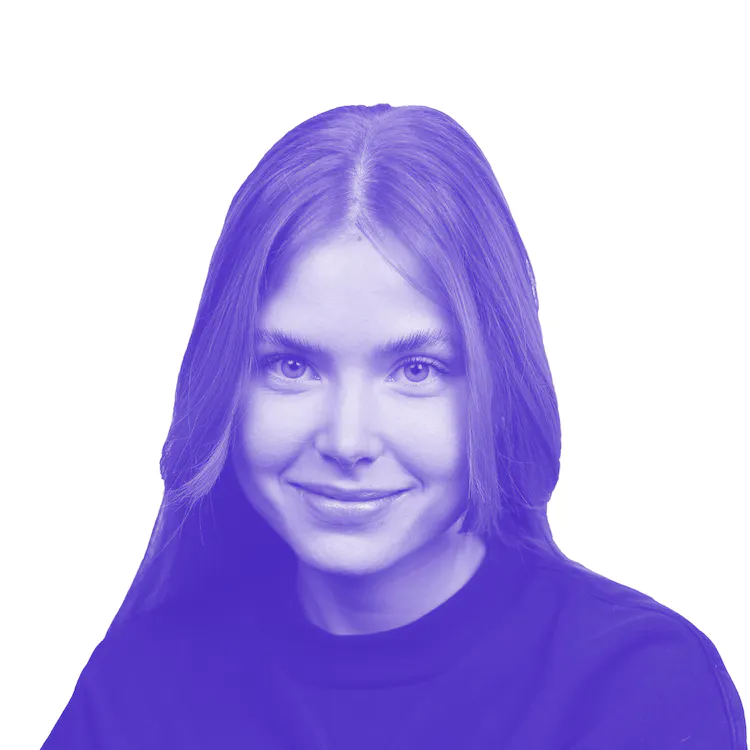 More common questions about Ethereum payment processing:
What is Ethereum?
Ethereum network provides open access to data-friendly services and financial instruments. Ethereum's programmable blockchain allows building, running, and using decentralized applications, as well as utilizing its native currency ether (ETH) as a medium of exchange.
Why accept ETH for payments?
Ethereum is one of the most actively used peer-to-peer networks in the world, which makes ether (ETH) a popular and highly demanded payment option amongst crypto users. By accepting ether for payments, your business remains one step ahead of competitors and primes itself for attracting new customers. Here's even more reasons to accept Ethereum.
What exactly is an Ethereum payment gateway?
Crypto payment gateways provide a complete infrastructure and tools for merchants to conveniently accept cryptocurrency payments, including Ethereum.
What companies already accept Ethereum for payments?
How safe are payments made on the Ethereum network?
ETH transactions are publicly verifiable, transparent, and peer-to-peer, meaning they are entirely safe.
What business benefits most from Ethereum payments?
Ethereum payment method is viable for any business as long as it has an online presence, a product to sell, or a service to provide.
How to choose the best method of accepting ETH?
Is accepting ETH payments legal?
The laws surrounding cryptocurrencies vary country by country. Check with your local government.
Can my company accept Ethereum payments?
Businesses from +70 countries can use CoinGate services and accept ether payments. See if your country is on the supported countries list.