Crypto Payments, Crypto-Friendly Merchants
Who accepts Ethereum (ETH) as payment?
Last updated: November 5, 2021 7 min read
You can feel like living in a digital age when you can pay for everything you need with the cryptocurrency you prefer. Around 10,4% of purchases from merchant orders at CoinGate are made with Ethereum, therefore we want to look through businesses that accept this currency and see what they have to offer.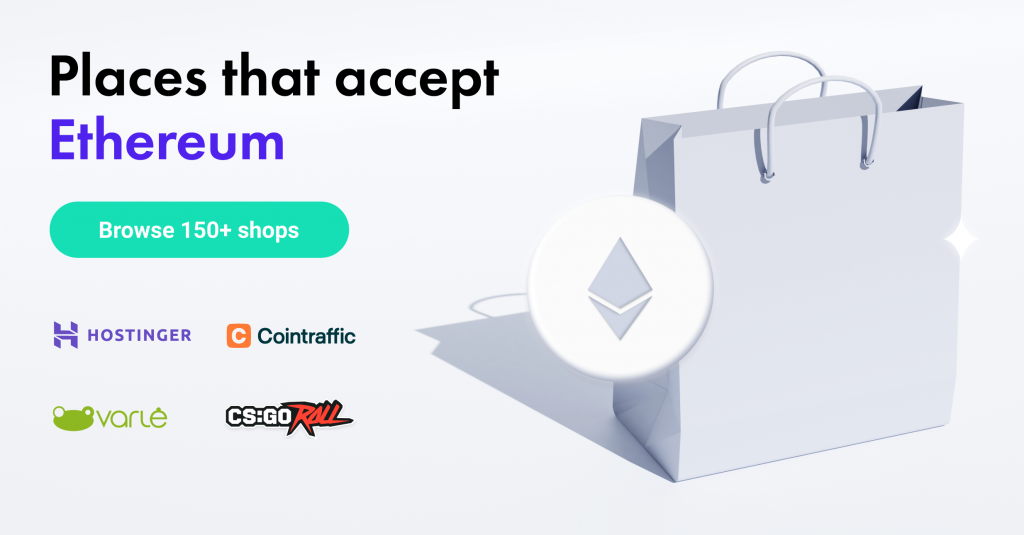 In a nutshell, this is the list of top places that accept Ethereum as their payment method.
1. Hostinger
2. Cointraffic.io
3. Coinsbee.com
4. CSGORoll.com
5. Worldstream.nl
6. Varle.lt
7. Zenmarket.jp
8. IPv4Mall
What is Ethereum?
You probably know Ether or ETH, the second-most popular cryptocurrency with over 265 billion U.S. dollars market cap and 1.303M transactions per day at a time of writing. It's a cryptocurrency of Ethereum, a programmable network that is used as a marketplace for financial services, games, apps, and, of course, NFTs (non-fungible tokens). 
Over the past few years, Ethereum gained mass recognition. Investment experts say that Ether is the second safest investment (the first being Bitcoin) for newbies in the crypto world. 
A lesser-known fact is that nowadays, Ethereum can be the paying currency of your choice for daily purchases. More and more merchants accept Ether as a paying currency for goods and services. Therefore, let's go through the list to see what you can get with your well-earned crypto:
Merchants that accept Ethereum (ETH)
NordVPN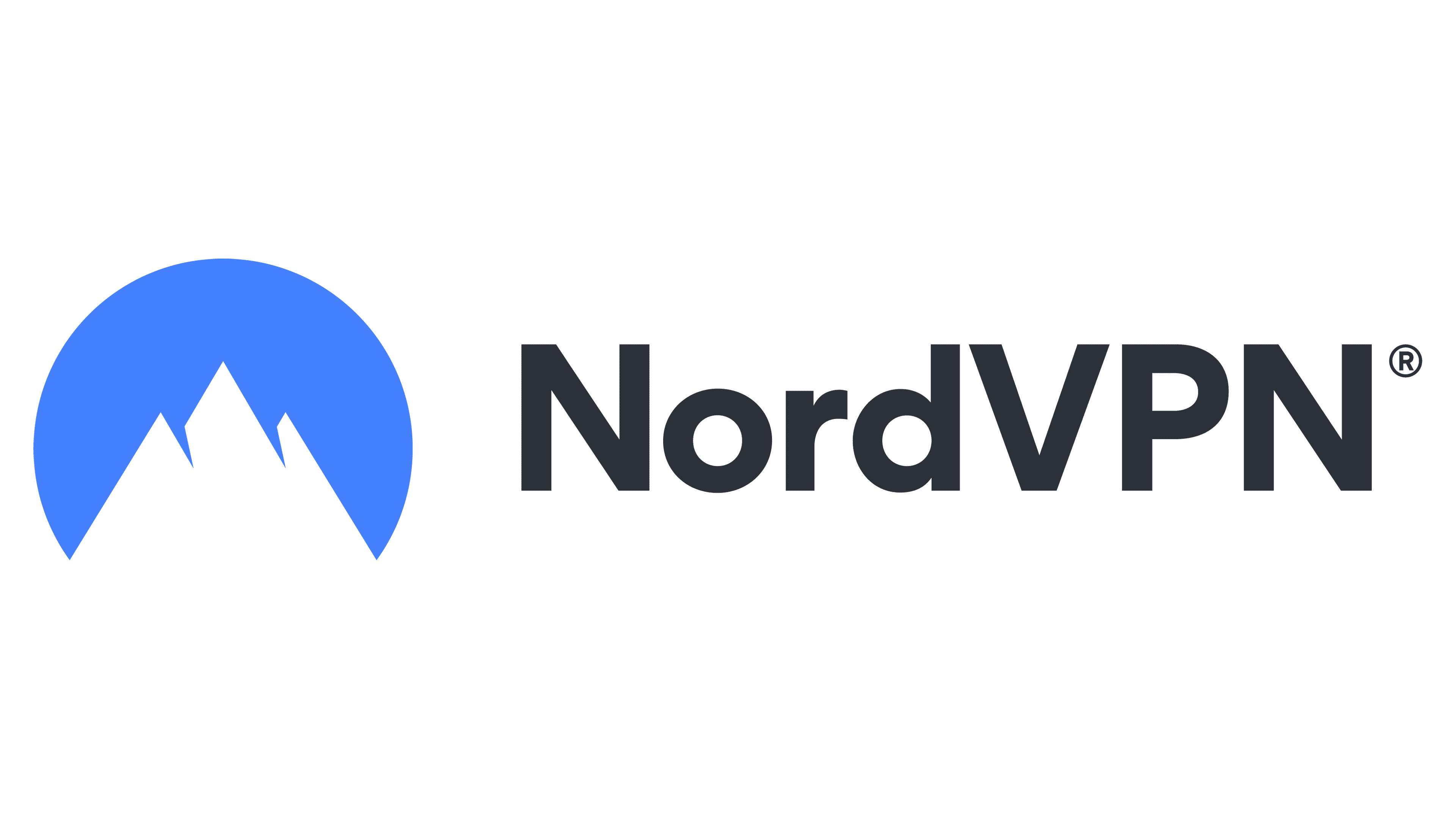 If you haven't heard of NordVPN by now, you're probably living under a rock.
NordVPN is one of the most private and secure VPNs with the biggest server park of 5,423 servers in 50+ countries that comes with countless helpful tools to make your internet browsing experience much safer.
Obfuscate your servers, use double IP protection, enable the split tunnel feature, block malware with in-built threat protection, get warnings on dark web data leaks and swift guidance for protecting your data.
With NordVPN, you're safe on all fronts as the addition of NordLocker encrypts your data, while NordPass protects your passwords. After all, the security of NordVPN is the best in the game regarding VPN services, utilizing the AES-256-GCM encryption algorithm and other security measures, such as maintaining a strict no-logs policy and regularly changing encryption keys.
NordVPN is easy to use and can secure several devices at once on Windows, macOS, Linux, Android, iOS, and Android TV operating systems. So what are you waiting for? Get yours now using Bitcoin or other cryptocurrencies.  
SurfShark

Another outstanding VPN that's been taking the industry by storm is Surfshark, one of a few independently audited VPN providers to earn customers' respect through pure service excellence.
Lately, Surfshark has grown out of its shell and introduced Surfshark One, a new package deal that includes Surfshark VPN, Surfshark Alert, Surfshark Search, and the brand new Surfshark Antivirus!
So it is a great VPN with a no-logs policy and now includes safe ad-free web search and protects you from malware, viruses, data leaks, and various privacy threats.
Connect as many devices as you want and enjoy a multitude of advanced security features. And, if you don't like it, you can always get your money back during the first 30 days of using the service.
If this sounds great, try out the Surfshark One package deal. As always, payments in Bitcoin are welcome.
Hostinger.com
Hostinger provides a world-class website hosting platform to over 29 million users in 178 countries. In addition, Hostinger provides domains, SSL certificates, website design services, and much more. Good web hosting can be a real game-changer for your e-commerce business and the good news is that you can pay for hosting services in Ethereum or cryptocurrency of your choice! 
Cherry Servers
Cherry Servers offers a broad range of web hosting solutions for small and large projects and might have the most flexible billing options out there.
You can choose to pay per hour or month or opt for a quarterly, semi-annual, or annual plan. Costs of VPS plans are also flexible and mainly depend on how much power you need.
Companys' website is very detailed and easy to navigate, especially regarding plan breakdowns.
For VPS, you can choose either Cloud VPS or Storage VPS services. Cherry Servers offers a large set of features that mainly differs in RAM, processing power, and storage capacity. With Cloud VPS hosting, you can quickly scale up and increase CPU, RAM, and storage whenever you feel you could use more power from your setup.
Every VPS server includes automated server management through REST API, flexible billing options, root access, DDoS protection, and 1TB of free monthly traffic.
Cointraffic.io
Cointraffic.io offers marketing strategies and campaigns that drive a highly targeted, cryptocurrency audience through multiple ads formats. It connects advertisers with the right publishers. Their solutions increase traffic to a crypto-friendly business and get the attention of audiences you need!
Coinsbee.com
Coinsbee.com may catch your attention because of the wide range of purchase options. It offers gift cards, payment cards, and mobile phone top-ups from more than 1500 brands in over 165 countries.
They offer vouchers for e-commerce businesses, clothing, games, food and restaurants, and much more. Netflix, Spotify, Microsoft, and Deliveroo are just a few names you can find there. And you can pay for those gift cards with Ethereum or over 70 different cryptocurrencies from the supported list. It is a go-to shop, that will cover your everyday needs!
CSGORoll.com
CSGORoll might be a heaven for gamers. They offer an online experience to win skins. CSGORoll is an original CSGO skin gambling website that was recently re-opened with revamped animations and a new selection of games for you to try out. A simple, yet convenient solution to get new skins and step up your game!
Worldstream.nl
Worldstream was originally conceived as an internet service provider. Over the years they grew and now Worldstream's dedicated servers and IT solutions offer everything you need for a future-proof IT infrastructure. They provide various cloud, security, and backup services that fulfill your IT strategy needs. They are known for impeccable customer service and now you can pay for all that in ETH or a cryptocurrency of your choice!
Varle.lt
Varle.lt is an online store that offers all the technologies you might need. Computers, TVs, furniture, mobile phones, photography gear, and over 500,000 items and gadgets for your home, office or hobbies.
Varle.lt describes themselves as an intermediate option between large supermarkets and online stores. They work with major equipment suppliers and manufacturers from Lithuania and abroad, hence, they provide a large number of suppliers and products that can meet each customer's needs. 
Zenmarket.jp
Zenmarket will help you to find and buy anything you need from Japan. It's a Japanese proxy shopping service that connects all Japanese online marketplaces and auctions.
Zenmarket team knows that buying items from halfway across the world can be nerve-wracking so their goal is to make the experience as smooth as possible. Now they provide customer support in 10 different languages, including English, Japanese, Spanish, French, Chinese, Russian, Ukrainian, Vietnamese, and Malay. And the best news is that they now accept payments in ETH or cryptocurrency of your choice from their supported currency list!
IPv4Mall.com
IPv4Mall number one job is to ensure that you would find the best possible deals for IPv4 addresses. They assist their clients to buy and sell IPv4 addresses and help to complete the commercial transactions as well as the IPv4 transfer processes for owners of excess IPv4 blocks and the businesses that need them.
IPv4 (Internet Protocol Version 4) is the most common protocol for transmitting data packets on the web. And now your business can buy IPv4Mall services using ETH or other currencies from their list!
In a search for something special? 
Some more services and retailers accept payments in ETH, even though you didn't see their names on the list. If you are in need of something special, check our Merchant Directory to find other companies that accept crypto payments.
Thinking of accepting cryptocurrencies?
Merchants like Hostinger or ZenMarket used CoinGate solutions to accept over 70 cryptocurrencies for their goods and services. Moreover, they can now decide to keep those coins that we support or change it to a traditional currency of their choice. If you are interested in accepting cryptocurrency payments, check out our article to find more info about why should business accept crypto.